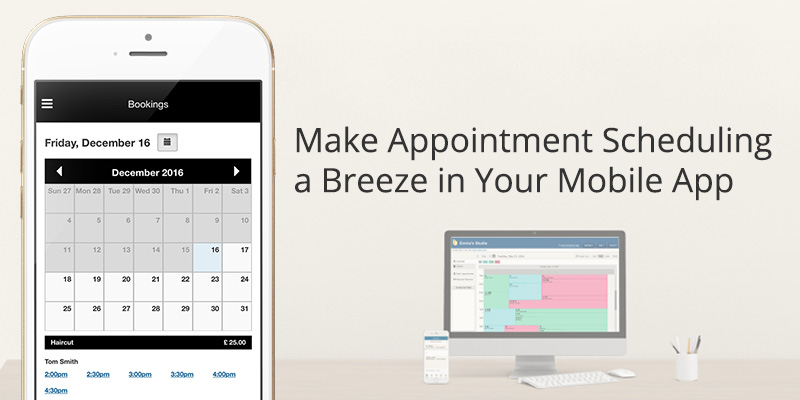 Any business that allows customers to make appointments knows that there is very little to get excited about when it comes to managing appointments. And if your business has already launched its own mobile app, but it doesn't include a simple booking feature, well you're not giving your customers any reason to love your app.
That all changes today!
AppInstitute is thrilled to announce that we have partnered with BookedIN to make appointment scheduling in your app a breeze. Integrating BookedIN into your mobile app will not only make appointment management exciting for you again, it will also boost your customers enjoyment of your app.
 BookedIN is a powerful appointment scheduling suite of software that handles all the dirty work for you. Awesome features that you and your customers will love, include:
Self-Service Bookings

: your customers can make an appointment anytime. No more remembering to call during business hours to make an appointment.

Custom Forms

: you're in control of what information you need customers to provide when they make an appointment, because sometimes you need more than just a name and contact number.

Customise Calendars

: easily adjust scheduling calendars with your own trading hours, availability, and more. And if you allow double bookings, well, BookedIN has you covered.

Full Client History

: Not only can you collect precise personal information of your clients, you can also track their history with you: from bookings and payments, all through to no-shows.

Automatic Reminders

: with the ability to automatically send not one, but two email and text message reminders, you should be able to reduce the number of no-shows. Customers can easily respond to each reminder to confirm, cancel, or reschedule their appointment. (Text messaging available in USA & Canada only.)

Easy payment processing

: BookedIN includes full support for online processing of payments via credit card, debit card, or PayPal. Easy for you, and convenient for your customers.
Delight your customers by visiting BookedIn today; to create your BookedIN account and integrate their fantastic features with your own branded AppInstitute mobile app.