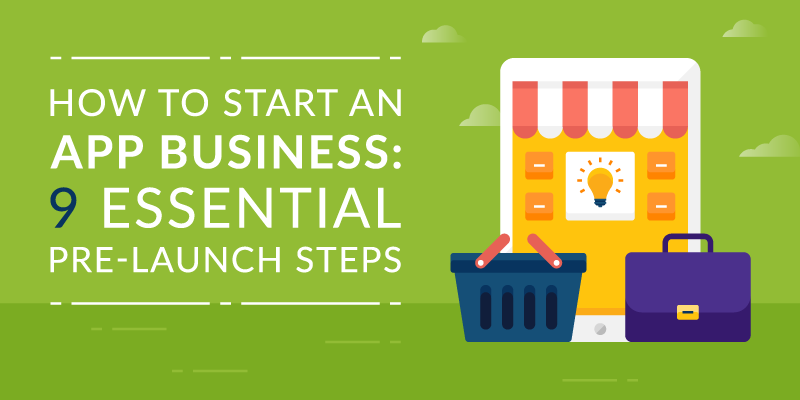 You have a great idea for a mobile app, and you can't wait to build it.
But before you jump in and start your app business, slow down: there are things you can do to increase your chances of success.
Taking the time to properly validate your idea is a good first step. This will tell you if there is demand for your product. You'll be less likely to pour time and money into a mobile app no one uses.
You should also think about how you will get people to use your app. It's not enough to just publish it on app marketplaces and hope for the best—you need a proper marketing strategy.
This article will tell you how to start an app business in nine key steps.
9 Essential Steps to Take Before Starting an App Business
Define Your Idea
You already have a vague idea for an app. Now is the time to focus on the specifics of what your app will do.
Knowing the problem your mobile app will solve is essential before moving onto the next steps.
An easy way to define your mobile app's idea is to come up with an elevator pitch.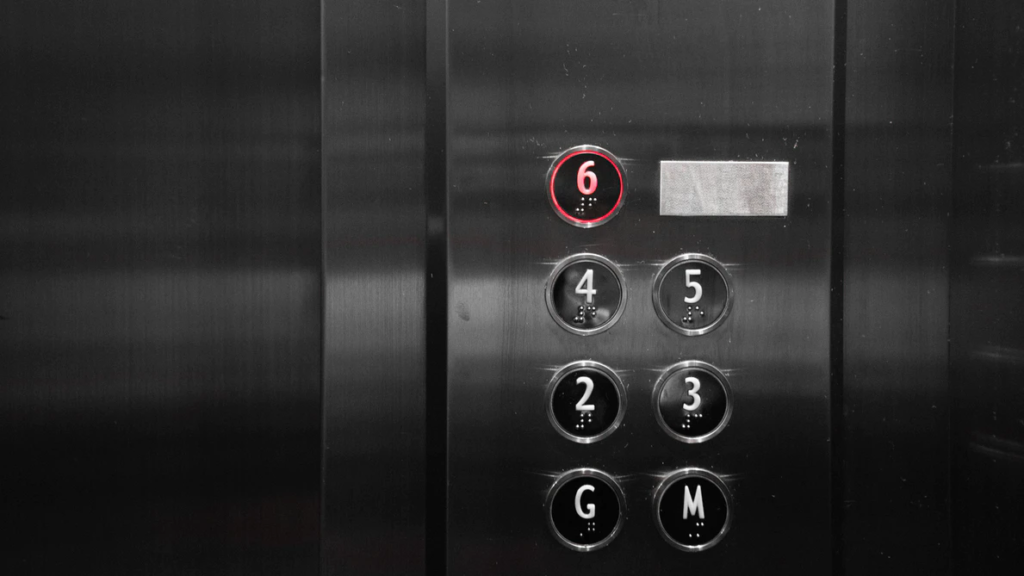 An elevator pitch is a quick synopsis of what your company plans to do. The idea is that you can explain your idea in the time it takes to enter and then exit an elevator.
It's not only useful for unexpected meetings with angel investors. It's also a good way to distill what your company (or mobile app) does down to its essential elements.
How Do You Create an Elevator Pitch?
There's no standardized way to create an elevator pitch. But there are good templates you can use.
Harvard-MIT Division of Health Sciences and Technology recommends using a five-sentence paragraph that answers the following questions:
What is the problem?
What is your solution?
Who are you and why are you the one to solve the problem?
What is the value proposition?
What is the call to action?
Meanwhile, Mindtools recommends creating a 20 to 30-second speech that starts with a sentence about what you do, moves onto a sentence about what makes you unique, and then backs this statement up.
Whichever method you choose, once you're finished you should have a far clearer idea of your mobile app business.
Research Your Competitors
Your app is unlikely to be one of a kind. Even the best ideas have other products that offer a similar experience.
This isn't a problem. In fact, your competitors can point you in the direction of success.
So the next step is researching the competition to get a better understanding of the market you operate in.
Make a list of apps that compete with yours. These could be products that offer similar functionality to yours, or those that your target audience uses.
There are many things you should look out for.
For example:
How do your competitors promote their mobile apps?
What pricing and monetization structure do they use?
What primary and secondary features do they offer?
What does their app look like?
How many downloads do they have?
How do you think you could improve on their product?
What will be hard to make better?
What platforms are they available on?
You can find much of this information by checking out their app store listing and downloading the mobile app.
Reviews are a great place to see what people think about apps. Be sure to read both the positive and negative ones.

But don't stop there. Visit their website and social media pages too. Then perform a Google search of their brand name to see what you can find.
This will provide a complete overview of everything they do.
Research Your Audience
The second part of market research is discovering more about the people that will use your app.
Along with your competitor research, this will give you a solid idea about whether there is demand for your product before you begin app development.
Start by defining your target audience and then create customer avatars. These are fictional people that represent a segment of your user base.
By having a good idea of who will use your product, you can tailor your features, messaging, and marketing to their needs.
How to Create a Customer Avatar
Just like creating an elevator pitch, the steps to building a customer avatar will differ depending on who you ask.
DigitalMarketer has a good template. It recommends including:
Customer goals and values
Where they look for information.
Demographic information.
Their challenges and pain points.
Their role in the sales process.
Potential sales objections.
Don't just stop at one avatar. Create one for each group of people you think will use your mobile app.
Go Out and Speak to People
Once your avatars are complete, it's time to go out and speak to people. Adjust the information in each profile to reflect the answers people give.
Surveys are a quick and easy way to generate information. Google Forms is a free way to create online questionnaires, or you can use a platform like SurveyMonkey.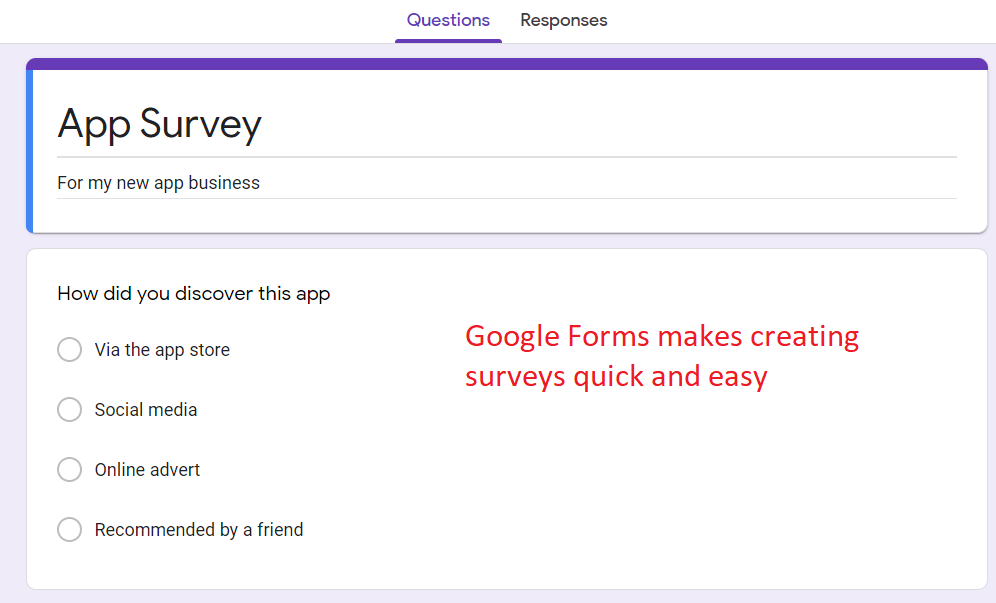 Use your survey to find out if your app idea is one that appeals to your target audience. You should also try to confirm whether or not people will pay for it.
How to Create a Good Product Survey
Medium has a great article about validating your business ideas with plenty of information that is also applicable to people starting a mobile app.
It recommends discovering factors like:
Do people use competing products?
What do they like and dislike about them?
How did they discover the product?
What are their first impressions of your idea?
Would people consider buying the product? And if not, why?
How much would people pay?
The key is to make your questions specific and easy to answer.
Don't ask customers "What do you dislike about [app name]?" Instead, list some of the key features and ask them to rate each one.
Choose the Type of Mobile App You'll Create
Next, choose the type of app (or apps) you will create. To reach the largest possible audience you will need to create apps for Android and iOS.
This will enable customers to download your app on the two main smartphone operating systems.
The issue is that creating these apps can be difficult. There's no easy way to develop an Android app and then switch it over to Apple because each platform uses a different coding language. You have to develop two separate apps.
You should also consider creating a web app.
These are mobile apps that your customers access from within their web browser. It means people can use them without actually installing them.
These apps often look like native apps. They usually have similar features that are designed to work well on mobile.
The issue is that they miss out on some of the functionality provided by native apps.
For example, web apps can't access your phone's processor, which may make them less able to perform tasks that require a lot of power.
They can also make better use of a phone's hardware features, such as GPS, camera, and microphone.
Web apps also can't be published on the iOS and Android app stores, which may make them more difficult for your customers to find.
Decide on a Mobile App Development Strategy
Now you know which type of app you will build, you need to create a strategy for developing your mobile app.
You have three main options, with drastically different costs.
Build the App Yourself
Many people who start a mobile app business simply build the app themselves.
This is the cheapest way to create your product and—assuming you are great at coding—you can build your mobile app exactly as you want it.
The app development process can be time consuming. But if you're not in a rush it can definitely be a good way to start.
And remember that once your mobile app has gained some traction, you can hire other developers to maintain it while you focus on growing your app business.
Hire a Developer
If you can't code, you'll need to hire someone to build your app for you.
The biggest issue with this strategy is that it is costly. Clutch found that the median app development cost is $171,450, with prices ranging from $30,000 to over $700,000.
It's possible to save cash by outsourcing mobile app development to a freelancer in a country with a cheaper cost of living. Or you could use app development companies.
But this has its own disadvantages. It may be harder to build relationships with freelance developers, and you may struggle to accurately assess their skills. Get your hiring decision wrong and you'll end up wasting a lot of time and cash.
You should also consider the cost of maintaining your apps. Many will require someone to continually work on the product to fix bugs and add updates.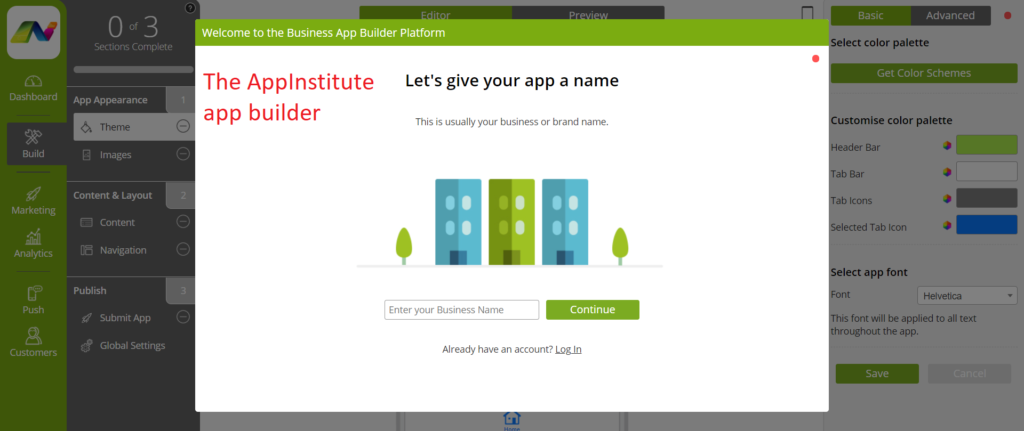 Use an App Builder
App builders are platforms that allow people without coding knowledge to create their own apps.
The biggest benefit of these platforms is that you can create and publish your app very quickly—often in just days or hours.
You can also easily add your own content and branding, and customize the features that go into your product.
The company behind the app builder will cover updates and bug fixes. And they typically make it easy to publish your mobile app on both the App Store and Google Play.
The issue with these platforms is that they are restricted to the features the company has made available. This means if you want to create a product with original functionality, you may not be able to with an app builder.
Create a Plan for App Marketing
Building a great app is just one part of an app launch. You also need a way to market your app to get it in front of other people.
There are many mobile app marketing strategies you can use. They range from free methods like promoting your product on social media to ones that require a higher budget, like paid ads or influencer marketing.
Some of our favorites include:
Build a website and create content optimized for search engines.
Create social media posts and YouTube content about your app.
Promote your app on relevant forums, subreddits, and online communities.
Use referral marketing to encourage users to share your product.
Start a PR campaign to generate press attention.
Use paid ads on the App Store and Google Play.
Optimize your app marketplace for search.

Build Your App in Public
It's also a good idea to start promoting your app early—you don't need to wait until it is ready to start generating interest.
Consider creating your social media accounts, setting up a website, and taking advanced registrations for your app.
This is an idea called building in public.
The theory is that by building an audience while you create your product, you'll have a ready-made group of people willing to buy. You'll also be better able to adjust your app to their needs.
Consider How You Will Monetize Your Mobile App
Apps can be a great way to make money.
Spending on the Google Play Store and the App Store hit $30 billion in the third quarter of 2020 and these figures are only expected to rise. People spend more on apps than ever before.
But if you want to make money from your app, you need a strong monetization strategy.
There are four main ways to monetize an app:
Ads
In-app purchases
Subscriptions
Pay to download
The best one for your mobile app will depend on the product you choose to release.
Ads
The benefit of monetizing with ads is that you don't need to convince people to hand over money to earn from your app. Instead, you earn cash every time someone sees or clicks on an ad.
It's typically easy to set up ads on free apps. Platforms like Google AdMob and MoPub connect you with businesses that want to advertise.
The issue is that you need a large user base to earn big money. The amount you earn depends on the type of ad, the country of the user, and the type of app.
IronSource puts the average revenue per impression for rewarded video ads when viewed by someone in the U.S. at just $0.02. Earnings for interstitial ads is $0.16, while offerwall ads come in at $2.50.
The other downside to ads is that showing too many will annoy users.
You need to get the balance right between showing enough ads to earn, while not negatively affecting the user experience too much.
In-App Purchase
In-app purchases are items and features that app users buy to gain more functionality from your app. These can be very profitable, with games like Pokemon Go earning billions of dollars from this type of monetization.
To successfully use in-app purchases, your mobile app should include features that people value paying more for.
The downside is that if you can't convince people to pay for extras, you may end up with a large user base that isn't paying anything for your product.
Subscriptions
Subscriptions give users full access to your app for a set fee paid every month.
It gives people access to your mobile app for a relatively low cost, but with the potential for huge revenue if you can keep your customers for the long term.
The popularity of subscriptions as a monetization method has grown in recent years. It is now the dominant form of pricing for non-game apps.
Pay to Download
Pay-to-download apps are those that people can only access after paying a fee.
This isn't as popular a method as it once was, with most mobile app developers seeing better returns from subscription-based models.
However, it can be a good method if your app has a simple yet valuable use case that people typically only need to use once or twice.
Focus on Financing
By now, you should have an excellent idea about what you need to do to start your app business. So you should think about the practical details necessary to put your plan into place.
The biggest issue is often financing. You need money to get your idea off the ground.
For many, bootstrapping will be the way to go—this means funding your app idea with your own cash.
If you plan to build your mobile app yourself, you'll be able to launch with very few resources. All you'll need to pay for is your Apple and Android developer account. This is required to publish on the respective app stores.
You could also consider setting up a website. This requires a web builder and hosting. You can buy these resources for just a few dollars each month.
Indie Hackers is a great resource to read the stories of entrepreneurs who have launched businesses independently.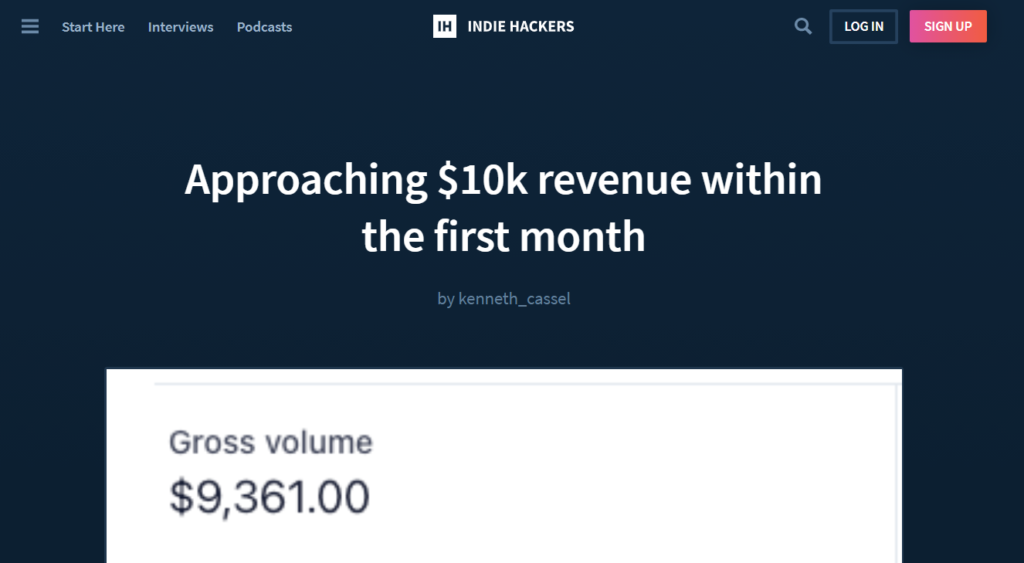 Things get more complicated if you need to pay a developer to create an app for you, as you'll need access to significant capital.
If you don't have this money available, you'll have to look for other sources.
There are many ways to raise money for a business, including:
Borrow from people you know.
Bank loans.
Venture capital.
Crowdfunding.
Applying for an incubator.
Government grants.
Angel investors.
The options you have available to you will depend on multiple factors. So choose one that fits.
Document Your Ideas in an App Business Plan
Once you have this information, it's a good idea to put it all together in a business plan.
A business plan is essential if you are applying for funding. But even if you aren't, it is a good way to lay out your roadmap going forward. It will help clarify your product and the steps you need to take to make it a success.
You'll get a better understanding of the costs associated with your business and how much revenue you have to bring in to make it successful.
Business plans tend to include sections on:
Your Executive Summary: An overview of your app business. It's similar to your elevator pitch.
Market and Customer Analysis: Details about your competitors and your customer base.
Sales and Marketing Plan: How will you convince people to download and use your app.
Operating Plan: The practical details of how you will run your business.
Management Team: Who will run your app business. This may not be necessary if you are running it independently.
Financial Plan: Take an in-depth look at costs and expected revenue. Use this section to show how and why you will become profitable.
Creating a Successful App Business Isn't Easy
Many people have an idea for an app, but not many have the skills and drive required to turn this into a profitable app business.
If you want your app to be a success, having a good plan is an important first step.
That's why following the steps above will help you think about everything you need to get your app idea off the ground.
---