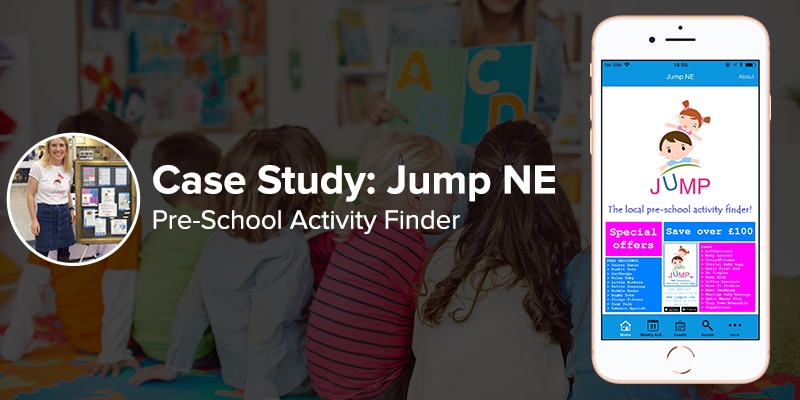 At AppInstitute, we pride ourselves on having a platform that allows all types of businesses and people make their app idea a reality. Whether you have an existing business that could benefit from a mobile-first solution or a brand new app-based business idea. In this Case Study – we spoke to Linda Hodgson, the founder of Jump NE, a pre-school activity finder app with over 1000 downloads.
1. Linda, could you tell us a little bit about yourself and your business? What is your background – and what do 'Jump NE' do?
I'm a mam to 2 pre-school boys and I live in Newcastle. I set up Jump NE in 2016 and it's a fully searchable pre-school activity finder app. The app lists more than 700 weekly, local pre-school activities and users can search for something to do with their little ones by day of the week, activity type and location
2. What made you decide to build the Jump NE app. Did you see a gap in the market, or a problem you could solve?
I had the idea for Jump NE in March 2015 when I was standing in a local community centre looking at huge pile of advertising leaflets for children's activities which had become all mixed up! I thought that there had to be a better way to list and search for what's on locally. I'm also a member of a lot of social media parenting forums and nearly every day the question was asked "does anyone know what's on today?" so I knew that there was a demand for the app.
3. Did you have any previous experience with building apps before you tried AppInstitute? How did you find using the app builder?
I had never built an app before. I did a lot of research before starting and looked at other app companies but AppInstitute was the only company which offered a listing style app and I really liked how straightforward the process seemed. I've found using the app builder fairly easy and I picked up the basics fairly quickly. The help options have been really useful plus I've had some great support from the AppInstitute team.
4. What benefits does your app provide to its users? What kind of feedback have you had?
The app allows users to search quickly and easily for activities on near them. I've had some great feedback from users who love the fact that they can find all local groups and classes listed in one place and can search for specific types of classes. They also like the fact that the app links to Google Maps so they don't get lost on the way and that they can access the class organiser's website directly from the app.

5. What would you say to businesses who don't have an app currently, because they don't think they need one, don't think they can afford it or are worried they don't have the technical skills?
AppInstitute website is really easy to follow and it guides you step by step through the process – all of the technical stuff has already been done for you. There's loads of app styles to choose from and it's really easy to tailor your app to your business. There are a few pricing options and I've found that the Jump NE app has paid for itself since day 1. Having an app is a really great way to expand your reach.
6. With over 1,000 downloads, your app has been a great success. How did you go about promoting your app?
I've got pages on social media which I update daily, I include lots of images of the app in action – I love the AppInstitute screenshot maker option! I work with companies and organisations who I promote on the app and ask that they share my leaflets with their customers and give me a mention on their social media. I also look out for local baby fayres and events where I can promote and demonstrate the app.
7. What features do you and your users get the most use out of within our platform?
I check the download stats everyday to see how the app is performing and assess what marketing techniques are proving the most successful and which need changing. I know my app users like to use the search facility and I've had some great feedback on this option.
8. Any final thoughts on working with AppInstitute and making an app for your business, or anything coming up you'd like to plug?
As my business is very much app based I wouldn't have a business without AppInstitute! AppInstitute were the only affordable way I could get my business off the ground – and I did a lot of research.
---