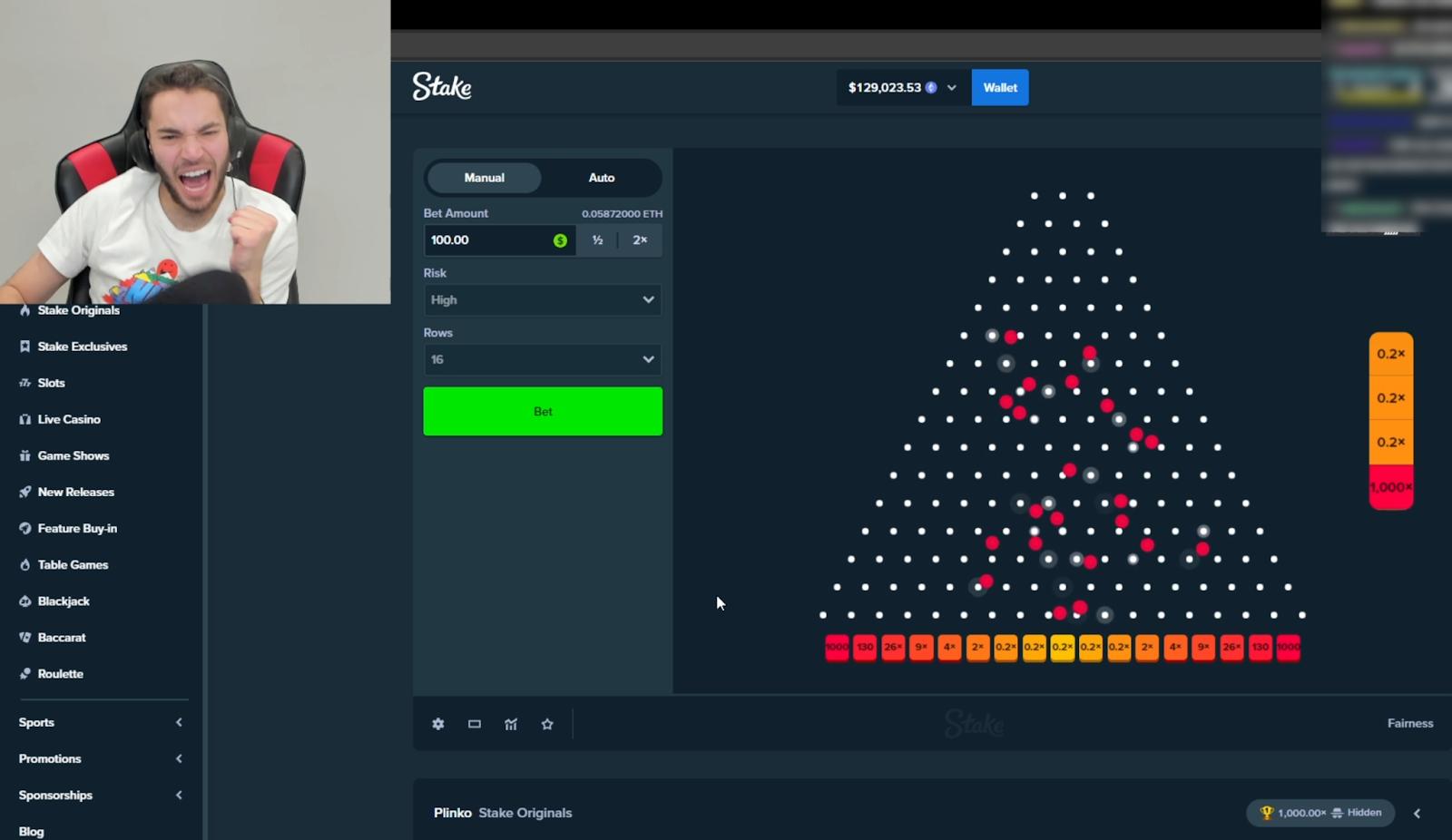 The live-streaming market has experienced remarkable growth in recent years, with a projected acceleration rate of 13.47% and an incremental growth of USD$29M. This can be attributed to technological advancements such as increased smartphone and TV usage.
To stay competitive, many companies are enhancing user experience, and mobile applications are a valuable addition to this strategy, and Kick.com has probably seen that opportunity.
The Kick streaming platform, a competitor to industry leader Twitch, has made a splash with the recent launch of its mobile app on iOS. This article will explore the app's features, its rise in the iOS charts in the US and Canada, and the impact it may have on the streaming market.
Kick's emergence and app development
Kick.com was launched in 2022 following the growing frustration among streamers over the policies of established platforms such as Twitch. Many content creators felt that they weren't getting fair compensation for their work, while some Twitch influencers have also been against the site's ambiguous policies and bans over the past few years.
The developers behind Kick.com set out to create a user-focused platform in response to this trend. It's fair to say that its first few months have been a success considering the number of registered users it's recorded.
However, whispers of a connection between Kick and Stake, a prominent online gaming and betting platform, have begun to circulate as the major funding driver behind Kick.
These rumors suggest that there may be more to Kick's success than meets the eye, with some speculating that gambling and gaming influences are playing a role in the platform's rapid ascent.
While Kick has not officially acknowledged any partnership or affiliation with Stake, with the recent submission to the Apple App Store further details into Kick's ownership structure have surfaced.
Whilst no official word is confirmed, internet sleuths were able to find direct evidence of corporate overlap between the rectors and owners of Stake and Kick, indicating that the interests are aligned between the betting and streaming platforms.
The potential connection between streaming content and the world of online gaming and betting may create a unique and interactive experience for users, but it also raises questions about the ethical implications of mixing these industries.
These rumors aside, how is Kick.com planning to rival its competitors? Here are some of the features the new platform is looking to introduce to the world of live streaming:
Clip creation and sharing

The platform now allows users to clip their favorite moments or edited segments from live streams and share them with followers on social media platforms and other websites. This feature is similar to Twitch's, which has been popular with both content creators and viewers. But how is it going to transform the users' experience?
Highlights: Clips allow viewers to quickly and easily catch up on a live stream's most interesting and exciting moments. This can help retain viewers who may not have been able to watch the entire session or want to re-watch a particular moment.
Social sharing: They can be easily shared on social media platforms, which increases the live stream's visibility and attracts new viewers. By sharing clips on social media, viewers can also help build and strengthen a community around the live stream.
Engagement: This feature can encourage viewers to participate in the live stream. For example, viewers can be encouraged to share their favorite clips or create their own ones based on their favorite moments.
Overall, the ability to clip and share live-stream segments is a valuable addition to the platform. This feature has the potential to transform how live-streaming content is accessed, shared, and engaged with on social media.
Diverse content showcasing
Kick.com has also been working to showcase a diverse range of content on the platform. Of course, Twitch also does the same. So, as a rival, Kick.com has to either meet or surpass the standards set by the Amazon-owned site.
One of the popular sections on the platform is slots and casino. Take, for example, the biggest streamers on Kick.com like Adin Ross, Roshtein, and TrainwrecksTv. Most have "Slots & Casino" and "Just Chatting" as their top stream categories.
The company also introduced diverse content categories to capture viewers and streamers from across the industry. Other sections on the site include music, in-real-life (IRL), creative, and alternative.
Revenue share
Streamers' compensation is probably Kick's most powerful marketing strategy.
According to many content creators, this has always been a massive issue in the industry. For instance, the dominant platform, Twitch, is offering its creators only 50% of the total subscription revenue. The Amazon-owned website also announced in 2022 that it's planning to pay the same amount across the board. Initially, there were two groups, regular creators and premium streamers. The latter enjoyed a 70/30 split, while the rest were subject to the 50/50 policy.
How's Kick's strategy different? The new entrant offers a 95/5 revenue split, which means that all streamers on the platform will enjoy 95% of subscription revenue, the highest in the industry.
Kick also allows streamers to earn money through microtransactions from their viewers. This could be a major draw for content creators looking for ways to monetize their content and earn a sustainable income from their streams.
Kick's app development
The revenue from the mobile app industry will likely exceed USD$755B by 2027, growing at 8.58% per annum. This rate shows the massive significance of these software applications in today's digital world.
The Kick.com team has recently launched its app in light of this trend in the software consumer market. The company first announced this app in 2022, shortly after the desktop platform went live. It was expected to be released later that year, but the project was delayed.
Reports suggest that this delay may have been due to technical issues. The company also wanted to release a fully functional app and saw no reason to accelerate the process.
So, why was there great anticipation surrounding the launch of this mobile app? Users believed it'd make streaming more accessible and convenient. With the app, users can watch and stream content on their mobile devices anywhere and anytime.
Kick mobile app launch and reception
Kick.com officially launched its mobile app on March 26, 2023, which is now available on both the Apple App Store and Google Play Store. The app's launch was highly anticipated by users and industry experts, and it has been met with a positive reception
The app's user-friendly interface has been highlighted as one of its main strengths in the competitive streaming market. Many users have praised this feature for enhancing the app's simplicity and ease of use, fast load times, and smooth chat experience.
In addition to its user-friendly interface, the Kick app introduces several new features designed to make streaming more accessible and convenient for users. One of its standout features is the ability for users to create custom playlists of their favorite content. The app also includes a "watch later" feature that allows users to save content and watch it at a later time. These features are designed to make it easier for users to find and organize the content they enjoy.
And since the Kick mobile app launch, it quickly gained popularity among users and rose to the ranks of the iOS charts in the US and Canada. The app reached third in both countries, which is an impressive feat, considering the intense competition in the mobile app market.
Potential impact on the streaming market
Kick.com's recent entry into the live streaming market has been making waves, with the platform quickly positioning itself as a serious competitor to Twitch, one of the largest live streaming platforms in the world. Despite being new to the market, Kick has been able to attract viewers and streamers through its innovative features and a growing community.
With Kick's success, there is a potential for the platform to challenge Twitch's dominance in the market. Twitch has long been the go-to platform for gamers and streamers, but Kick's unique offerings, such as a mobile app with consistent pricing and innovative features, could entice users to switch platforms. The competition between Kick and Twitch will likely spur both companies to innovate further and improve their offerings, ultimately benefiting the users.
Moreover, Kick's focus on mobile streaming is also in line with the trend of an increasing number of people accessing the internet through their smartphones. According to reports, 72% of the world's population is expected to use smartphones to access the internet by 2025. This trend will likely attract more viewers and streamers to the platform, forcing other players in the industry to enhance their mobile streaming capabilities.
Potential future developments
As Kick continues to grow, there is potential for the company to expand its platform to reach more users. So, what should you expect to see in the coming months from this Trainwreck-backed site?
One possible avenue for growth is through the development of a console app, which would allow users to stream their gameplay directly from their gaming consoles. Consoles have become increasingly popular for gamers and streamers. Therefore, having a dedicated app could provide a new way for gamers to access the platform and for Kick to expand its reach beyond the mobile and desktop platforms.
Additionally, Kick's success could potentially lead to the introduction of other new features aimed at improving the user experience. For example, the platform may explore or introduce more advanced analytics tools for streamers, allowing them to understand their audience better and improve their content. It could also explore new ways for viewers to engage with streamers, such as interactive chat features or new forms of content creation.
While the future is uncertain, there are a lot of possibilities that Kick.com can explore to shake up the industry and provide users with new and innovative options. And as the platform continues to grow, it could push competitors like Twitch to innovate further and create a more dynamic and engaging live streaming market.
User Response to the Kick Mobile App
Since the mobile app's release, users have been giving it positive reviews, as seen by the 4.7-star average and over 1,000 reviews on the app store. This is a strong indication of the app's overall popularity and user satisfaction.
Users have praised the Kick mobile app for its user-friendly interface, smooth streaming, and convenient option to stream on the go. This feature is especially useful considering the growing popularity of mobile streaming and reliance on smartphones for internet access.
While the Kick mobile app has received positive feedback from users, there have been some constructive criticisms and suggestions for improvement. For instance, one issue that some users have noted is the occasional occurrence of bugs and random crashes. However, there is an expectation that these issues will be addressed in future updates as the company continues to improve the app.
Additionally, some users have expressed a desire to go live directly from the app rather than having to navigate to the web page. This feature would provide greater convenience for streamers and enhance the overall user experience.
But despite these criticisms and areas for improvement, many users are still anticipating new features and updates in the future. And with its innovative approach to the live-streaming market, Kick.com is well-positioned to introduce new features and capabilities that will continue to attract and retain users and improve the live-streaming market.
Wrapping Up
Kick.com's entry into the live-streaming industry couldn't have come at a better time. Many content creators were frustrated following Twitch's policy updates. For instance, the ban on gambling content left some streamers stranded as they looked for alternative platforms. The 50/50 revenue split has also been part of the complaints from the streaming community.
The Trainwreck-backed site took advantage of this situation, and it's already made a significant impact in the streaming industry. Its most recent development involved launching a mobile app aimed at improving user experience. This move has enhanced Kick's competitive advantage over its rival players by attracting more viewers and streamers.