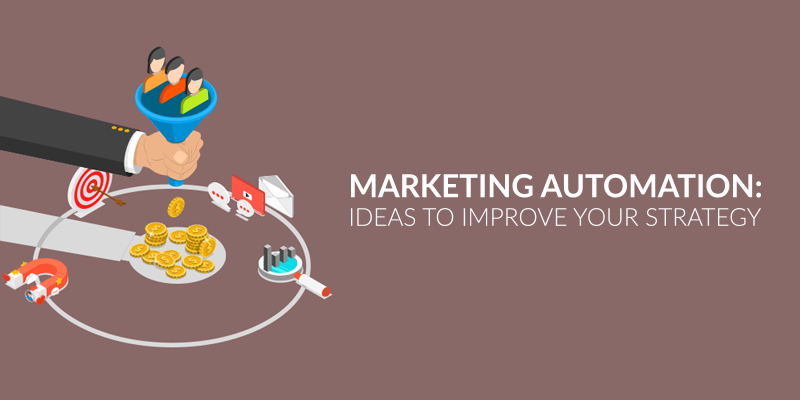 This article was originally written in Spanish by Alice Didier, and translated to English for the AppInstitute blog.
---
I'm sure that on more than one occasion you've heard of the term marketing automation, right?
With the current importance of this technique in mind, this post will give you some marketing automation ideas to improve your marketing strategy. Take note!
Marketing automation brings together both marketing and sales departments in an effective manner, in such a way that personalised processes can be created for each and every lead, even with an extensive database. The idea is to develop these leads so that, in the end, they are ready to make a purchase.
It is worth noting that this whole process is automated with the help of certain tools that can currently be found on the market.
These tools, as long as they are perfectly integrated with the CRM of the business, are considered a must in all businesses and their marketing strategies, allowing you to improve, optimise and personalise correspondence with leads; this holds true for email marketing just as much as on social media or even on a website.
As I've mentioned before, these tools are key in automating repetitive tasks, while also giving you a consistent monitoring of your leads and provide key information at the exact time that a lead needs it.
Marketing Automation Ideas: tips to put it into practice
Before we get into marketing automation ideas, I'd like to give you some tips and tricks to make your application more simple and effective.
Knowing how to use internal notifications
Being aware of everything that takes place within a chosen marketing automation tool is essential in getting the most out of it; to do this you can create internal notifications.
At the start of a project, it can be difficult to monitor new leads, but you can schedule internal alerts to notify you in different situations, for example:
The entry of a new lead.
The creation, or conversion, of an MQL (Marketing Qualified Lead), that is to say that you are told when a lead is qualified enough for the commercial department to join the process.
Monitoring and knowing the status of actions in detail.
So how is this done? I'm going to tell you how we can program these alerts ourselves using the HubSpot tool thanks to the creation of workflows.
To do this, follow these steps:
Choose the property / list / event that you want to be notified about. For example, if a user has become an MQL, or if a user has just become part of a list, etc.
Apply a delay to make sure that you'll be able to collect all the information you may need and that the lead has passed through all of the stages.
Program an internal email notification. It's important to note that you can personalise that email to include data from the lead which may be of interest: name, surnames, telephone number… Obviously you must have had already collected all of this information previously through forms.
Finally, you can add a date stamp to save the date that this lead was created.
Know your leads (Progressive Profiling)
Thoroughly knowing your leads can help you to carry out the most personalised marketing actions possible and, in order to get to know them well, you need information about that lead. The problem arises, though, when your primary download form is very dense, which leads to a low conversion ratio on your landing page.
To avoid this, it's important that you only include essential data that you need within this primary download form like, for example, a name, email and post code. These three fields can help you to contact your lead, but certainly fall short in terms of personalisation. So, what do you do?
To combat this, many marketing automation tools allow you to get information about your contacts with progressive profiling.
Progressive profiling replaces previously captured fields on a form with new fields; for example, inserting fields on a second download to obtain other information like a telephone number.
Continuing with the example of HubSpot, you can see that when you create a form you have the option of adding 'Queued progressive fields'.
The questions that you enter into this section will only appear once the user has already answered the fields on the main form, so you aren't introducing many questions at the start. You'll be able to complete the profile of your lead in second and subsequent downloads. Try it!
Adapt your content to suite the interests of your contacts
Adapting the content to what really interests your contact is the basis of all marketing automation strategy; always keep this in mind.
To find this content of interest, you can use various tools:
BuzzSumo: tells you which topics of interest are generated by a keyword. Its function is very simple, just introduce a keyword and it will give you the users' topics of interest which are related to that word. For example, if United Kingdom is the keyword, typing it into the engine will result in topics of interest like Brexit.
Interactive content: gives more attention to your content and interaction with your contacts, thus achieving a higher grade of personalisation. For example, you could use ThingLink to create images with links to specific elements.
Personalise your emails, provide an author and a name
We are very used to receiving large amounts of messages each day. This means that the attention given to them is lessened, and even more so if we realize that the email or message is totally automated.
Therefore, it's important to connect with your leads, something that you can achieve if your emails are personalised by giving an author and creating an identity behind the email itself.
One of the methods for personalising an email on HubSpot is using personalisation tokens, which allows you to include personalised fields in the emails, for example, the name of the user. Try it!
Marketing Automation Ideas: workflows
Now you've looked over those tips, it's time to look over the marketing automation ideas that I've prepared for you.
It's likely that more than 80% of your leads are inactive and simply made a download. How can you get their attention? The answer can be found within workflows.
Lead nurturing adapted by interest
You can create lead nurturing chains which are adapted according to the interest of your leads.
This type of chain aims to convert a lead to an MQL, therefore becoming a potential client of your business.
Depending on the qualities of your buyer persona and of your downloadable content, you will be able to determine the type of product that your users may be interested in. With downloads and viewed pages in mind, you can send them content which has been adjusted to their interests.
To create this type of email chain, you have to do the following:
Create categories of leads in accordance with the qualities that interest you. For example, if your business were car sales, you could create the different categories: sports cars, family cars, classic cars… thus differentiating between the users that are interested in one particular type of car or another.
Once the categories are created, you'll be able to send a different email chain to each category, and therefore use more suitable content for each one.
It's important that you make sure a lead isn't in two separate categories, since it would mean receiving two different nurturing chains. To avoid this, make sure that you create a priority between these chains. This priority functions according to the probability of gaining a client in a category as well as to what you are most interested in selling. For example, if we have the categories C1, C2 and C3 and C1>C2>C3, we'll have to program into HubSpot:

In the workflow of C3: program into 'Suppression lists' the lists of C2 and C1.
In the workflow of C2: program into 'Suppression lists' the lists of C1.
In the workflow of C1: don't program any list into 'Suppression lists'.
Welcome Workflow
Another type of workflow that you can create is a welcome workflow.
This type of workflow is very useful for welcoming a new lead who has joined your chain, and serves as a point of first contact as well as a way to build lead loyalty.
A good example of this type of workflow is the thank-you message that is sent to a lead when an eBook has been downloaded. To create this workflow simply follow these steps:
Create a welcome email and save it for automation.
Create a workflow with the condition ''If contact is member of the list: XXX (list that interests us)'', then send ''Welcome email'', which will be the email we have already saved beforehand.
Regain your stagnant contacts
It's likely that you have leads that haven't interacted with your company for a long time. Right?
For such contacts it's important to program workflows that will regain their interest. For example, you could program a specific lead nurturing chain for leads who haven't interacted with your page for more than a year.
To do this, you'll have to create a list in your marketing automation tool with the leads that haven't interacted with your page since a chosen date (in the previous example, a year) and then create a specific lead nurturing chain for them.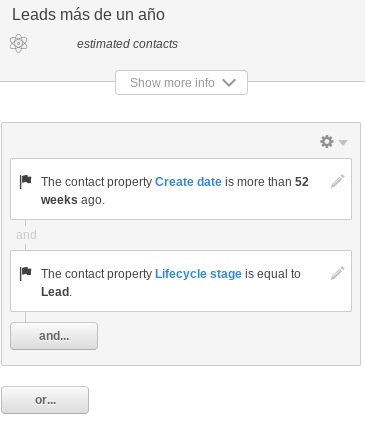 As you can see, these marketing automation ideas will help you to boost your marketing results and allow you to gain more qualified leads and clients for your business, as well as providing an improved monitoring and organisation of your current leads. Don't waste these opportunities!
What about you? Do you know any other marketing automation tip? If so, don't hesitate in contacting me in the comment section below. I'm waiting!
Author Bio: Alice Didier is an inbound marketing executive at InboundCycle. The french girl on board, she has always been an international girl. She lived in the US, France and finally moved to Spain 6 years ago. She has always had a deep interest on consumer behaviour and that's why she decided to join the InboundCycle team to learn about inbound and its techniques.
---