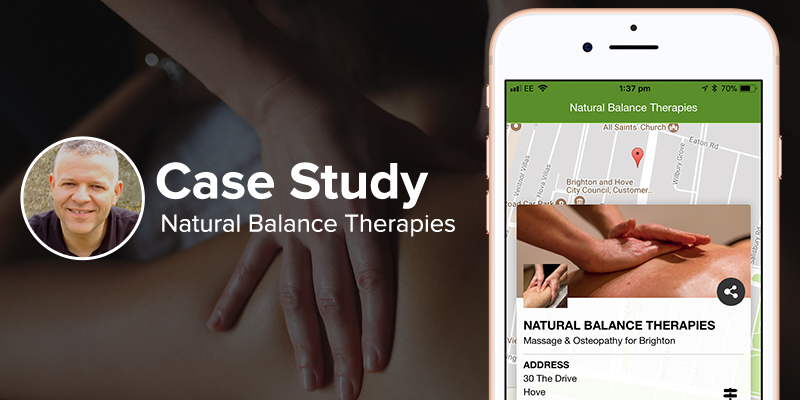 We caught up with Mark Alexander of Natural Balance Therapies – a massage therapist in Brighton – and spoke about the app he created with AppInstitute. Mark lets us in on his experience using the app builder and how he's managed to rack up over 2000 downloads since launching.
Could you tell us a little bit about yourself and your business? What is your background – and what does 'Natural Balance' do?
I started Natural Balance Therapies in 2007 with the intention of creating a centre of excellence for therapeutic massage in my hometown, Brighton. Since opening, we've expanded the range of therapies to now include Osteopathy, Acupuncture and Yoga, and we now have 5 treatment rooms open 7 days a week.
Before training as a massage therapist, I worked for a number of large companies in HR, Customer Service and Project Management.
I've always looked for ways to use technology to improve the customer experience and we were one of the first therapy centres to offer online booking. (11 years ago we had to get a developer to create a bespoke system for us .. things have moved on massively since then!)
What needs within your business initially made you decide that you wanted to get your own mobile app?
I wanted my customers to be able to click a single visible button on their phones where they could book online, check prices, call us or submit an enquiry without having to search on google or our website. I also wanted another way to reach out to clients with late availability and offers as I know emails are often not read. I also felt by having the icon on their phones it would be a reminder for them to get 'maintenance' massage .. not wait till they were in acute pain!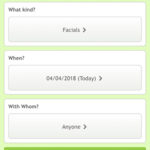 Did you have any previous experience with building apps before you tried AppInstitute? How did you find using the app builder?
The app builder was great, very easy to use and updated immediately so you could play around to get the 'look' you wanted and try out different features. We originally had the app developed by AppsMe and that was our first experience.
What benefits does your app provide to your customers? What kind of feedback have you had?
As well as being a one-stop shop for Natural Balance, the app allows us to reward customers for using our services with loyalty points and 'exclusive app' offers. We also have the chat feature which means we can send customers occasional messages and they can contact us.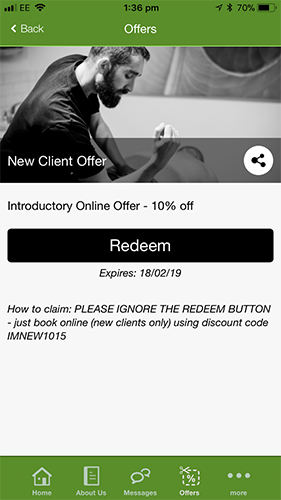 What would you say to businesses who don't have an app currently, because they don't think they need one, don't think they can afford it or are worried they don't have the technical skills?
The app is an affordable way to have a presence on a device that is now an intrinsic part of everyone's lives .. their smartphones! You need zero technical skills to get your app up and running plus there is chat and email support on hand if you need it. Increasingly customers are using Apps as the main way they interact with companies.
It's fantastic to see you've accumulated over 2000 downloads since you launched the app – can you share a little insight into how you promote your app to customers?
All our customers get a 'thank you' email after their treatment and we include in this a link to download our app.. explaining they can collect loyalty points and access exclusive discounts from the app.
We also feature the app on our website and include it in every newsletter we send out.
How do you keep your customers engaged with the business using your app? (What features within our platform do you use to help achieve this?)
The main features that keep customers engaged are push messages about late availability/offers and loyalty points. Customers received a 25% discount on their 7th treatment and this loyalty scheme is only available on the app.
We also use the geo-fenced messaging feature. I have it set with a message about the stresses of commuting up to London to specifically target our customers who make this journey and could definitely benefit from some massage or osteopathy. I have it set for East Croydon station as all commuters from Brighton to London go through this point.
Do you think having your own app makes you stand out ahead of competitors?
I think having an app adds to our credibility and shows that we're an established business prepared to invest in making things easy for our customers. I don't think many of our competitors have apps so it does make us stand out.
Key takeaways
Mark and Natural Balance Therapies have done a fantastic job at not only creating an app with unique, useful features that customers genuinely love – but promoting it effectively to new and existing customers, through including links and prompts on their thank you emails, in newsletters and across the website. Taking every opportunity you can to let people know you have an app is a sure-fire way to start racking up downloads, which will in turn see your mobile sales and customer loyalty rise. Have you got a unique way of promoting your app? Let us know in the comments below!
---