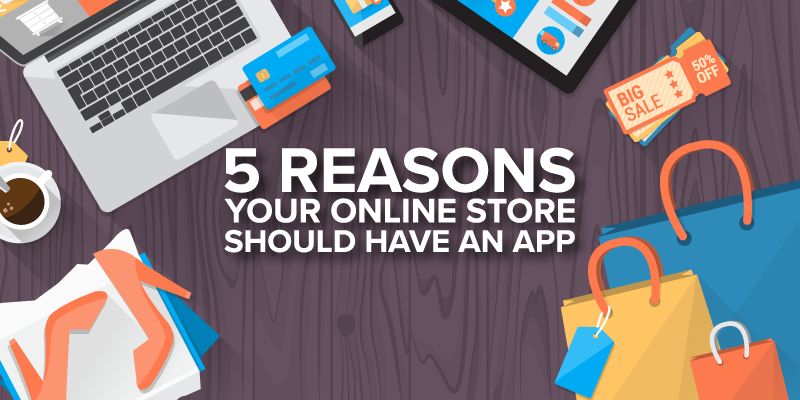 Mobile is fast becoming one of the most important needs of all time, and there is no turning back. There was a misunderstanding among some small businesses that having a mobile app is strictly a practice for big companies with  bigger budgets. However, look around today and you'll notice many small and midsize businesses are already adopting mobile app culture to sell goods through third party aggregators like Shopify, advertise online and create social networks. By providing a mobile experience, you're able to meet consumers where they spend the majority of their time. If you're a retail store or sell goods online, it would be a wise decision to create a mobile app for your online store. Here are top 5 reasons why your online store should have an app.
Better Service and Sales
With the development of the mobile app, sales have become easier than before. It has given a new meaning to buying and selling of product and services. Having an app has changed the way customers view and analyse a product before purchasing, and they even have the liberty to make informed buying decisions.
Keep in mind that it is very important that you offer your customers with a dedicated app with a focus on providing them the information they are looking for. Mobile apps are excellent for service and support, and no wonder better service is one of the best tactics to boost more sales.
A window to Social Platform
It's a fact that in today's world people are totally obsessed with social media. So why not be a part of this obsession as well. People spend a lot of time on social media platforms like Facebook and Twitter. Your online store can improve its social standing through integrating social features such as likes, comments, and in-app messages. So, a mobile app that gives your customers all the features they get in social media means that they will spend more time in your app. Through this, customers are able to share, review or discuss products.
Customer Engagement
No matter how small your product is, you offer to your clients; they need a way to reach you. By developing, a feature within your app can make a huge difference in the way you communicate with your customers. A mobile app offers your online store with an opportunity to connect with your customers in real-time. For example, many restaurants encourage you to book a table or order food by just clicking away rather than communicating via phone. Through this, not only you can have access to the profile information of customers letting you engage with them on the more personal level, but it also provides a demographic location.
Remain available to clients all the time
Through mobile, you can interact with your clients and customers in real time by providing useful information on the location and other areas through user profiles. Remember at the end of the day, an engaged customer through the effective business app can turn into a paying customer. An excellent way to deliver support instantly and efficiently to your client is only possible when you own a mobile app for your business.
Convenience for Customers
Mobile apps are much easier to use than websites. Usually, apps are designed with a primary focus on usability. In fact, they are intended to offer the next level of usability. Numerous search engines allow users to find exactly what they are looking for anywhere, anytime. When businesses agree to develop an app that allows more flexibility and can address specific customer needs, the benefits of having mobile app becomes even greater. Once it's there, the app tells you exactly what products are in stock; the app help customers reach your support team, services and payment section. Remember, by offering a merchandising feature through your app that suit your customer's needs can totally change their purchase experience and eventually increase your sales.
Conclusion
Online Businesses whether big or small can surely expect benefits from having a mobile app. If your company for any reason is not mobile and you, as an owner not thinking about investing in mobile app development, then you are already behind your competitors. With billions of mobile users around the globe, an app can make a customer's experience lot easier, handy and fun. Sometimes size does not matter. If you are the owner of a showroom, an online store or have a small coffee shop with an app to offer your customers, you are certainly on a road to guaranteed growth. Mobile apps are much faster and easier than a website. They can easily be functioned online and are always visible on mobile screens, unlike websites. So now you have all the valid reasons to invest in a mobile app for your online store.
If you're still stuck for ideas, check out '10 Money Making App Trends Your Small Business Should Invest In'
---