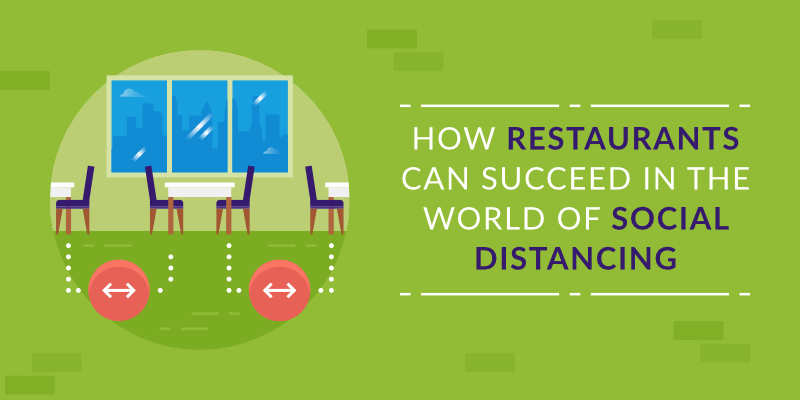 Restaurants around the world are opening their doors to customers for the first time since lockdown began in March. While this was welcome news, it is certainly not back to business as usual. Restaurants are operating in a vastly different environment to the one they were in before lockdown.
Those that successfully navigate the next few months are likely to be the ones that adapt best to the new requirements. Here are seven tactics your restaurant can use to succeed in the world of social distancing.
Contactless Ordering 
Contactless ordering is one of the key strategies the government is encouraging to reduce the spread of the virus in restaurants. It aims to lower the number of interactions between customers and employees.
Restaurants can enable contactless ordering with an app that allows customers to choose their food and then pay for it directly from their phone. The kitchen is then alerted about the order so they can prepare it. Finally, the servers bring the food to the table.
Use Your Outdoor Spaces
New laws have been introduced that make it easier for restaurants to make use of their outdoor space. This has the benefit of making up for decreased indoor capacity, as well as providing an option for people who don't yet feel safe eating inside.
Restaurants with large car parks or gardens are best placed to make the transition towards al fresco dining. However, new regulations make it easier for even city center restaurants without much space to set up tables outside.
Some restaurants are more experimental than others. The owners of the Harrington Arms set up outdoor seating in colourfully lit greenhouses after realizing that social distancing regulations meant they could only use three tables inside.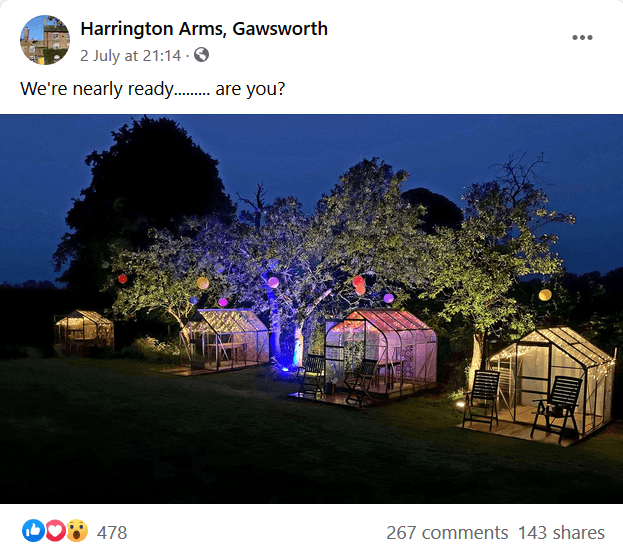 Refine Your Menu
Social distancing rules may impact the food you serve at your restaurant. Reduced capacity means less customers, which can make it unprofitable to run your entire menu. Meanwhile, some dishes may be unsuited to outdoor dining and buffets are still unable to open.
When you reopen, consider your menu and whether there are any places you can refine it to help make reopening smoother.
Here are some examples of this in practice:
London's Westerns Laundry is reopening with a single dinner menu served over two sittings.
This fine-dining restaurant moved from a tasting menu to an approachable a la carte menu suitable for outdoor dining.
Mangal 2 trimmed two-thirds of its menu, keeping only what it called its "greatest hits."
Consider Other Revenue Options
Many restaurants began to offer food to take out or deliver while they were shut down during lockdown.
This is something you should consider continuing with even once you reopen. Many people are still wary about eating in public, and you may be losing revenue if you remove the takeout option.
Here are some other ideas restaurants are implementing to make up for lost revenue.
Top Cuvee opened an online and physical shop called Shop Cuvee, selling ready meals, produce, wine, and bottled cocktails.
Padella began to sell prep-at-home pasta sets so customers could experience the restaurant's food at home.
Taiwanese bun restaurant Bao used its expertise to create an entirely new brand called Rice Error, with a menu more suited to takeaway and delivery.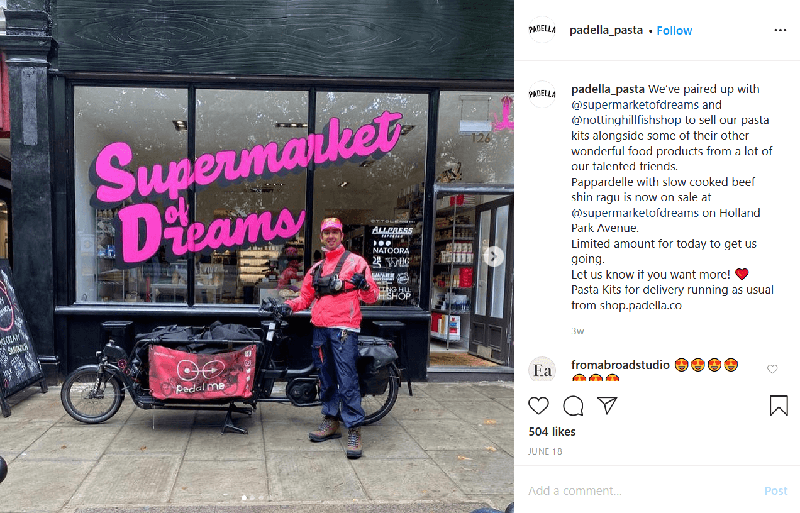 Rethink Opening Hours
When you reopen, it may be tempting to go all guns blazing back to your full schedule. While this may work for some restaurants, others should seriously consider the new needs of their customers.
Restaurants that were previously filled with office workers or shoppers at lunchtime may find that the lack of open businesses means they will struggle to turn a profit during these hours. Focusing on evenings may be a better option.
If you are unsure about how busy your restaurant is likely to be consider keeping an eye on footfall in the area, or doing reduced capacity openings to limit risk.
Follow Government Guidelines
The government has released several guidelines that detail how restaurants and other businesses that serve food can stay safe. These guidelines are a crucial resource that can help you with your post-lockdown strategy. Some of the most important things to look out for include:
Implementing one-way walkways around your restaurant to minimize contact between customers.
Encouraging contactless ordering and payments.
Reducing the need to queue.
There are also schemes such as the "Eat Out to Help Out" program in the UK, which lets restaurants offer discounts to customers and claim the money back from the government.
Proactively Communicate with Customers
It's important to communicate the changes you are making to your customers. Explain things like contactless ordering, one-way walking systems, and booking requirements on social media or via your email list. You should also highlight the measures you are taking using signs around your venue.
Explaining these procedures will not only encourage people to follow them, but it will also help set people's minds at rest by seeing that you are doing all you can to provide a safe space for them to visit.
Stay Safe and Maximize Revenue with a Restaurant App
A restaurant app can help you implement some of the above strategies, such as contactless ordering and offering food to take out. AppInstitute's app builder provides an easy way for restaurants to create an app, fast. Our apps:
Enable contactless ordering, helping you keep contact between customers and staff to a minimum.
Allow customers to order from your full menu and pay in-app, ensuring you don't miss out on revenue.
Help you demonstrate that you are taking your responsibilities as a restaurant owner seriously.
Support takeout options, making up for revenue lost by operating at a reduced capacity.
Anyone can create a professional app with our app builder—even those without any coding experience. Get started now and have your app up and running within hours. Click here to try it out.
---