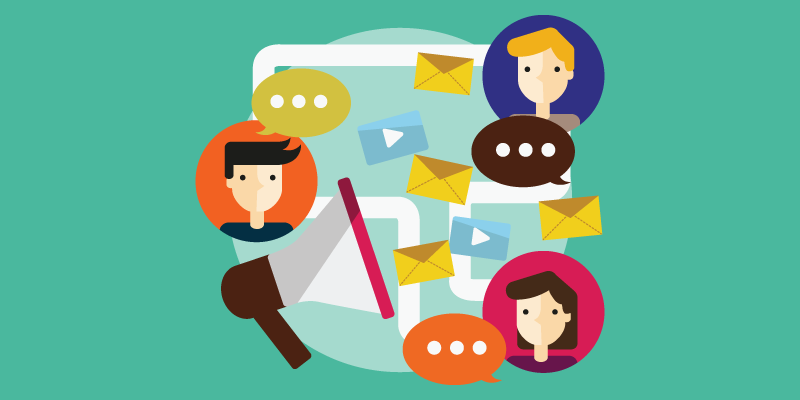 Digital marketing can be an exercise in contradictions. The internet provides companies with the tools to reach millions of potential customers for a fraction of the cost of more traditional marketing channels, and it comes with its own set of rules. Despite that ability to blast your message and brand out to the world in an instant, digital marketing (through social media, especially) also provides a level of intimacy that is just impossible to achieve with old-school advertising. Consumers just can't have a conversation with a television ad—well, they can, but that's usually a sign their meds are wearing off. But on social media platforms, there are nearly 2 billion media savvy people participating and if you're not putting in the effort to start a dialogue with them, you may as well be talking to your TV.
That's what we mean when we're talking about engaging your audience. It's all well and good to produce a video that goes viral, or even just re-post an amusing meme that's somehow relevant to your business. Those may very well get you the Likes that you crave. It's only when you're interacting with your followers that you begin to build something special, something that breeds loyalty and, most importantly, sales. Looking at other small business success stories can be instructive as to how you might want to go about this.
You might look at some of these examples and think to yourself, Hey! These aren't small businesses. To which I'd respond: Not anymore, no.
Betabrand
In 2005, Betabrand was a San Francisco-based startup called Cordarounds that made one product: corduroy pants with the fabric flipped 90 degrees. The horizontal, rather than vertical, corduroy wales were quirky, maybe even absurd, and a marketing strategy was developed to emphasise how different this company was.
Founder Chris Lindland created a brand that played off a person's possible initial reaction of Is this a joke? The Cordaround website leant heavy on the ridiculous. Horizontal cords meant a quieter, more aerodynamic walk, and a lower "Crotch Heat Index." Lindland promised that all pants would come with "a certain optimism," and claimed their offices  were in a pants-shaped blimp made entirely of Cordaround fabric. This was back in 2005, before social media really took off, so Cordaround's early marketing relied more heavily on direct e-mail and traditional media. A New York Times story about the pants and the company brought them national attention three weeks after the first line of cordarounds were ready to ship. They sold out the first run shortly after that, and then sold several thousand more pants, five times more than they had produced. Lindland had to appease all these people who suddenly found themselves on a 3-month waiting list for these silly pants they'd bought on a whim. He began sending out a weekly newsletter thanking people for being so patient, and then giving them joke-y suggestions about all the fun things they could do with their pants once they got them. It worked. Lindland wrote on the Betabrand blog that "99% of the people stuck with us and enjoyed the wait."
Seeing how effective his efforts were in providing something more than pants to his customers, Lindland began experimenting with more interactive ways to involve his audience. He used the newsletters to put out a call for photos of people wearing their cordarounds. As the company morphed into Betabrand, they put this idea into action on their website with their "Model Citizen" section. Users are invited to post their pictures here in exchange for a discount. Once they're uploaded the photos can be shared over social media. Next Betabrand started letting customers vote on which designs they wanted to see become products, a practice which has evolved into a full-fledged Kickstarter-like crowdfunding platform. Now, from the Betabrand website,users can submit their own designs, other users fund the creation of a prototype of ones they want to see made, and then Betabrand goes ahead and makes the ones that reach their funding goal.  They've made "audience engagement" a fundamental part of their business model and a little over a decade into the experiment Betabrand is an $18 million company with hundreds of thousands of loyal customers.
Of course, you don't need to go so far as to start letting your customers conceive new products for you, but the success of this kind of participation is hard to ignore. Restaurants and cafes can involve their followers in menu changes, voting on things they'd like to see added or removed. Clothing stores can create hype around upcoming products in the same way. Or even just random contests that request your users to get creative, like Betabrands recent "What would your horror-movie monster name be?" (with the winner receiving a discount on their new "Frankenflannel" shirt).
---

---
Beardbrand
If you could describe a marketing strategy in terms of an Aesop fable, Beardbrand is the persistent tortoise—slow and steady wins the race. Everything about the way Beardbrand does business bucks conventional advertising wisdom. Most notably, they just don't advertise any of their products. Instead, the focus of everything Beardbrand does in terms of customer outreach is to push the brand, and only the brand.
In a post on Reddit, founder Eric Bandholz explains what this means in practice. Bandholz and company clearly spent time developing Beardbrand's aesthetic, in terms of their logo, packaging, and site design. They identified their target market and even coined a phrase to describe that market: the Urban Beardsman. That sounds like a less insulting way to call someone a hipster, but it's also a moniker that conveys a lot about who they're marketing to—men whose beards are an important part of their style, and not just guys who don't feel like shaving. The phrase does double duty by not just identifying their customer base, but it creates an instant feeling of community and belonging. Instead of directly saying their products fill a unique niche in the marketplace, they brand their customers that way. If you've ever studied rhetoric, or just interacted with a human, you'll know that the best way to appeal to someone is through their ego.
The real magic in Beardbrand's marketing efforts is the way they use social media. Their YouTube channel is filled with beard-centric videos: how to grow a beard, how to style it, how to kiss with one, etc. The Urban Beardsman Tumblr is a like a shrine to all things stylish and hairy. And Bandholz himself is very active on Reddit, chiming in as an authoritative voice who is there simply to educate people, regularly conversing with other users—even about things that have nothing to do with facial hair—and offering business advice to people who would directly compete with his business. Through all of this, the lack of a product push is worth noting. If Bandholz wrote three lengthy paragraphs on the best way to wash and groom your beard and ended it with a single sentence touting his company's product as the solution, it would negate his authority. As he wrote in the subreddit /r/entrepreneur,
I stand by our viewpoint that our product is fantastic, and when people are ready to buy they will buy. Granted, we might be missing out on some opportunity; but we feel in the long run we prefer the culture of quality over immediate gratification.
And how has this kind of patient and engaged strategy worked out? Before Beardbrand's first year was done, they'd gone from $0 to $120,000 in monthly sales, and with a higher repeat customer rate than the industry's average.
Ana White, Carpenter
Ana White branded herself as a "homemaker," a clever play on words that subverts the prevailing attitude about gender norms. Most people hear a woman call herself a homemaker and assume she's a stay-at-home mom, cooking meals and washing clothes. The fact is, though, Ana White actually makes homes. She's a carpenter, and a talented one at that. That she is a woman shouldn't be met with surprise, but the sad truth is that a female carpenter is still unexpected in this day and age. White brilliantly plays off this on her website, making it her mission to empower anyone—man or woman—who thought they didn't have what it takes to build things. Her website is a treasure trove of blueprints for all kinds of carpentry projects, from furniture to cabinets to a tiny house built on a flatbed trailer.
These plans also serve as the foundation for the very active Facebook community she maintains. Here, and on the "Brags" section of her website, Ana's fans do most of the social media heavy lifting by sharing pictures of their own projects, either from her plans or their own. It's a fundamental truth that people love to talk about themselves, and show off the things they do or make. It's kind of the bedrock of social media's success. But by encouraging her fans to post their stories on her page, or use the hashtag #anawhite (on Instagram and Twitter, too), she's created a community of extremely engaged followers. Her social media presence has taken on such a life of its own that Ana doesn't need to post or comment as often as would be expected. Her fans keep her social media presence thriving, leaving her more time to build, and appear in TV shows on HGTV and the DIY Network.
Build And Maintain Your Audience
As you can see, the rules of engagement to boost digital marketing positive outcomes are clear. Brands must think outside the box and develop unique, interesting strategies to capture the audience's attention. Sales and marketing teams must collaborate to analyze together the needs and preferences of prospects to attain common goals. But if your marketing efforts aren't giving the right numbers, consider hiring experts to help you.
Digital marketing agencies, such as Clearwater Agency, offer search engine optimization (SEO), content marketing, paid ads, and other digital marketing services. These companies employ experienced digital marketing specialists to help brands deliver transformative digital marketing performance through proven-effective techniques. They use advanced technologies to monitor marketing performance in real-time and make prompt recommendations to stay on top of the game.
As you master the rule of engagement, you become more adaptive, agile, and intelligent to plan your next move and determine your competitors' strengths and weaknesses. Customers become your ambassadors and refer you to their loved ones.
Eventually, you can create the best engagement digital marketing strategies to write your success stories online and in print media as your business expands and becomes more successful. So, keep learning, strategizing, and innovating to reach your short-term and long-term business goals.
Learn more about the essential digital marketing tactics for small businesses in this guide