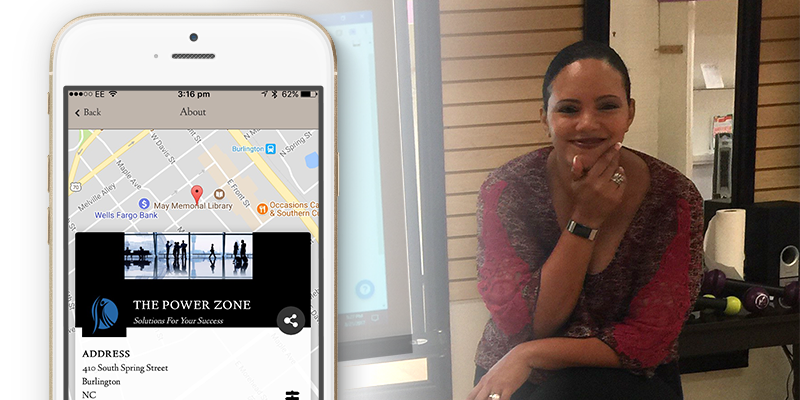 Since Appsme became part of the AppInstitute family – we've been working with a bunch of fantastic new businesses to ensure they continue their app success as they transition to our platform. One of those businesses was The Power Zone – a virtual training company that offers a wide variety of courses on things like Mental Health, Wellness and Business Management.
We spoke to The Power Zone's Angela Seabrooks to learn a little more about their business and how their app has boosted business.
Angela, could you tell us a little bit about yourself and your business? What is your background – and what do 'The Power Zone' offer?
I have worked in the mental health industry for over 29 years, initially providing direct care services for individuals with mental health and substance abuse disorders, as well as those with intellectual and developmental disabilities. I began training and consulting with other providers in 2001 and created The Power Zone in 2010. The Power Zone provides virtual support services for providers through our online training courses and web-based documentation and intervention assistance. We also aid providers in staff development through our life coaching services and our wellness support services to help them avoid burnout.
What needs within your business initially made you decide that you wanted to get your own mobile app?
As The Power Zone transitioned to online training services, we searched for tools to allow us to provide more mobile support services that staff members could access as while they were in the community providing direct care services.
What benefits does your app provide to your business? Have you seen any good results so far?
The app has been a wonderful additional to our training program, particularly since individuals taking our courses can open a Live Chat and receive immediate support. We have received extremely positive feedback on their ability to access documentation support tools, as well as training videos directly from the app.
How does AppInstitute compare to app builders that you've tried out previously?
I have been extremely impressed with the app builder and tools available through AppInstitute. The system is extremely easy to navigate and provides a variety of tools to develop a professional product. I have tried other products that had very limited capacity to add documents and links, and were difficulty to navigate.
What would you say to businesses who don't have an app currently, because they don't think they need one, don't think they can afford it or are worried they don't have the technical skills?
For a business owner who doesn't have an app currently, I would remind them of the benefits they may be able to achieve with your own app. Apps provide the opportunity to showcase their products, create deals they can market directly from the app, as well as send out messages when they have changes their customers need to be made aware of. The messaging feature allows them to receive direct feedback from their customers, while they also have the ability to link their customers to their social media profiles. If they are concerned about the process of actually building the app, the system is extremely easy to navigate, and they can also enlist the assistance of a pro. It can't get any easier!
How do you currently promote your app to customers?
I promote the app through a variety of methods. We send out a monthly e-newsletter with links to the app for the individuals currently enrolled in our training courses. We also promote the app through The Power Zone's Facebook page, and we have promotional material posted on-site at the Wellness Center.
Has your app made managing enquiries easier? Do you get many leads through your app?
The app has definitely made managing enquiries easier since individuals that have questions can open a Live Chat and get immediate assistance, and can also call us directly from the homepage of the app. The ability to feature deals throughout the month has been a great tool to generate new leads.
Do you think having your own app makes you stand out ahead of competitors?
In a digital age, having your own app provides a sense of legitimacy and professionalism that gives you an edge over your competitors.
Any final thoughts on working with AppInstitute and making an app for your business, or anything coming up you'd like to plug?
I have thoroughly enjoyed the transition to AppInstitute. The customer service and support received has been awesome!
---