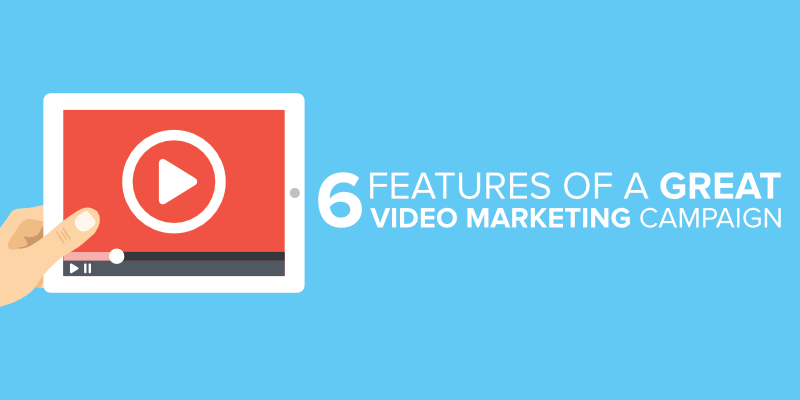 When it comes to things that are hot right now in the digital space, videos are right up there. With the fast-paced lives we all live, consumers don't have time to read page upon page of content, yet a 30-second video is easily digestible and can leave a lasting impression.
If you're thinking of developing a video campaign for your business, it's important that you don't just jump in there though as you need to stop and take a few minutes to think about what you want to achieve and how your videos are going to look in order to help achieve this.
With the increased number of companies opting for video to portray a message, you need to make sure yours stand out from the crowd and leave that all important impression on the person watching it.
To help you get off on the right track, here are a few features that will make your video campaign well worth the time and effort you'll have invested in their creation.
Understand the objectives
First and foremost, you need to understand what it is you are looking to achieve from the videos you create. If you can identify a goal, you can then better understand how you will manage success:
Videos to increase brand awareness: You'll be able to assess this simply by the number of views your video receives on whichever platform you upload it too.
Videos to launch a new product: You can track how many times your video has been viewed until the very end, highlighting its effectiveness in promoting and engaging an audience in a product. By tracking sales figures, you'll also be able to identify any spikes in sales around the distribution of your video.
Videos to drive traffic to your website: By including a link to your website in the video description as well as including clear call to actions within the video itself, you'll easily be able to track how many users are coming through to your website and where they are coming from.
Focus on the story
Videos which have the most impact on the consumer are those that tell a story and don't simply push a product right in the faces of the audience.
Emotion can play a huge part in a consumer's buying habits, so if you can reach the inner emotion inside everyone, you'll be increasing the chances of your video achieving your goals.
By telling a story, you can also tease viewers with a sneak peak or first part of the story; this encourages them to wait for the next instalment to see how the story develops and whether it has the ending that they are all hoping for.
Make the early impression
Statistics suggest that one-fifth of viewers of a video click away within the first 10 seconds, meaning you don't have long to make that all important impression.
You need to get in there early with your key message that entices the audience and makes them want to watch on. As we've already mentioned, we lead busy lives so don't have time to wait around with all the other videos out there.
Asking questions of your audience can help to peak their interest, as being able to relate to something always keeps you interested. There's then the prospect of introducing a character that lasts in their memory and ensures they instantly relate it back to you whenever they see it in the future.
Don't blend in with the rest
Boring videos aren't going to get you anywhere. Nobody remembers a boring video. Nobody shares a boring video. Nobody buys from a company that produces a boring video. It really is as simple as that.
You need to make your video fun, or something that makes them laugh. Perhaps your video is designed to make them stop and think through shock tactics. Take the time to think about the videos that you remember and what made them stand out for you. These are the sort of videos that you need to take into consideration when it comes to your campaign, utilising some of the features which made you stop and take note.
Get your viewers to do something
Whilst you're not pushing a sale, it doesn't mean you can't take advantage of the opportunity to get your viewers to complete an action at the end of your video.
Call to actions in videos are as important as in any other form of content, so encourage them to visit your website, sign up to a newsletter or leave a comment about what they've just watched. If your video has had the desired impact, you'll have the viewers full attention so it's vital that you don't miss out on the opportunity to make the most of it.
Don't forget to optimise for search
It can be easy with a video to forget about the importance of fully optimising it so it can be found on Google. Whereas it probably comes as second nature in any content you publish, you need to get into the same frame of mind when publishing your videos too.
Firstly, get the best impact SEO wise by uploading your video to your own website before you distribute it elsewhere. When you add on the option for users to embed on their site, you can then include a link back to your own site to showcase where the original source of the video is to gain that all-important link authority.
It's then all about the descriptions you write everywhere you publish your videos. This is what Google will crawl to understand your video and decide where to put it in the search. Make sure you include relevant keywords, detailed descriptions and unique titles to help your video rank.
By taking on board these six features, you'll be making a solid start on your journey towards a great video campaign. Don't expect the magic to happen overnight and it will take time to create a video that you're happy with, but with creativity and some hard work, you could soon be taking advantage of the 800% increase in conversions on landing pages that host a video. Now if that prospect doesn't excite you, nothing will!
Check out Venngage's 9 Easy Tips For Creating Your First Marketing Video for more tips.
---