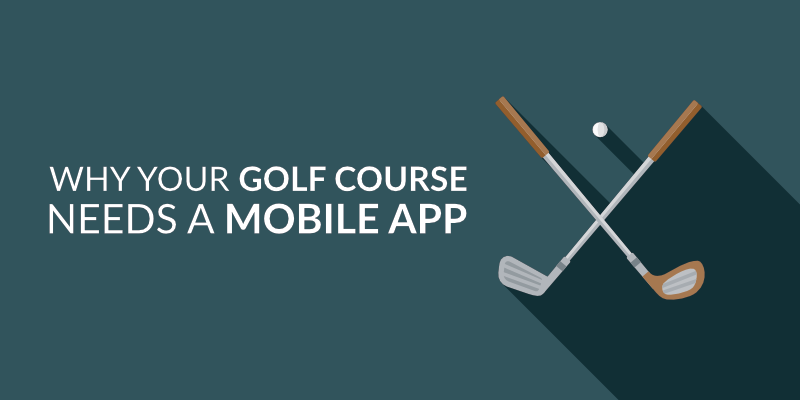 The way businesses and customers interact is changing fast. Innovation has brought the ability to make purchases and reservations without the need to physically go anywhere or even make a phone call. Mobile apps eliminate wait times and allow people to get straight to what they need. Think of the last time you called customer service and were put on hold for an hour, you probably didn't have a very positive attitude towards the business you were dealing with afterward.
Many golf courses are struggling to grow, and accessibility needs to be increased on all fronts if they're going to survive. Older clients may be accustomed to the traditional way of reserving tee times, but the truth is that the older generation of golfers is slowly shrinking due to players retiring from the sport. To experience growth once again in the industry, golf managers need to start attracting younger, more tech-savvy people to their course. A great way to do that is by introducing an app for your golf course to improve the customer experience as a whole while helping out your operation by streamlining processes and capturing valuable data.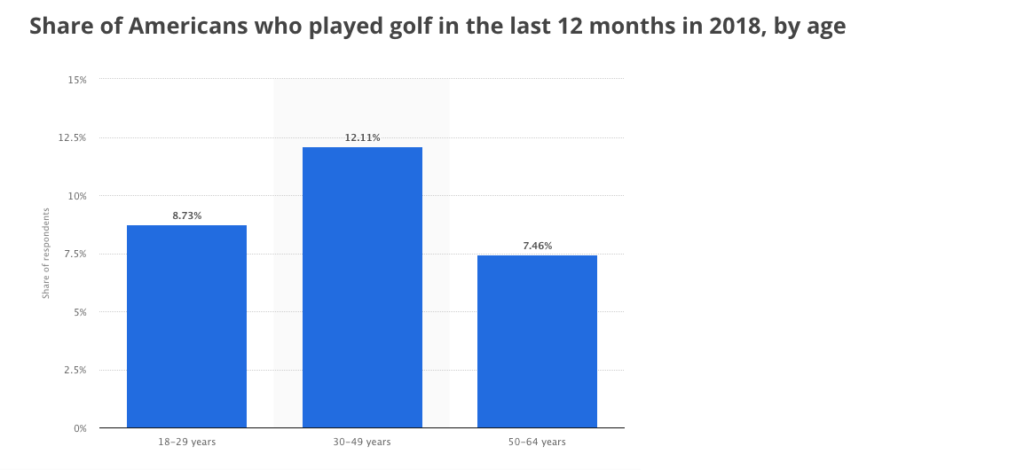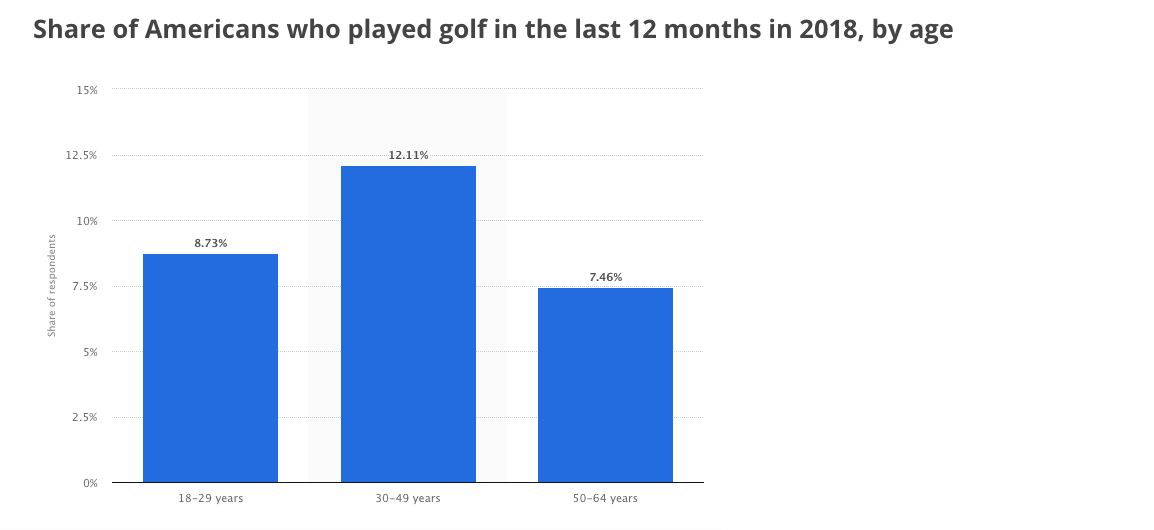 The 50+ population is the smallest segment of golfers
Here are 5 reasons why a golf course can benefit from a mobile app:
1. Make it easier to book and pay for rounds
Reserving a tee time through a mobile app is a much quicker and more enjoyable process than reserving over the phone or in-person. Customers don't have to worry about the hassle of waiting in line or being put on hold during busy days. Apps can be used 24/7, instead of having to wait until opening hours to call in, making them much more convenient. Reducing the amount of frustration that can come with booking a round will make customers much less likely to abandon the reservation process before completing it.
On a mobile app, golfers will be able to see all of the tee times available on a given day, they also should be able to find a directory of course members. This allows people to make a much better decision about when they want to play and who they want to play with, especially if you can offer deals and discounted tee times directly through the app. There's no longer a need for the complicated back and forth between pro shop employee and customer when trying to figure out which time works best.
2. Increase sales with push notifications
Need to fill out your tee sheet this weekend? Send a push notification to the people using your app to let them know that there's a special discount on rounds this Sunday. Not only are you effectively distributing information by having it pop up on your customers' home screens, but you're also increasing brand awareness by getting people to think about your course.
Push notifications are tricky though: you want to send out enough of them to increase sales while not annoying users by sending too many. Spamming home screens will cause people to disable notifications or, even worse, uninstall your app. What you need to keep in mind is that you should only send out a push notification if it is timely and provides value.
An excellent notification idea is to send one out about 3 hours after a golfer starts a round to let golfers know about a 2-for-1 deal on craft beer in the clubhouse. This will get the receiver to start thinking about the restaurant before they finish up at the 18th hole, increasing the likelihood that they'll visit your restaurant.
Push notifications can be used for many purposes. You can set up a notification to remind a player about an upcoming tee time, encourage a booking with a tee time promotion, inform players about course conditions, or invite members to an upcoming tournament. Advertisements via traditional media can easily be ignored, but when your ad shows up in someone's pocket, they're much more likely to take notice.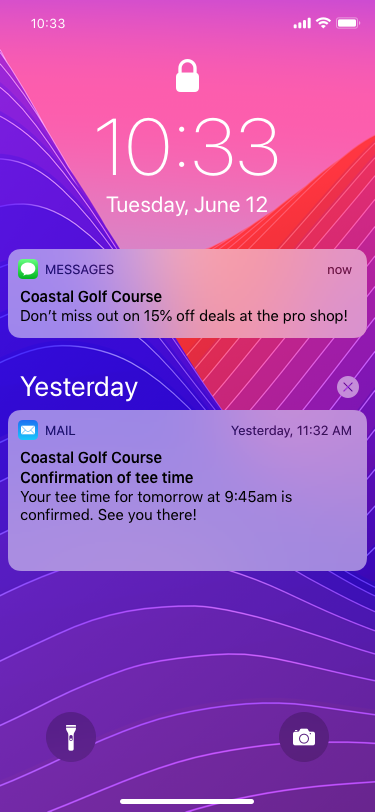 3. Keep your staff off the phone and give them more time with customers
Gone are the days of paying people to pick up the phone all day. Because mobile apps are capable of taking reservations through the internet, the number of calls your pro shop receives will diminish. This means that employees on duty will spend less time taking calls to schedule tee times and focus more time making sales on the pro shop floor.
Instead of golfers walking right through the pro shop, they'll simply need to approach the starter who will check them in and smoothly guide them through the course to their tee off. Mobile check-in is capable of increasing revenue generated from sales, however, you may also see labour costs decrease because you won't need as many employees in the pro shop to answer reservation calls.
You can also send out notifications if there are any cancellations due to unfavourable conditions. This provides a vastly improved service by making any schedule changes clear to everyone in real time. Also, sending updates via push notification is a much cleaner and less labour-intensive way of communication. Instead of having your staff members calling up customers to try to reschedule tee times, the golfers will be alerted on their home screen and they can change their tee time in the app.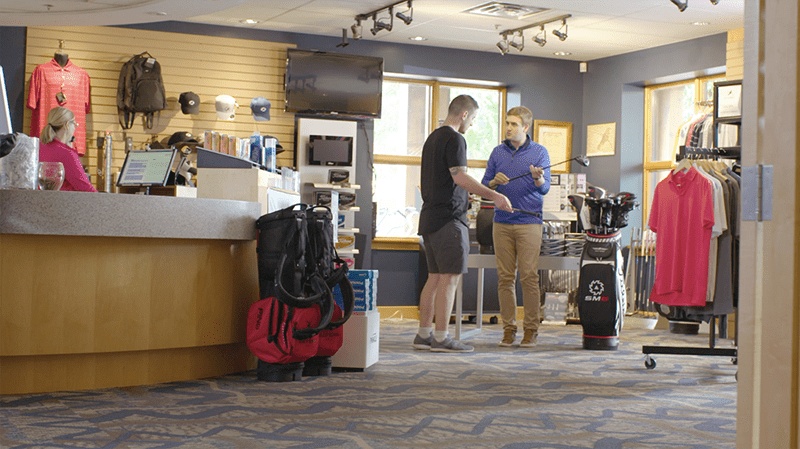 4. Promote your loyalty program
Golf courses compete in a competitive entertainment market. To survive, retaining customers and generating repeat visits is key. One way to ensure customers choose your course the next time they play golf is to introduce a meaningful rewards program that goes beyond the paper punch card and delights players.
One way to do this is by introducing a mobile app based loyalty program that enrolls customers once they download the app and begin playing golf at your course. Mobile apps are capable of implementing sophisticated loyalty points systems that allow course operators to track engagement and measure customer behaviour. Utilizing the valuable data loyalty programs provide can help with making better, data-driven marketing and operations decisions.
Loyalty rewards programs can also be a great way to create a sense of urgency for your deals. You can send out a notification letting people know that there will be double the rewards points earned on rounds during an upcoming weekend. It's very easy for your golfers to see a message that's asking them to make a purchase as spam. However, if you're providing value by letting them know that they'll receive something in return if they book right now, you'll likely see an increase in your conversion rates. The best part is that you won't tarnish your brand by sending out annoying messages that don't create any value.
5. Automate Food and Beverage Sales With Mobile Ordering
Modernize the "19th-hole" with mobile app food ordering. Imagine the convenience of being able to purchase a meal or order a drink from the final stretch of the back nine. Golfers typically visit your operation for anywhere between two to four hours. Chances are good that at some point they will get hungry. Make food ordering frictionless by giving players the ability to browse a menu and input an order directly from their smartphone.
Mobile ordering not only benefits your customers, it also makes the lives of your staff easier. Processing orders that are manually entered by the customer is much simpler for both frontline restaurant staff and kitchen staff. Automating the ordering process is proven to reduce communication errors between the kitchen errors, and it lets servers focus on delivering high-quality service, not jotting down orders that can be easily confused.
This added level of service creates a lot of value for your customers who will appreciate the ease of ordering from the course. Bring technology that major restaurant chains are implementing at their operations nationwide to your golf course and benefit from increased revenue from food purchases while reducing staffing costs!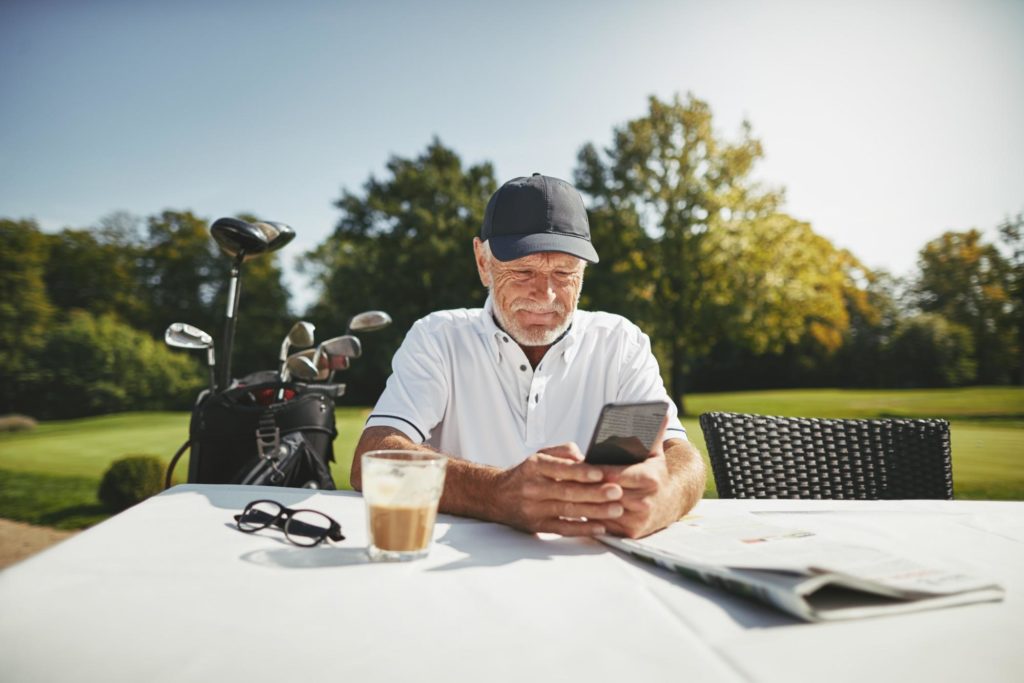 Conclusion
It's time for golf courses to enter the 21st century. Mobile apps are the perfect marketing channel for targetting your customers with useful promotions and the opportunity to earn loyalty points. From an operations perspective, your kitchen and front line staff will appreciate the simplicity of processing automated mobile orders, and your pro shop will benefit from the reduced number of phone calls to the pro shop.
There is an increasing presence of technology across every industry and, despite often being very traditional, golf is no exception. More and more golf courses are now implementing innovation, and you don't want your facility to fall behind the curve. Phones are filled with pages of apps, so you need to follow the best practices to remain relevant. Make sure that your app provides value to both your business and your customers and you'll see success in the long run.
Mobile apps are an important tool that golf course operators should seriously be considering. Today, many providers make it simple for even the most non-tech savvy golf operation to adopt a customized mobile app. We truly believe your customers will value the ability to interact with your business through a custom branded mobile that offers a variety of functions.
Author Bio: Alex Lavoie is Marketing Manager at Chronogolf. He works with an awesome team of writers, PPC specialists, designers, and email marketers to deliver the best informative and interesting golf industry content on the Chronogolf Blog. When he's not writing you can find him teeing it up on the course, or playing drums in one of his many bands.
---