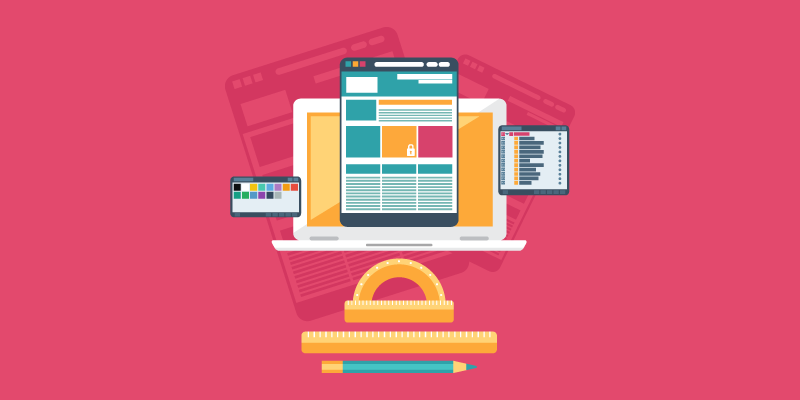 We've all been there: you've had a great idea for a side project and have built it out into a killer app. But you really need to put together a website before you can start marketing it effectively.
App store descriptions don't exactly give you much space to highlight the most interesting aspects of what your app can do. Nor do they give you the option to collect email addresses to promote new features, or maybe even your next product.
Even a single landing page can be an effective tool in your arsenal, and do SO much more than just provide links where potential users can download your product from app stores. But enlisting the help of a designer and/or developer to create something so simple can often seem like overkill.
You could always try to manually whip something up yourself, but you might find yourself floundering if that's not your speciality. There's nothing worse than spending a lot of time on building a website only for the end product to not work as it's supposed to…or at all.
Fortunately, there are plenty of alternatives out there to quickly and easily create a one (or more) page site. Here are five awesome tools to build out simple landing pages, whether or not you already have an existing website of your own.
Launchrock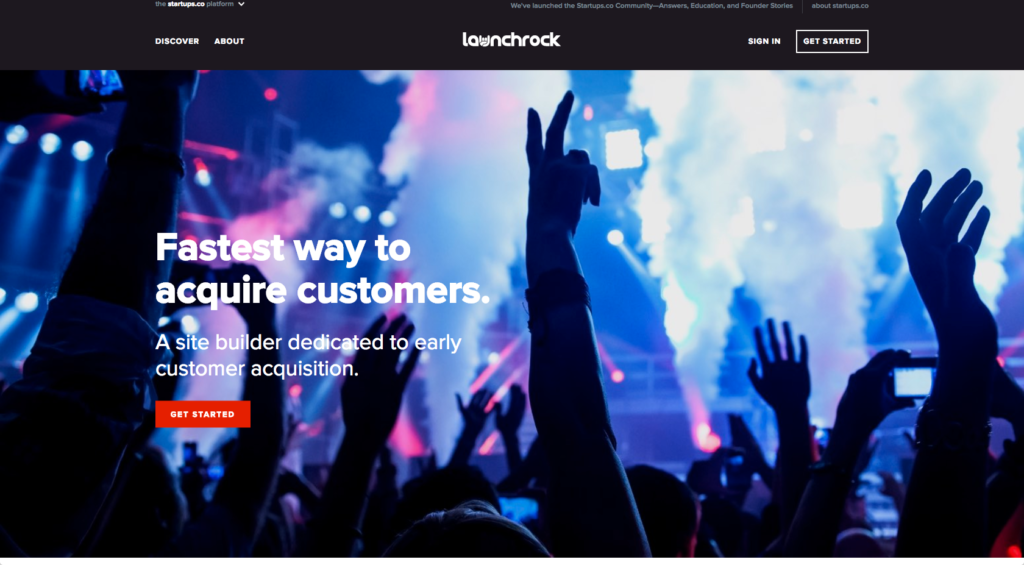 About as easy as it gets, Launchrock began its life as a way to gather email addresses from potential customers before launching a product. Things over there have moved on a little since then, and you can now use Launchrock to share information about an existing product or service too.
With that said, the focus is still very much on early growth and customer acquisition. Launchrock sites tend to be pretty basic, but that's probably by design – the majority of Launchrock templates feature a "sign up for more information" CTA, which is usually the primary driver behind the page itself.
That will definitely appeal if early user growth is your main aim, but it may not be quite so helpful if you're more in the market for a site to share information with existing customers.
Pricing: Free!
Wix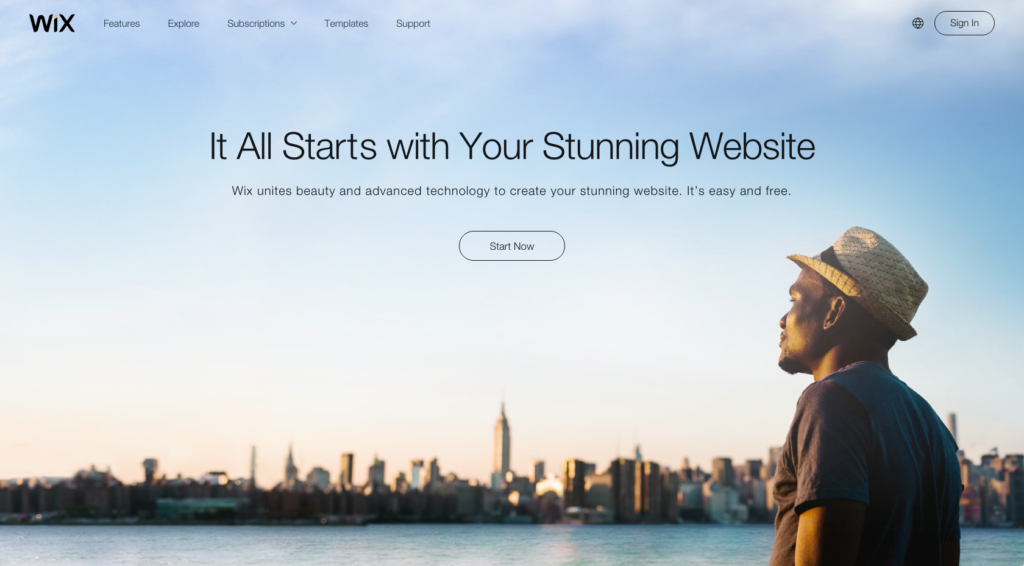 Of all the "one pager" tools out there, Wix is undoubtedly one of the best known. That's probably because, like Vistaprint, it branched out into TV advertising as well as having a strong marketing presence online. Wix even aired a TV ad during the latest Super Bowl, in which advertising real estate is eye-watering-ly expensive.
Its drag and drop interface means that it feels a lot like MailChimp's new editor in terms of its UI. But it has to be said that – much like with MailChimp – the quality of what you put out does, to some extent at least, depend on your natural design acumen.
Wix lets you create sites for free but, unless you upgrade to a premium package, you'll be stuck with an unsightly ad at the bottom of the page. Switching templates can also be a bit of a hassle, as it involves re-adding all of the content that you were already using in a previous template.
Pricing: Free (basic), $5-25 per month (premium tiers)
Check out WebsiteBuilder.org's review of Wix
Unbounce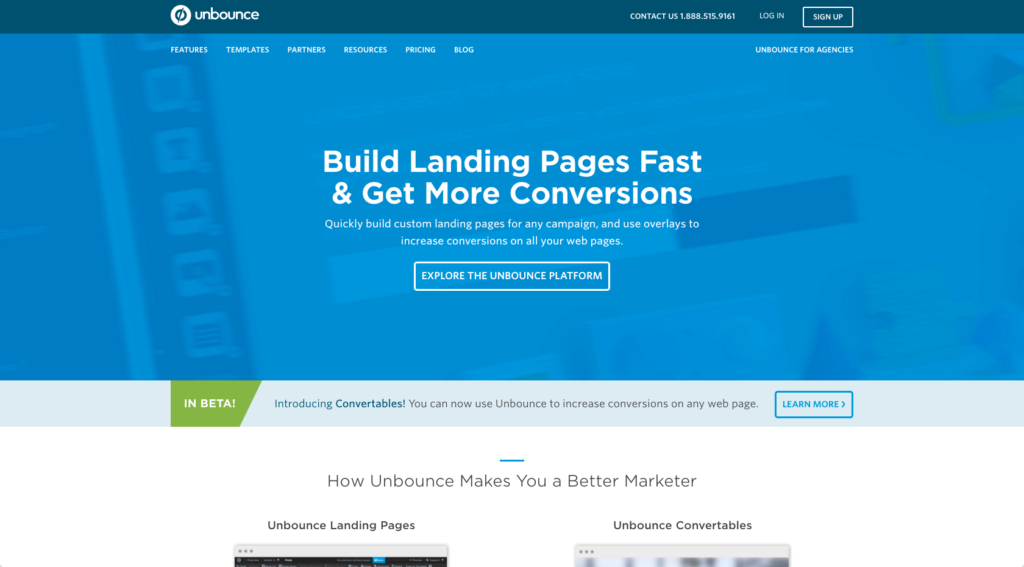 Already have a website and want to run tests on it but don't have the IT skills to do so easily? Unbounce, which allows you to build custom landing pages, could be a good alternative to ditching your old website in favour of another tool.
It has some great looking pre-made templates and because it's primarily a tool for marketers, Unbounce's emphasis is very much on conversion. We wouldn't be surprised if they had the best converting templates of any comparable tools.
The only downside? It's a premium product and, with the cheapest package starting at almost 50 bucks a month, it's priced like one too. But it's probably not the best pick if you're a beginner anyway, as it's unlikely you'd be using many of the features designed for power users when just starting out.
Pricing: $49+ per month
Squarespace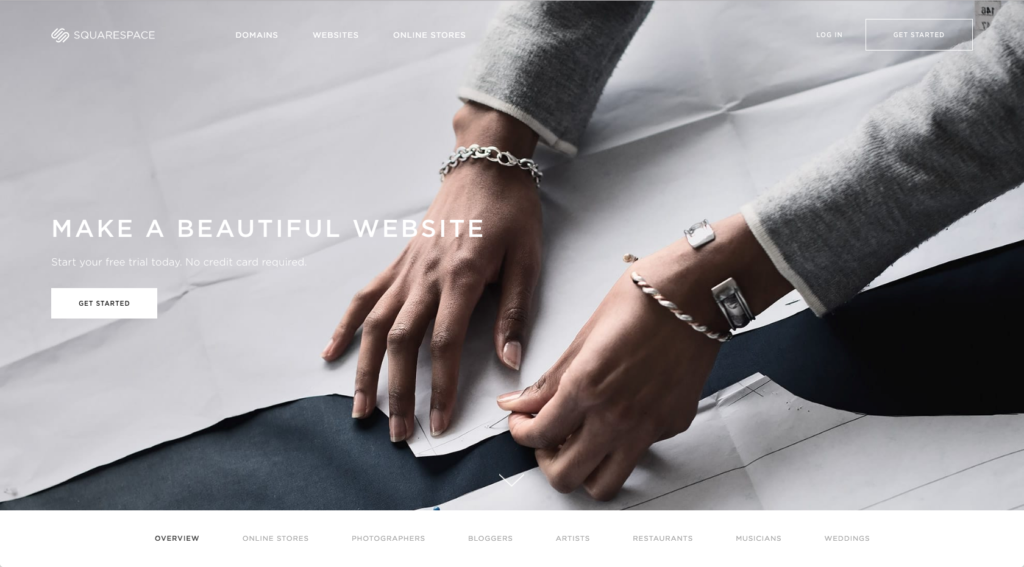 If you're looking for a tool to create something that feels more like a "real website" than a template, Squarespace might be right up your street. There's no denying that it's easier to use than WordPress, but you can still use custom URLs, CSS etc.
There's no obligation to use them, but Squarespace is packed with e-commerce features should you decide to sell products directly through your site. It's a breeze to create a good looking site if you know what you're doing, but it has to be said that you can create a great looking page with Squarespace even if your tech knowledge is fairly limited.
Pricing: $12 per month (personal), $18 per month (business)
Instapage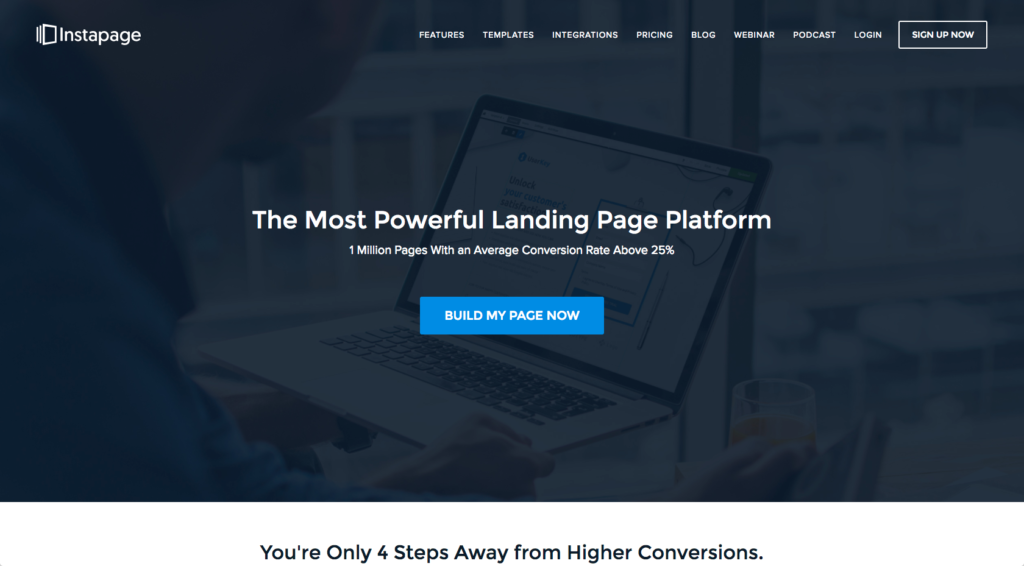 Like Unbounce, Instapage is a landing page tool rather than a one-page website creator. That said, it could certainly be worth a look if you're planning to put out lots of landing pages – you will need to use Instapage in conjunction with an existing site, though.
Their focus is very much on creating things quickly, with multiple mentions of being able to create pages in a matter of minutes on their homepage. That will probably appeal if you're looking to experiment lots with your PPC advertising.
It's a cheaper option than Unbounce (and most other similar landing page products, for that matter) but offers comparable functionality, so could be a fine choice if you're on a budget.
Pricing: $29-127 per month (when paid annually)
Of course, there are still cases in which hiring a professional developer/designer is going to be the best option – building a highly complex e-commerce platform or doing something that's visually very unique, for example.
That brings to mind one problem that can manifest itself whichever tool you use: if you pick a common template, your site will probably end up looking…well, a lot like it was made from a template. But for very simple sites, particularly one pagers, that's not as big of a deal as if you were building a complex site for a huge corporation.
Thankfully the days of having to spend thousands of pounds just to create a "one pager" are far behind us, and it's good to know that there are plenty of app tools out there that can make this whole process quick and easy without breaking the bank.
---


For more tools to promote your app, check out our exhaustive directory of the best App Tools.