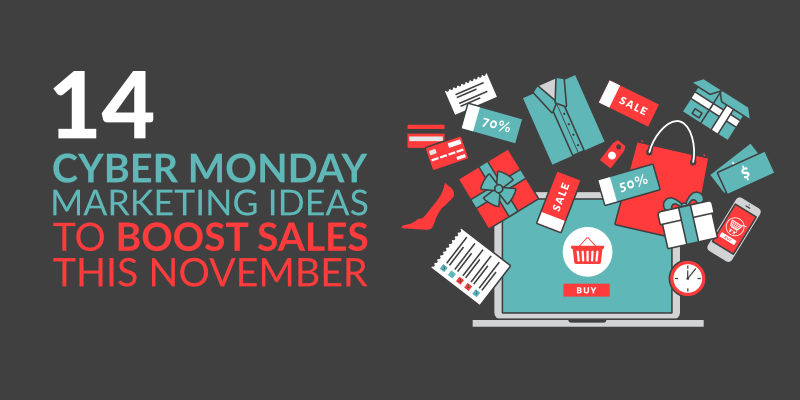 Once the excitement of Thanksgiving and Black Friday are over, people just want to relax – and shop.
Origin & growth of Cyber Monday
On the Monday after Thanksgiving, it turns out, people love nothing better than to put on their comfy pants and get out their mobiles to search for online bargains. In 2005, the National Retail Foundation (NRF) cottoned on to this increase in sales and gave the trend a name, Cyber Monday.
Cyber Monday is frequently packaged together with Black Friday, and you'll often see marketers advertising cyber weekend or cyber week deals. But Cyber Monday is growing so fast, that it's beginning to demand attention in its own right.
In the last 12 years, spending on Cyber Monday has increased from 484 million to 3.36 billion.
In 2017, Cyber Monday attracted a whopping 81 million online shoppers.
With Christmas around the corner, the most common purchases were gift items, clothing and electronics, and the biggest spenders were millennials in the 25 to 34 age bracket.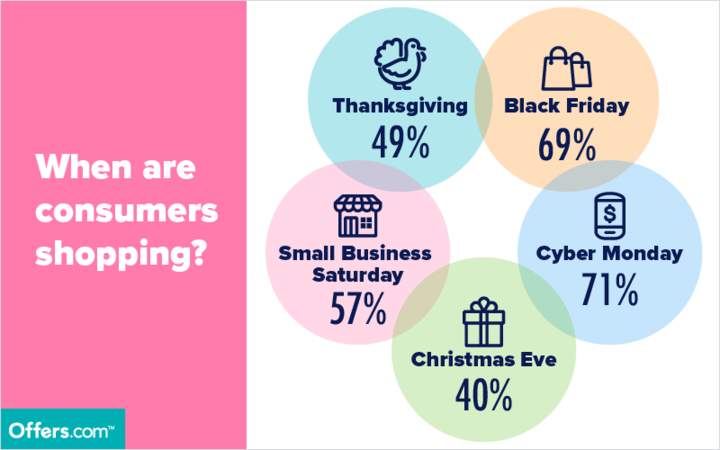 How to prepare for Cyber Monday
This year Cyber Monday falls on the 26th of November, and if you'd like a slice of the cyber-pie this Thanksgiving, you'll need to be prepared.
Make sure your site is mobile-friendly
With mobile sales reaching 2 billion dollars in 2017, it's now more important than ever that your site is fully responsive and mobile-friendly. Google has a handy tool to let you see how well your site performs on mobile.
If you're unsure of where to start or what steps to take then check out Google's guide to going mobile. Before you make any changes, remember to backup your site, and update your CMS (Content Management System). In some cases, a CMS update will automatically apply the necessary upgrade to make your site mobile-friendly.
Maintain your speed
Did you know that 47% of consumers expect a website to load in 2 seconds or less? When it comes to loading time, every second counts.
If you're not quick enough, it can really affect your bottom line. Websites that take over 3 seconds to load are looking at a 40% chance of being abandoned.
Luckily, there are websites that can help you test whether you're up to speed. Web Page Test and Google's Pagespeed tools are useful resources to help you optimise your site for speed.
Pingdom, GTmetrix and Uptrends also offer free speed tests and provide valuable insights, Allowing you to monitor performance, find bottlenecks, and improve the user experience.
Ensure your site is reliable
Ever heard of website downtime? Downtime refers to any period of time when your website is Unavailable or fails to perform. Sites like this one can help you monitor uptime, downtime and overall responsiveness.
1. Offer a free or reduced price trial
If you're a SaaS (software as a service) company or you operate according to a subscription model, then Cyber Monday could be the perfect time to offer a free or reduced price trial.
This marketing strategy is a tricky one to get right. Given that 80% of SaaS trials never convert into paying customers, getting a tried and tested conversion strategy in place is essential.
When it comes to offering free trials, testing is key. Referral programs, simplified pricing and seasonal exit intent pop-ups are all great methods you can use as part of your strategy to increase conversion rates.
Conversion optimisation agency, Growth Rock, did some A/B testing on Wedbuddy.com which demonstrated how effective simply tweaking the wording used can be in terms of getting people to sign up.
The initial add heavily emphasized the word "free" and looked like this: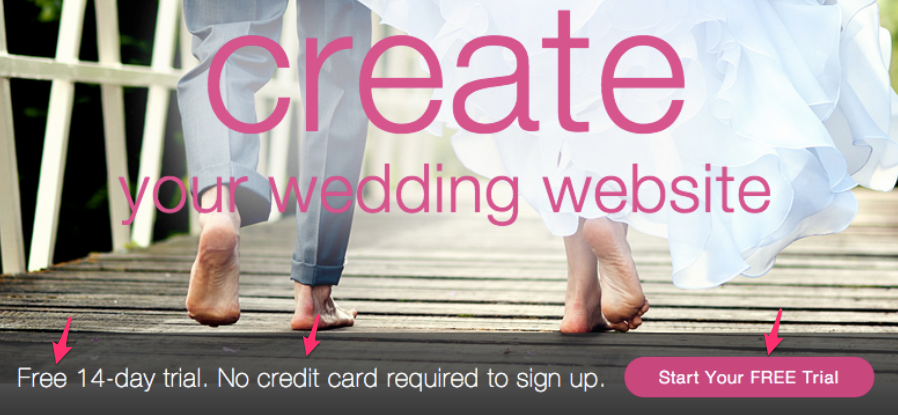 Research revealed that the overemphasis on the word "free" and the mention of a credit card were actually putting people off.
They also recognised that there was a missed opportunity to emphasise the value of the service, and so they altered the CTA and copy to emphasise the benefits: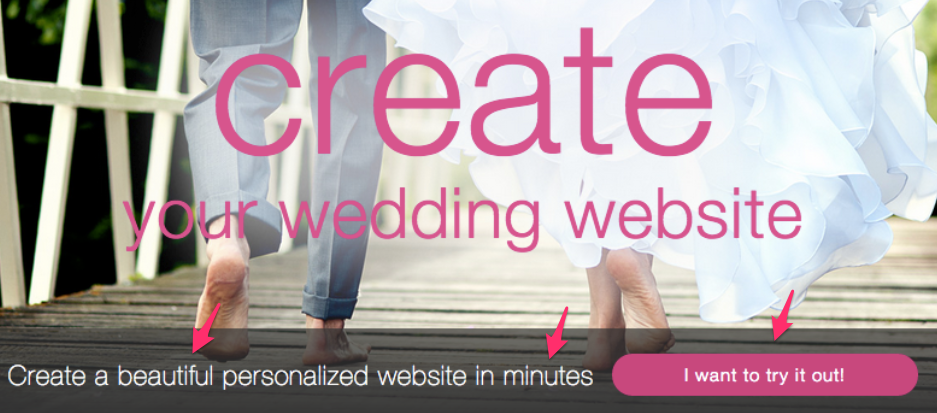 Notice how there's no mention of money or payment at all now? Tweaking the add in this way took the focus away from the inevitable payment customers would need to make and instead got them excited to try out the service.
This change increased the free trial signups by 73% and boosted click rates by 139%.
2. Create a 1-day deal
Daily deal promotions are powerful marketing tools that can work equally well for online or brick and mortar stores. The idea is to entice customers with an amazing discount or special offer that is good enough to get feet through the door or traffic to your site.
Daily deals are no-brainers. They offer amazing value and generate excitement among consumers. For maximum results, your Cyber Monday offer should take advantage of the post-Thanksgiving spirit and be word of mouth worthy.
Chubbies absolutely nailed the art of using holiday humour whilst also staying true to your brand in this post-holiday campaign: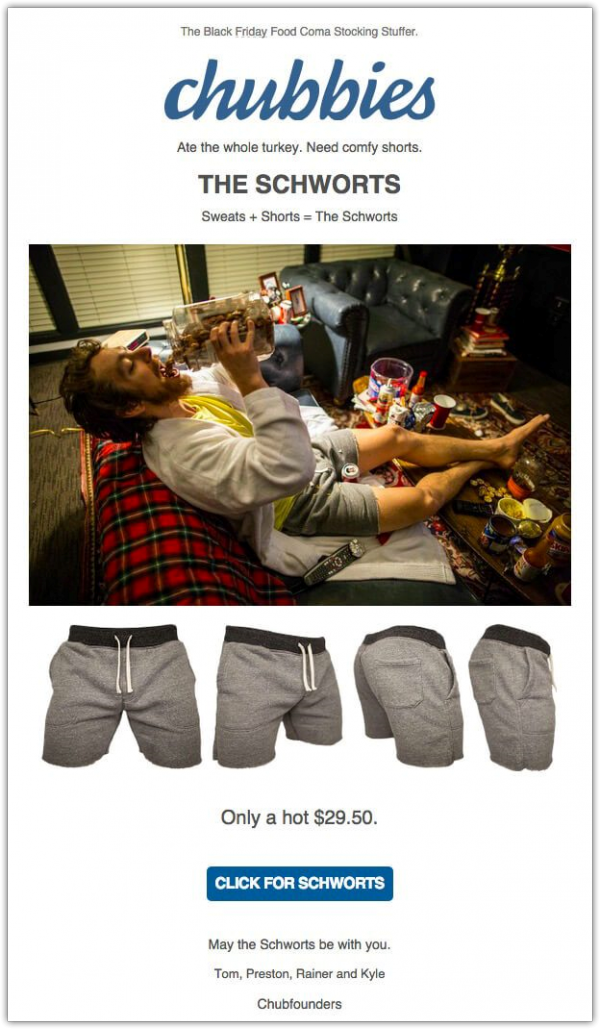 Daily deals are ideal for those wanting to attract new customers, and limiting your offer to one day only creates FOMO and a sense of urgency.
Your offer doesn't need to be a product, it could also be an experience, especially if you're targeting millennials. In fact, 78% of millennials would rather buy an experience than a product.
The downside of daily deals is that they can be costly, so it makes sense to offer a limited number of products or experiences.
3. Run a Cyber Monday contest
Done right, a contest marketing strategy can increase your brand awareness and boost your social media engagement.
Getting stuff for free makes people happy. Psychologists have figured out that receiving something for free actually boosts oxytocin levels, and taps into our innate desire to win. It's this boost of happy chemicals that your customers are craving when they enter your competition.
Your contests should be designed to generate leads. To get the most out of a contest, it's important to know your audience. That way, you can design a competition that will attract your ideal customer, not just anyone who likes to win.
Thinking strategically pays dividends, so do your due diligence when it comes to research, and make sure you have a quantifiable goal in mind. Your goal in running the competition might be to grow your email list or to increase traffic for example.
There are lots of different types of contests that you can choose to run, and the effectiveness depends on the platform you are using. So put some thought into what you are going to give away, the type of competition you're going to run, and where you are going to give it away.
The goal of the contest is clearly to get more comments on Instagram and gather email addresses.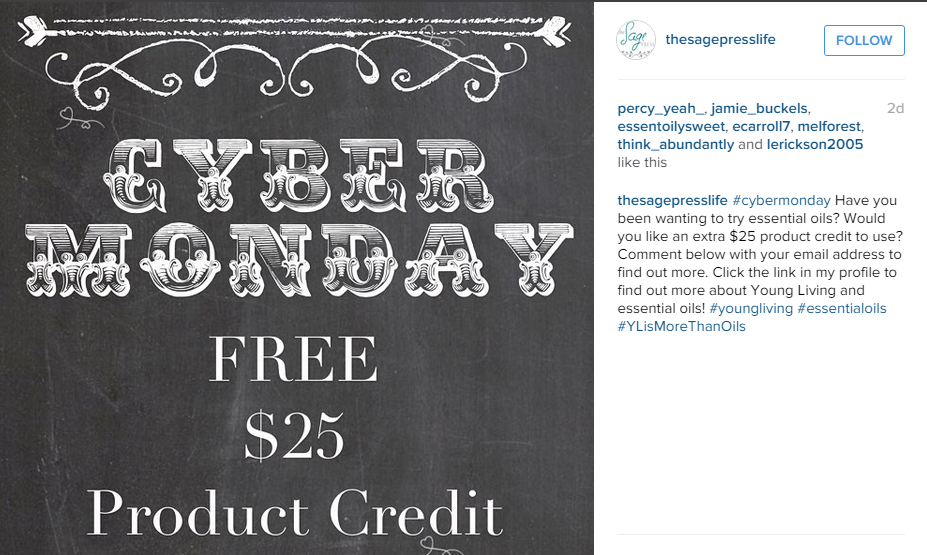 With a bit of creativity and some cool programming skills, you can hide an egg. Confused? I am of course talking about the practice of hiding an Easter egg on your website.
Leaving a hidden surprise on your site is a great way to drive traffic and get people talking. It delights customers, shows your personality, increases brand awareness and encourages engagement.
Your Easter egg can be anything you like, a joke, a secret message, or an animated image like Vogue's dinosaur: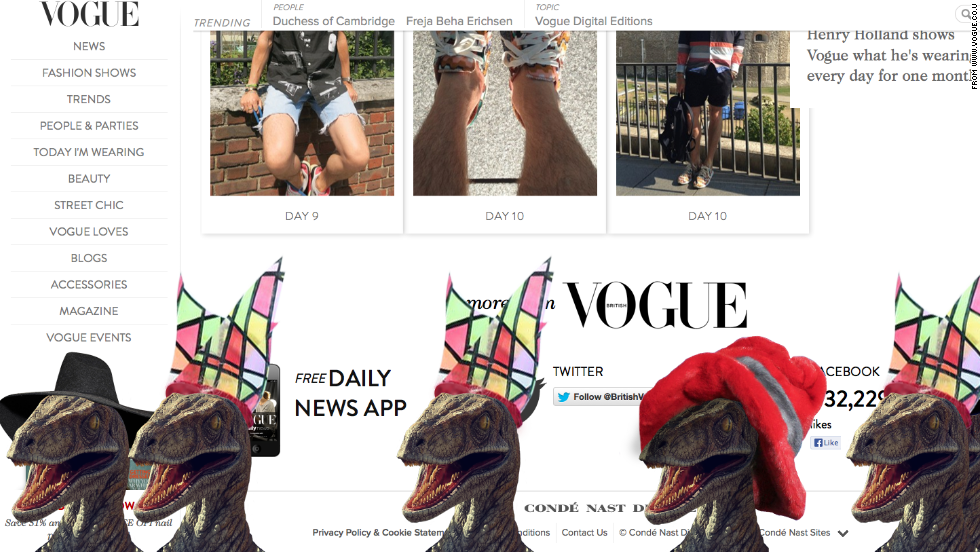 To see the dinosaur in action, head over to the Vogue UK website and type in the "Konami Code". It's up arrow + up arrow + down arrow + down arrow + left + right + left + right + B + A.
Why not create an Easter egg that's linked to a special Cyber Monday offer?
This is a highly versatile tactic.
You can choose your own difficulty level, have one or multiple eggs, promote them or keep them secret, the possibilities for creativity with this technique are many.
5. Create an exclusive deal for subscribers
Exclusive deals fulfil our psychological needs to feel important and to belong. Creating a promotion that is only available to a select group effectively caters to the ego, making your existing customers, subscribers or followers feel special.
It can also help boost your social media status. Having access to special offers and promotions is the number two reason cited for people following brands on social media: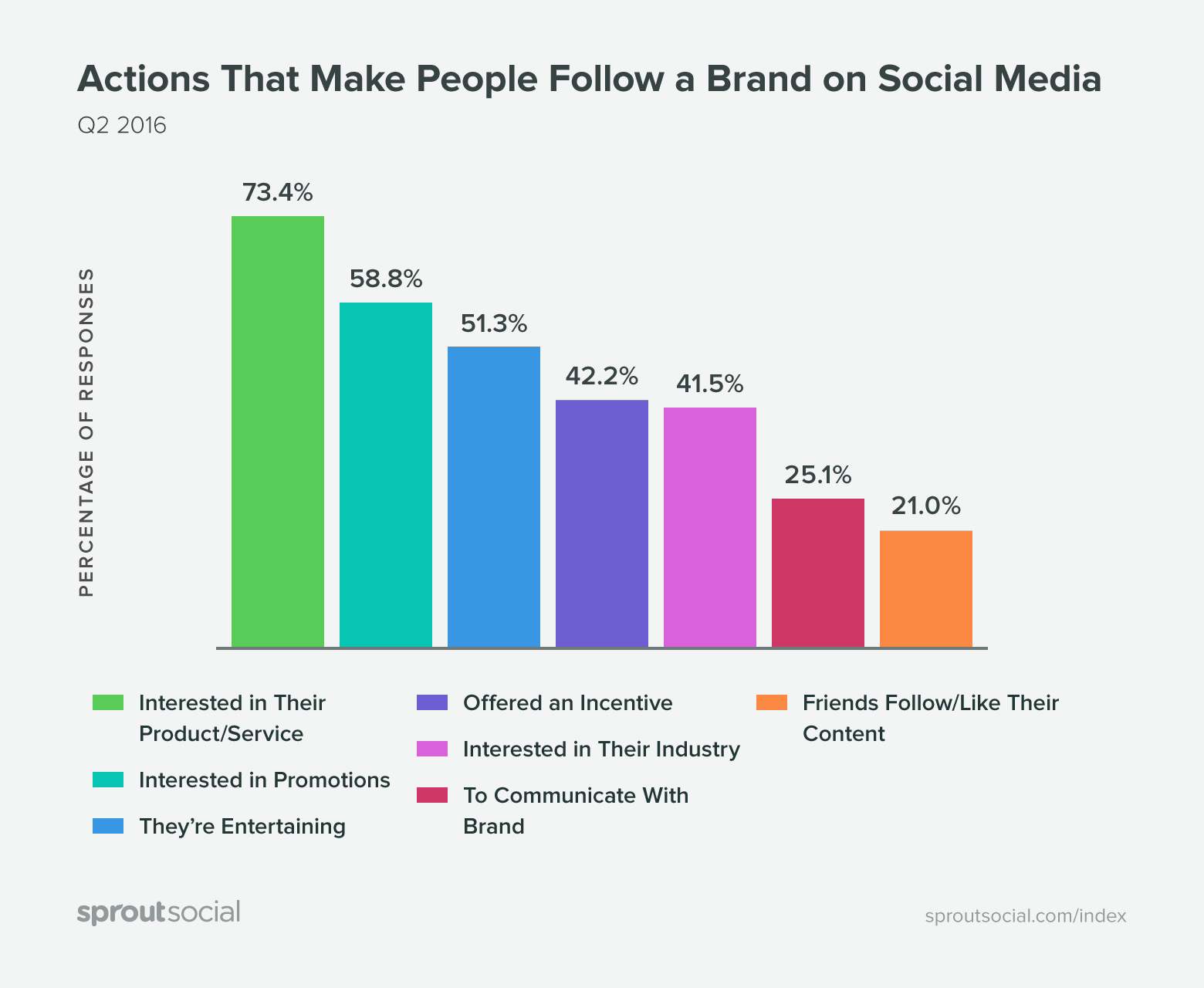 Combine exclusive offers with limited quantities and deadlines for maximum effect. You can also further leverage this technique by combining exclusive offers with access to up-to-date brand information.
6. Create a digital product to give away
The trick to giving away something for free is to emphasize its value. Provide your customers with something they value and you will stimulate the reciprocity principle.
The reciprocity principle is a social psychological phenomenon that basically means that you get by giving.
Most content marketing works according to this principle. In blog posts and articles, you provide potential customers with useful information, the idea being that they will appreciate the value of what you are offering and a desire to repay the favour will be stimulated.
Common digital freebies include eBooks, webinars, podcasts, articles, videos templates and seminars.
7. Upsell
Upselling has a sleazy reputation, which means customers generally have their guard up. But, if you focus on meeting consumers needs and providing extra benefits with your upsell, you should achieve success.
Dollar Shave Club is a classic example of (quite cheeky) upselling. They lure you in with the name (as you can see the "dollar" option actually costs 3 dollars including shipping), then present you with a couple of slightly more expensive options: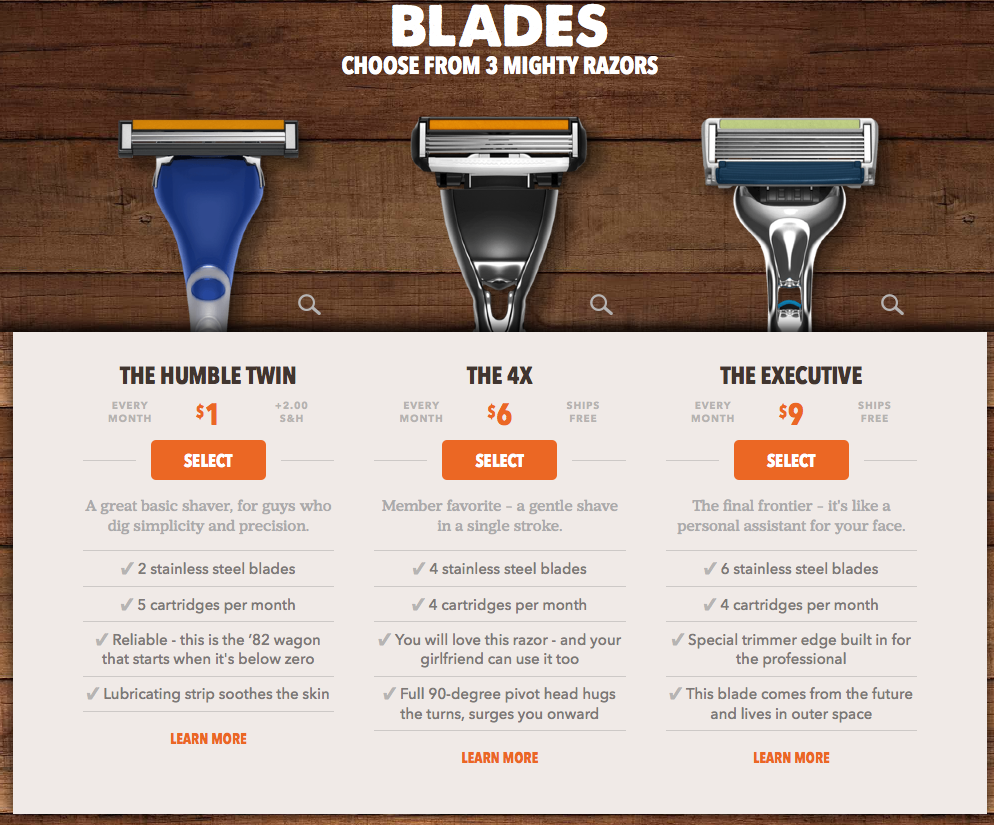 The pricier options offer more value in the form of extra blades and better features. Notice the cheeky copy in the bottom right-hand corner?
8. Prepare to fight the abandoned cart
As of June 2018, the average cart abandonment rate is almost 70%. That's a huge chunk of potential sales lost.
It's therefore essential to have a strategy in place for minimising the likelihood of abandonment and for targeting those customers who failed to convert.
Research demonstrates that extra fees, complicated checkout processes, and being forced to open an account are the main reasons for consumers abandoning a cart.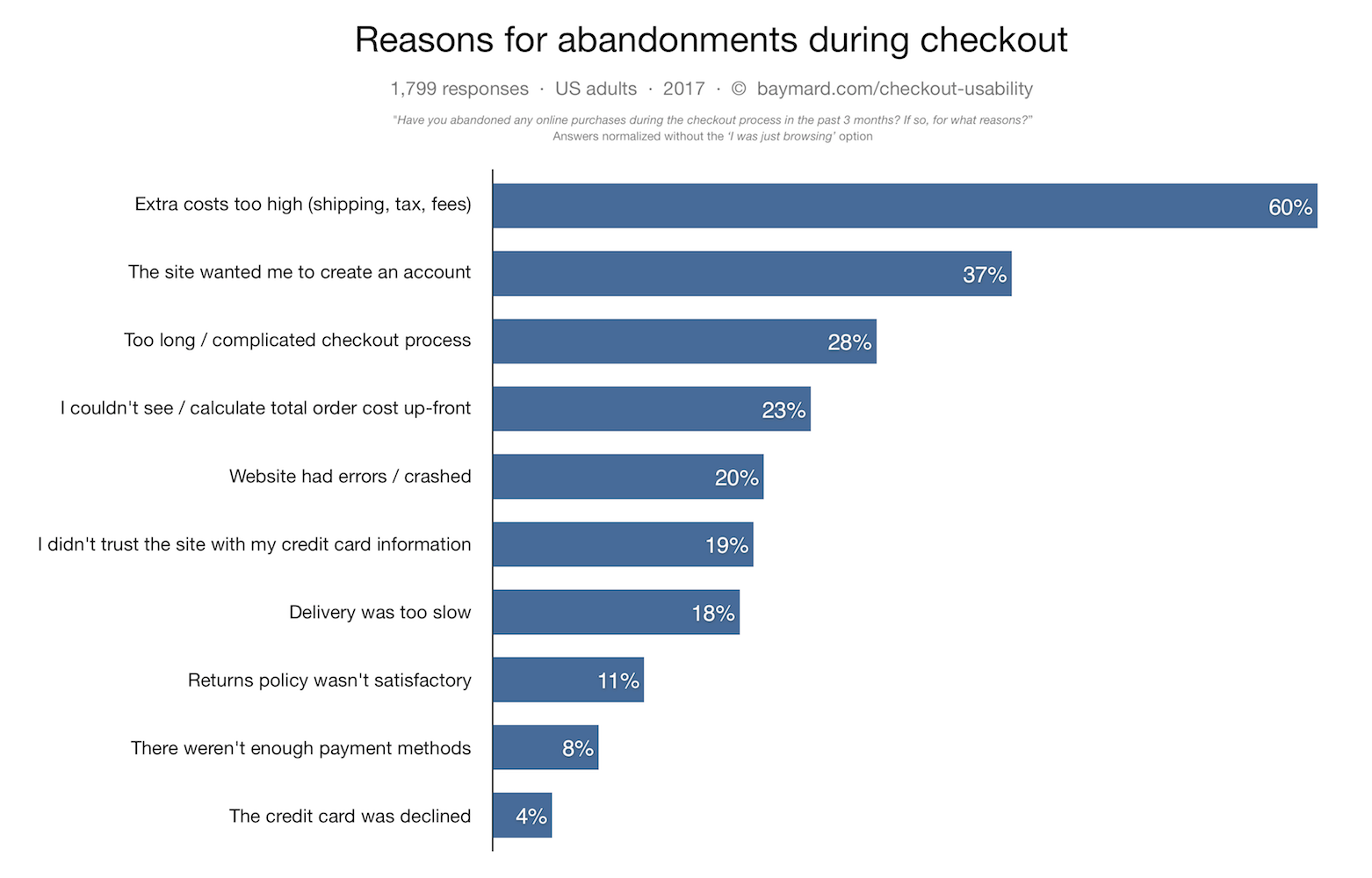 These figures highlight the importance of having clear pricing, visible security, and a fully responsive fast-loading website.
Let me ask you a question. Do you have a cart recovery email strategy in place? If not, why not? It's an extremely effective strategy.
In fact, there's almost a 50% chance that your email will be opened, and the conversion rate's not bad either.
Start by categorising abandoners by reason, crafting a compelling subject line, and be mindful of timing.
Here's one of my favourite examples of an abandoned cart email, notice how the copy both creates a sense of urgency and emphasizes the doggy theme throughout: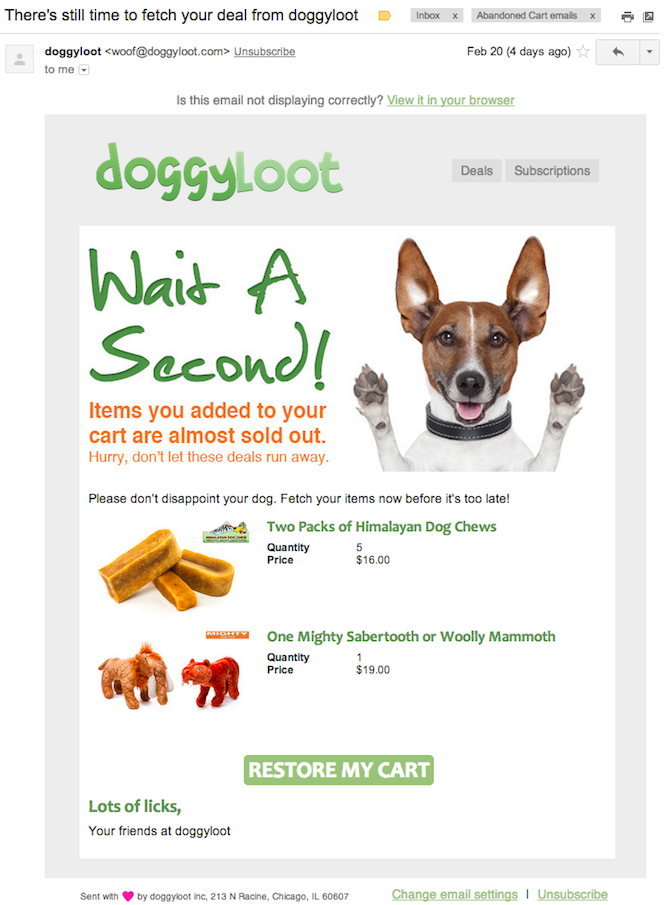 9. Add a pop-up
Yes they're annoying, yes people hate them and yes you shouldn't do them on mobile. But like them or loathe them pop-ups convert.
Contrary to popular belief, the pop up isn't dead, it's just evolved. In June 2018, Sumo published the results of an epic pop-up study that analysed 2 billion pop-up examples.
The highest conversion rate for a pop-up in the study was an eye-popping 50.2%.
The average pop up conversion rate was of course much lower, at 9.2%. However, even at this modest rate, 150 visitors a day would bag you 418 sign ups per month. A figure not to be sneezed at.
Implemented correctly then, pop-ups can have huge ROI potential.
The study reveals 8 crucial elements that impact the effectiveness of your pop-up strategy. Here they are in brief:
Context affects conversion – where and when you introduce your pop-up counts.
Timing matters – the best pop-ups don't appear straight away.
Nothing tanks conversion rates more than being vague.
Personality generates interest.
The best pop ups offer value.
Pop ups should respect the buyer's right to say no.
CTA's need to match the offer.
Exit popups must amp up the value to be effective.
10. Add scarcity to your offer
Two identical toys are placed in a room. One is freely available while the other is behind a perspex glass barrier.
Can you guess which toy most of the children who entered that room wanted to play with?
Scarcity marketing is a technique based on the idea that people want what's hard to get. It's an effective strategy that amplifies consumers fear of missing out or of losing their freedom of choice (as in when a product sells out for example).
It's widely used to stir up demand in the high-end luxury and collectables industries, emphasising exclusivity and rarity to increase desirability.
Limited (and particularly time-sensitive) offers that create a strong sense of urgency are effective tools for emphasising scarcity.
Such tactics work particularly well with millennials, who seem to be well acquainted with the FOMO feeling: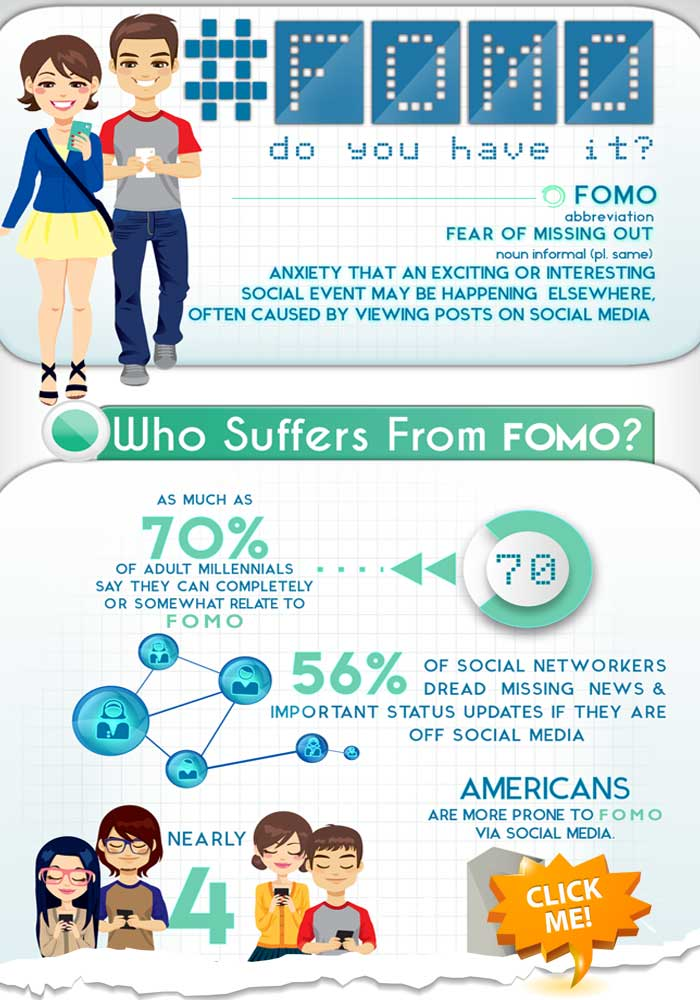 Why not harness the power of scarcity marketing this Cyber Monday? You could set up a limited introductory price offer, a quantity based promotion, or a time-sensitive free gift with purchase.
11. Extend your Sales
Customers know that the longer they wait, the better the bargain.
Extending a sale is like giving an encore at a concert. It signifies to consumers that this truly is their last chance to purchase.
If you've been paying attention so far, you will know the importance of creating urgency, and that's exactly what extending your sales can do.
12. Launch a new product or service on Cyber Monday
Launching a new product is a process. It takes a whole lot of research and heaps of preparation.
It may seem risky to launch a new product on Cyber Monday, but if you do it right, you can take advantage of the millions of Cyber Monday shoppers and capitalise on Christmas.
Whether or not a cyber Monday launch will work for your business depends on what you are selling. If you sell sunglasses for example, then it might not be a good idea.
The most important thing with any launch campaign regardless of when it starts is that you've done your homework and you are ready to launch.
13. Start a drip campaign
A well-timed relevant drip campaign can get customers involved in your brand and increase engagement.
This strategy commonly involves the delivery of a series of emails over a specified time period, or at various stages during the sales process.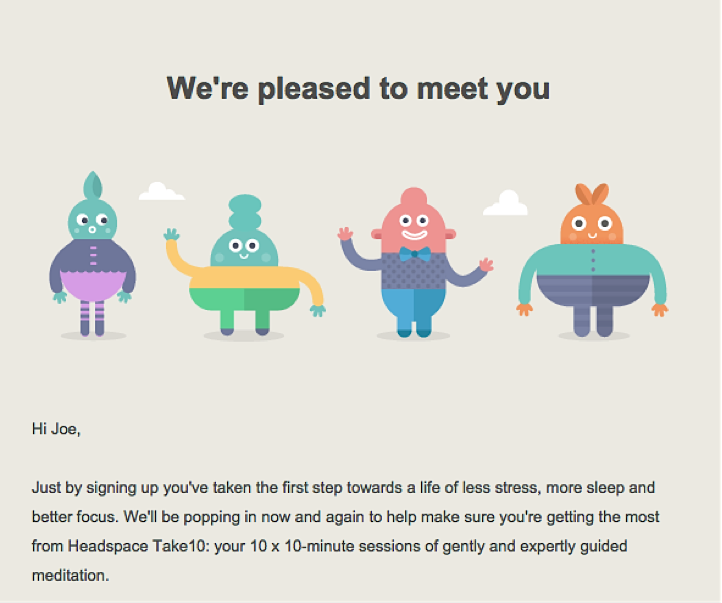 The messages in a drip campaign are designed to provide value. They often include tips and tricks or some other form of guidance, such as how to get the most from a product.
It's paramount that the emails provide a lot of value. If not, you risk being labelled as irrelevant and your future messages will be sent straight to the junk folder.
It's a great idea to have a drip campaign that either begins on Cyber Monday or leads up to an awesome Cyber Monday offer.
14. Advertise based on location
It's a cold December day. You're in the city, walking past Starbucks when an offer for a hot chocolate pops up on your smartphone.
Wouldn't that be incredibly tempting? This is the power of location-based marketing.
The idea of location-based advertising (or Geofencing as its sometimes referred to) is to send direct, personalised and perfectly timed messages based on where your customers are.
This technique can work wonders for brick-and-mortar stores in particular.
We saw in the pop-up example above, how important context is to advertising, and this is one of the reasons Location-based marketing (LBM) is becoming so popular.
Conclusion: are you ready for Cyber Monday?
There you have it. You are now armed with all the marketing knowledge you'll need to smash it this Cyber Monday!
I hope that you have found these marketing ideas helpful, and as always, I wish you growth.
So, now you have absorbed all of these ideas, which of the above tips are you going to use for your Cyber Monday marketing this year?
---