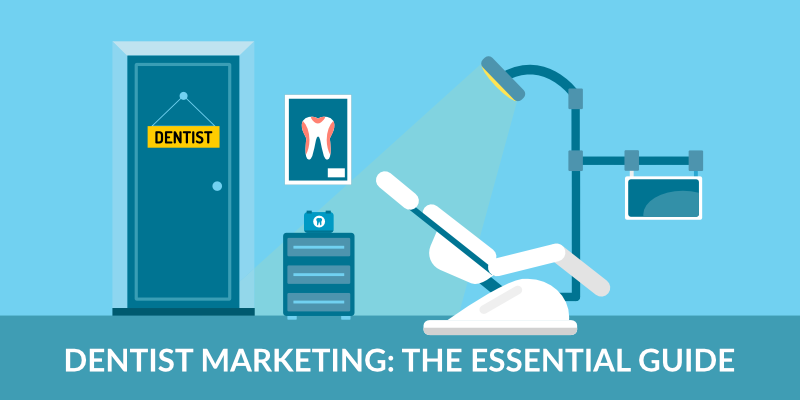 It's a funny thing, dentistry. It's so essential to everyone's physical comfort and self image to have good oral hygiene, and yet the idea of a trip to the dentist is a scary prospect for many.
Choosing the right dentist is an essential priority for many people. That means your marketing will be make-or-break in terms of how popular your practice is and how much exposure it gets.
But fear not. Marketing doesn't have to be like pulling teeth. Just sit down in our marketers chair, listen to the soothing tones of Classic FM, and we will deliver a marketing scale and polish that will give your brand a smile to remember.
Dentist Marketing on Search Engines
Most brand discovery journeys begin on search engines like Google.
Let's say we're looking for a dentist in South London, so we type in "dentist London SE1":
Paid search ads
The first results show us all the paid-for ads.
If you're advertising on Google you can buy ads via AdWords that put you at the top of the search engine results page (SERP).
AdWords let you enter keywords that your ads can rank for. Take the time to brainstorm the different search terms you think people might be using to discover a dentist near them.
Here are some popular dental search terms (1k-10k monthly searches):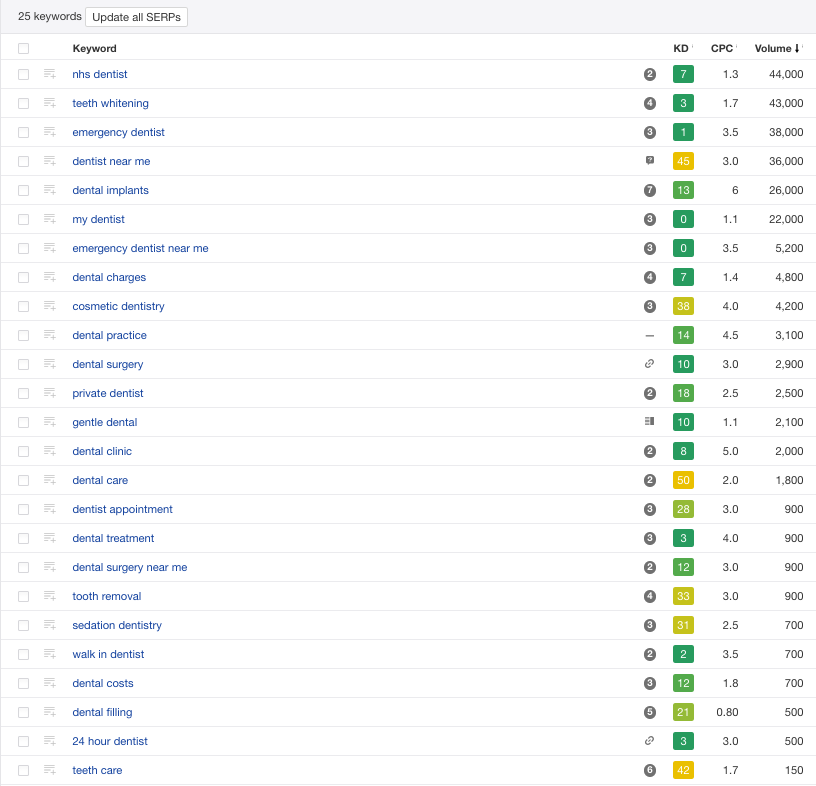 You can use the AdWords Keyword Planner tool to research the right keyword for your ad, but the trick is to work out what popular searches people are making and to make sure they align with the services you offer. If a keyword is popular but doesn't relate to what you do, don't use it… people really hate being mislead. Third party paid-for tools like Ahrefs (in the above screenshot) also help you research keywords.
Make sure you structure your Google ad in a way that clearly conveys your services and flags up any USPs that differentiate you from your rivals.
Writing your ad header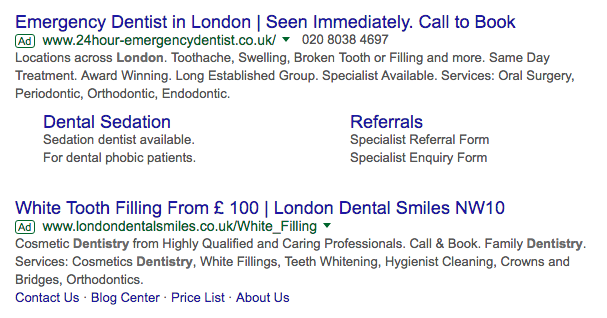 "Emergency Dentist in London | Seen Immediately" conveys a specific USP (emergency dental treatment) and contrasts greatly with "White Tooth Filling From £100" (cosmetic treatment).
When considering how to structure your ad you need a firm idea of what makes your practice unique.
Consider:
Your values
Your key services
What you do differently
Your advantages over your rivals
Writing your ad description
Make surethe copy in your ad's description is clearly and concisely written and expands on the details you included in the header.
This is an opportunity to use more keywords and phrases to expand your potential reach. Look at the keywords that have been added into the above examples:
"Toothache, swelling, broken tooth or filling and more" is a barely concealed list of keywords. And we have phrases like "cosmetic dentistry from highly qualified and caring professionals".
You can get help with ad copy and keyword inclusion from agencies that offer digital marketing for dental clinics. It's better than being stifled by the often complex process of creating ads when you are not a specialist in this field yourself.
Getting your dentist practice into organic search results
As with generating organic traffic, you should pay attention to the structure, format and content of your pages.
Use clear and direct headings with H-tags to structure page contents.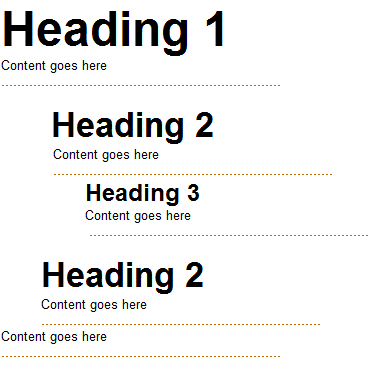 Write informative, engaging copy that gets straight to the point and isn't salesy.
Use high res, positive images to help people imagine how your services will benefit them, and make sure you enter all relevant metadata.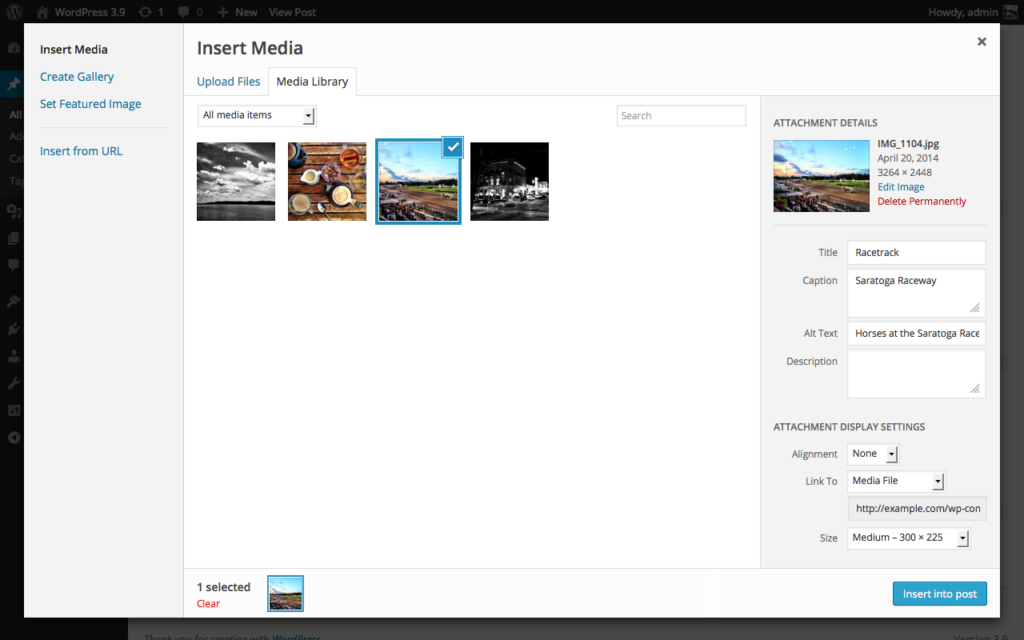 The secret SEO revolution for dentists
These tips are the bread and butter of getting your pages to rank, but there's something else that is essential to getting your practice ranked in search. And that's what marketers call "social proof".
Social proof and SEO
When search engines organise pages to display to users their priority is to make sure the content they serve is as relevant and high quality as possible. Because it's not possible for sites to be individually assessed on their relevancy, algorithms are used to increase the chances that the content you discover is the content you are looking for. That's why organically embedding SEO keywords, making use of H-tags, properly filling in all relevant metadata, post tagging and so on are so important. But if two web pages have ticked all these boxes, how is Google going to tell them apart in terms of relevancy? Well, search engines use customer reviews and testimonials to get a sense of which sites to serve up to users.
This means, you should make it a priority to get positive user reviews of your services.
Customer service as marketing
This means that the quality of the service you provide is paramount to the effective marketing of your dental practice. Make sure you are focussed on making patients feel relaxed and well-servced, rather than immediately pushing all your products on them.
Where appropriate, encouraging people to leave reviews, particularly on your Google Business page.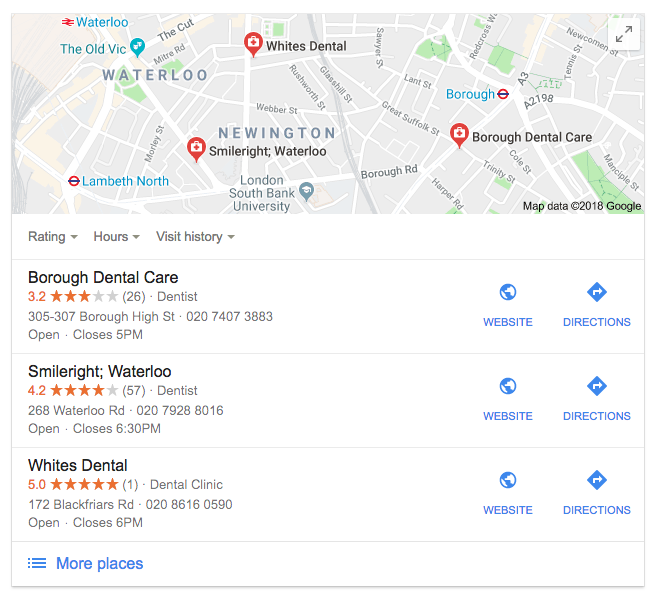 Google uses Google reviews and draws reviews from reputable sites like Yelp to help rank your page, though it gives more weight to Google reviews.
How to get positive reviews of your services
Send out a follow-up email after a patient's appointment. Perhaps include an incentive to leave a review, like the example below.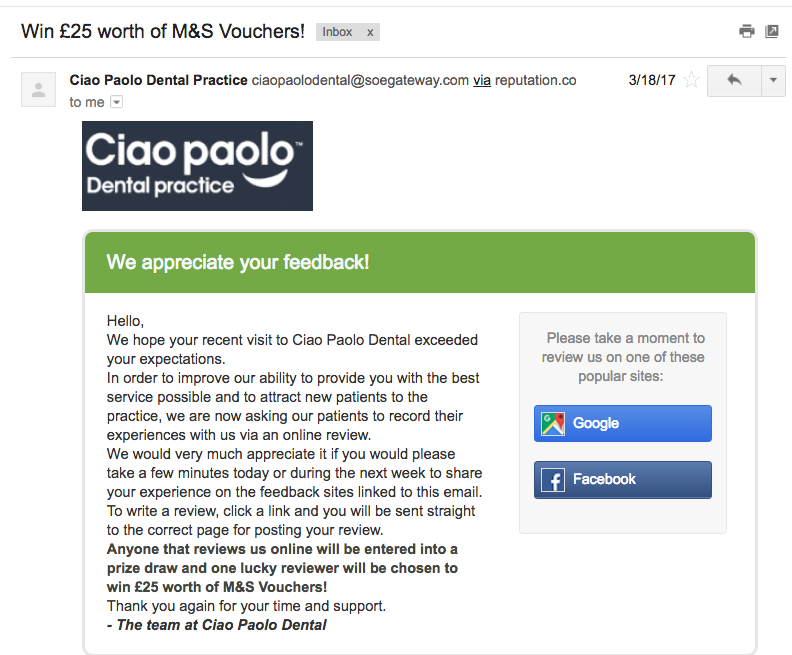 Put up a well designed, positive looking poster in your reception area encouraging patients to leave reviews.
Run a competition on your Facebook page with leaving a review the cost of entry.
Resource: Check out this google search console guide with a great dentist case study.
The important thing about promoting your dental practice on social media is not to look like you are posting adverts. The danger is you end up looking like a corporation only interested in getting as much money from patients as possible, rather than a health organisation dedicated to the best interests of your patients.
If you do want to advertise on social media, it's best to use promoted posts which are designed for this purpose.
Twitter for dentists
The first rule of thumb for all social media accounts is that your profile looks professional, that you have a high res, on-brand profile pic, another high res pic for your header photo, and a bio that gets to the point and highlights your USPs. Your handle also needs to match your brand as closely as possible, as in this example: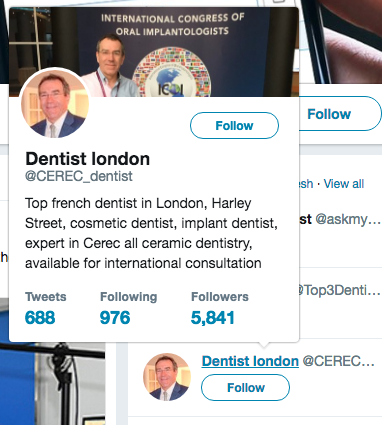 The important thing to realise about Twitter is that it is highly geared towards a combination of regular status updates and running commentary on topical events, often dictated by Twitter's trending tags and phrases.
At the time of writing, the NHS's 70th birthday is trending.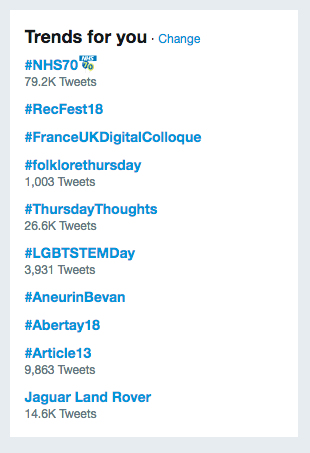 If you are an NHS dentist, celebrating the health service is a great way to show you care about wider social issues, and it may well get you new patients.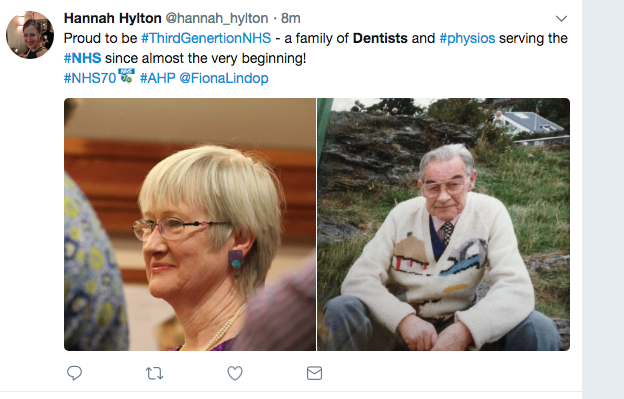 Many dentists see Facebook as their natural social media home. It's more community orientated than Twitter, and less public (though by no means entirely private); this makes it well suited to reaching out to a specific audience in a discrete way.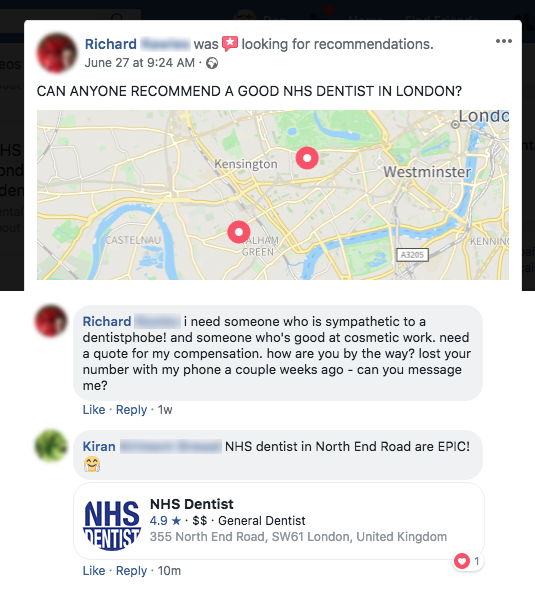 In the example above, a user asked Facebook for recommendations for a decent NHS dentist in London. Their friend was able to link to their dentist's page and make a direct referral. Having mentioned he was a "dentistaphobe" the reply came back that NHS Dentist are "EPIC". What more of a recommendation could your practice receive? And the practice didn't have to lift a finger!
These kind of queries happen all the time; keep an eye out for them by searching "recommend a dentist" and tick the "choose a location" option on the lefthand panel.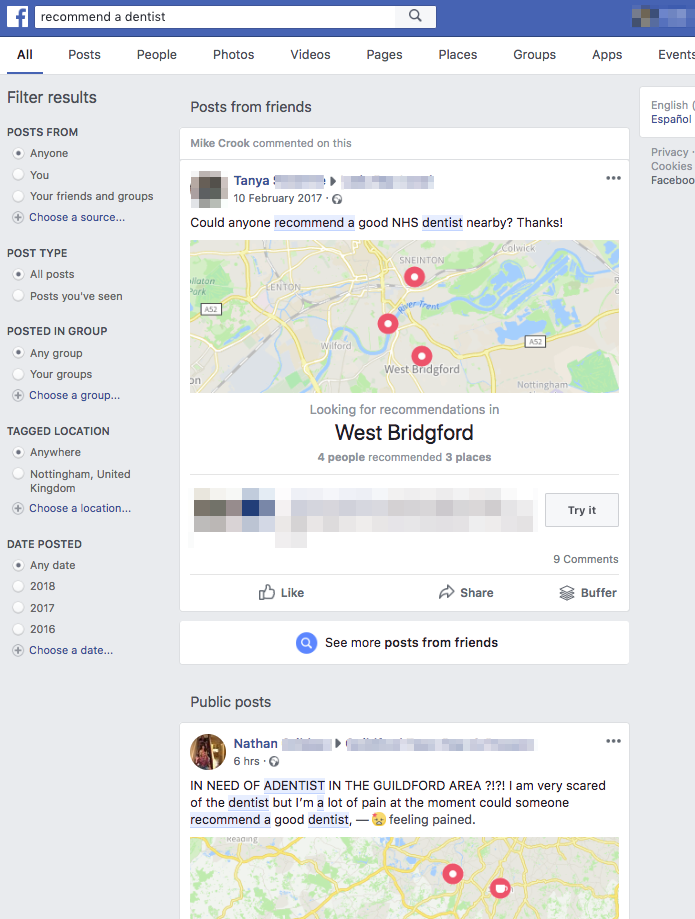 This is an opportunity to, tactfully, recommend your dentist page.
---

---
Getting your dentist Facebook page right
Looking professional is of paramount importance for your page. A solid, branded logo for the profile pic, and a colourful, "hero shot" of happy patients works well in the below example.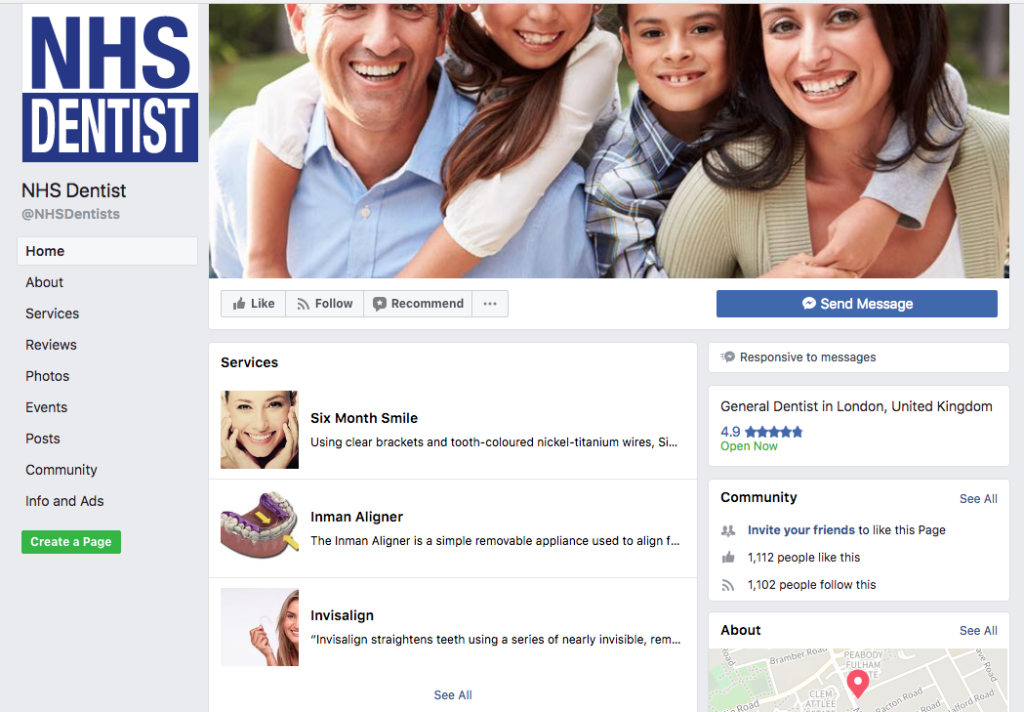 The next thing we notice is the reviews. As we said in the SEO section, this is really critical.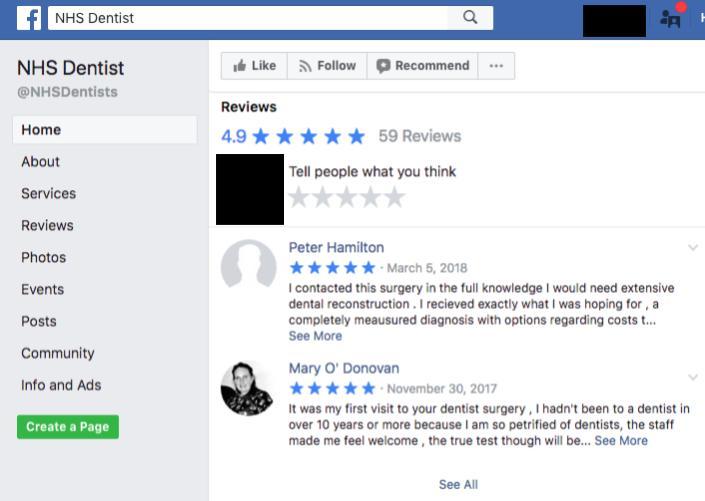 People are going to be looking for reassurance that they will be treated well and made to feel comfortable in what can be a scary experience for many. And of course they want to know they will get a professional treatment which will reduce their discomfort and boost their confidence. There's nothing more effective than social proof when conveying such vital information.
The above example is of Facebook's "service page" template, which gives you the opportunity to list the services you offer in a streamlined way.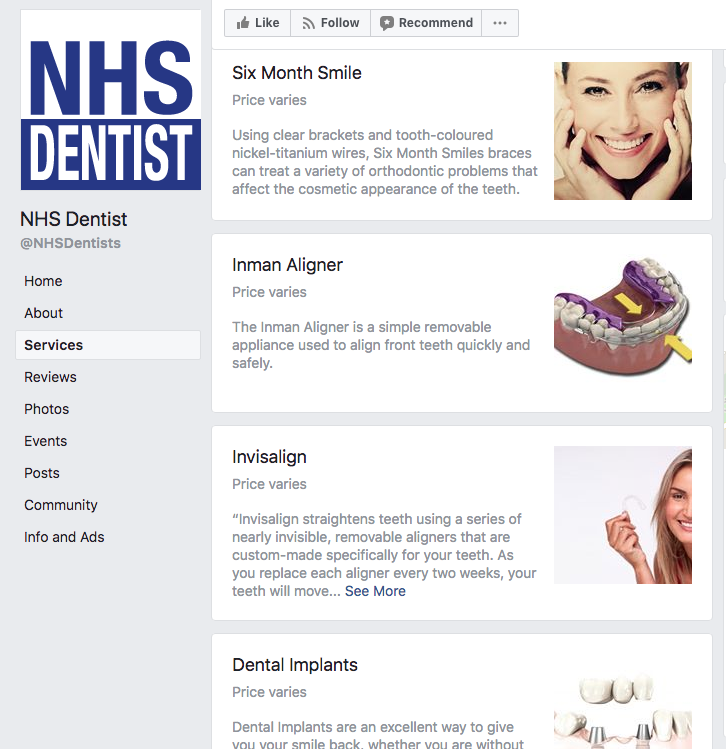 A word of caution with your page, though. Be careful about what you post. A quick scroll down the NHS Dentist page reveals posts featuring graphic images of tooth decay. This might be of interest to hardened health professionals, but rather than scaring people into your dentist's chair, it may just have the affect of scaring them away from your page.
Paid ads on Facebook
Having a professional looking, well formated Facebook page with regular posts can take you a long way, but there comes a time when you need to pay to get exposure.
Fortunately Facebook has one of the most in-depth and flexible advertising platforms and boosting a post lets you create an instant ad.
Facebook ads allow you to target users in particular geographical areas and you can target people based on what pages they like to really fine-tune your targeting.
Instagram for dentists
Any business with a highly visual component, especially when it has a people-focus can benefit from an instagram account.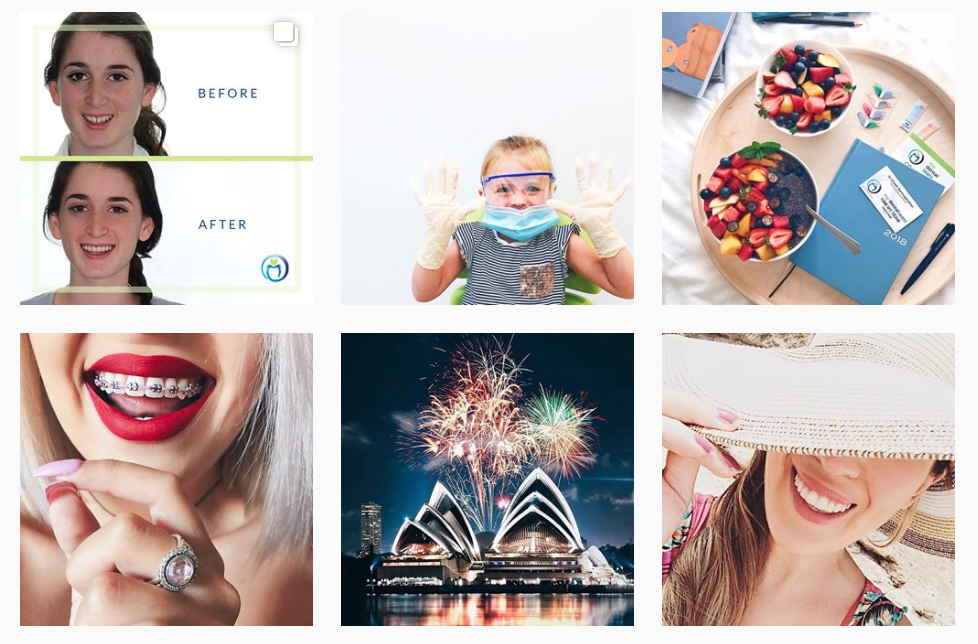 Again, make sure your images are positive… you want potential patients to feel good about how their dental health and wellbeing can be improved upon, not grossed out by scare tactics.
Maybe encourage patients to pose for photos when appropriate, like MyDentalTeam have done.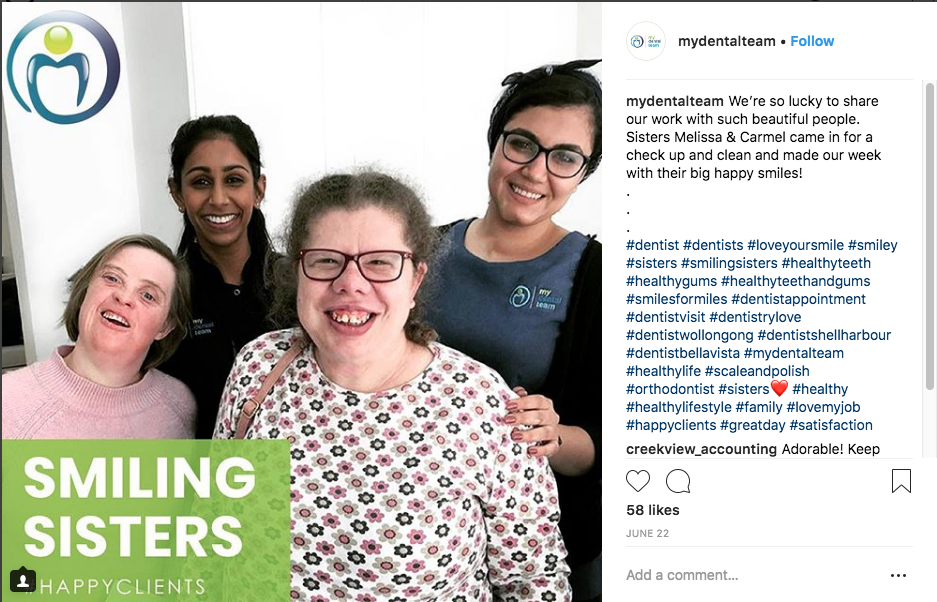 Notice the use of a simple graphic design job to give the photo a theme? These sort of touches go a long way to making your practice stand out. And notice the "happy clients" theme? It's hard to think of a better way to make your practice seem patient friendly!
You can use a free tool like Canva to easily create designed images and give your social media posts an extra boost.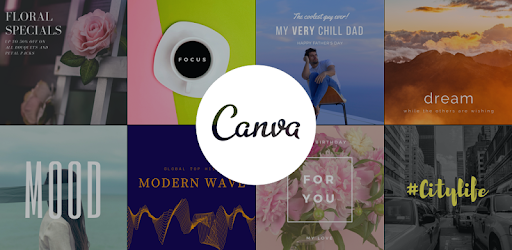 Fine-tuning your dental practice website
Whilst your prospective patients may well come to your social media accounts first, eventually they will take that next step and click though to your website.
Your site should be the centralised hub of your online presence. All roads lead to it.
We've recently published a comprehensive guide to setting up a small business website which you should definitely check out if you don't have a website yet or are considering building a new one. You'll probably even pick up tips to improve your existing one.
Tips for optimising your website
Use a free tool like WebsiteGrader to audit your site's performance and make sure you aren't hitting any red lines that can seriously damage site traffic and user experience.
Make sure every page of content is properly formated and all metadata is entered in an optimised way.
Hire a copywriter who understands your niche to create relevant content. This should be jargon free, positive and as non-salesy as possible.
Research other dental websites online to get an idea of what info is essential and what "extras" can offer more value than the average dental website.
Get someone who's never used your site before to navigate through it and give feedback on what worked and what didn't'.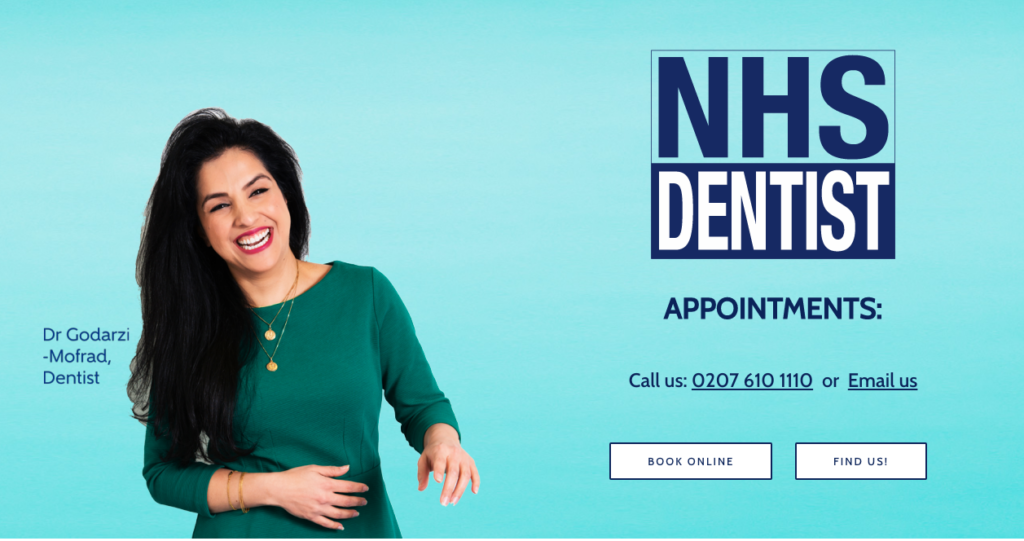 NHS Dentist make a good job of personalising their practitioners. Many people have negative memories of dental treatment as a child; your job is to show that the modern dentist is informed, approachable and caring (not that that was ever in doubt, of course!).
Using an app for your dental practice
Once you've got your web content in front of users, have fine-tuned your social media presence and have been getting engagements and enquires via your site, the patient journey has only really just begun.
Let's look at all of the stages involved in the average dental patient journey.
Discovering dental practices near them
Making a decision as to which one best fits their needs (and soothes their fears)
Checking out the website
Calling to make an enquiry/ making an initial appointment booking
Finding the venue
Having a first assessment
Arranging follow ups and any relevant treatment programs
Once a patient has decided that yours is the dentist for them, they'll likely keep returning for appointments at least a few times a year.
A dentist app will help your patients have the most streamlined experience possible.
Bear in mind that people have their smartphones with them pretty much most of the time these days; each step of the way you want it to be possible for them to access your services via an app.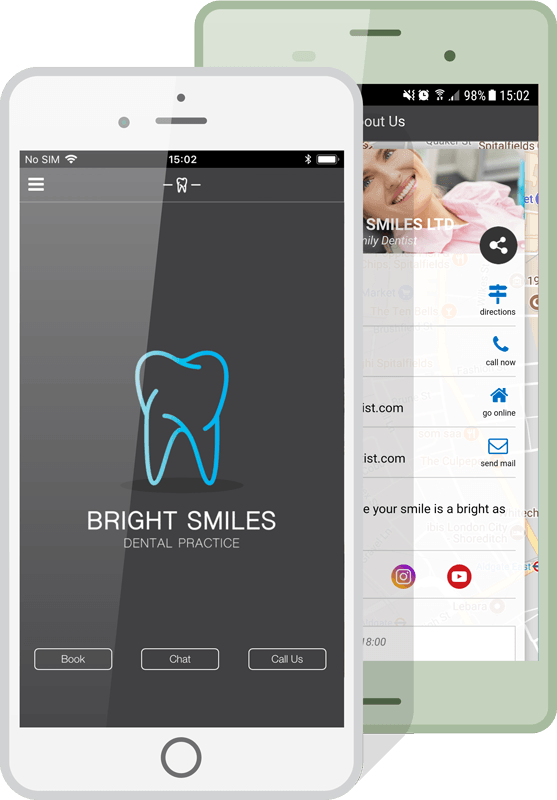 Patients can use your app to:
Easily make and manage appointment bookings
Get reminders via push notifications
Receive updates and information
Easily discover your location via a directions tab
Have their quick questions answered via the messaging centre
Access digital literature (saving your printing costs)
An app for the mobile age
With a majority of people now accessing the web via their smartphones, it's absolutely crucial that you have an effective mobile presence.
This involves making sure your website is mobile friendly; take the Google Mobile Friendly Test to find out.
You may also want to explore building a Progressive Web App (PWA) which offers a lot of app functionalities without requiring downloads. Check out our article on using a PWA for local marketing.
But, in truth, we're in the age of "full spectrum marketing"; we need a tool for every occasion.
People really appreciate having a comprehensive service that works for them at all times; in fact, they're coming to expect it.
You can use AppInstitute's DIY app builder to effortlessly design an app for your dental practice using a special template. It pulls business info, color schemes and images from your Facebook page and website for intuitive and instant branding, and allows you to easily add, edit and tweak content without any coding whatsoever. Once done you can quickly make it live in just a few clicks. If you get stuck we can even build it for you.
How to market your dentist app
You can actually use your dentist app as a way to market your practice.
One of the challenges of any dentist marketing strategy is patient retention. Just like with other businesses, it's one thing to get a one-off customer, but it's quite another thing to keep them coming back time and again. An app doesn't just give you direct access to your patients, it gives you a reason to contact them. Once they enter your email system you can send them a welcome email encouraging them to use your app to improve their experience. It solves one of the timeless problems of marketing; answering the customer's question, "what can you do for me?".
By using your app as a talking point with patients, you are increasing patient engagement, and therefor increasing the chances they will feel like your practice offers them the (relatively) pain free experience they are looking for.
---