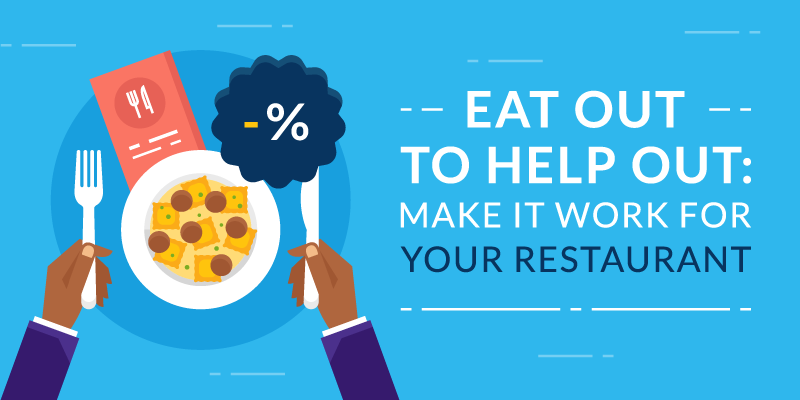 The Eat Out to Help Out scheme is an excellent opportunity for restaurants to improve sales post-lockdown. In this article, we'll explain how it works, how to get involved, and how to promote your offers.
We've also included an Eat Out to Help Out calculator that shows you exactly how much to charge customers.
Eat Out to Help Out: How it Works
The Eat Out to Help Out scheme allows restaurants to give diners 50% off food and non-alcoholic drinks with a maximum saving of £10. Provide the discount upfront, then claim the money back from the government.
The scheme started on 3 August, and will run every Monday, Tuesday, and Wednesday throughout the month.
There are conditions about which sales qualify. The food must be consumed on-premises, while catering, food trucks, and hotels that only offer room service are also banned.
Restaurants need to offer discounts throughout the entire day and on all qualifying food and drink. Be aware that customers can take advantage of the deal as often as they want, even multiple times within the same day.
Eat Out to Help Out: How to Take Part
You need to register to take part. If you haven't done so already, you can do it throughout August at this link. Once registered, you will be added to a public list of participating restaurants.
To claim your reimbursement, you must keep a record of:
The total number of people who have used the scheme.
The total value of transactions.
The total amount of discounts.
You can claim reimbursements from 7 August, although you must wait at least seven days after registering to do so. Owners can submit up to a total of five claims by 30 September. Be aware that HMRC treats any money received through the scheme as taxable income and you will need to pay VAT based on the bill total.
You can find out the full details of how to claim at this link.
Eat Out to Help Out: Calculator
We have created this easy to use Eat Out to Help Out calculator to remove pricing confusion and make charging the correct amount a breeze. Just add the total bill, the total minus alcoholic drinks, and the number of diners to the relevant boxes, and then press calculate to see the total discount and the final bill.
Eat Out Calculator
The fields below will show the calculated discount and final bill
How to Promote Eat Out to Help Out at Your Restaurant
The Eat Out to Help Out scheme has received a lot of press attention, so most customers are likely to be aware of it. Individual restaurants will benefit from showing diners they are participating via their own marketing channels.
Social Media 
Many restaurants are using their social media channels to promote Eat Out to Help Out in exciting ways. Here are four strategies you can use.
Tell Customers You are Taking Part
Let customers know you are participating and that they can get the discount at your establishment via social posts. Many restaurants are using the "Eat Out to Help Out" logo on their content to make it extra clear.
It can be a good idea to post about this multiple times, so people don't miss it, like the Wickstead Arms pub has done below.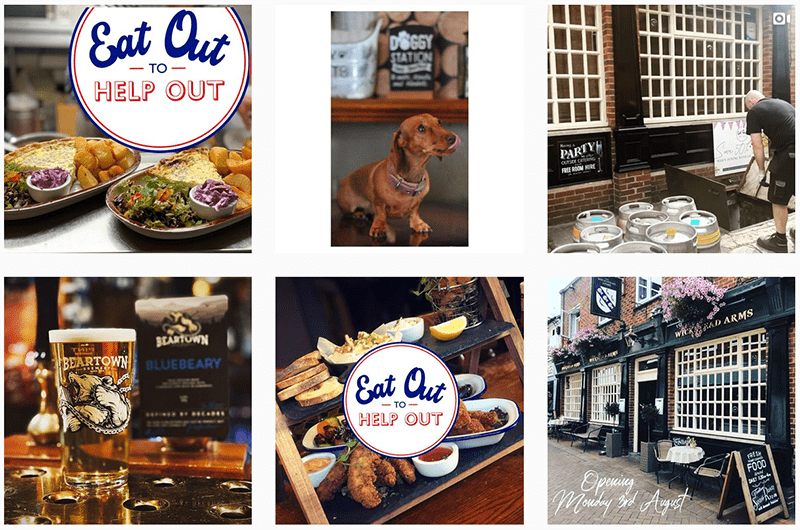 Explain the Details
The fact that the scheme doesn't apply to alcohol or takeaway complicates billing slightly. Many restaurants are removing customer confusion by clearly explaining what to expect at their restaurant.
The below post from Halo Burger is an excellent example of this. The restaurant also includes useful information on social distancing guidelines which is a nice touch.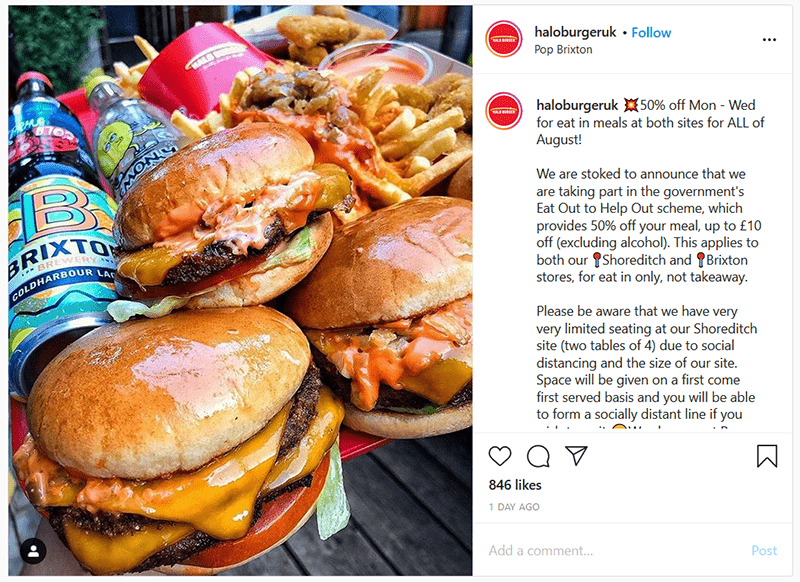 Additional Offers
Some restaurants are making themselves extra appealing by combining the Eat Out to Help Out offer with additional discounts. For example, Dishoom is offering 50% off all food and soft drinks, even beyond the £10 per person limit of the government scheme.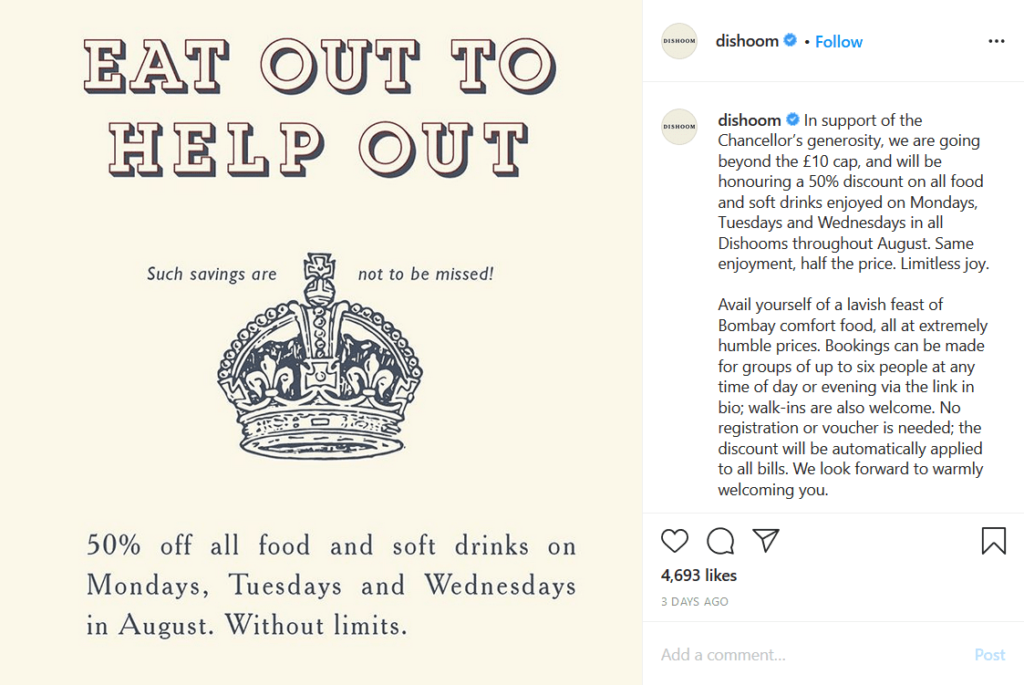 Meanwhile, SmokeStak has created a platter that it is selling for £20 — reduced to £10 after applying the discount. Not only is this a good deal, but it simplifies the experience.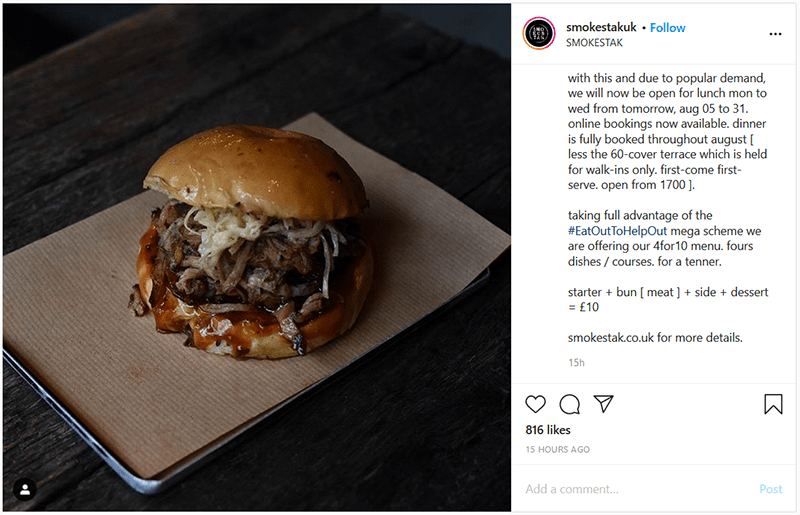 Signage
You can download posters to tell customers that you are taking part in the scheme here. Put them in your window and around the restaurant to ensure customers know they can get their discounts at your venue.
Customer App
If you have a restaurant app, send a notification to customers letting them know that you are part of the scheme. Consider creating a post that explains what they can expect at your restaurant. You could also send notifications containing offers to make the deal more appealing.
Also, be sure to update your in-app menu to make it clear that customers will receive the discount when they eat in at your venue.
An App Helps Your Restaurant Thrive Post-Lockdown
If you're looking for a unique way to help your restaurant thrive post-lockdown, then consider a customer app. AppInstitute apps make it easy for venues to offer table bookings, socially distanced ordering, food to takeout, and more.
With our app builder, even those with no coding experience can create an app and have it up and running in hours. Click here to try it out.
---