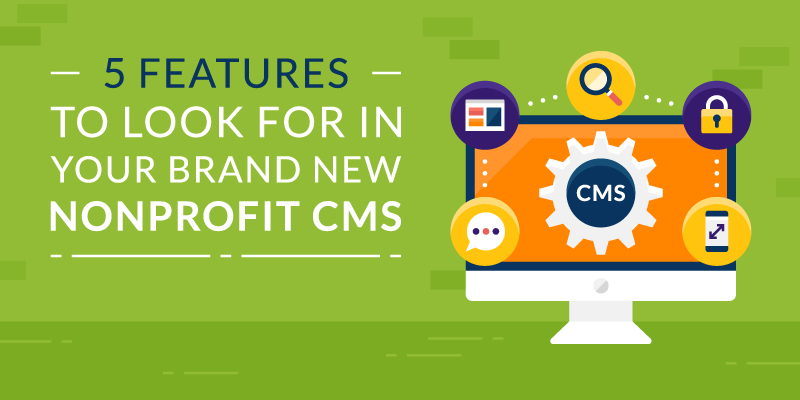 Whether they're looking to make a donation or simply exploring your work, more supporters are engaging with causes online each day. To increase your organization's visibility and get in front of more prospects, you'll need to design an engaging website for your nonprofit. A well-designed website has the potential to help you connect with prospects, spread the word about your cause, and further your impact.
If you're new to nonprofit web design, creating a professional website can seem like a near-impossible task. However, the right technology can simplify the process significantly. With the right content management system (CMS) on your side, you can create a professional, engaging website without help from a professional web developer.
As you begin your search for the right nonprofit CMS, keep these features in mind so that you can build a website that promotes your cause and engages visitors from the moment they land on your homepage:
Customizable layout
Automatic mobile responsiveness
Intranet and private content management
SEO tools
Blogging tools
It's becoming increasingly important that your nonprofit develops a digital presence. Otherwise, you'll likely miss out on potential support and engagement opportunities. Let's dive into the above features, so you can narrow down your options and find the right CMS.

Top Nonprofit CMS Feature #1: Customizable Layout
Morweb_AppInstitute_5-Features-to-Look-for-in-Your-Brand-New-Nonprofit-CMS_Customizable-Layout
For many organizations, one of the major roadblocks they face when designing a website is the lack of customizability with website themes. Because of this, you'll need to look for a CMS that offers customizable features so that you can easily create and update your organization's website.
Editable and customizable layouts can help you portray your mission exactly how you envision it. For reference, take a look at Morweb's list of best nonprofit websites, so you can see how the right CMS can help you engage users from the moment they land on your homepage and entice them to continue exploring your website.
Specifically, look for the following customization tools to help you create a beautiful web design:
Drag-and-drop elements. Drag-and drop tools allow you to pick from pre-designed elements, so you can give your pages the design and functionality you need without having to worry about coding. This gives you more of an opportunity to perfect your design so that it's crisp and navigable.
Live editing tools. A CMS that features live editing allows you to make changes on the front end of your webpages in real-time. This way, you won't have to blindly make page updates on the back end before seeing your work come to life.
Image and video capabilities. Compelling images make for a more visually appealing website and can go a long way in conveying your mission's importance. Your CMS should enable you to prominently display photos or videos. With helpful features such as image carousels, you can avoid overcrowding your pages.
Social media integrations.Establishing a social media plan can contribute to a strong digital presence. Since many of your supporters will likely interact with you through these platforms, you'll want a CMS that supports social media integrations like live social feeds for Facebook, Instagram, or Twitter.
Customizing your website exactly how you want it is essential in developing your brand and establishing your organization in the digital space. Keep the above customization tools in mind as you get started in your search.

Top Nonprofit CMS Feature #2: Automatic Mobile Responsiveness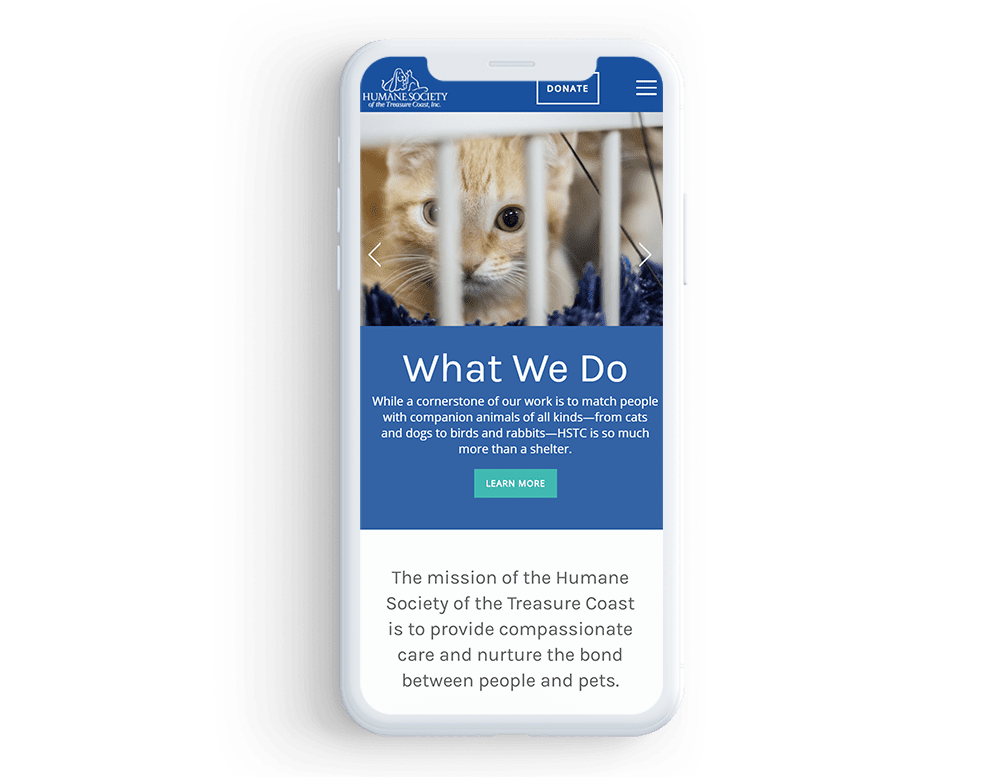 Since 2014, more people are surfing the web from their mobile devices than from desktops and laptops, according to this nonprofit fundraising statistics page. Since then, Google implemented a search algorithm change that pushes non mobile-friendly websites down in search engine results, making those websites less visible to users.
In other words, if your website isn't mobile-friendly, you're potentially missing out on new donors, members, and volunteers, because fewer users are able to easily access your website. 
That's why it's so important to have a CMS with automatic mobile responsiveness, meaning the content of your website adjusts to fit any screen size. Specifically, ensure your website platform adjusts the following elements for a positive mobile experience:
Navigation menus
Photos, videos, and galleries
Forms
Pop-ups
Considering the mobile perspective in your digital marketing strategy is no longer optional if you want to effectively reach supporters. Whether someone is visiting your nonprofit's website on a smartphone, tablet, or desktop, they should be able to view your pages without the frustration of having to pinch and zoom to read content.
Otherwise, you risk a higher bounce rate (the rate at which users leave your website after viewing one page), which will make you lose potential support altogether. With a CMS that enables mobile responsive design, you'll easily avoid this common mistake.

Top Nonprofit CMS Feature #3: Intranet and Private Content Management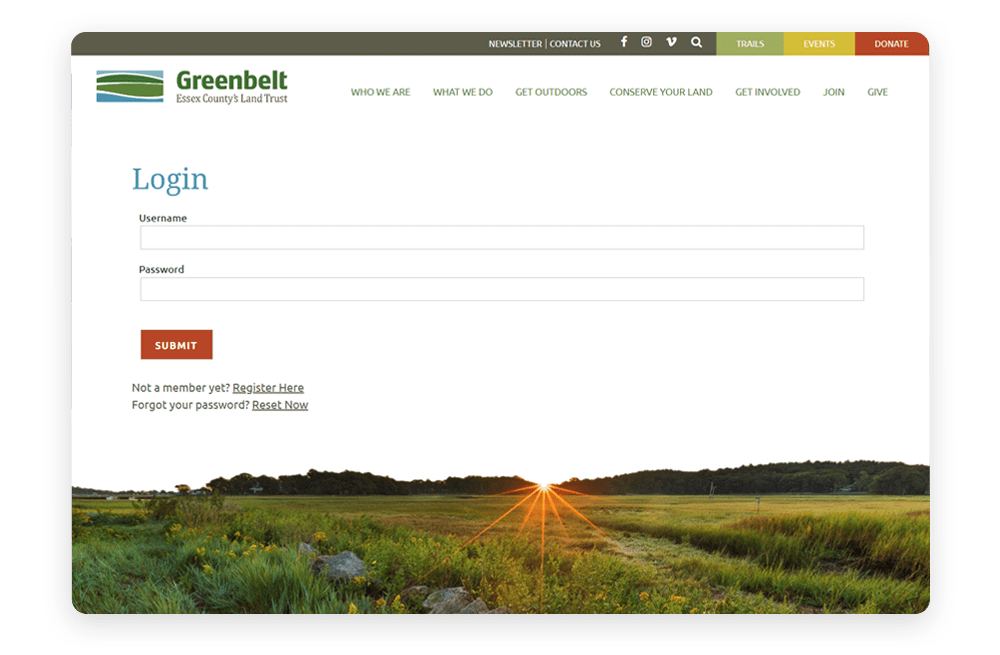 Many nonprofit organizations have internal content that needs to be password protected. For instance, you may offer members-only content or private information for your board members, staff, or volunteers.
Because of this, you'll need to invest in a CMS with access to a password-protected intranet network to safeguard sensitive information, such as member directories and resources.
Through your CMS, you should be able to approve or deny registrations, create email notifications, and integrate event registration, advanced search, file management, and more. Once you've selected a platform that enables these features, you'll need to ensure that users adhere to password security best practices. Your team will need to proactively do the following:
Encourage users to update their passwords regularly.
Require two-factor authentication for sign-ins to verify users' identity. Learn more with Swoop's two-factor authentication guide.
Set requirements for passwords, such as using at least 8 characters, numbers, and symbols.
Private content management is essential for organizations that hold personal information for their members, staff, or volunteers online. Ensure you can easily password-protect specific content so you never have to worry about security issues.

Top Nonprofit CMS Feature #4: SEO Tools
You may have heard the term search engine optimization (SEO), but how does that play into your own digital strategy?
Simply put, SEO refers to optimizing content on your website to help it prominently rank on popular search engines like Google. This directly increases the quantity and quality of traffic to your nonprofit's website through organic search results.
While you may not have any SEO experience, the right CMS will offer dedicated tools to help. Be on the lookout for these effective features to improve your organization's web presence:
Meta title editors. A meta title specifies the title of a web page and helps search engines understand what your page is about. They're displayed on search engine results pages (SERPs) as the clickable headline, so you'll want to make sure your CMS allows you to customize it.
Custom meta descriptions. A meta description is a brief overview of a page's content and its purpose. Search engines display this in search results as a brief intro to your content, which can directly influence click-through rates. Make sure your CMS offers a tool to edit it for each of your pages.
Customizable URLs. URLs that are too long are unappealing to visitors and search engines. Additionally, incorporating your target keywords into your URLs can show search engines what each of your web pages is about, so being able to update these is an important factor to consider.
With a CMS that allows you to customize key SEO elements, your website will have a much higher chance of ranking on search engines and reaching new prospects. Make sure your CMS offers these features so you can boost your online presence with ease.

Top Nonprofit CMS Feature #5: Blogging Tools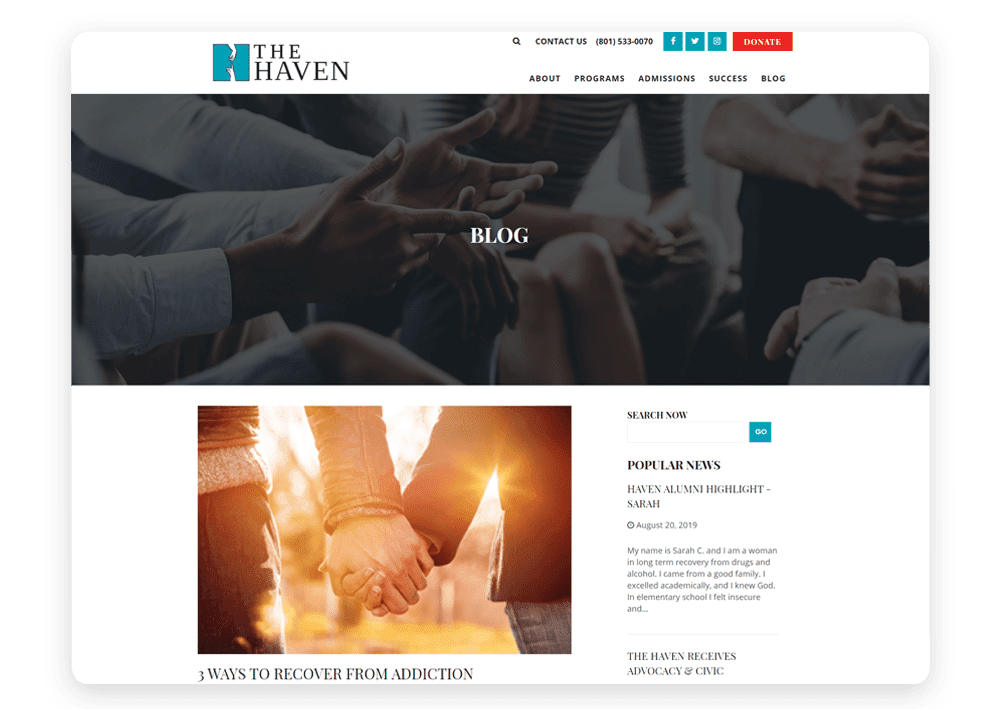 Blogging is one of the most versatile digital marketing methods that organizations can use to connect with their audience. They're an impactful way to share your team's progress with supporters and reinforce supporters' beliefs in your cause.
By experimenting with blogging, nonprofits put themselves in a unique position to launch their efforts forward by writing powerful narratives that are accompanied by compelling imagery. When done effectively, blogging allows you to speak directly to supporters on an emotional level. Because of this, you should prioritize efficient blogging tools in your search for a new CMS.
So that you can get your blog up and running quickly, look for these key features:
An easy-to-use blog editor. The process of drafting, formatting, and editing your posts should be straightforward and intuitive. An effective CMS will give your team total control over the design, so you can perfectly brand your posts and tailor them to your research.
Scheduling tools. If you're managing an editorial calendar, you should make sure your CMS allows you to schedule posts. Not only will this ensure your posts go live at the right time, but it also gives your staff time to review content and make any final edits.
Social media share buttons. When you craft a compelling post that moves your readers, you want them to be able to share it with their friends and family. Encourage them to do so by offering share options for Facebook, Twitter, LinkedIn, and any other platforms.
Blogging offers a creative way to amplify the overall objectives of your mission. So long as you're backed by powerful blogging tools, your nonprofit can develop content that promotes readership and helps you connect with prospects on a deeper level.
Unlike businesses, nonprofits operate with limited budgets and staff, which makes competing in the digital space a challenge. This also means they can't afford to waste time attempting to navigate a confusing CMS or spend money on an expensive web developer.
That's why an easy-to-use CMS designed specifically for nonprofits is the most important part of your nonprofit digital fundraising strategy, so take your search seriously. If you focus on the features listed in this article, you should end up with the right tools that help you put together a professional website that effectively conveys your mission and connects with visitors.
Author Bio: Murad Bushnaq is the Founder and CEO of Morweb. Since its inception in 2014, Murad has acted as Creative Director and Chief Technologist to help nonprofits spread their vision online through engaging design, intuitive software and strategic communication.
---