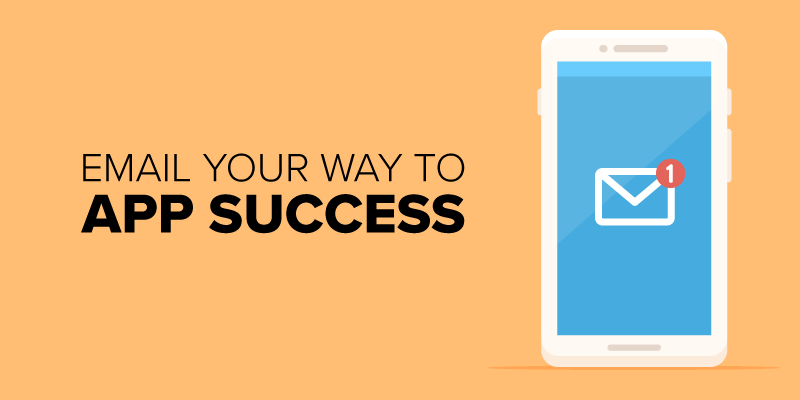 To make an app successful there are various disciplines to master: the general art of marketing, for example, consisting of ASO, PR and paid advertising. But today I'm here to discuss the importance of an almost ancient tradition known as email marketing.
Some people believe this marketing form disappeared slightly after the Cretaceous period (made popular, of course, by the Triceratops and T-Rex), but I'm here to dispel that myth. Not only is it still alive, but it is also one of the most effective marketing tools available.
Perhaps you just want to increase downloads, or sales from your in-app store? Or is it retention that you're aiming for? Do you want to communicate with your audience about major updates? Well, actually email marketing can cover all these bases. So let's take a leap back in time and find out how emails are still relevant today.
That elusive email – Gathering the goods
As with other forms of marketing, it's important to start thinking about email marketing as early as possible. You'll get the most out of an email list if you can gather it before you even launch your app. So how can you do this?
Websites/Microsites
If you're lucky enough to already have a mailing list, ideally related to your app through an associated website, then by all means, start using this to let people know you're creating an app. Be careful, though, if it's a completely unrelated list then you may find your subscribers start dropping like flies.
If you don't have an email list, then a good way to start gathering subscribers, as well as adding to your marketing arsenal, is to set up a site. This could be a page on an already established (and relevant) website you own, or it could be a standalone microsite solely for your app. With this site, you can add an email signup section to it and start gathering those emails.
Some email services also allow you to easily add a signup section to a social page, such as Facebook, and this is another great place to gather subscribers and market your app.
In-App
Once you've launched your app, you can still continue (or start, if you're a bit late off the mark) to collect emails. This can be easily achieved a couple of ways. The first is by gathering emails from your users by including a newsletter signup form in your app. All newsletter services have a form feature, often in a 'Forms' section. You simply embed the HTML code they provide into AppInstitute. This feature in your app can then just be renamed to 'Sign up', 'Join our email list' or something along those lines. With this method, there's always the chance that people won't click on your menu item, though.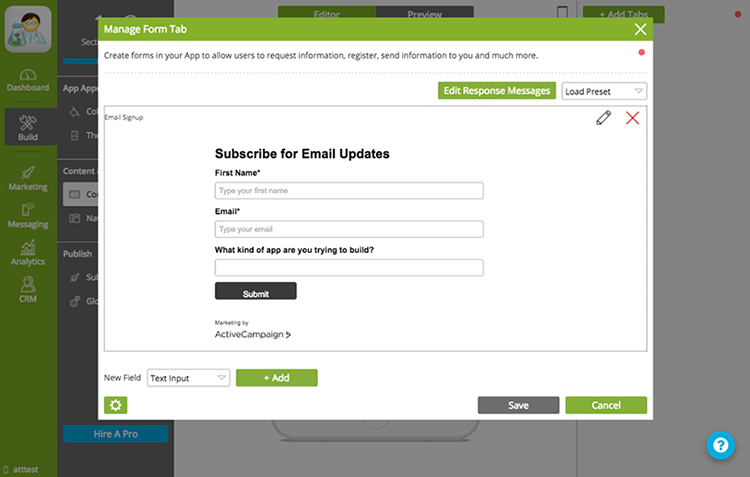 Adding an HTML Signup form to your app
Another way you could get user emails in-app is to add a sign-in feature. AppInstitute, for example, has a CRM area that allows you to collect and view your user's info. Although, it's always a good idea to let your users know you may use their addresses for mailing list purposes.
Marketing Automation – Old dinosaur, new tricks
Even though email marketing has been around for quite some time, there is a more recent addition to some email services out there that enable new, powerful marketing options.
Pretty much all services have autoresponders, and these often work by automatically sending out an email after someone completes an action such as signing up or clicking on a link in an email. One way major apps use these is to send out educational newsletter series' about your app. For example, Freeletics, a fitness app, sends you a series of workout tips after signing up.
More than just an autoresponder
The next evolution of autoresponders is email automation. This takes things a few steps forward by allowing complex, automated workflows. For example, instead of just sending an email to someone after they sign up to your list, you could add a dropdown menu to signup that allows each person to choose a specific area they're interested in. Using the fitness app example, people could choose their reason for working out: weight loss, general fitness, stress reduction or strengthening.?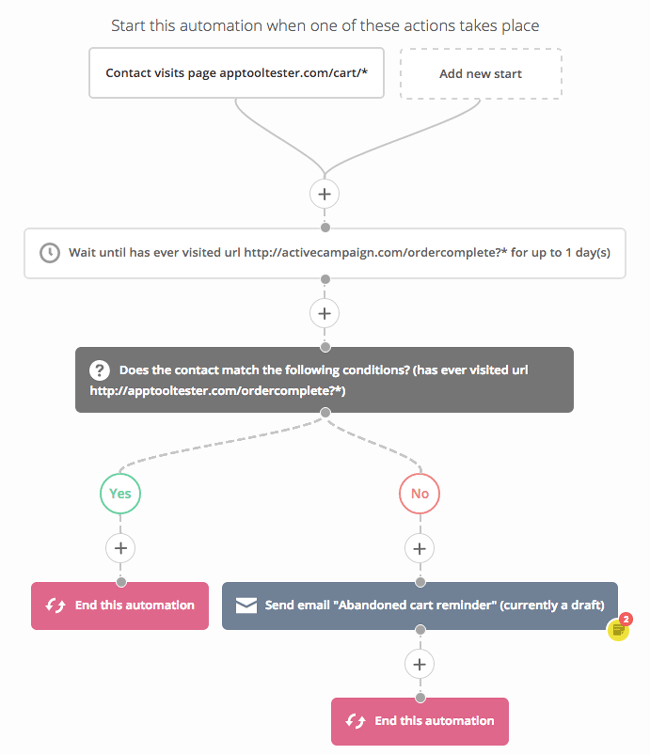 An example of an email automation workflow
With this information, a tag can be automatically added once this person signs up, flagging their interest. You could then tailor any following email content to suit their particular interest.
As a further step, by adding an HTML tracking code you can copy and paste onto your site, you can see what other pages your customer visits, and then, through automation, another tag can be automatically added if they visit a particular page say, more than 3 times. Based on these tags, you can tailor the types of emails this person receives.
Engagement is key
The benefit of the above is that you're giving people content that they're interested in, not just blasting them with emails that don't engage them. To further increase engagement, you can ask for feedback about your app, or website, but only after you know they've interacted with them (perhaps through clicking on your app download link, or by page visits, both of which can be tracked with the above process).
Another way to keep people engaged is to let them in on any news and updates that are happening with your app. Try to make this as interesting as you can, though. Perhaps adopt a persona, or a personal style, and keep it consistent. This will not only help keep people opening your emails but also create a sense of community that they'll want to be apart of. And if that happens, you'll find your users telling their friends and family about your app…and you can then say hello to even more downloads!
Ok, so what about these email services?
Now you've heard about what you can do, of course, you need to know who to do it with. EmailToolTester.com is one resource that has reviews and relevant blog posts, but I'll outline some of the major players and things to look for below.
Paid vs. Free
With nearly all email services out there, you can almost always trial them for free before signing up to a paid plan. Of course, we highly recommend you take advantage of this as it's a bit of a no-brainer. This way you can try out most of the features offered (although some restrict the free trial features available) and then decide if it's best for your needs.
Some things to keep in mind when you're deciding:
Do I need marketing automation? Or are simple autoresponders sufficient?
Am I comfortable with design, or do I just want something that has great templates out of the box?
How many subscribers do I have/expect to have?
What is my budget?
Surprisingly enough, some of the more capable services offer a free plan, and if you don't have thousands of subscribers, this could potentially be sufficient. Keep in mind that some restrictions often apply, such as pro features not being available, or restricting email limits. Some services also display advertising within your emails. For a more in-depth look at free services, you can read this article.
Top Dogs
If you are after a quick pick, then for a free service you'd be hard-pressed to go past MailerLite as they not only offer all their premium features on their free plan but they also recently launched pretty decent marketing automation for their customers. You get up to 1,000 for free and you can send them as many emails as you like. This is something that no other free service we're aware of includes!
Another classic choice for email marketing beginners is MailChimp, who offer a solid email marketing tool that allows up to 2,000 subscribers with a maximum of 12,000 emails per month. Their free plan is somewhat restricted, though, and doesn't give you access to their automation features.
If you have a bit of cash on hand, and you're expecting to go over a couple of thousand subscribers, then I'd have to suggest ActiveCampaign for the sheer number of powerful features and overall quality of the product. They have one of the best marketing automation tools around, as well as in-depth reporting and great support to boot. You can read more about these email services at EmailToolTester.com.
Signing off
So after all the prehistoric references are said and done, and the last email has left the 'sent' queue, what are we left with? Hopefully a renewed, or even brand new, faith in the modest newsletter. And a sense that your wonderful app, and a growing email list, can be the start of a beautiful relationship.
If you have any further questions, please leave a comment!
---
About the author

Steve's an avid app user, and content manager by trade. His career has spanned across areas such as film, digital media, and literature, with the tech and mobile world remaining a personal passion. Now he's interested in sharing that passion with mobile app makers at the beginning of their journey, through honest reviews and content on AppToolTester.
Oh, and he's Australian…but don't hold that against him.