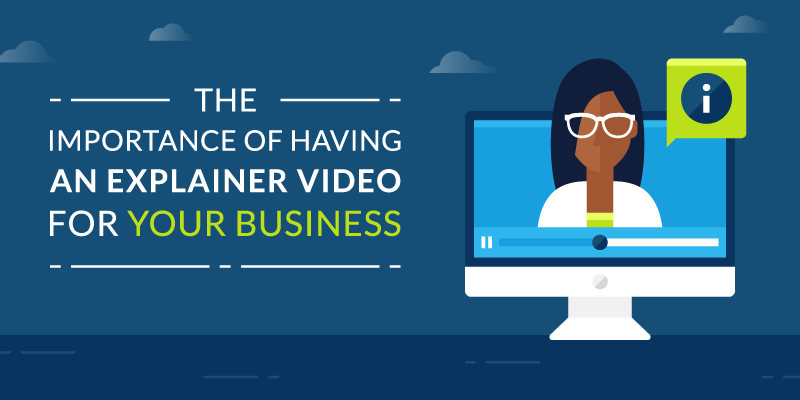 Video marketing is proven to be the new game-changer in the digital marketing industry. Almost 90% of video marketers are seeing positive results from their video marketing campaign, as they gain 66% more qualified leads per year.
At the end of the day, every business needs sales and revenue to keep delivering the best result for customers and improve their satisfaction. Yet again, video marketing proves that it can help you to get people buying. A staggering 81% of consumers said they purchased something after watching a video about the product.
In this case, we'll specifically talk about a branch of video marketing, which is the explainer video. An explainer video is usually a short animated video that explains a company's values, products, or services in a simple and engaging way.
A good explainer video should only last up to 2 minutes because 77% of viewers will watch the video up until that mark. After 2 minutes, the number of viewers decreases to 57%, which is still pretty good compared to only 20% of consumers that read blog posts until the very end.
I can go on and tell you countless other studies to prove that explainer videos are the real deal, but let's not waste our time because the picture is clear. Instead, I'll give you 5 good reasons why explainer videos are important for your marketing campaign.
5 Reasons to Use an Explainer Video
Explainer videos are normally a lot shorter than other types of videos, which is why it's perfectly easy to share on social media platforms like Instagram, Facebook, Twitter, and YouTube. And social media is one of the best places to implement video marketing strategies. Here are some statistics to prove it: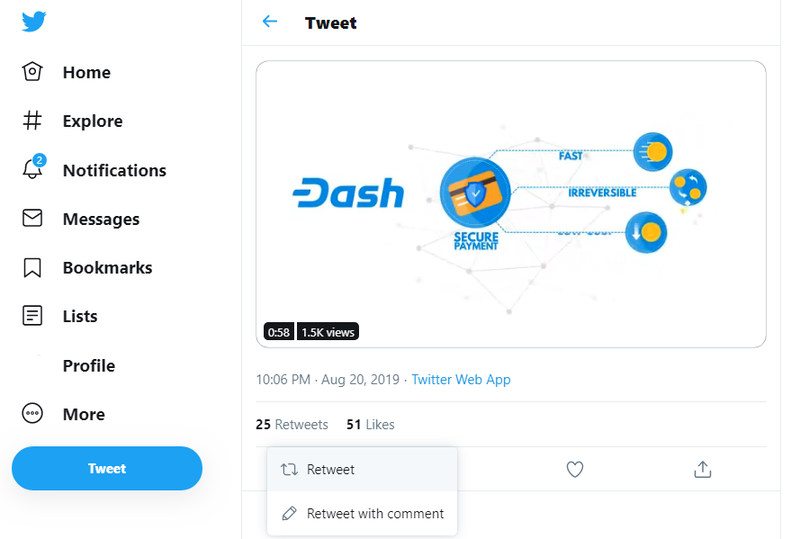 Besides social media, one platform you should focus on is YouTube. This video-sharing website has rapidly transformed into the second largest search engine in the world, with one-third of the internet as its active users. With a market that large, you'll miss a huge opportunity if you don't start creating video content on the platform this instant.
2. Easier to Rank on Google
Ever since acquiring YouTube, Google prioritizes videos more on its search engine results. In fact, having a video embedded on your website increases your chance to rank first on Google by a whopping 50 times more than text-only content.
It's not surprising actually if we go by logical explanation. The number of companies that use video as a marketing tool is still significantly less than those who still use blog posts, that's why ranking on the first Google page using videos will be far less competitive than using articles.
This hypothesis is confirmed by a Forrester study, which states that video content has an 11,000-to-1 chance to rank first on Google, while text-only content has a 500,000-to-1 chance.
I did a little experiment myself and typed "how earth was formed" on Google Search Engine and here is the result: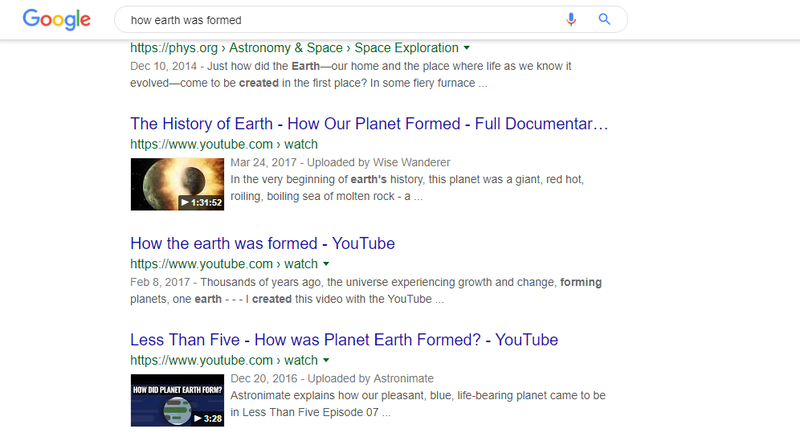 Two videos popped up on the first page, and one of them is an explainer video! The problem is, most of the time the engine will show videos from YouTube, not your own website. Embed the video on your site and then learn how to create a video sitemap so Google will recognize that the video belongs to your site.
3. Attracts More Audience
Not only boost your website ranking, videos also increase your organic traffic by 157%. That's because the audience is 41% more likely to click through video search results, than text-only results. Again, that's logical because humans are naturally visual creatures.
Video is proven to attract up to 3x more monthly visitors― if you currently have 500 visits per month, videos can boost your visit number to 1,500! The more visitors you get means more people to convert into loyal customers.
After attracting the audience to visit your site, videos also make those visitors stay longer. Although this doesn't always mean a good thing, at least it increases the average time spent by users on your site. As a result, your site is more likely to be deemed relevant by Google.
4. Explain Your Values Better
One of the things that explainer videos do best is telling a story, to explain something complicated into something fun and engaging. That's why an overwhelming majority of customers, 95% of them, prefer to watch an explainer video to learn more about a product or service.
Logically speaking, an explainer video is a perfect tool to engage with today's consumers, and studies have confirmed it. Among digital marketers, 83% of them put an explainer video on their homepage and are very satisfied with the results.
These facts show how well explainer videos can tell the story about your brand. In today's fast-moving world where the audience doesn't have much time and easily get bored, they can easily learn about a new product or service in under 2 minutes.
5. Increase Conversion Rates
The end game for every marketing campaign surely is to increase conversion rates, especially sales. If your business is not earning enough revenue, then there's something wrong with your marketing strategy.
If you're currently stuck with old content, there's nothing wrong in trying something new like explainer videos. A study has proved that animated explainer videos have the power to increase your conversion rate by 20%.
Various studies also have been conducted by marketers to find out how effective videos are in increasing sales and revenue, here are some of the results:
Marketers who use video as part of the marketing campaign saw a 49% faster revenue growth.
65% of executives go directly to the seller's website, and 39% immediately call them after watching a video about the product.
54% of marketers who take part in a Renderforest survey say that their sales increases after implementing video marketing.
64% of customers will end up buying the product after viewing the video.
Tips on Creating an Explainer Video
The success of your video marketing campaign depends on the quality of your video. If it's valuable and interesting, people will share it willingly. To create high-quality explainer videos, you need high-quality ideas and video making tools.
While I can't help you with the ideas, I can help you with the tools. Breadnbeyond recently created a complete list of 100+ video marketing tools, containing some of the best tools in the video marketing industry.
With that being said, it's pointless to know the tools if you don't know to create a good explainer video. So, here are some tips on how to create an explainer video.
Pay Attention to the Script
A script is the brain of an explainer video. Without it, everything else falls apart. Brainstorm the ideas first before you start writing the script. Ask yourself these questions as a guide when you brainstorm:
What is your business about in 2 sentences?
Who is your target market?
What value can you give to your customers?
What makes you different from the competitors?
How does your product work and how can it help the customers?
Create an Intriguing Headline and Thumbnail
Just like written content, a video also needs a powerful headline to get people to click on it. Without a catchy title, it doesn't matter how good your video is, no one is going to watch it. You don't need to resort to clickbait, just be different and evoke people's emotions. Take a look at this viral headline of 2011:

Alongside headlines, thumbnails are the first things people see when they stumble upon your video. A thumbnail has to capture the audience's attention, while also representing what the video is all about. Write up to six words in your thumbnail to let the viewers know the content inside.
Hook in The Audience With a Good Intro
The first 10 seconds of your video are crucial because 20% of your viewers will quit watching during this time frame. The longer the video plays, the more viewers you'll lose. Therefore, it's important to spark the viewers' curiosity right from the start, and keep them hooked in until the end of the video. As mentioned before, the best length for an explainer video is 2 minutes.
Make a Clear Call-to-Action
If your video manages to make the viewers stick to the very end, it will be a wasted opportunity not to include a clear CTA to guide them into your website or landing page, where you can convert them to subscribe or purchase something. A study by Quicksprout suggested that CTA on a video did 380% more clicks than the normal CTA on a website.
Takeaway
Explainer videos are awesome and can give a powerful boost to your overall marketing campaign if done right. Make sure that you create high-quality explainer videos that give values and benefits to the audience because otherwise, they'll exit the video within 10 seconds.
With that being said, creating a good explainer video is not easy. Don't ever hesitate to spend extra money to invest in a professional and experienced scriptwriter, animator, voice actor or video editor to help you create the video because it pays off really well in the future.
Author's Bio
Andre Oentoro is the founder of Breadnbeyond, an award-winning explainer video company. He helps businesses increase conversion rates, close more sales and get positive ROI from explainer videos.
---