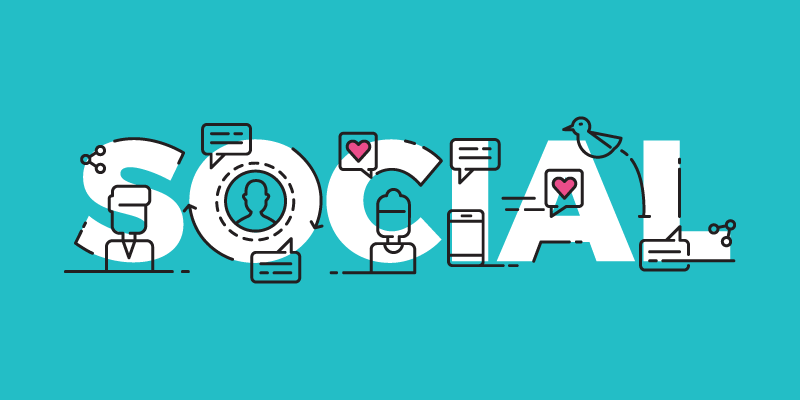 There are more than 200 well-known social media platforms currently in operation, and even when you trim the list to only the most widely used, you're still looking at 20+ platforms. So it is easy for small business owners to feel overwhelmed, and to give up on social media before even getting started.
Don't.
While specific social media platforms may come and go, the basic concept of social media is not going anywhere, and it will remain an important part of any business strategy: from brand awareness, through to marketing, sales and customer service. Our brief guide to getting started with social media will take you through the important first steps, helping you overcome any paralysing fear you have of social media, and making it easier for you to take the next steps almost unaided.
Choose the Right Platforms
If you're starting with a clean slate, then the first step is deciding which platforms you are going to be active on. If you're already active on multiple platforms, then it might be a good idea to consider if you're using the right platforms for your audience. This isn't as simple as looking at which are the top 5-10 platforms, but rather investigating which are the most popular with your audience.
Facebook might be the Big Daddy, but if your audience is more active on Pinterest and Instagram, then any effort you put into Facebook is possibly wasted. Begin by looking at your competitors: which platforms are they using, and what is the size of their audience on each? Then look at the demographics of your customers, both current and those you are trying to reach: what gender, age group, education and income bracket does the bulk of your audience fall under?
The Pew Research Center publishes data annually which looks at the demographic makeup of popular social media platforms, and although the data is generally based on American adults, it is still a good reference point. Finally, consider whether the platform makes sense to you (do some extra research before deciding that you "don't get it") and whether it is appropriate for your content.
Reserve Your Brand Name
Once you have decided which platforms to be active on, your next step is to claim your brand name on those platforms.
If it is still available.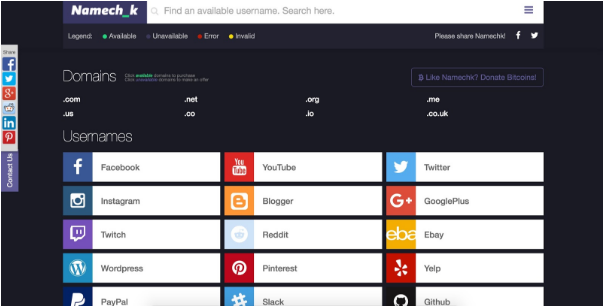 Namechk is a nifty tool which helps you see whether your brand name is available on a large number of platforms, and you can then begin registering on all the platforms you intend using. Some points to remember:
Have the same username across all platforms. Consistency is important when your audience searches for you.
Limit your username to no more than 15 characters. Although other platforms accept longer usernames, Twitter is capped at 15 characters.
Register your username on all the major platforms, even if you aren't going to be using them. This keeps the username associated with your brand safe, and means it is available should you ever decided to start using any other platforms.
If your brand name is longer than 15 characters, or if the username you would like associated with your brand name is not available, consider any of the following workarounds:
Shorten some – or all – of your brand name, or abbreviate it. American Airlines, First Great Western and Standard Chartered had to resort to both of these methods. Alternatively use the name your customers use, as Starbucks Coffee did.
If your brand name consists of two or more words, separate them using an underscore.
Add "The" to the front of your brand username, or "Official" at the start or end.
Add "HQ" or your location, though this only makes sense for businesses with multiple offices.
The ideal scenario is for your social media usernames to match your brand exactly, but since this is not always possible, make sure they are at least easy to remember, and type in.
Build a Complete Profile
Now you're ready to build your profile on your chosen social media platforms, and like your username, your profile should help identify you to existing customers, while letting new customers know what you do.
Your Profile Image
Most social media platforms allow you to upload a cover – or header – and a profile image. Most businesses use their logo for the profile image, but it is important to remember that although the minimum size (depending on platform) is between 110px and 400px, your audience will mostly see it as a 32px X 32px image, and if your logo does not look good at that size, nobody is going to be able to identify you.

If your logo includes an easily identifiable logomark that customers already associate with your brand, use that instead of your full logo. As with your username, be consistent and use the same profile image across all platforms, just make sure it is properly resized as per each platform's requirements.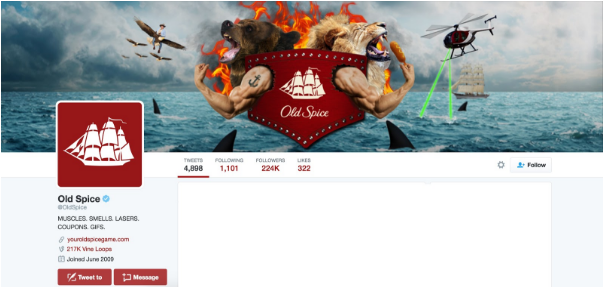 Your Header Image
You aren't as restricted when it comes to your cover or header image, and although each platform has different requirements when it comes to the size, they're a lot more generous than the profile image. Hubspot has a great set of cheat sheets giving image dimensions for all the major platforms, and you are encouraged to make good use of all the space provided for your cover image. Don't be afraid to change it regularly, and don't think that, like your profile image, you should only use your logo. Use the space to show off your products, your workspace, your employees: visit the profile page for your favourite brands to see how they are using the space, just don't let it be boring.
Your Bio
Each platform has different requirements when it comes to your bio, from the simple 160 character bio on Twitter, through to the much more detailed profiles offered by Facebook Pages and LinkedIn. The recommendations for your bio are simple:
For short bio's such as Twitter, approach it as an elevator pitch to new customers; they need to be able to look at your bio and immediately know what your business is all about. Existing customers just need it to assure them that it is the official account of your business.
For longer bio's such as Facebook Pages, complete as many of the provided fields as possible: from start date, through to short and long descriptions, address, and contact details.
Always include a link to your company website, and if the platform allows it, include links to your other social media accounts.
Conclusion
Now that you've finally taken the required steps to getting started on social media, you're almost set to begin sharing awesome content with your audience. Before you do, you'll want to check out our guide to social success for small businesses, which will take you through the next steps to having a social media presence that impresses – and delivers results.
Want to supercharge your small business marketing? Check out the full list of essential digital marketing tactics for small businesses.
---