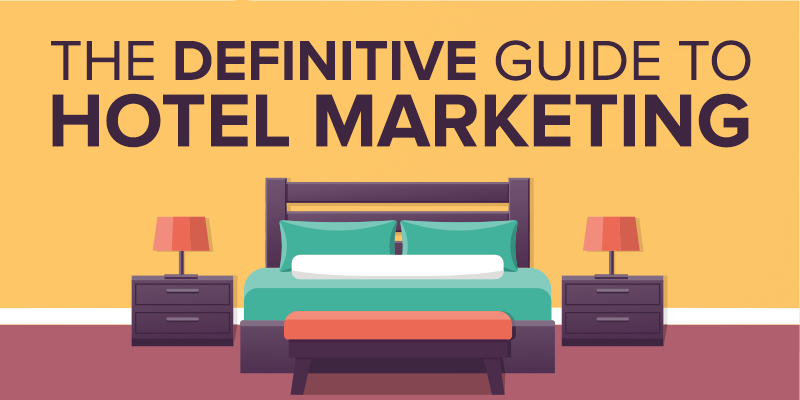 It's no secret that digital marketing has become a massive industry over the past decade or so. When it comes to the hospitality industry, and hotel marketing, this is particularly true.
As more travelers make buying decisions online and brands like Airbnb receive 88 million visits a year, it's become more important than ever before for hoteliers to have a clearly defined hotel marketing plan.
That means handing over your social media responsibilities to the nearest member of staff isn't going to cut it.
Travelers have become very discriminating over the brands they do business with.
Today, drawing up a clear hotel marketing plan and with clearly defined platforms that you're going to use to communicate with your target audience is vital if you want to grow your brand online.
Yet even if you get your brand seen by your target audience, you still need them to take action.
The strategy for doing this is simple:
Make your buying process CONVENIENT
When people look for hotels online, they don't want to spend ages sifting through promotional content. They want to be able to book. Quickly.
This means all of your hotel marketing should make it easy to engage with your brand and to start the booking process.
Your hotel marketing channels should drive traffic to your website, and your website should be designed to make it easy for visitors to book.
In other words, the key to digital marketing for hotels is to:
Minimize the investment of your audience
Below we've broken down what you need to do in order to reach new customers online, and how you can make your hotel stand out from the competition.
After all, half of the battle is simply getting in front of your target audience!
Fast Track Your Booking Process
If you want to develop traction online, the first place to start is by optimizing your booking process.
More than 57% of hotel bookings occur online. As such, your target audience expects your online booking experience to be as efficient as possible.
This means no 'bookings' or 'accommodations' tabs which require the user to load another page. Instead, your homepage should have a booking form so that the customer can start the buying process as soon as they reach your landing page.
If your homepage is poorly designed and cluttered, your audience isn't going to stick around and wade through your poor user interface, they're going to leave for another site.
Putting a booking form on your landing page will not only improve the experience of your desktop users but will also make things much easier for mobile users as well. This is incredibly important because 70% of travelers with smartphones conduct research on their smartphone.
As a result, making sure your booking process is featured on your homepage will ensure that mobile users are able to book conveniently.
An example of a simple but effective homepage is shown on London's Strand Palace Hotel. As seen in the picture below, the user can simply scroll down to the booking field, and put in their booking requirements.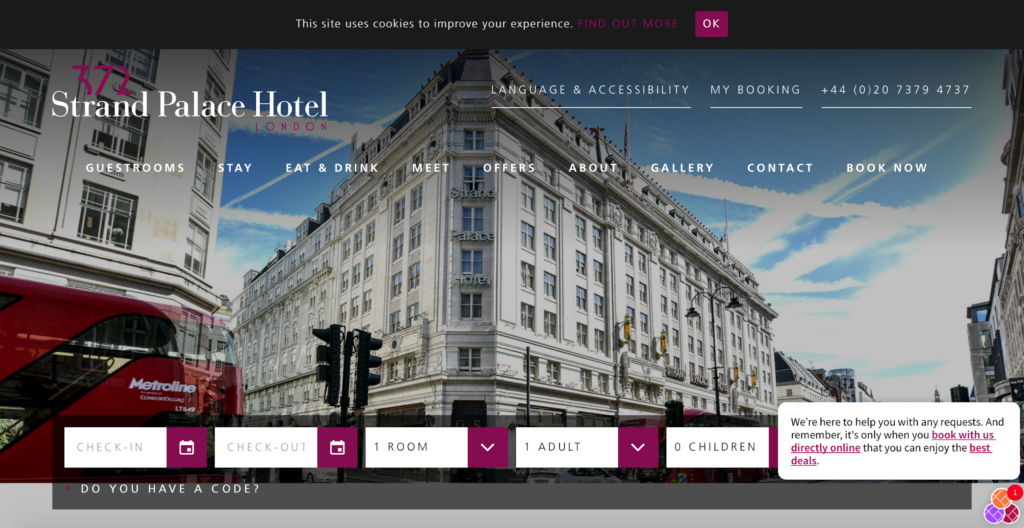 After clicking book now they are taken straight to a page where they can view the available rooms alongside a clear price tag: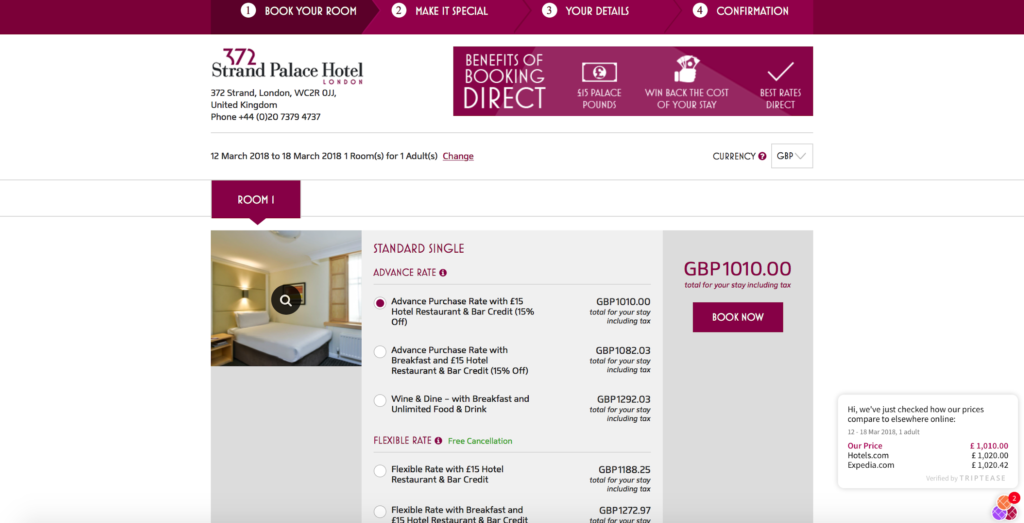 Using an intuitive booking form on your homepage and fast-tracking the booking process makes buying much more convenient for desktop and mobile users.
If you want to add more promotion to your landing page, highlighting testimonials and past reviews is a great way to bring positive customer experiences to the forefront of your site.
It's also a good idea to make sure that any social widgets on your homepage aren't too prominently placed because you don't want your audience clicking off your site.
Instead, have small social media widgets that don't detract from your sales funnel. Once you've optimized your homepage and made the experience as user-friendly as possible, it's time to start drawing traffic to your site.
Search Engine Optimization For Hotels
If you want to draw traffic to your site, then you need to be incorporating search engine optimization to make sure your site is visible on search engines.
Deploying the proper keywords on your site is crucial to getting your site ranked highly on search engines like Google.
In order to start using SEO on your site, you need to pick a keyword that you want to rank for. One of the best ways to do this is by conducting keyword research using a tool like Moz Explorer
A keyword research tool will allow you to enter a keyword and assess how competitive it is based on how many people are searching for it. The tool will identify how difficult the keyword is to rank for and propose alternatives. Below you can see we've run a search for the query "Manchester Hotels"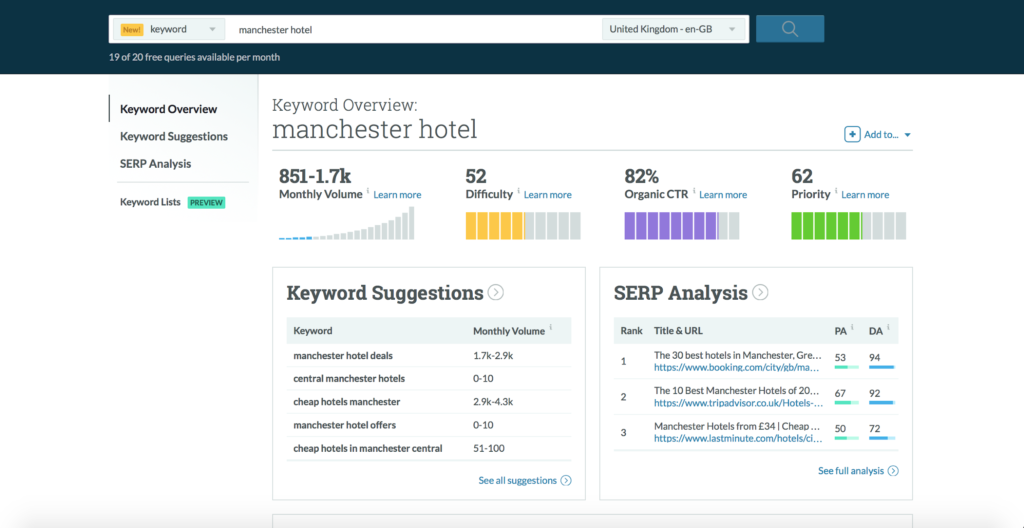 As you can see, Moz breaks down the monthly volume of searches made for that search term and provides alternative suggestions. Ideally, you want to look for keywords that strike the balance in terms of traffic and difficulty. A difficulty score of 52 makes "Hotels Manchester" a good keyword choice.
Once you've selected your focus keyword it's time to start optimizing your site. A great way to do this is by using a tool like Yoast SEO. With Yoast, you don't need any specialist SEO knowledge in order to start improving your SEO rank. This plugin provides instructions on how to increase your search engine ranking. As you can see below: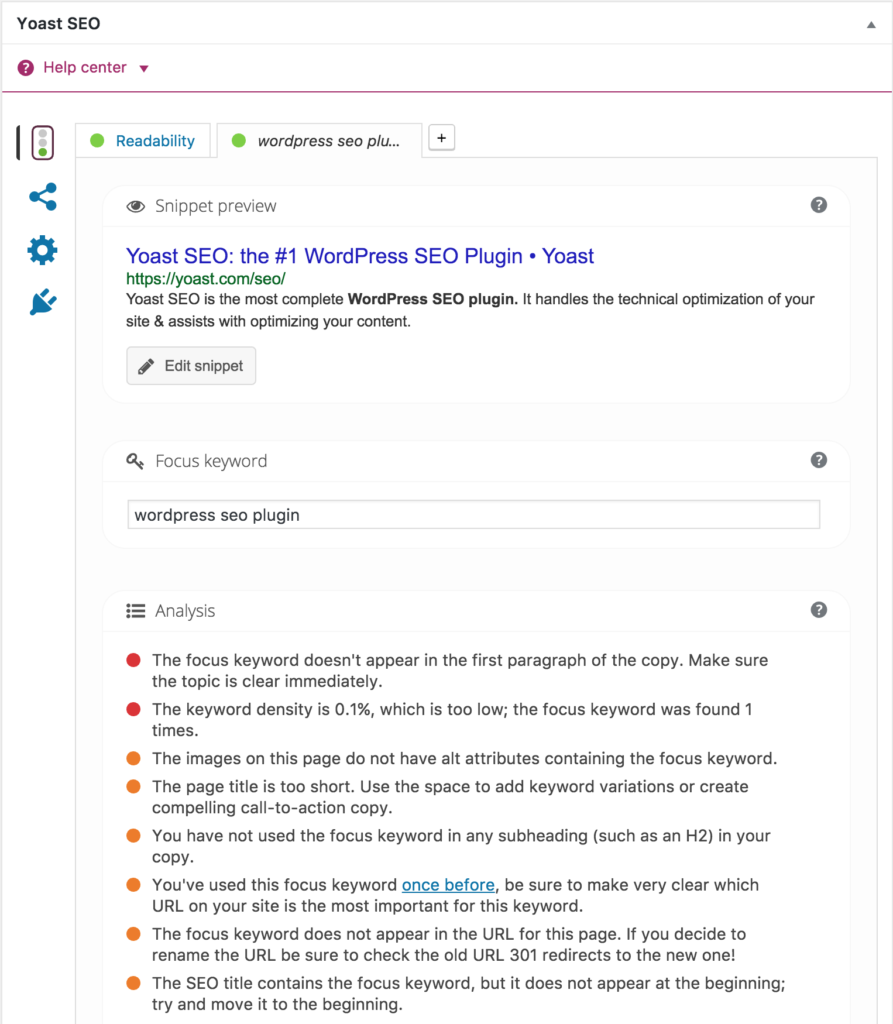 Broadly, you want to achieve a high keyword density, as well as putting the keyword within your URL, images, subheadings and meta description. Whilst this isn't an extensive guide to SEO, following Yoast's traffic lights and achieving green lights in each of the areas will help you to get the fundamentals down.
That being said, whilst SEO is important, it's not the be-all and end-all of your online strategy. Now social media marketing is playing a much bigger part in how hotels are growing their brands online.
---

---
Growing Your Brand On Social Media
Over the past decade, social media has emerged as one of the best ways to connect with your target audience online. Yet for many, the key to getting audiences engaged on social media has remained elusive.
In the hospitality industry, the key to effective social media marketing is to know what platforms your target audience congregates on, and the type of content that gets them going.
Generally, you'll want to start out on Facebook and Instagram to circulate your content. However, if you want to reach a younger audience like millennials it can be a good idea to use platforms like Snapchat (71% of Snapchat users are under 34 years old).
Now before you start drawing up your content, you first need to set up a Facebook page. Your Facebook page should be treated as your social media HQ.
Your Facebook is where customers can click through to see more about your business. It is the main gateway to your site. As such you want a clear description of your brand, and a prominently placed call to action, encouraging your audience to "book now".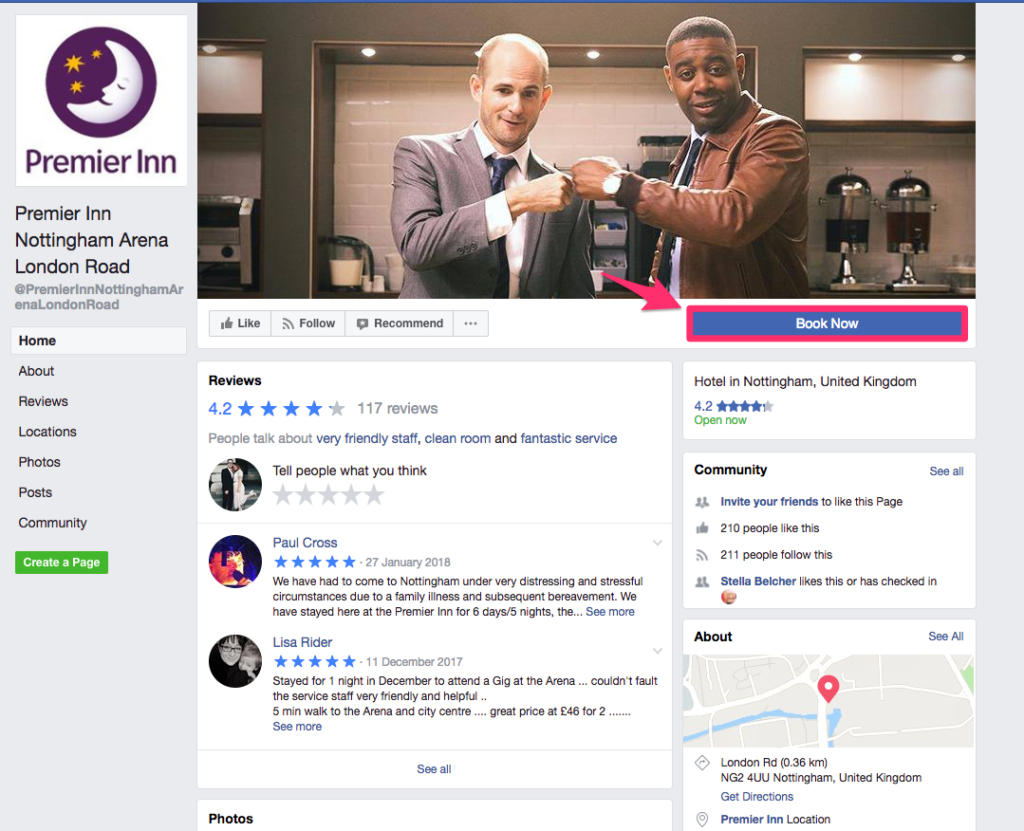 When it comes to your content online, you want to aim for 80% value and 20% promotion.
This means providing content that's informative or entertaining. Engaging content is the key to increasing your follower count and actively growing your brand on social media.
Part of doing this is hiring a specialist to manage your content creation. Making the decision to employ a Social Media Manager will help you to produce quality content on a long-term basis.
The reason for this is that when your producing content on an ad-hoc basis, with multiple contributors your brand voice becomes inconsistent.
If your brand voice is inconsistent then you don't have a clear brand on social media. It goes without saying that this seriously impedes your ability to connect with followers on social media.
A creative Social Media Manager can produce content with a consistent voice that nurtures your target audience. The more your audience comes back to view your content, the more likely they are to do business with you in the future.
What Posts You Should be Making On Social Media
As part of the travel industry, the number one goal of a hotel's content should be to capture the imagination of travelers within your niche.
As mentioned earlier, you're looking to produce content that's 80 percent value and 20% promotion. In practice, this means posts with informative or entertainment value.
For example, a top 10 list of restaurants to visit in your area is a great way to provide your target audience with useful information whilst building your brand.
By sharing this information you situate yourself as an authority in your industry and show off what your area has to offer. This content nurtures prospects because it shows that a hotel room in your area is far more than just a hotel room. This also can be achieved by posting facts about your destination.
Video Content
If you want to catch your audience's attention on social media, video content should be your first port of call. Video content is not only immersive and entertaining, but it's also incredibly convenient for mobile users.
Taking your audience on a hotel walkthrough with a video is a good starting point, but if you really want to catch their attention, you'll want to incorporate storytelling.
Producing videos of travel guides, local events, and fundraising activities can be a great way to turn your brand into a full-blown content provider. If you're active on social media, you need to be a content provider in order to compete with your audience's newsfeed.
Get Your Audience Involved
If you really want to be savvy with your social media marketing, incorporating your audience into your posts is one of the best ways to catch their attention. For example, creating a backdrop or unique feature for travelers to take selfies next to can be a great way to get your audience involved in promoting your brand.
A traveler can simply take a selfie of them next to your unique feature and upload it to their Instagram whilst indirectly promoting your brand. This allows people to interact with your hotel in a lighthearted way that gives them a nice picture for their profile, whilst providing you with social proof.
Include a Call to Action!
Above all else, you need to remember to include CTA's to "book now" or "make a booking" in your social media posts. Your social media content is designed to nurture your target audience before they click through to your website and book a room.
Using a CTA makes sure that it's easy for your audience to click through to your website and enter the sales funnel.
If you fail to include CTA's in your posts then your audience isn't going to click through to your site. Using a CTA minimizes their investment and makes it convenient for the audience to become paying customers.
Mobile Marketing
When it comes to convenience, there are few methods that can compete with mobile marketing. With regard to hotels, mobile marketing makes up the majority of the hotel booking market.
Buyers are constantly using their mobiles to search for hotels and find the best deals. As we've mentioned throughout this guide, both your website layout and your social media content should be designed to support mobile users.
Social media is one of the main places that mobile users congregate online. Around47% of travelers search social sites to research travel destinations. This has made social media one of the main hotspots to reach users online.
However make no mistake, your website design MUST be tailored towards mobile users as well. This is because social media will be one of the main ways that mobile users reach your site besides search engines.
Again you're looking to deploy your marketing to make the buying process convenient. There's no better way to do this for mobile users than by creating your own hotel app.
Create your Own Hotel App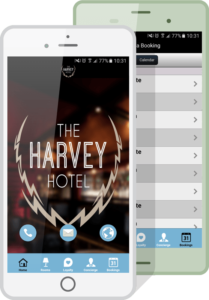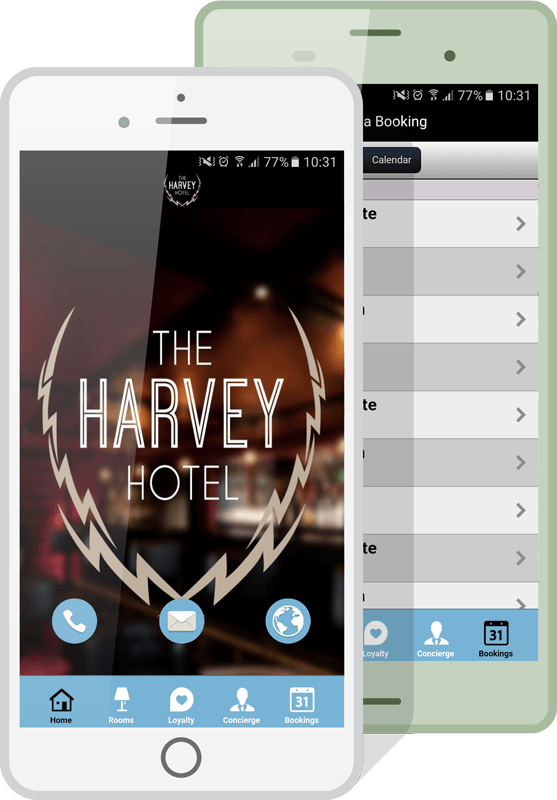 If you want to go the extra mile and make things convenient for mobile users, developing your own hotel app with AppInstitute will get you right onto the home screen of your target audience.
Through the app builder platform, you can create your own booking system, complete with push notifications and loyalty schemes to stay connected with your audience. Going a step further, you can also provide guests with directions and city guides to help make their stay more fulfilling.
The app creation process is extremely simple. Pick a template (or start blank if you'd like) and then enter your website and Facebook page to automatically pull in branding and business information for your hotel. Then it's just a case of adding your rooms and any finishing touches before taking it live. The best part is that you don't have to learn how to code! It's all drag-and-drop.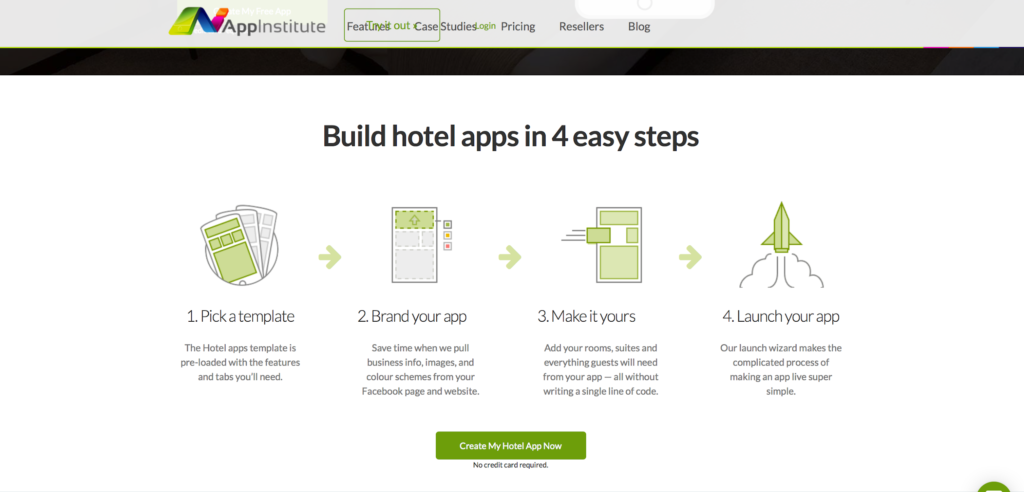 Create a Mobile Campaign
If your seeking to conduct an effective mobile campaign then it's important to incorporate your target audience into your marketing efforts.
Creating a campaign that encourages your audience to share their own content or stories is one of the best ways to grow your brand and boost your audience engagement.
For example, Fairmont has had a great deal of success by encouraging travelers to share their own guest stories of their time traveling. The hotel used the hashtag #FairmontsMoments in order to share customer stories on social media. Similarly, Virgin's#GiveaFlyingDuck campaign had the brand placing ducks around the world for travelers to take pictures with.
In these examples, the brands were using their pages as a platform for customers to share their travel experiences. By implementing a similar idea you are providing value to the audience by giving them your social reach to get their voice heard (and promoting your brand at the same time!).
User-generated content allows your audience to view your services from the perspective of a satisfied customer and takes your social proof through the roof. People take promotional posts with a grain of salt, but authentic testimonials and guest stories are much harder to brush off.
Video Content
When it comes to mobile users, video content is extremely important, not just because it's convenient but because it's easy to share as well. In fact,76% of social media users would share a video if it was entertaining. Therefore, creating engaging videos doesn't just entertain your target audience but also provides them with something tangible to share with their friends as well.
For example, Buggatti Hotels and Resorts 'Creative Luxury' video provided something epic for people to sink their teeth into and share. Video content is an effective medium for capturing the imagination of mobile viewers and turning them into paying customers down the line. Producing a video that shows off a beautiful location near you could help to seal the deal.
Provide Value and Demonstrate Your Value
However, you decide to approach your marketing online, make sure you have a well-defined strategy in place. If you set up your marketing and your web presence to make the buying process convenient for your customers, you're going to make sales.
In the world of hotel marketing efficiency is an underrated quality. By using the guide above a starting point you can start to tailor your marketing towards streamlining the booking process and marketing towards mobile users.
Never forget that the mobile market is where a sizeable portion of your audience will be interacting with your brand and making buying decisions. Tailoring valuable content towards that target audience will be the difference between growing your brand and falling into obscurity.
---