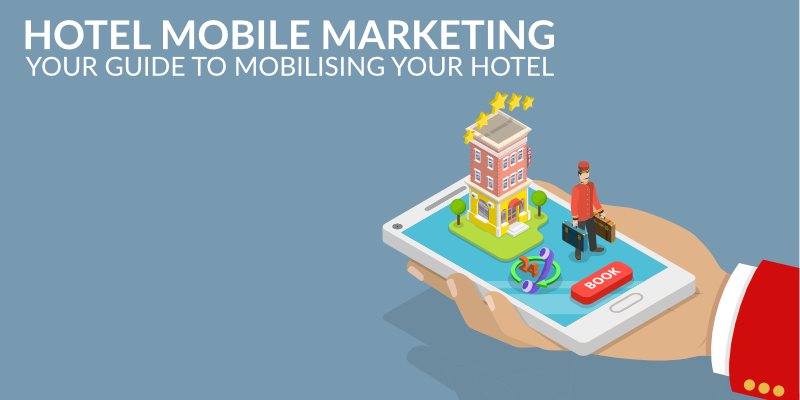 The number of people using the internet on mobile devices has increased dramatically in recent years. If you own a hotel, it can be a good idea to have a mobile marketing strategy that targets these people.
Here are four reasons why mobile marketing is so important for hotels.
In this post, we've broken down mobile marketing into four categories: having a killer mobile-optimized website, social media, local SEO, and mobile apps. Of course, there are others, but we think these are the most important.
We have also chosen a hotel that is doing a great job in each category (well, three out of the four) so you can gain some inspiration for your own mobile marketing strategy.
First up, you'll see why you really, really, really need to make sure you have a mobile-optimized website.
Four Mobile Marketing Strategies
Mobile Optimized Website: The Backbone of the Mobile Experience
It's 2018. You need a mobile-optimized website. If you don't, it's probable that the majority of people coming to your site will have a poor experience. This is not good.
Additionally, if your website doesn't offer a good experience on mobile, you may not rank as well on Google as sites that do. This could result in fewer people seeing your site and, ultimately, fewer people booking stays at your hotel. This is also not good.
The Marina Bay Sands Hotel in Singapore has a great mobile-optimized website. Let's see what makes it so good.
Case study: Marina Bay Sands
For comparison, here is the desktop version of the website: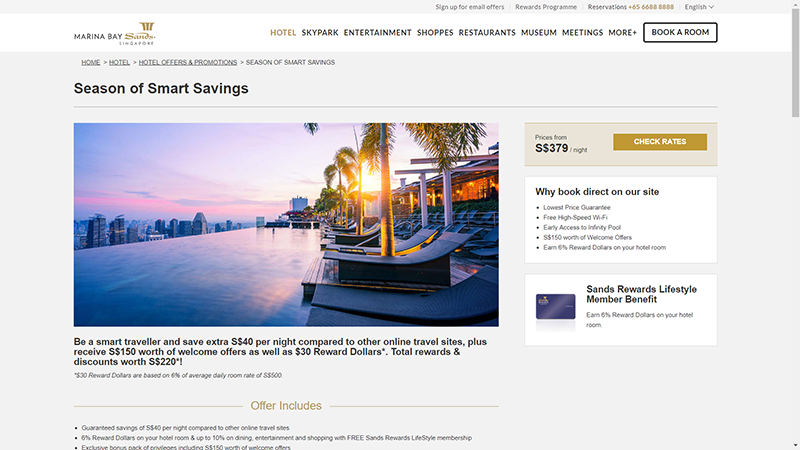 And three screenshots from the mobile version: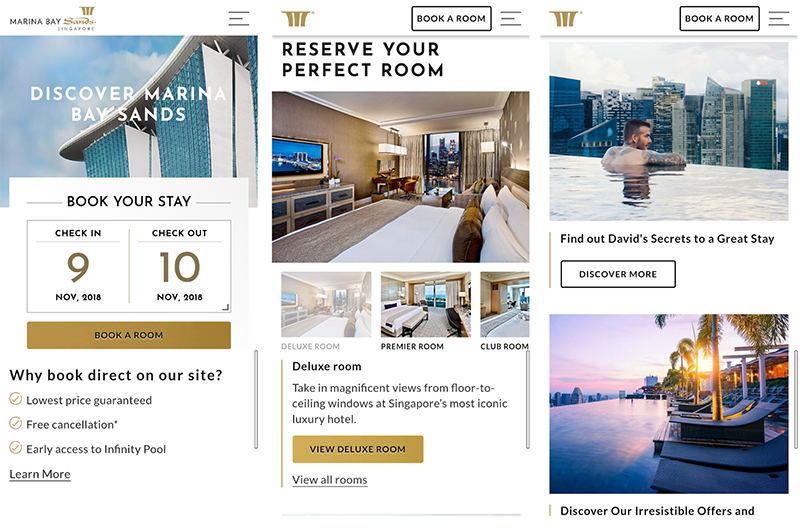 They are both pretty different. However, they also both do a good job of displaying the most important information in a way that suits the platform. Here is a look at what the mobile version does well.
The Most Important Information is Visible Without Scrolling.
Mobile screens are usually pretty tiny: they can't possibly contain the same amount of info as desktop displays. Because of this, the Marina Bay Sands mobile website prioritizes the two most important pieces of info: the name of the hotel and the room reservation system.
As you scroll further down, more information is shown that could help people book their trips. However, the "Book a Room" widget is always displayed at the top of the screen. After all, that's exactly what you want people to do while on your website. Might as well make it as easy as possible.
Images and Text is Well-Aligned
A sure sign of a non-mobile-optimized website is when you have to scroll to the side to view images or zoom in to read the text. It's really annoying. However, on the Marina Bay Sands mobile website, all images and text show up perfectly. This makes for a great experience on mobile.
Everything Loads Quickly
You can't tell from the screenshots, but the mobile website loads quickly. This is crucial as load time is thought to be a key indicator Google uses to rank mobile websites. There are also no sections of the site that don't work on a mobile browser.
Social Media: Show Off Your Hotel and Communicate With Customers
Once you have a mobile-optimized website, you need a way to get people to your site. One way to do this is through social media.
Social media is a great way for hotels to show off their facilities and interact with potential customers. This is especially important as research suggests that a significant number of people use social media to plan their vacations.
While there are plenty of different platforms that you can use, today we will focus on Instagram. With over 1 billion users, Instagram is the world's second most popular social media platform (third if you count YouTube). It is also perfect for many hotels due to it being a highly visual platform.
Case study: Constance Hotels and Resorts Instagram Account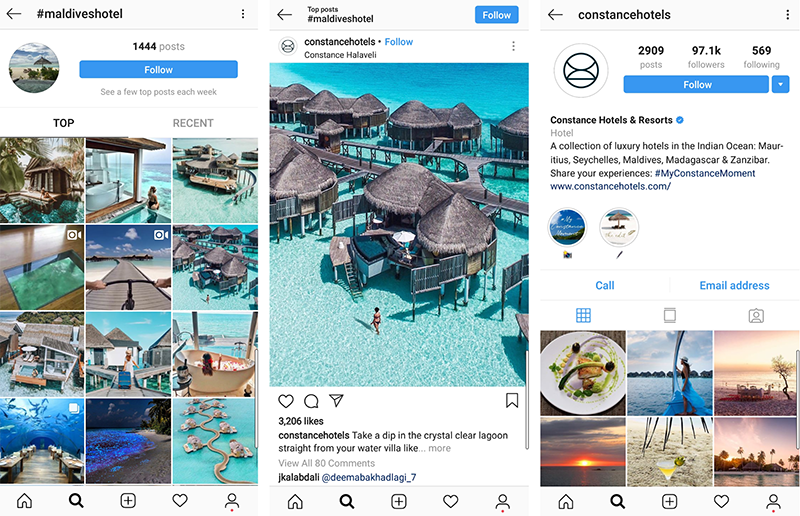 Tag Posts With Relevant Hashtags
Hashtags are important when posting on Instagram because they let the platform know what your post is about. It also makes it easier for people to find your posts. Because Constance Hotels used the hashtag #maldiveshotel, anyone searching for Maldives Hotels on Instagram is able to see one of the hotel's posts.
Use Influencers to Get Your Posts Seen
The post in the middle of the image above features an Instagram influencer. Influencers are people with huge social followings and teaming up with one can increase the chances of your post ending up in the "Top" section of the app.
However, even if you don't do this and your post doesn't get included in the "Top" posts section, it will still be added to the recent posts section. Posting frequently can ensure your posts stay visible in this section.
Link to the Hotel's Website
On the Constance Hotel profile, there is a link to the company's website so people can find out more about booking a stay at one of the resorts. The profile also has direct contact details so people can contact the site. This is crucial if you want people to go from viewing your pictures to booking a stay.
Use a Unique Hashtag to Encourage Guest Posts and Increase Visibility
The Constance Hotels profile also has its own hashtag #myconstancemoments. This encourages people to stay at the hotel to tag their posts with this hashtag which can, in turn, increase the visibility of your hotel.
Local SEO: Get Seen When it Matters Most
Another great way to get your hotel seen is through local SEO.
When people search for a hotel on Google using a term like "Hotels in London" or "Hotels near me," you want to appear. Below is an example of the Google search result, a map and Google's own hotel booking platform.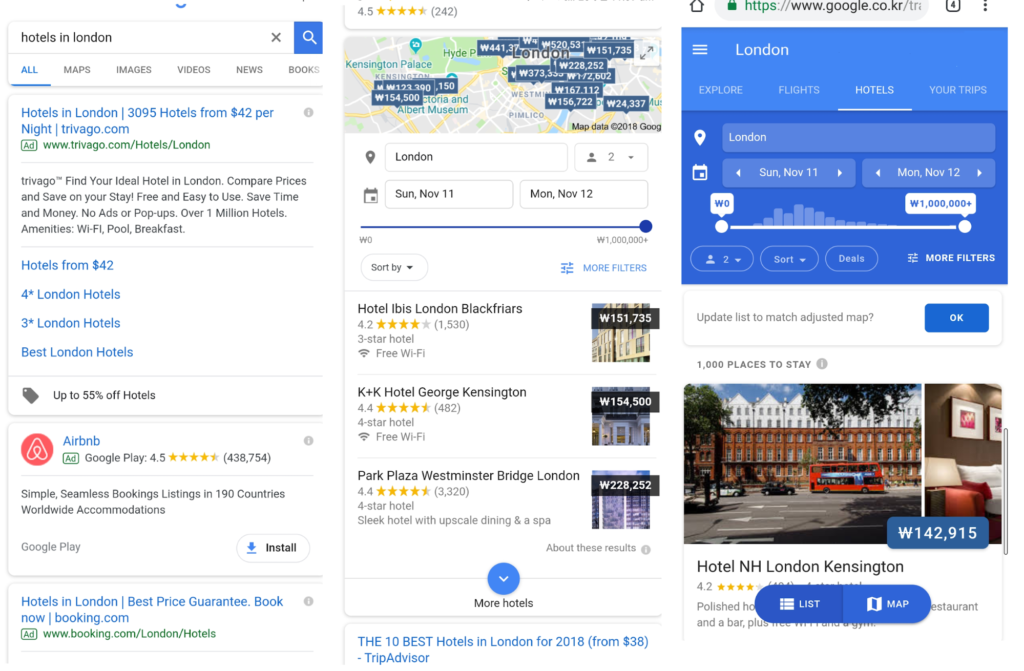 It is pretty important that Google lists your hotel in this section. One way you can do this is by adding your business to Google.
Using My Business, you can list your hotel's name, address, and phone number. Once you have done this, your hotel's info should show up in Google searches and on Google maps. This will also allow you to show pictures of your hotel, customer reviews, and have a direct link to your website. If you want to do some more reading on local SEO, the Ahrefs Local SEO Guide is very good.
Google has made it incredibly easy for people to book hotels directly from mobile devices without ever leaving the Google search page. This is called Google Hotel Ads and allows hotels to link their booking system directly into Google enabling users to book directly through the Google Hotels platform.
Ensure a Memorable Experience: Branded Apps
The most uniquely mobile marketing strategy is having a branded app for your hotel. Something we're perfectly placed to help with.
Apps allow you to offer extra services that can improve the experience of people staying in your hotel. You can also let people book stays through your app which can be especially useful if you are the type of hotel that people are likely to stay at more than once.
Case Study: Hilton Honors app
The app for the Hilton Hotel chain is a great example of what a hotel can offer through an app. Many of the features are unique to the app which gives people a clear reason to download it instead of using the website.
Let's take a look at how the Hilton Honors app helps customers have fantastic hotel experience.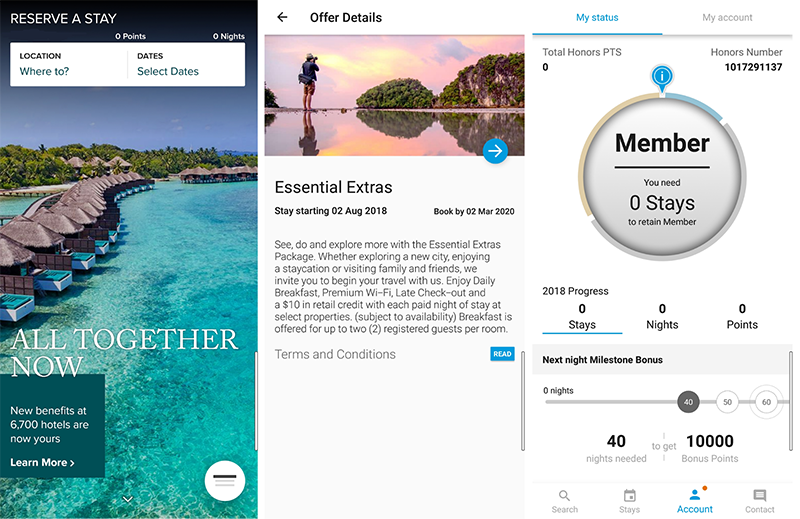 Book a Stay
The apps home screen allows people to book a stay at a Hilton Hotel. As well as being convenient, the app's Play Store listing says customers will get the lowest fee available when they book through the app.
Take Advantage of an Offer
The app also contains plenty of offers for people looking to book a stay at the hotel. This can encourage people to do just that. It also makes people more likely to book via the app, rather than through a third party booking service.
Manage Membership
The membership scheme encourages people to stay loyal to the Hilton brand. The app makes it easy for people to check how many points they have and see what they need to do to get to the next level.
Check-In
If you already have a booking, the Hilton app will allow you to check in to the hotel from anywhere. It lets visitors pick their own room and uses street maps so people can see what the view from their accommodation will be like.
Order Room Service
The app makes it easy for people to order room service at the hotel. Not only is this convenient for customers, but it could result in them spending more money at the hotel.
Use the App as a Room Key
The app can be used as a room key at many of the company's hotels. While this may not be suitable for all hotels, it is something that can help make the customer's stay easier.
Conclusion
Ensuring that your hotel is set up to take advantage of the growing mobile user-base is essential. Large chains, boutique hotels, and small family-owned hotels will improve their bottom line if they pay attention to mobile.
---