No business owner ever stops worrying about how they can remain visible to their prospects. Even if you're doing well today, what about tomorrow? Next month? Next year?
It's why businesses constantly seek new avenues to promote themselves. However, the market is only getting more and more competitive.
Well, isn't it always?
Yes, but take a look at this:
Based on Google Trends, people were looking up "how to start a business" more than "looking for a job" in 2021.
So? It's just intent, right?
The statistics from the United States Census Bureau beg to differ. Compared to the previous year, the bureau received at least a million more new business applications in 2021.
This trend will only continue in the coming years, so how can businesses stand out when everyone's competing to be at the top of search pages and social media feeds?
Better yet, without splurging a fortune?
Content marketing on LinkedIn
Social media content marketing is a must these days, and LinkedIn is one of the most effective platforms for it.
LinkedIn has:
a global reach with 810 million users
an audience that's predominantly composed of decision-makers and other professionals
a social media platform that's known for its content marketing capabilities
It's the best platform to grow your authority and credibility, thereby attracting more people to look into the apps that you offer.
However, like every other popular social media site, LinkedIn's algorithm determines whether your content sinks or swims.
Good content is one thing, but the quality of your connections also matter. It's why relevant hashtags are essential to any marketer or professional on LinkedIn.
From strangers to prospects
People who go out of their way to follow a certain hashtag on LinkedIn often means they're highly interested in the topics that the hashtag represents. When your LinkedIn posts consistently appear in front of these hashtag followers, they would eventually want to know more about your business.
Sadly, many still make the mistake of only using common hashtags – hashtags that millions of other active LinkedIn content creators use to garner attention.
The result, which you've probably already guessed, is that these followers get bombarded with information all the time.
In other words, their LinkedIn feeds are flooded with irrelevant and relevant posts.
Yours, despite your painstaking efforts, only gets lost in the mix.
Trending strategy to rise above the sea of content
If you've ever used hashtags in your posts, you'd have noticed that LinkedIn offers some post-specific hashtag suggestions as you begin a draft. While some are decent, others tend to have few to no followers or are way too broad to make an impact.
That's why it's important to do some research before you finalize your hashtag strategy.
To save your time, you can use this free tool currently in the market, LinkedIn Hashtag Analytics. It helps you quickly find the most effective LinkedIn hashtags for your LinkedIn posts.
The best part? You don't have to leave your LinkedIn page to use it!
How to use LinkedIn hashtags strategically
With the tool I mentioned, you can see a list of hashtags as you're creating a post.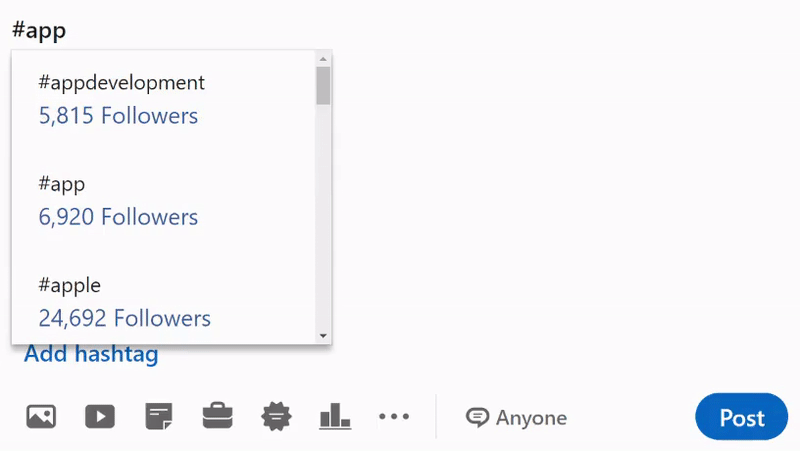 On top of that, you can directly see how many followers each hashtag has to make the best decision for your LinkedIn post.
Once you have a selection of hashtags that you're most likely to use, you can then click the extension's icon panel to find out how much engagement you may gain with a specific hashtag.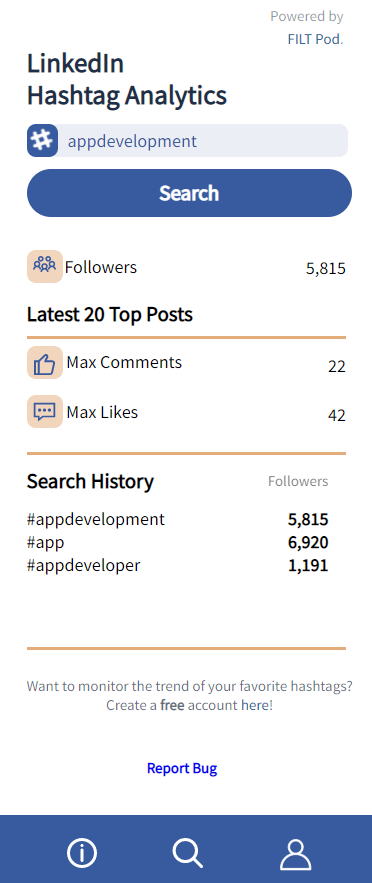 Before posting, this tool also provides data on your overall reach.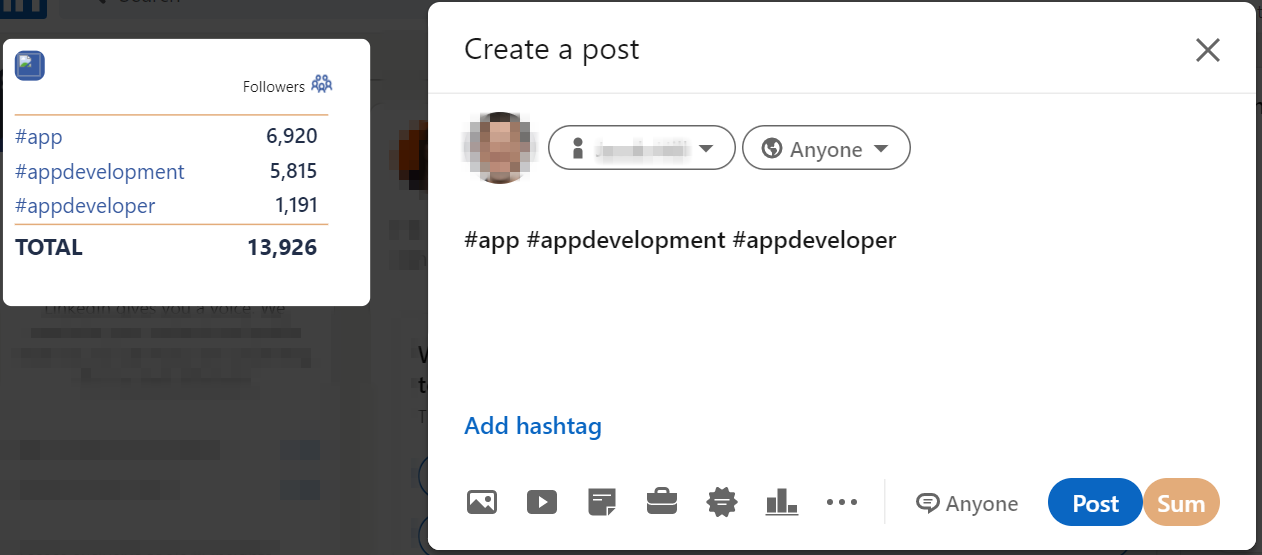 Competitor analysis
Competitor hashtag tracking is essential to understand what hashtags they're using to reach their target audience. It also gives you an idea of how you can improve your own strategy.
Using LinkedIn Hashtag Analytics answers these questions:
How well are your competitor's branded hashtags performing?
What hashtags do your competitor often use to gain higher reach and engagement?
Using this tool's mouse hover feature, you can retrieve the follower counts of your competitor's preferred hashtags within seconds.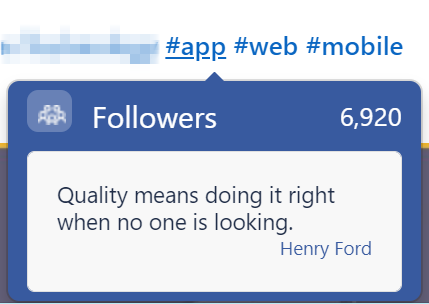 Conclusion
LinkedIn hashtags are essential to any marketer or professional on LinkedIn. With the right tool, you can quickly find and use the most effective hashtags for your LinkedIn posts to rise above the sea of content and attract more prospects.
Don't forget to check out LinkedIn Hashtag Analytics for an easier time planning your social media content marketing campaigns.