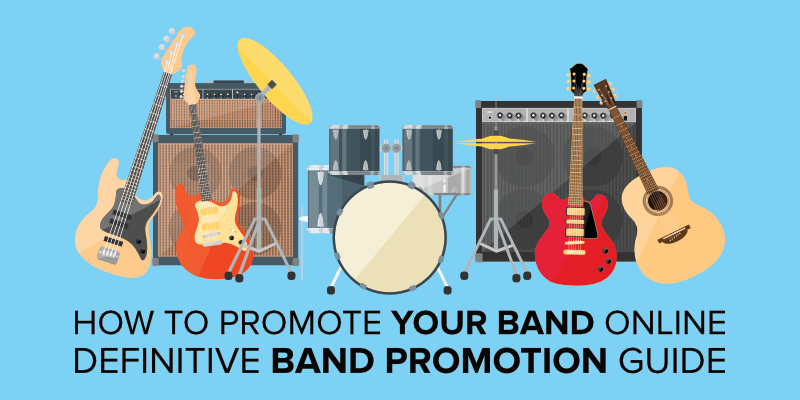 Pretty much everything your band does can be turned into a form of promotion in one way or another.
A gig or tour can be used to promote your album and merch, as well as being an artistic event in and of itself.
Booking studio time to record a single or album can be used to promote the fact that you are soon to have new music out.
Comments you make during interviews and live events can become news stories, memes and social media stories that start trending.
A chance encounter with a well-connected fan could lead to a big promotional spike when they start raving about you on Twitter or posting a selfie they took with you on Instagram.
The trick is to think about what band activities you are involved in that can be transformed into promotional opportunities. This guide will help you develop a strategy to promote your band online.
Note, this is a guide not just to bands, but solo artists, lose fitting musical groups, choirs, improv ensembles, and any other musical activities you may be involved in. When we say 'band' you read 'solo artist', and vice versa.
Promote your band with a website
Your band's website is at the heart of everything you do online.
Each social media account, music streaming service (and app if you have one), must link back to your site.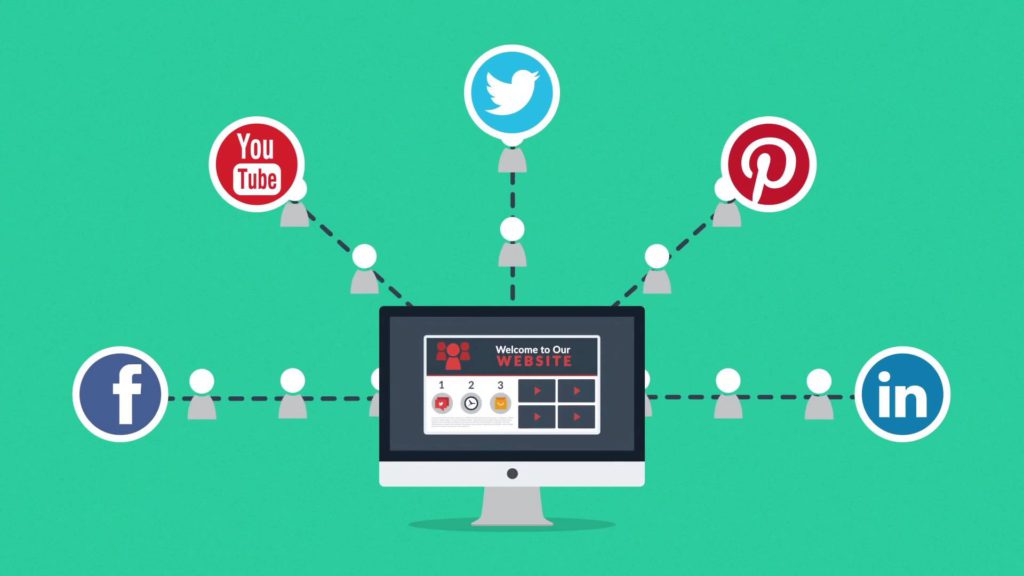 Your site is where you draw together all of the different aspects of what you do as a band or solo artist.

If we jump on the blur website, we see it's a fairly straightforward affair; the main feature is that it auto-plays video of the band's music videos and performances behind over a fairly standard menu option detailing latest band news, a bio, links to where you can buy their music, tour details, a merch store, and an email signup page. In the top left, we have a menu with social media sharing options including, Twitter, Facebook, Google+, Instagram and Spotify.
The point is that everything that the band do that is relevant to fans can be found by visiting their website.
Everything fans discover on your website should be easily sharable outside of the site via social media, and offer an option to pull people into your band's email sales funnel. That concept might make you squirm, but that's what an email list is, in effect.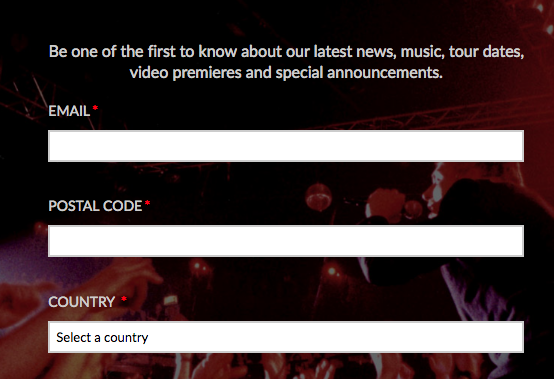 Here's an interesting promotional idea:
Getting people to sign up to your email list can be a 'hard sell' because people are wary about getting spammed; that said, passionate fans want to be the first to hear about gigs and cool new things you're doing. The alt-folk band Lau offers a free track when people sign up for their email list. And who doesn't like free stuff, am I right?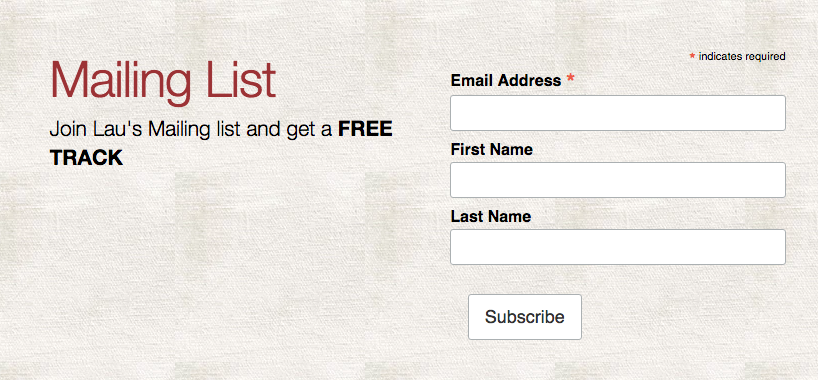 Some actions take little investment from fans, for example, liking a tweet; but other actions, like signing up to an email list, require more investment, and more commitment. Help make these actions more of a no-brainer for fans by offering them something in return for their commitment.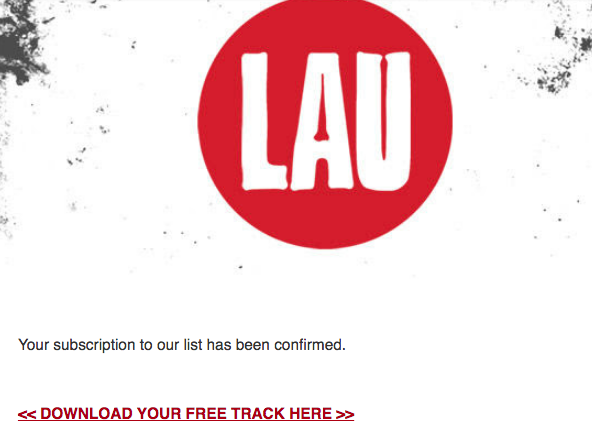 Social media is where it's at when it comes to promoting your band online.
We'll look at some specific platforms and how to use them, but it's worth making some general points first.
Social media is about different communities of people posting and sharing content that reinforces their personal identity, communicates their interests, makes them feel knowledgeable, funny, wise, engaged, and creative… and that, crucially, makes them feel part of groups with which they identify.
The relationship between fans and artists is much more horizontal than vertical; social media is where people take part in a social exchange of information. Some bands and artists are already familiar with participating in social media outside of their career interests, which will give them inside knowledge of how to operate in this medium, other musicians find social media more alienating and inscrutable.
The prime advice for anyone trying to promote themselves on social media is "be yourself". Rather than one person trying to do everything, assign management of social media accounts to band members or personnel who enjoy posting to those platforms in the first place.
How to promote your band on Facebook
Facebook may seem very passé in the face of recent contenders like Snapchat, Instagram, and TikTok, but it's actually a very powerful way to promote your band.
Facebook has an algorithm that determines the visibility of the content you post on your page in terms of what shows up on your fan's feeds.
Its priorities change all the time, so it's worth keeping up to date with them. Currently, the algorithm is prioritizing what the user's friends and family share over 3rd party content. However, users can edit their news feed preferences so they can still keep up with their favorite pages.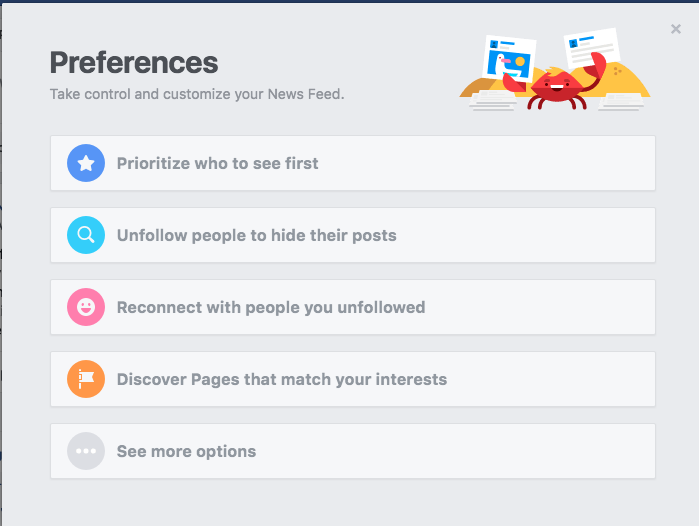 These changes can be used to your advantage. People tend to share content that is heart-warming, inspiring, moving, funny, or entertaining in some way.
When your fans share your content, it will be prioritized in the feeds of their wider network.
The trick is to look at the kind of content users share and replicate it on your Facebook page. But beware of posting spammy content; only share stuff you genuinely think will resonate with your followers.
Share lots of images and videos, the Facebook algorithm likes these. And try to minimize links to external sites, especially YouTube, as the two platforms are rivals and the algorithm will downplay those posts. This doesn't mean that you shouldn't post external links, it's just that most of your posts shouldn't link outside of Facebook.
When it comes to posting a video to Facebook, don't link to YouTube, instead, use Facebook's video upload function. Every time you upload a video to YouTube, upload it separately to Facebook. This way, you're making the same video work twice as hard.
Fortunately for bands, some of the most shared content on Facebook in 2017 was music videos.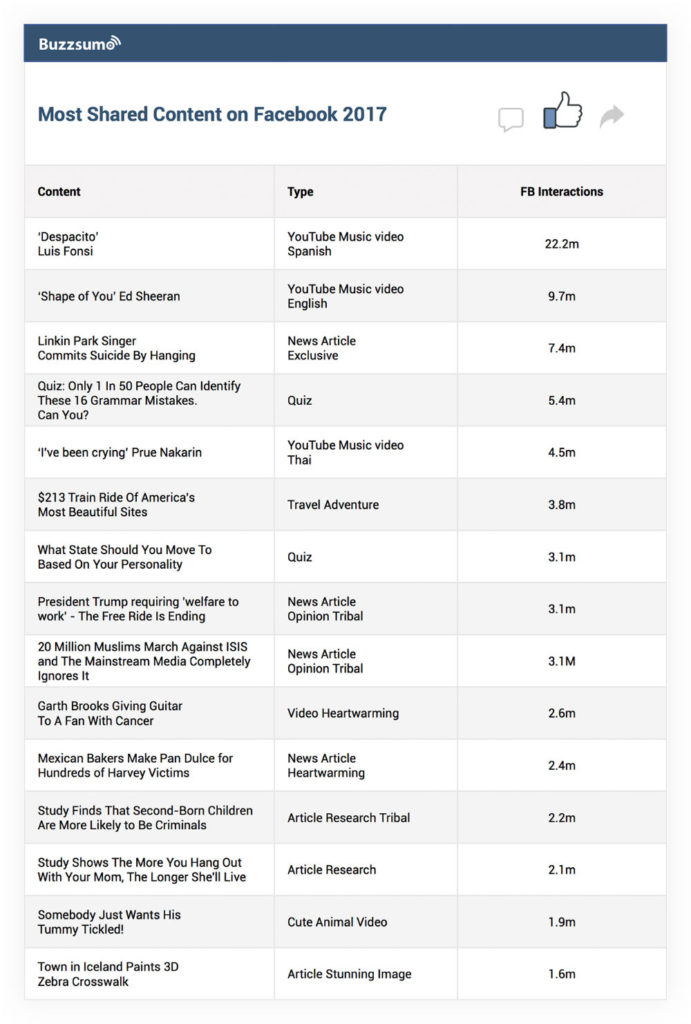 Tip: film your band playing your best song from a few different angles, cut it together with the song's audio and voila… a low budget music video. This will be much more shareable than simply posting a Soundcloud link.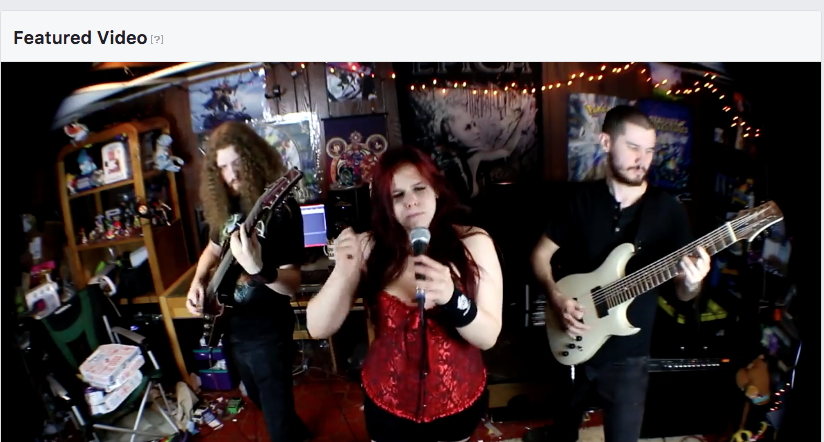 People like posting content with a WOW factor; if there's a fast solo, a complicated picking pattern, or kit-wrecking drum breakdown in your songs, post them as short video clips to Facebook. People like sharing content showing impressive human feats, and what's more impressive than a highly skilled musician?
Drive engagement
Often, band pages are full of posts that haven't had any likes, shares, or comments. Think about ways of generating engagement; this can be by asking people to comment on something specific. For example, if you posted a video of your guitarist playing a rad solo, you could post it and ask people to comment on their favorite solo's of all time.
Don't just promote your own stuff
Facebook is about sharing and about being a part of a community. Don't just share your own stuff, make sure you share and comment on other people's content. Even the big bands do this, like this post on the Coldplay page promoting a former Kaiser Chief's songwriter's new solo project: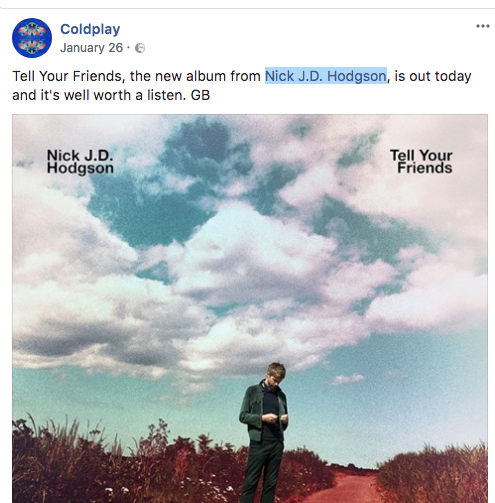 People want to feel like they're getting value from your page; putting people on to new music is a great way to do this.
Make sure you're sharing stuff that is 'brand consistent' and relevant to your own music in some way. If you're a folk band you may not want to post lots of content about doom metal, for example.
Using Facebook Live to promote your band
Facebook Live is the latest video service from Facebook, and it lets people post live video streams that can still be viewed later.
If we follow the cross-promotional link posted by Coldplay we see that it is to Nick J.D Hodgson's Facebook live stream of a band rehearsal ahead for an upcoming gig. A band rehearsal video is a great way to promote the fact that your band has upcoming shows or recording sessions, and gives people a backstage view of what goes into the music they enjoy. People like having this kind of insider insight, and it's a good way of leveraging the everyday business of being in a band into a form of online marketing.
The other good thing about using Facebook Live is that Facebook is prioritizing this form of content because they want to promote their own tools and services.
Use paid Facebook ads
One of the most powerful things about Facebook is that it gives you access to a phenomenally huge potential audience, and its audience insights function lets you target ads in a ridiculously detailed way.
To get your band known outside of your immediate Facebook community, paid ads are a great way to go. Facebook allows you to target audiences who like the pages of other musical artists.
So if you make music that fans of The Corrs (remember them?) will like, you can target your ads to people who like their band page.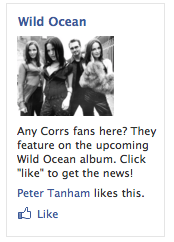 Source
---

---
How to promote your band on YouTube
YouTube is an absolutely essential platform for all bands and musicians. You just have to be on it. It is the No. 1 source of music consumption online.
Bass player Adam Neely produces everything from in-depth video essays about music theory, to vlogs documenting his gigs.

You may not have the time to devote to creating elaborate music videos like this, but you don't need to. Metal band Mute Prophet post regular music marketing advice, guitar lessons and videos of the band's songs. All this serves to drive music fans towards their music whilst providing something of value to budding musicians. Fostering a sense of musical community in this way that can be very powerful.

Make sure you update the About section of your profile, describing your band and linking to your external sites.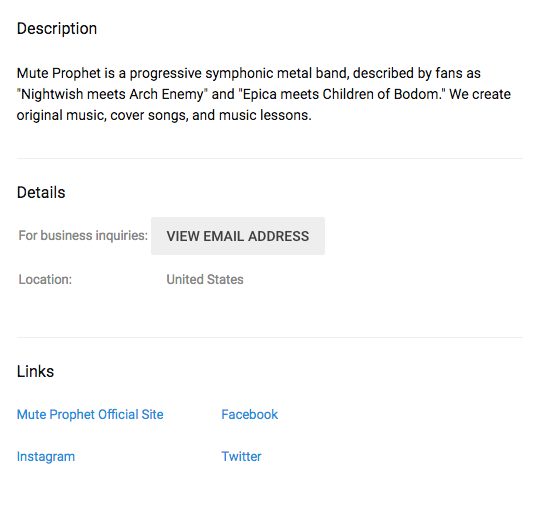 YouTube is so crucial to music promotion that established bands like They Might Be Giants use it to release a song a week.
They have always embraced new technology to promote their songs and say it's a major way to attract fans who discover new music through YouTube.
Post covers
Covers are a great way to get attention on YouTube. When Postmodern Jukebox posted a cover of Thriftshop by Mackelmore, it went viral and launched the band's touring career.
Post covers that put a unique twist on the original. If you're a folk band, do a folk cover of a popular rock song.
Musician Rob Scallon built his music career on YouTube. His banjo cover of Reign In Blood by Slayer went viral and garnered over 8 million views.
This means his original music gets more attention because he's drawn people towards his music with a cover.
Gear reviews
Another thing you can do is gear reviews. You can either ask local music stores if you can film a demonstration of their equipment, contact a manufacturer about a promotional opportunity, or just do your own review of new equipment you've bought.
Be consistent
Consistency is key with YouTube; ideally, you'd post at least one video a week, but you certainly want to avoid going weeks without posting anything.
The way you tag and title videos is also really crucial. Make sure you have a high-resolution thumbnail that is visually appealing. Ideally, add text to images using Photoshop or even just Google Drawings. The text shouldn't just replicate what you post in the title, but should add value.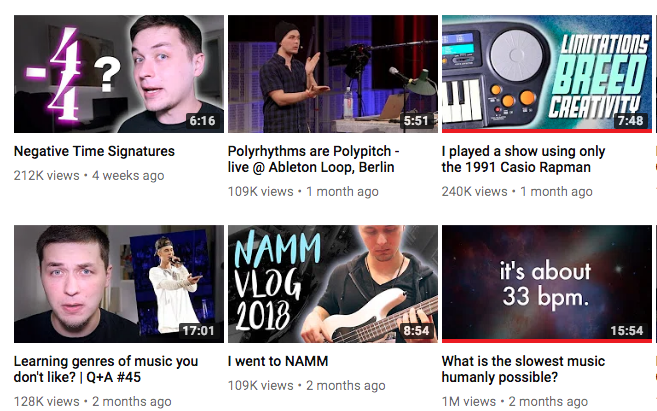 Make sure your video titles are as snappy as possible, draw people in, and contain essential info, such as the artist and title name for covers.
YouTube musician Boyinaband uses a mix of obvious titles like 'pointless fast rap' and more cryptic titles that intrigue viewers like 'I'm not dead' and 'Don't stay in school'.

Tagging your videos is really essential. Use short phrases that people might be searching for.
Here are the tags Rob Scallon used for his Slayer banjo cover:

He didn't just include obvious tags like 'solo', 'reign in blood' and 'Slayer' but also the band's late guitarist, Jeff Hanneman.
Promoting your music on Instagram
YouTube can be a lot of work. By contrast, Instagram is a much more quick-fire medium. It's not about having polished content, it's about documenting the everyday. Fans want to feel a connection to their favourite bands. Pics of tour bus rides, pre-show riders, broken instruments and mic checks might seem mundane to you, but they are exciting for non-musicians, and other musicians like to see how other artists ply their trade.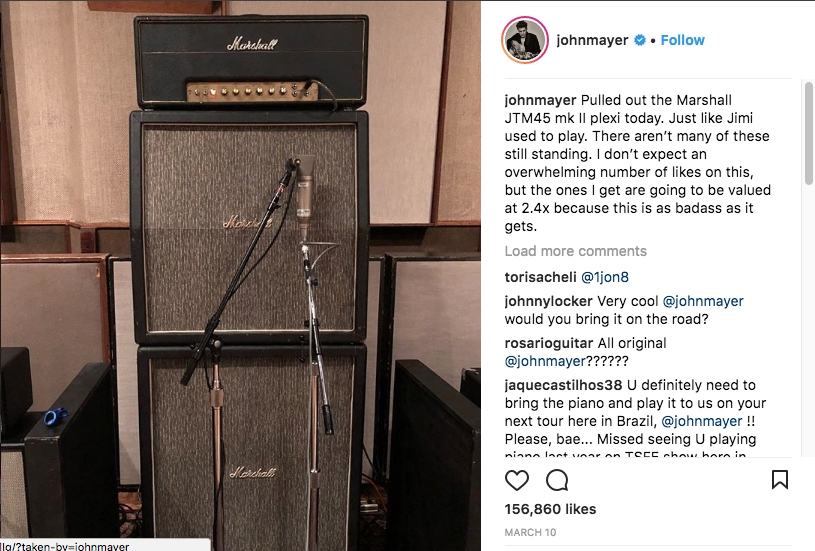 Instagram is a great way to promote your band as you go about your daily business; you don't need to take time away from your main creative activities to create promotional content. It helps you turn the everyday business of being a musician into promotional material.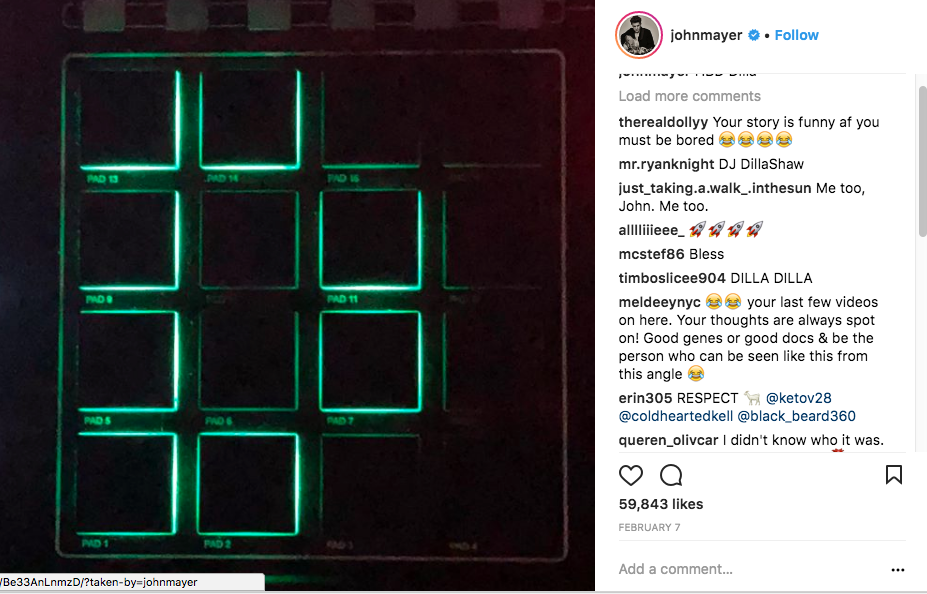 At your gigs, encourage fans to take pics and post them to Instagram, tagging your band in them. People love taking photos and videos of gigs, and this is a great way to crowdsource your band promotion.
Instagram video
Instagram is not just about photos; its video function is also a great way to promote your band.
Even world-famous musician John Mayer uses Instagram live stream to give his fans guitar lessons.
Note the simplicity of his videos. The main thing you want to focus on is the audio quality, as you're in the music business, not the film production business. If you have lousy audio, it will instantly drive people away, more so than dodgy visuals. Plug an external mic into your camera and make sure you test the sound quality of your recordings before filming. A simple tie-clip mic will do, you can buy one online for around a tenner.
Using Twitter for music promotion
Twitter is about being part of an online conversation, so make sure your band's tweets connect to that vibe.
There are no hard and fast rules as to what you post; John Darnielle of The Mountain Goats tweets everything from updates about gigs, to political commentary and posts about religion (he's a practicing Catholic).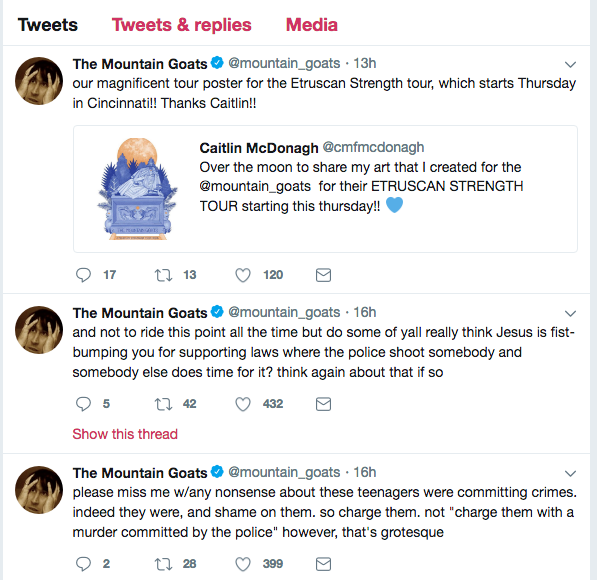 Lin Manuel-Miranda, the composer of blockbuster musical Hamilton, practically lives on Twitter. He posts motivational tweets, photos of lyric sheets and childhood poems, as well as engaging with American politics.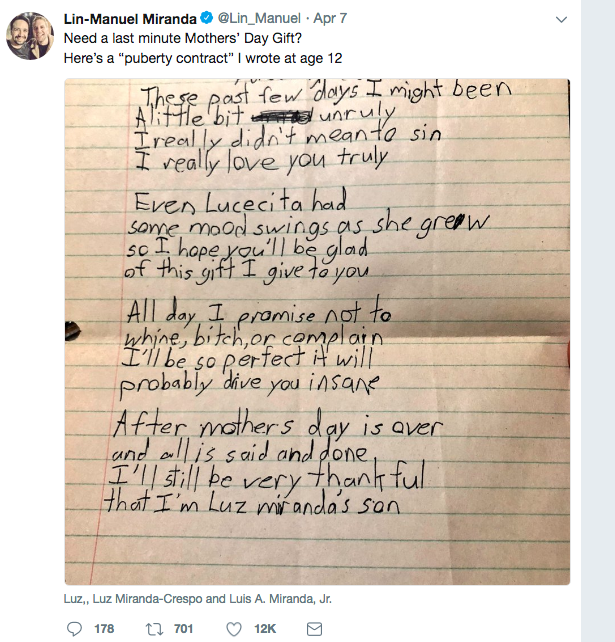 His posts are often quite corny, but that's part of his social media brand. And this is a crucial point; your posts should say something about your band or solo project, and show the people behind the music.
As you post on Twitter, you want to let your own style develop naturally. See what people like, what they respond to, and what they retweet and learn from that. It helps to post a range of different types of tweet. Most of your tweets shouldn't just scream "buy my album" or "come to our show", they should be interesting and engaging, with overtly promotional tweets sprinkled in here and there.
Make use of the pinned tweet function; pin your most promotional, or best performing tweet to the top of your feed so that people who visit your profile on the basis of your everyday tweets can see the content that you want to prioritize for them.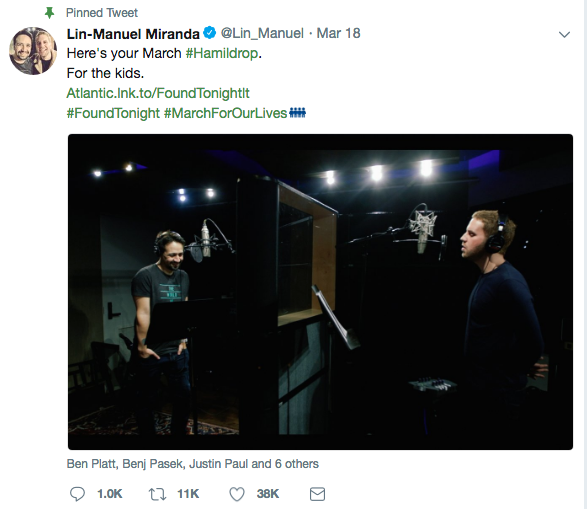 Throwing Muses' songwriter Kristin Hersh has a tidy 20k Twitter followers; her tweets are very casual, often just commenting on things she sees in her day, funny things her kids say, and so on.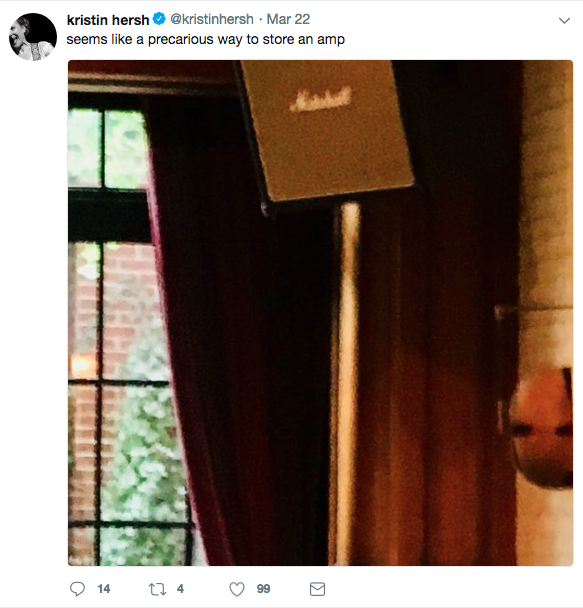 You don't need to dot your Is and cross your Ts with Twitter, you can be very informal. The image in the above tweet about an amp is low quality, but her comment makes it an entertaining post; taking a wry look at things she sees in her musical life.
Retweeting can be a very powerful promotional tool for your band; if someone gets retweeted they are highly likely to check out the profile of the retweeter. But make sure you use this as a genuine way to interact with people and don't be spammy.
Be aware of the best times to post; you'll get the most traffic after 2 pm in the afternoon, in the evenings, and especially at weekends, which is great timing for musicians!
It's also worth tweeting about relevant trending topics; this will get you more exposure than tweeting in a vacuum. Again, you should post a range of different tweets, and don't be afraid to try things out and see what works. If in doubt, look at what similar artists in your niche are doing and draw inspiration from that.
Promoting your music on Soundcloud
Like YouTube, Soundcloud is another essential platform for music promotion, with twice as many active listeners as Spotify.
It's important that your account name is easily searchable, and should reflect your band name or stage name as closely as possible. Ditto, your customizable URL; you want to make it as easy as possible for fans to discover you.
Remember, Soundcloud is a social network, so follow other musicians you like and follow fans who post music you like. Repost and share other people's music and they will often return the favor. It's an especially good idea to share content from artists who are only one or two rungs up the ladder from where you're at in your career. You'll benefit from being promoted to their audience and they're more likely to return the favor than bigger bands.
We repeat, if you show genuine interest in other people's content, some of those people will reciprocate by liking and sharing your stuff; it's a basic law of reciprocity. But make sure you're genuinely engaging and not just fishing for a kickback, it will be obvious. You may not think it is, but it is. This rule applies to all social media interactions.
Promoting your band on Bandcamp
Most of the promotional avenues we've mentioned so far are free; free to do and free for your audience to consume. Bandcamp gives you a way to actually make some money whilst promoting what you do.
As with all social media platforms, and Bandcamp in particular, it's very important to set up your profile properly. Imagine going to a library and having to search randomly on the shelves to find the book you wanted. That would be a ridiculous system, but when it comes to account profiles, that's what loads of artists do.
The details in your Soundcloud profile like name, location, genre and tags are there to help audiences discover you. They're not a nice to have, they're an essential feature of your account.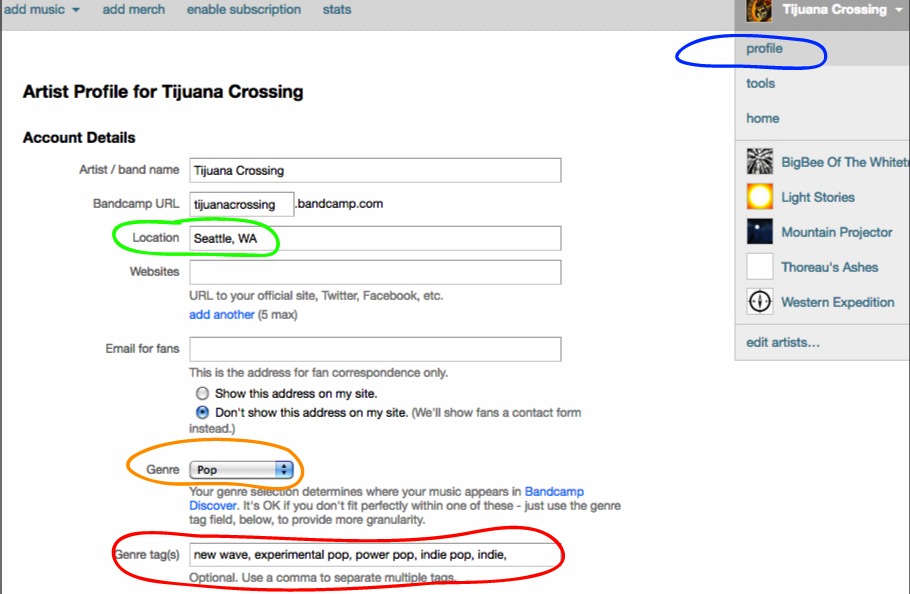 Once you choose the main genre with which you identify, you can then select sub-genres of that main topic in the 'genre tags' section. Note that you can only trend in one main category, so if you have the main genre 'pop' and select the tag 'electronica' you won't be able to trend in both. However, if your main genre is pop and you tag 'synth pop', then you can trend in those two different categories because they each relate to each other. Visit the 'discover' section of Bandcamp to research which sub-genres relate to your main genre.

Your location is important too; make sure you select the city that is closest to you. Promoters may well be searching for acts in their area, so if you're based in Manchester, you want Manchester-based promoters to be able to discover you.
Images
Unlike YouTube, your tracks will be posted as pure audio, which is great because it means no time-consuming video editing. However, that means that your artwork will be doing a lot of heavy lifting. Make sure you have a nicely designed artwork that inspires people to click on your tracks. A lot of people will be browsing Soundcloud on their phones, so make sure your images work on a small screen.
Promotion
It can be harder to promote your band inside of Bandcamp compared to other social media platforms because it's harder to build a community. Make sure you link to your Bandcamp page from your website and other social media accounts. Think of it as a way to upsell to fans who engage with you; a way of saying "hey, you liked our content, so why not buy an album to help us keep doing what we do?"
People will often buy your music as a way of rewarding you for posting quality content. It's easy to think that because bands give away so much free music these days that it's harder to monetize your music. But actually, people will buy your music if they like you enough, even if they can hear your stuff for free on a streaming site.
Another way of boosting your sales is to sell physical records on vinyl, CD or even cassette; this provides greater value because these analog formats are often cherished more than digital downloads and streams. People are also more aware of the work that goes into producing them and are therefore more inclined to pay money for physical releases.
Promoting your band; there's an app for that
The world of music is a world of communities of devoted fans; people like to feel they are a part of a like-minded community, and often come together around a shared love of music.
Building an app for your band is a great way to create an exclusive community that your fans can participate in. App Institute lets you build a band app in minutes using a dedicated template, and doesn't require any coding.
Your app can offer fans exclusive streamed audio and video, send in-app push notifications and messages, and is a handy way to book gig tickets and sell music and merchandise. You can also link all your social media sites to it so it can be a hub of your marketing activities, like a more exclusive version of your website.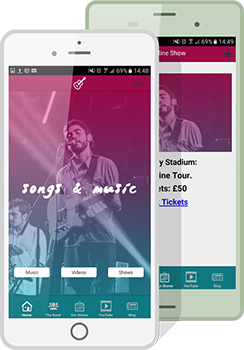 We hope this guide has given you a good foundation for building a band promotion strategy that really works. It will take an investment in time and effort, and a degree of trial error, but if you apply these three principles you will soon start to build your fan base and sell more music:
Post regularly and consistently to social media, without being spammy
Engage with your potential audience in a friendly way that makes them feel valued
Make sure all your social media accounts and app are all linked to your website
At the end of the day, successful band promotion is about conveying the passion you have for music in engaging and creative ways and building a reciprocal relationship with your fans.
Rock on (sorry, couldn't help ourselves).
---