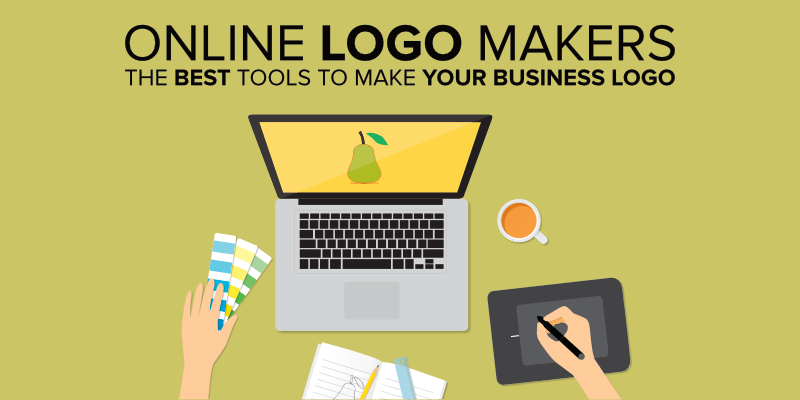 Small businesses often don't have the time to invest in design strategy meetings or the money to hire expensive design studios. Instead, they often know what they want but are not sure how to create a stand-out logo for their company.
There is a wide range of tools that can help any business get started with that first logo. Remember, it doesn't have to be the final version, even Google started with a simple style that has evolved many times over the years, but getting that first one on your paperwork, stationery, vehicles and adverts is key.
Perhaps the simplest way to create a logo is to dive into an art package or even PowerPoint and create something bold and striking, using either the company's name its initial letters or with a spot of graphic detail to make it distinctive. However, to take the creative pain away, and save on going with an amateurish look, there are many services that offer free automated design tools to help get over creative block.
Many sites offer "free" design services but charge for access to the high-resolution version of your logo, or try to upsell their professional service. Whatever you need, can be done using web tools or free apps. Remember you need a strong image that will stand out from distance and a clear version of the name that is readable but interesting. Avoid copying other brands and ideas, but most logos are inspired by key concepts or trends in good design.
Free Logo Design

Type in your company name and choose the market you are involved in. Free Logo Design will instantly show you some automatically generated examples that you can use, or go and create your own versions of. Some are artistic or abstract while others use icons or other features to help illustrate your brand.
Pick one and you adjust the typeface sizing or colours, add text and shapes, or otherwise tweak the design. Playing with the design can make it stronger and stand out more. It uses Open Font License fonts, which are free to work with but cannot be sold directly, Once happy, you can download the low-res version, suitable for website use, or pay for the high-resolution version (currently on sale down from €54 to €34) to use on your office stationery.
Tailor Brands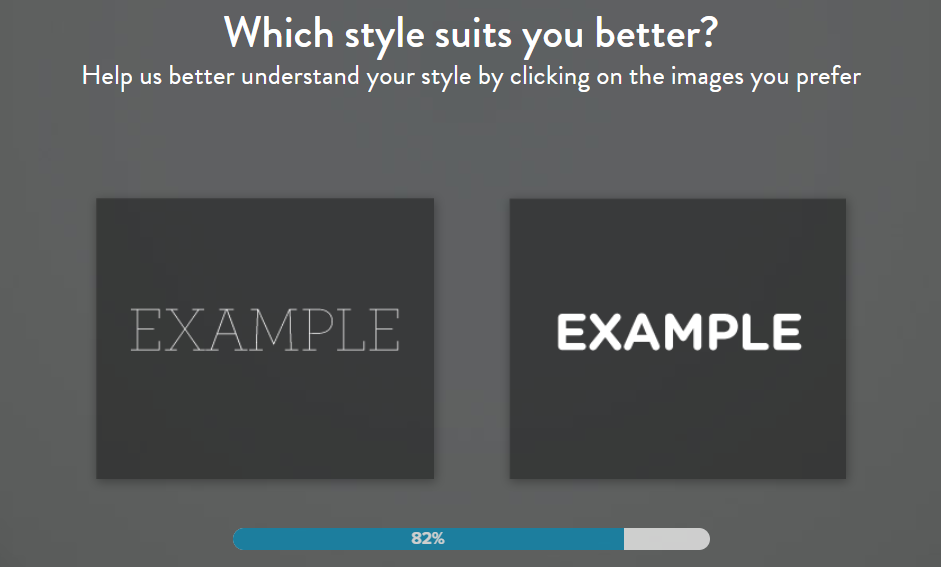 Tailor Brands is a little more detailed in its approach, but offers a wider range of options at greater cost. Type in your company name, industry, some information about the company and your tagline, motto or mission statement.
You can choose a logo based on an icon, your brand name or the initial letter of your company. You then choose from a range of image, font or other styles and the site will produce a range of results based on your preferences. You will then need to register for the site to edit or select one.
Billing is per-month for access to the logo and other benefits, with a range of site design features, which might put some users off, even though the logo remains yours when you cancel. Still, this subscription option can help very small businesses with low early revenue. Currently, the price is £8.99 for the premium version of a logo with high-resolution files, seasonal logos, brand analytics and so on.
Renderforest Logo Maker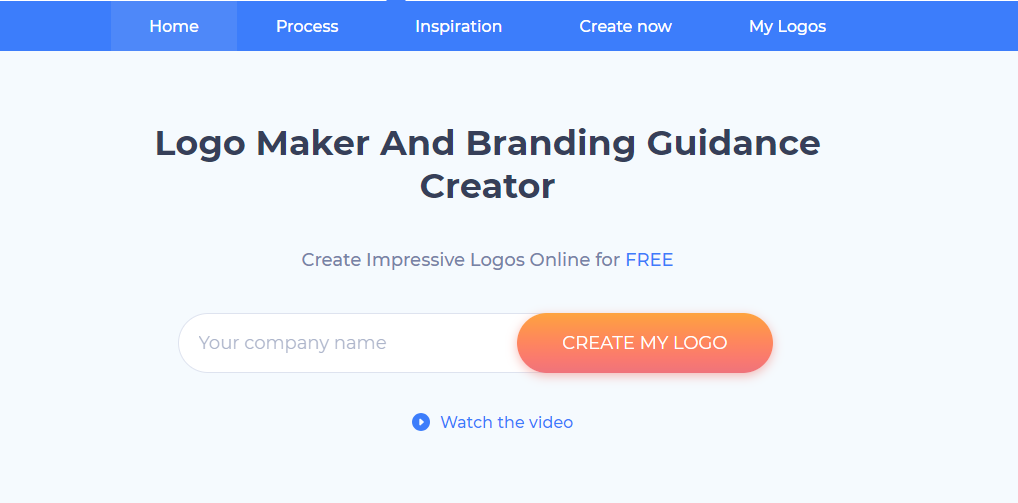 Renderforest logo maker helps to create professional logos in 3 simple steps:
Write your company name and description
Choose the typography styling
Customise your logo.
In the description, write about your service or products and describe how you want your logo to look like. The system will analyse it and suggest the most suitable logo designs in 6 different styles.
The suggested logos are fully customisable. Once you pick one of the options, you can change the colours, the text, the icon, the sizes, and the alignment. Renderforest offers different typography styles. After picking the one you like, you can later change it while customising your logo.
Unlike other tools, Renderforest offers more than 20.000 unique artworks which can be used to create original and professional logo designs. Search for specific keywords to find icons, if you can't find the right one from the suggestions.
When you finish your logo customisation, you can download it and use for commercial purposes. There are 2 options to export your logo: free (low-quality PNG) and paid (high-quality vector/PNG).
Logojoy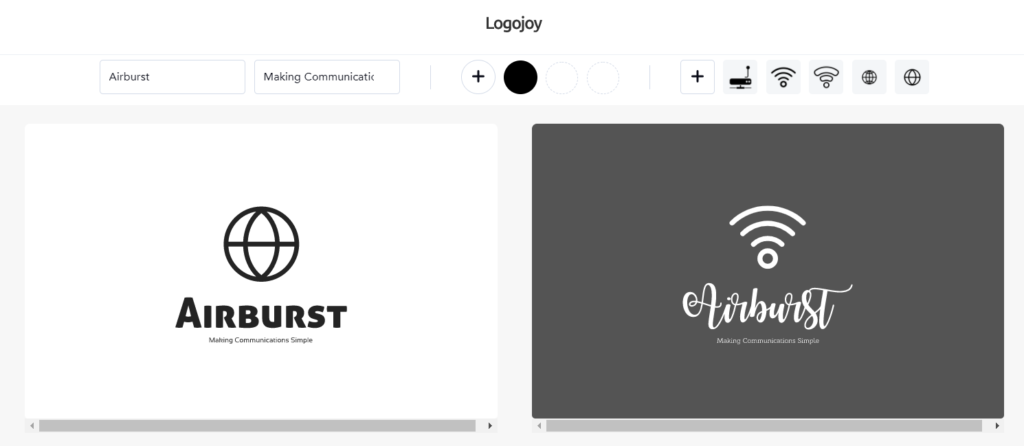 Logojoy goes the AI-route when it comes to designing your business logo. Type in your business name and type. Then pick from five other designs that Logojoy has created to give it an idea of what you are after.
You then choose three colours from a set of swatches, and a range of icon concepts such as "heart," "technology" or "star" to find some basis for the imagery. Logojoy then uses its AI skills to design a set of logos that you might like. To be honest, they appear little different to the other services, but offer a more thorough range of examples, so you can sit and ponder until you find the right one.
It goes a little further, with some advanced editing features and demonstrating what it would look like on a tee-shirt. Once happy, click buy and you can pay $20 for the basic image, $65 for a range of files and variations, or go for the $195 option where their company designers will spend an hour working up your design to a higher specification.
Whichever service you use, remember to unsubscribe from their charges and emails once you've finished using it to avoid the endless offers that will come your way. Or, if you get through a lot of logos for various companies, products or services, you may find one company is your perfect partner to save time and money when it comes to these design efforts.
While some companies spend a fortune on logo design, most businesses are happy with something that does the job and looks attractive. Any of these sites can produce a decent logo, which will grab the attention of customers, and you can always use it as the basis for a more refined design as the company grows, or go for a whole new look when required.
Other logo solutions
If all else fails when it comes to finding inspiration for a logo, you can try a range of iOS or Android apps that offer thousands of different images or templates you can try to build a logo with using just your fingertips. Logo Maker/Creator is a popular choice.
Or, you can seek help from a local designer, most will be happy to build your logo or evolve your company imagery, working at low cost. Or, if you can't find them locally, web-based freelancing services put the world's designers at your fingertips to help build the brand.
Whatever your business, a good logo is vital to its success and visibility, so spending as much time as you can afford will reward your effort in the long run.
Are you a magazine publisher? Check out The Best Tools for Smart but Busy Magazine Publishers from Shweiki.
---