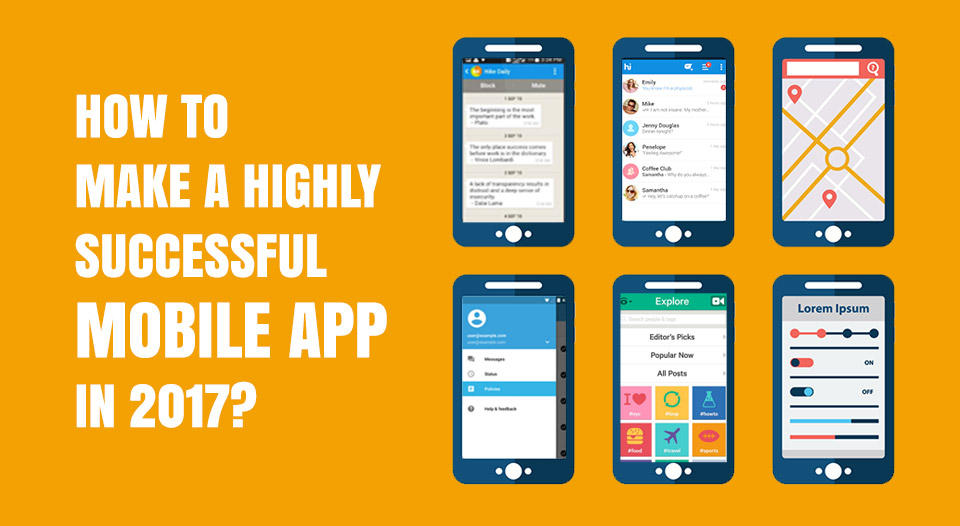 With the rapid adoption of mobile devices, businesses are getting more and more opportunities that will ultimately change how their products or services are delivered and accessed in the upcoming years. Consequently, small businesses and startups are realizing the advantages of going mobile and coming up the amazing mobile apps. But, not every app gets desired success in this highly competitive digital world. Why?
There are millions of apps available on the app store, but only a few of them get a million of downloads. Some of them get no traction and fail quickly due to the lack of planning and creativity. If you are wondering to come up with a mobile application in 2017, then make sure your app idea is innovative. Besides, you need to consider several significant things, some of them are listed below:
Come Up with a Great Idea
Before you start planning an app, you really need to have an innovative idea that's going to engage the audience. As there are several mobile apps already available for mobile users, coming up with a unique niche is crucial. It's essential that your upcoming mobile app is original, advances on another app, and resolves a particular problem. It is recommended to do some market research to find a unique niche. Make sure you know what you are going to sell before you start developing an app.
Keep it Simple
When it comes to mobile applications, the simplicity plays a vital role. If your newly-launched app is packed full of unnecessary features, you are likely to not get desired success. The end product of this kind of project will be a mobile app which is not easy for audience to use with several overlooked features. At the end, most users who try it will uninstall it soon. Several surveys have also revealed that the easier an app, the more users will like it and make it more successful. So, try to launch a minimal viable app with simple yet innovative features, and see the reaction of your users. Later, you may be able to develop an upgraded second version of the app, possibly with some exciting features.
Choose a DIY App Builder
With a DIY app builder or app creator, it is easy to create an app without taking help of experts. The main advantage of DIY apps is the comparatively low cost. You can easily choose the desired plan, and pay on a monthly basis to build highly-functional mobile application. DIY app software consists of pre-programmed templates that you can customize and implement without any coding experience. Besides, the app maker allows you to collect real-time data on how your app is being used, that further you can use to improve user experience.
Have an app marketing strategy
Unfortunately, most business owners do not pay attention to marketing that is one of the most important aspects of mobile app development process. It is highly recommended that you start creating strong marketing strategies in advanced. Every successful digital product has a well thought out marketing plan that helps them get new users. The marketing techniques can range from PR to sponsored messages on social media, to PPC and beyond.
Plan your ongoing engagement
Once your app is launched on Android or iTunes, you really need to have a solid plan for engagement with the audience. Mobile apps offer astounding businesses opportunities to retain users, but they only work if you utilize them well. Successful mobile applications often have well-prepared plans how to engage the audience. Consider how you will use push notifications to strengthen engagement with users. Making your messaging programs according to the user behavior is necessary. In the digital era, users expect companies to understand their decisions and preferences. If you dive in the digital market without engagement plan, you might not get the success you have always dreamt about.
Most mobile applications fail to engage the users in this highly-competitive digital world. If you consider all these above-mentioned points, you will be able to come up with a highly successful mobile app in 2017.
---
Author Bio:
Ankur Purohit works as a Digital Marketing Manager at Baymediasoft Technologies. With Six years of experience working in the field of development and digital marketing, he has technical as well as marketing skills to deliver valuable web solutions. Apart from brainstorming creative marketing strategies at Baymediasoft, he loves to write technical blogs on a regular basis.