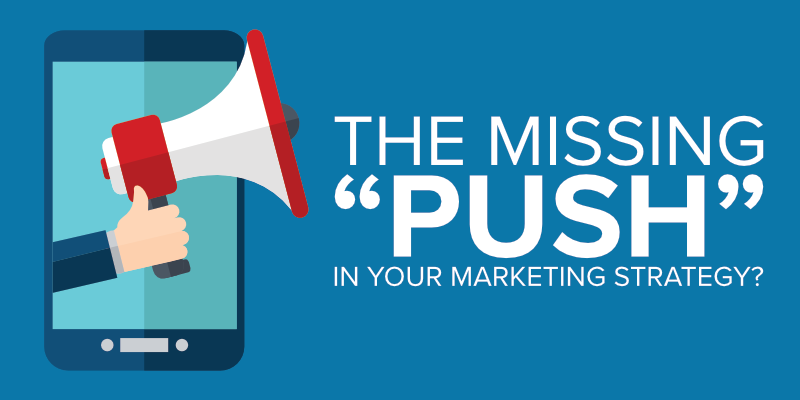 I know, yet another article on push notifications. There are literally dozens of articles on push notifications, but this article comes with a little bit of a twist – shedding a little bit of the light on possibly, the most powerful way to market your business, but we'll keep it a secret for a little while.
So push notifications aren't exactly a new thing – native mobile apps made their entrance many, many years ago and they were the gateway to a new way to communicate with customers. Apple was the first company to introduce the world to push notifications in 2009, following the launch of the Push Notification Service. Then in 2010, Google responded with its own service dubbed C2DM.
Up to the present, native apps have become increasingly popular due to their ability to utilise push notifications. Not shackled by the limitations of the browser, they have ultimately provided companies in various sectors with a superior way to engage with their audiences. Modern day marketing is a graceful melange of marketing activities that spans throughout platforms, devices, and anything fundamentally driven by digital.
Why do push notifications even matter?
I feel like this is going to sound like a bad TV commercial, but here goes, are you looking for a way to change your marketing strategy? I'll let you in on a little secret. ComScore recently conducted a study that crunched every piece of data in the world to showcase just how important the mobile market is. The study revealed that an astonishing 65 percent of all digital time was spent on mobile devices, 65%, that's a number that sounds great. A further 54 percent of that time spent is within mobile apps.
Basically, to say that mobile apps are important to marketers would be in itself a pretty big understatement. Consumers live in a world where they worship their phones, they're utterly devoted, spending an average of 90 minutes per day gaming, looking at photos and checking updates on social media. It's pretty bad to say we probably like our phones more than being social, but that's the truth.
The average smartphone user checks his phone 150 to 200 times per day! You can probably bet money on it that their phone is the last thing they check before they go to bed and the first thing they see when they wake up. This makes it an incredibly powerful marketing tool for businesses to utilise as part of their brand awareness operations.
So what's this big secret that you need to know?
Technology is ever-changing and it never stops to catch its breath. I've talked about the native app, but what's on the horizon for push notifications? To answer that question, we need to introduce a new player to the game – Progressive web apps. They've recently started to pick up an undeniable amount of traction and the PWA revolution looks to rid the world of slow apps, friction, and generally an awful user experience on the web for mobile users.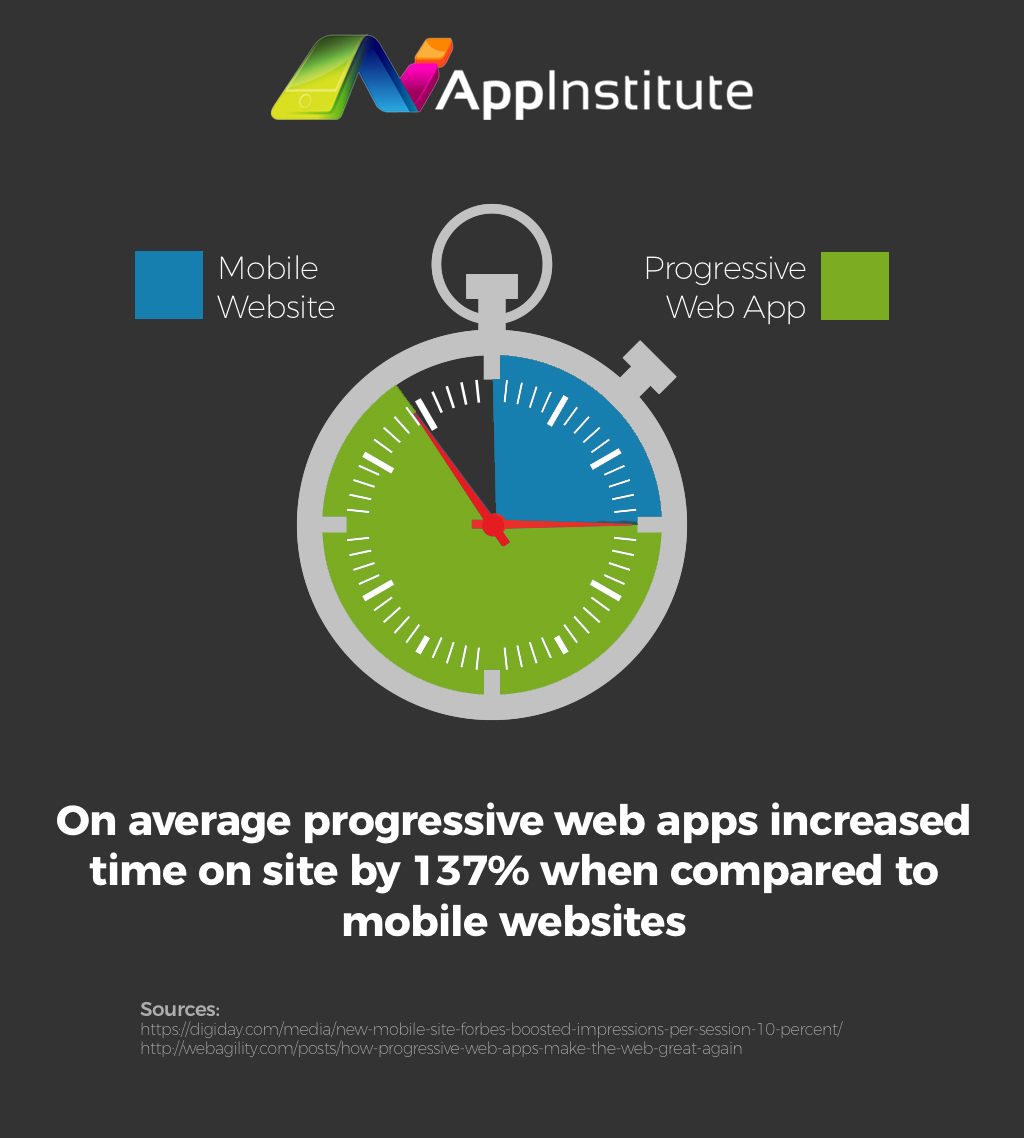 But the important thing to most marketers? They are using the same methodology of native apps at the core of their push notification service. This means any company can make use of push notifications without a native app.
Although mobile apps have come to be the most utilised marketing tool for direct reactive and proactive communication, the process is full of friction. It's the oldest and greatest problem with the mobile app… As soon as customers engage with them via other channels, like their mobile website, they lose the ability to tap into push notifications. The missing "push" in businesses marketing strategies is their inability to tap into other channels hindering their reach.
Good news though, there is a solution. Multi-Channel push notifications are actually a thing. Not only do they negate the need to download the company's app to receive notifications, but they also work across multiple touch points, meaning that businesses can get the benefits of push notifications no matter how their customers decide to interact with them.
Through desktop platforms web you can ask users to subscribe to your notifications and send them push notifications when the website isn't even open. On mobile, you simply need to have a PWA powered mobile experience for your customers. This new development in the way we can use push notifications has helped many companies improve their customer experience and increase their conversion rate.
Don't take our word for it though…
Jumia has an interesting story to tell
Jumia is a large e-commerce website which operates across Africa. The vast majority of their customers use mobile devices. The company, however, had a fundamental flaw in their business model.
Around a quarter of its customers would fill up their carts, proceed to the checkout and then abandon them before completing their purchases. Utilising cross-platform push notifications they were able to re-engage users as they navigated the checkout process.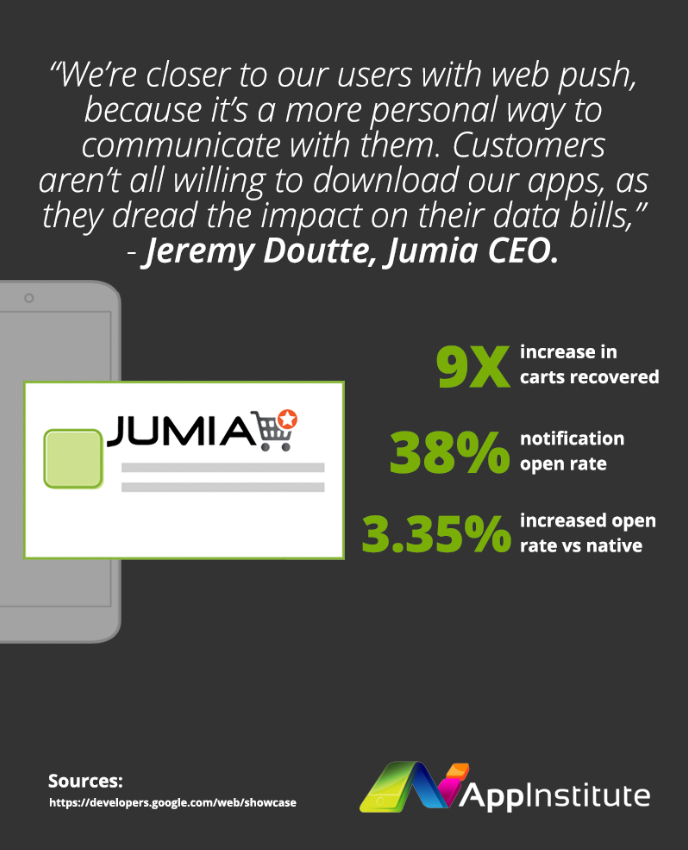 With this simple intervention, the company managed to achieve a nine-fold increase in conversions on previously abandoned carts. The conversion rate rose from 4.5 percent on native apps to 7.85 percent for web push users – nearly doubling the company's performance on this metric.
As does Suumo!
Suumo is one of Japan's top real estate companies, serving almost 11 percent of the country's population. Currently, the business has more than 14 million unique users on its smartphone app.
Yet despite the company's success, it had a problem: a large chunk of its users were resorting to search engines to get updates on house listings, thanks to the fast-moving nature of the market. This wasn't a problem in itself, but it meant they were no longer using the company's app. Instead, they use the firm's mobile website whose user-experience was poor due to slow load times compared to the mobile app. Consequently, the company suffered high bounce rates and low retention.
The company needed a way to convince users to download and use their native app, but actually getting them to do so was challenging and costly.
As such, the company turned to web push notifications. By streamlining its landing pages so that users could quickly find the properties they were looking for, and by adding services workers, Suumo increased the speed of its mobile site by 75 percent. In addition, it added push notifications to its mobile website informing users of recently listed properties. Open rates increased by 31 percent, and the company took a big step towards making its mobile website as user-friendly as its native app.
These case studies suggest multi-channel web notifications might be the missing ingredient in your marketing strategy.
To learn more about the PWA features supported by AppInstitute, click here.
---