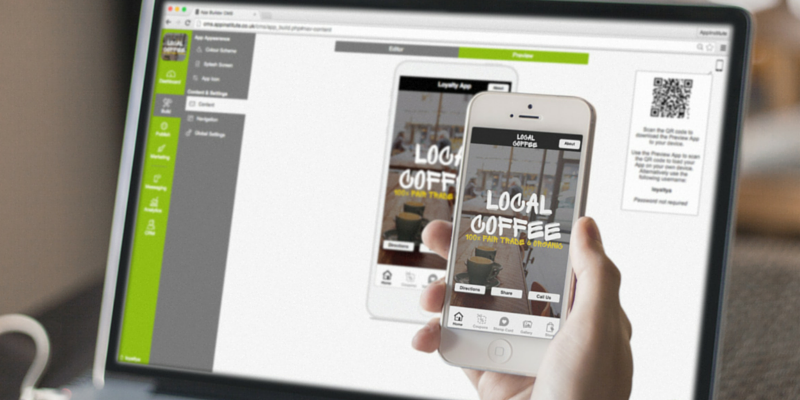 Building an App for your business couldn't be simpler, or more cost effective. Our intuitive platform provides you with all the tools you need to build, submit and manage your App online, without the need for any coding or tech skills!
Learn more about our App Builder platform with this Quick Start Guide and start building your App today.
1. Enter your Facebook Page & select from the list
We will use content from your Page to generate your business contact information, address, opening times and a selection of photos.
Please note: If your Facebook page includes your website URL, we will use this to grab colour schemes from your website and Step 3 (mentioned later on in this article) will be skipped.
However, if you don't have a Facebook Page, or don't want to use it, skip this step.

2. Confirm your Business Type or Select a Business Template
The wizard will suggest a template based on your Facebook business page category. If the template is correct, click "Continue" to build your App.
If the template isn't right and you'd prefer to choose your own, select Change Business Type and select the relevant template from the list. Once you're happy with the template, click Continue.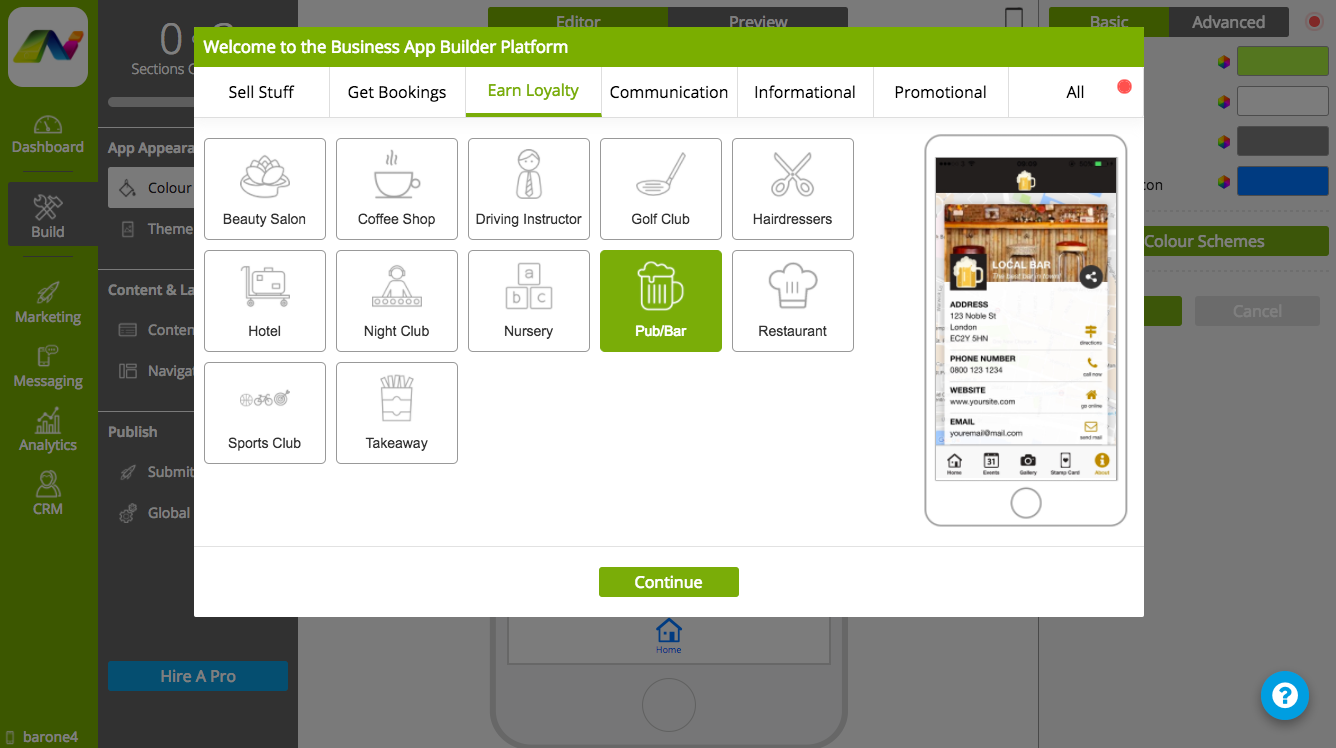 If your business type isn't included in the list, choose Other to start with a general business template.
3. Grab colour schemes from your website by entering your website URL.
Style your App to match your company brand by entering your website URL and click Go. This will grab 4 colour scheme sets that you can choose from and edit manually in the Colour Scheme section.

4. Enter your phone number to preview your App from your smartphone
Enter your mobile phone number to receive a text message containing a link

5. Adding Tabs and content
Here you will add and edit content in your App. Browse through all of the available App features in the Tabs section. All templates are pre-loaded with the relevant content each business type would need, however, they are all fully customisable.
To add extra features, click +Add Tabs, browse through the list and click + Add to App on the Tab you want to add. You will be directed straight to the Tab editor where you can create or add your content.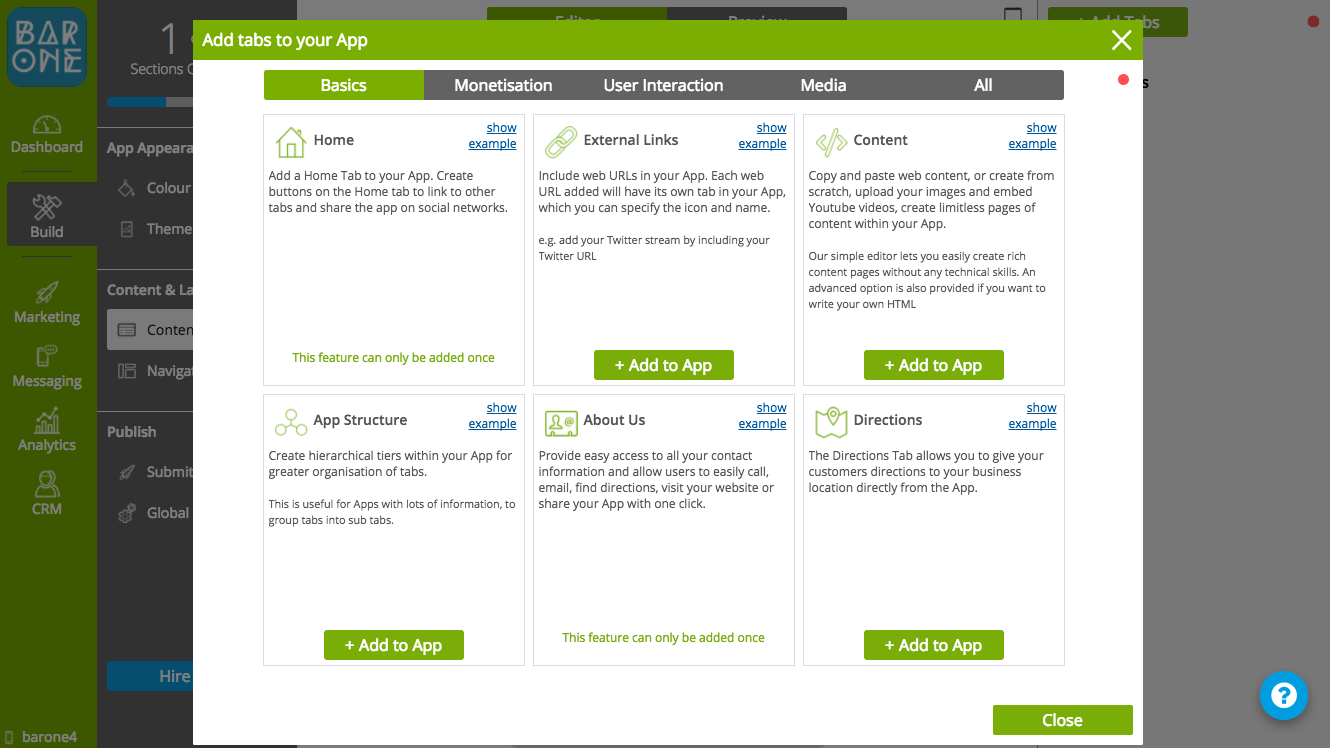 Drag and drop Tabs into your App and organise them how you wish. To edit Tabs, hover over the Tab Menu and choose from the editing options: Tab Settings, Edit Content, Clone (on selected Tabs), Manage Tab List (if the Tab is a Tier). To delete a Tab, hover over the Tab Menu and click Remove from App.
Need help? Look out for the Question Mark icons for simple help videos or send us a message using the chat feature on the bottom right of the page.
6. Editing your App Appearance
Use the Colour Scheme section to customise your App's colour scheme. Use one of the colour palettes or change each colour by clicking inside the colour wheel.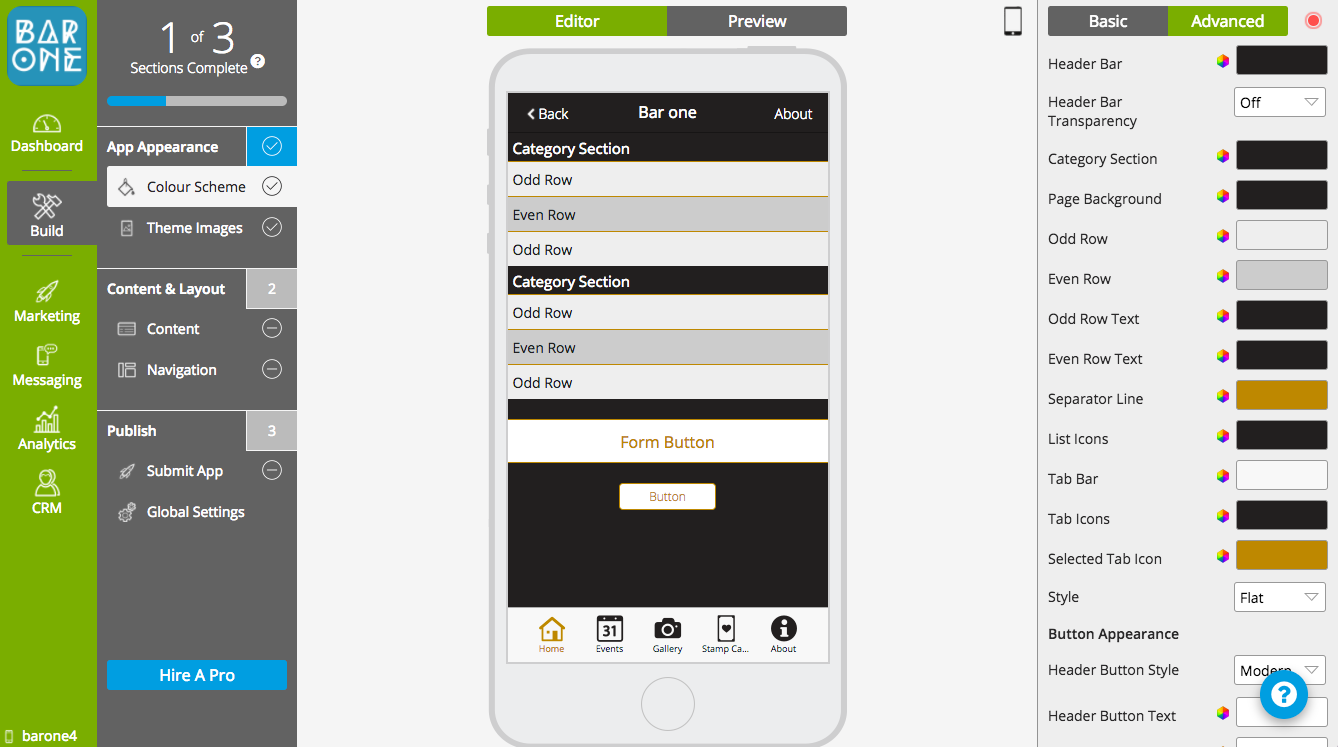 Upload your App Icon and Splash Screen using the Theme Images section.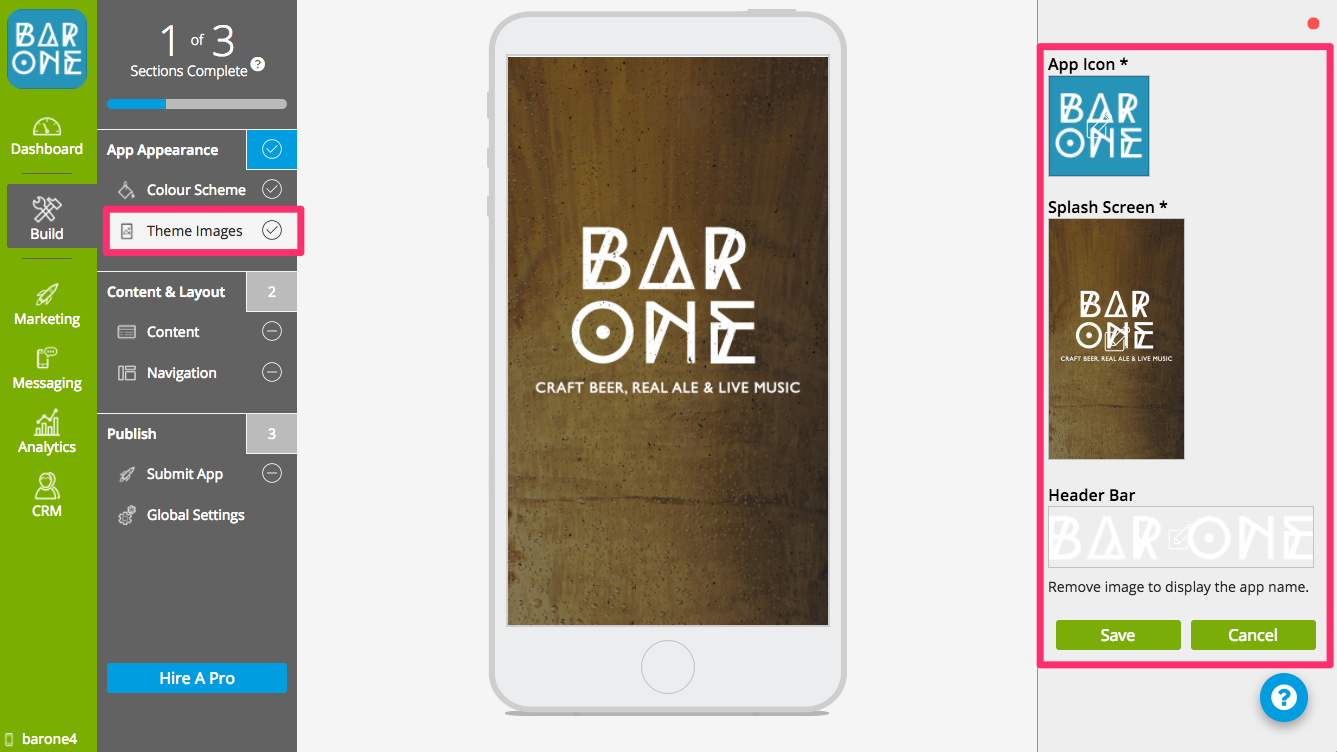 Preview your App using the inline preview button at any point in the build process or download the preview App from the App Stores.

7. Marketing your App
Once your App is live, the Marketing section allows you to create your Promotional Landing page, App download link via a QR code and Social Media posts promoting your App.
When a customer scans the QR code with their smartphone, they are taken to the relevant App store depending on the device they used.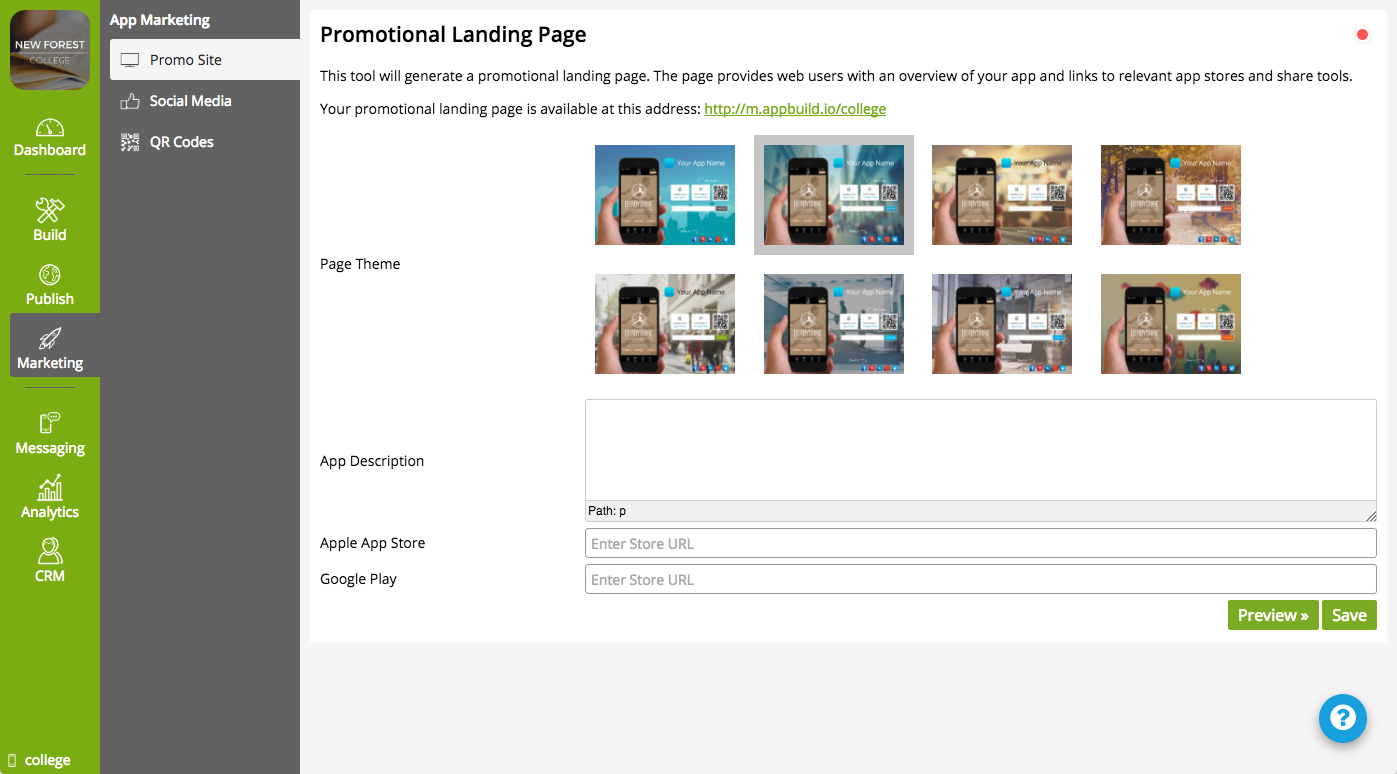 Here are 6 Effective App Promotion Techniques to Land More Users.
8. Sending Push Notifications
Premium and Pro subscribers have access to the Messaging feature where you can create and send Push Notifications to your App users. Notify your customers of new offers, service announcements or new products.
Send Simple Notifications for a super simple option to send a one-off message straight away.
Create a scheduled or recurring message over a chosen period of time using Schedule Notifications.
Create a message that will be sent to customers when they enter or leave a location using Geo-Fenced Notifications.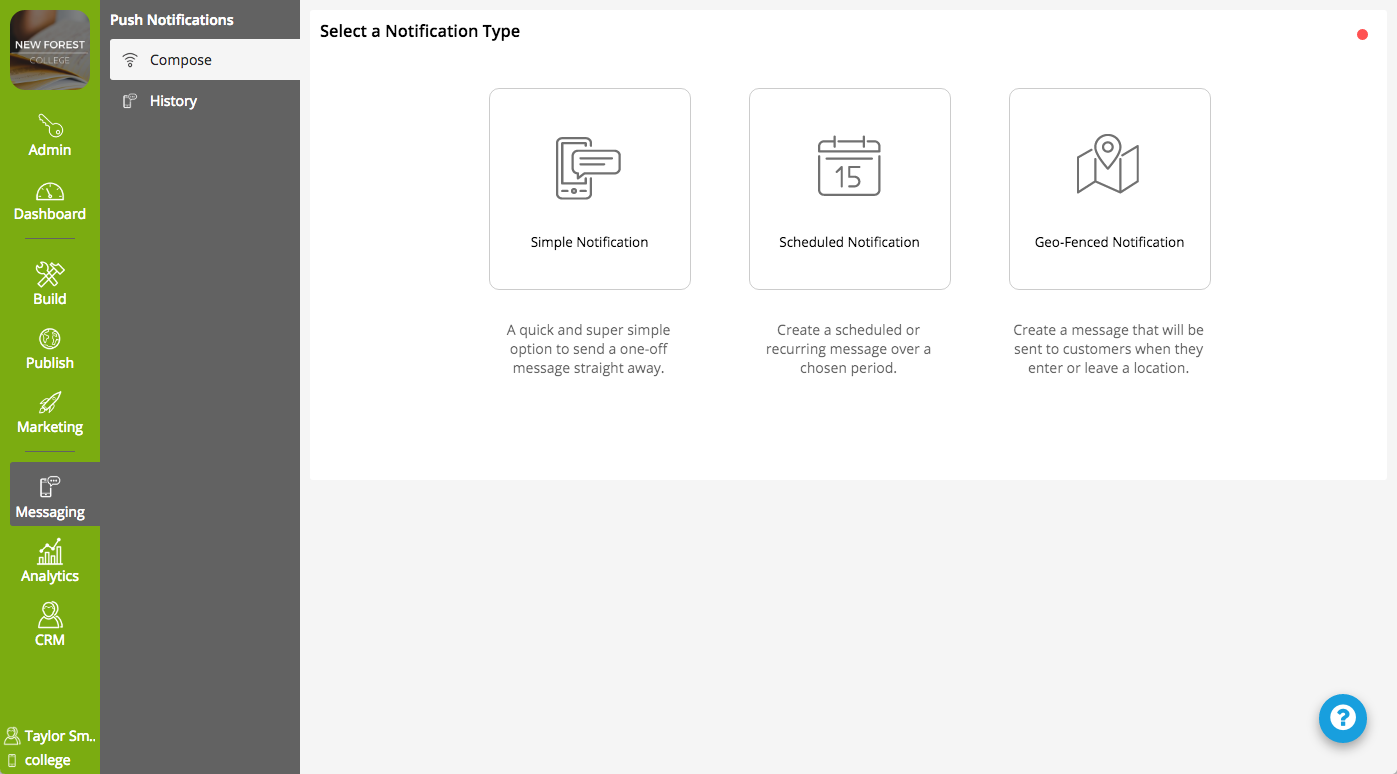 Here are the different Types of Push Notifications & How To Use Them.
9. Accessing your App Analytics
Gain insight into your App usage, such as download dates and locations, which platform is being used and access Form submission and Takeaway App order reports.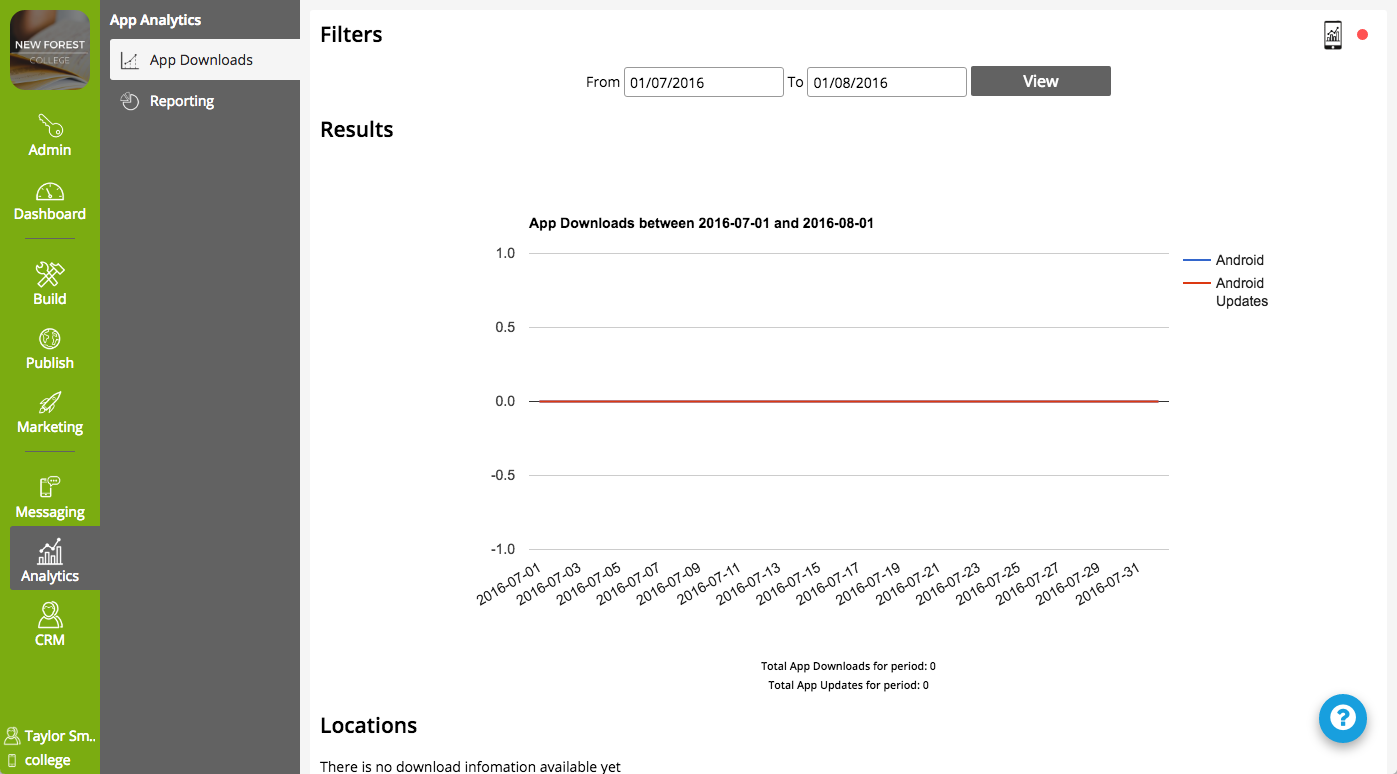 10. Manage your customers using the CRM
PRO customers have access to their own Customer Relationship Management tool (CRM). Here you can manage, view and respond to all of your App users from one place. The CRM allows you to:
Store contact information for each customer
View loyalty and financial stats for each customer
Message individual customers using the Message Centre.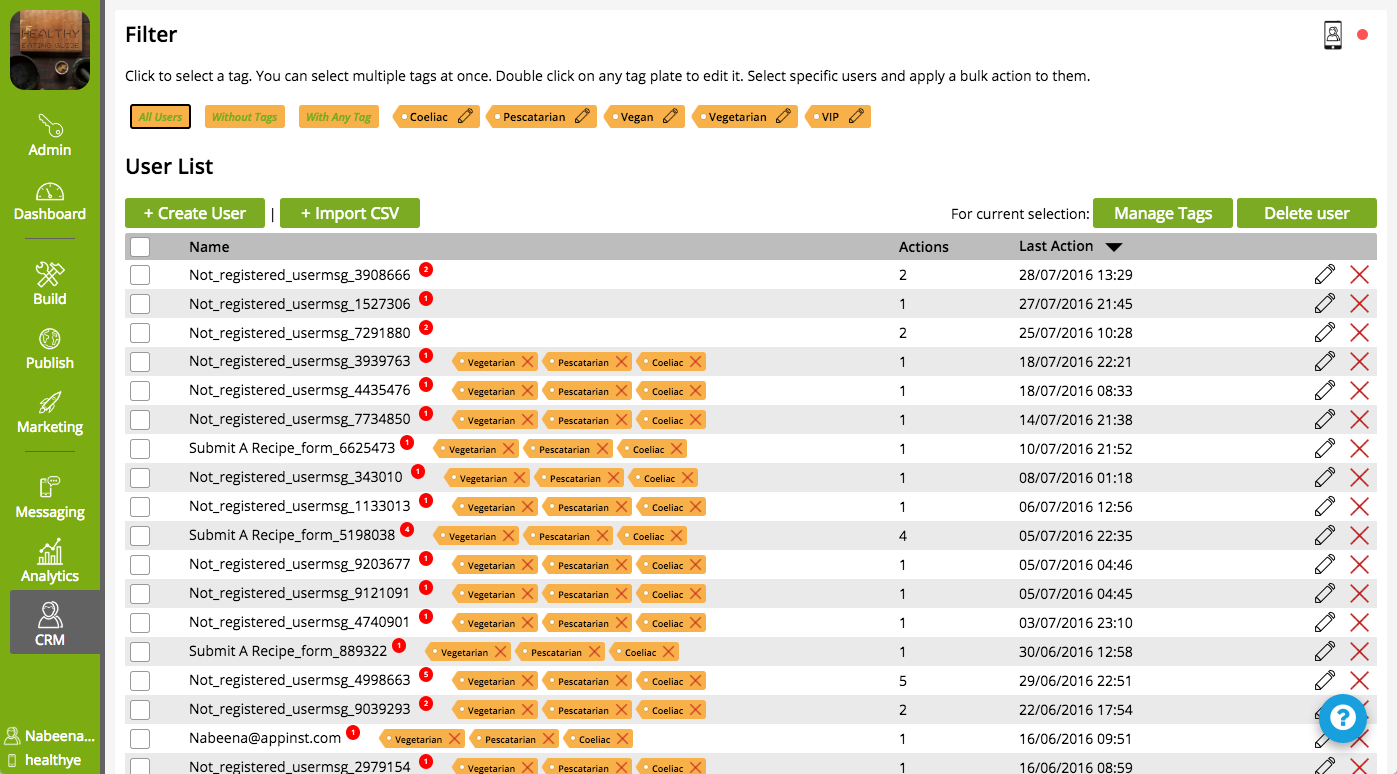 Check out this Small Business Guide to Effectively Using Your CRM
---

Our platform is free to sign up to and free to use. You can build an App in less than an hour… Try it for yourself today!
Sign up to our website: http://appinstitute.com
If you want to talk to someone to find out more, send us an email: [email protected]