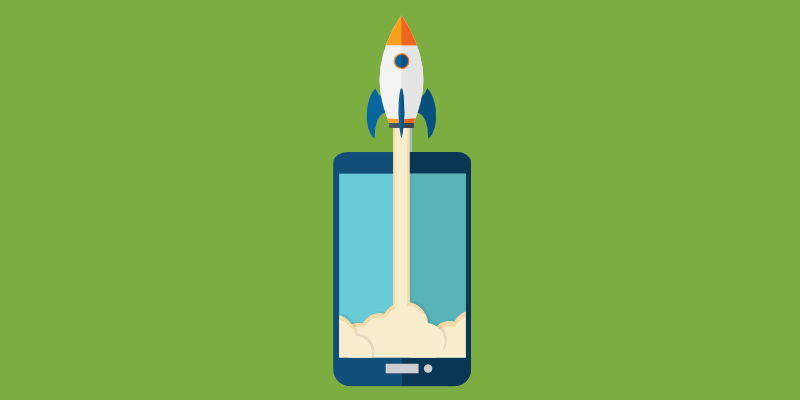 Once you've finished designing your App's appearance and have added content  you're ready to Publish to the Google Play and Apple App Stores. When filling in information about your App there are a few things to consider to help with optimising your App to increase downloads, also know as App Store Optimisation. To help you do this we've created a simple guide on how to complete each section with important information on how to best describe your App.
1. Publish – Submit App
The last step of the App Build journey is Publish where you can Submit your App to the App Stores.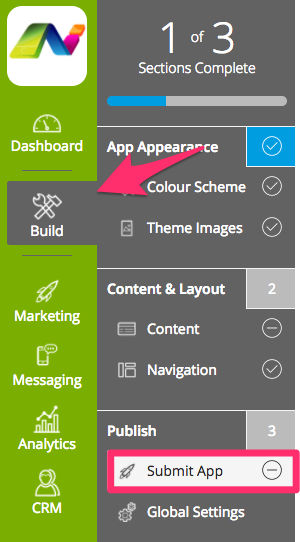 2. Content Ratings
Confirm that your App does not contain any material that could affect it being accepted by the App Stores by selecting 'Yes'.

3. App Store Information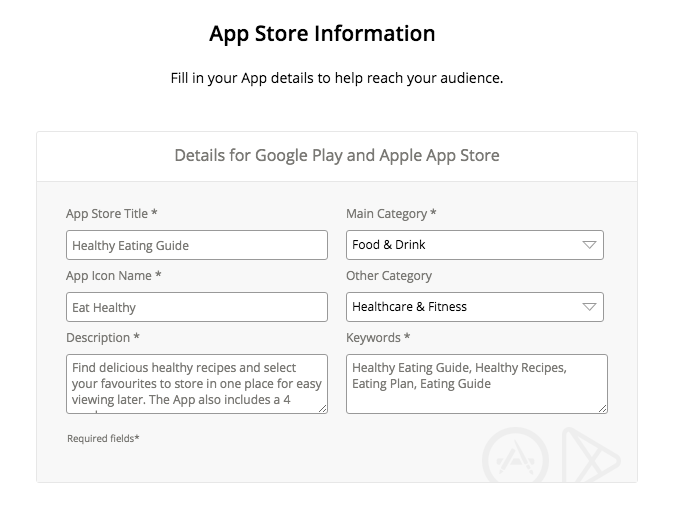 It's important that you spend a little time when completing this section as once your App is submitted it can not be changed without a resubmission. This is where you create the information that will be displayed on your App Store: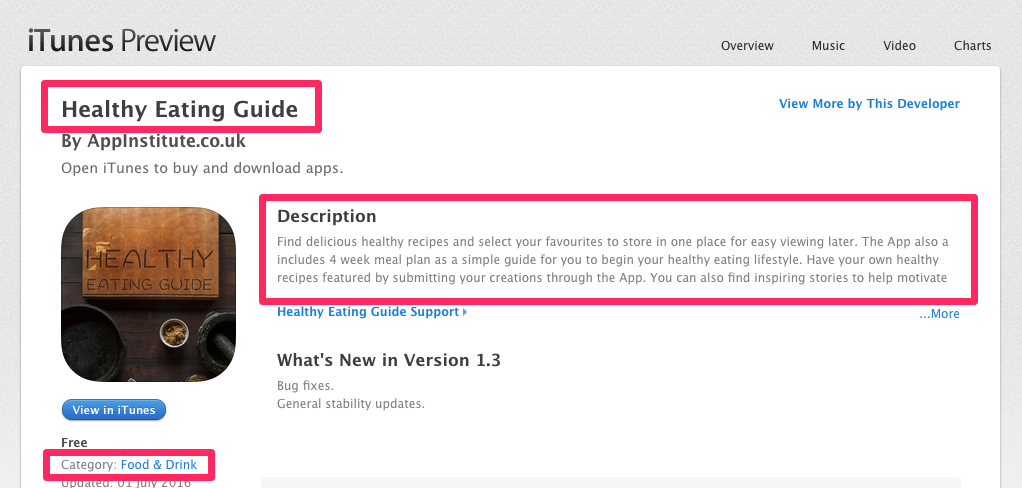 App Store Title
This is what users will see when browsing through Apps in the App Stores. If you're a business or brand we recommend using your company name so people can find you easily when searching. However, if you've created a vegan recipe App, then you should name your App something relevant to the subject, e.g 'Vegan Recipes', 'Best Vegan Recipes' or 'Free, Tasty Vegan Recipes'.
App Icon Name
This will appear underneath the App icon on the user's smartphone screen once it has been downloaded. There is a 12 characters limit so if you have a long company name you'll need to think of a clever way to shorten it, to avoid being cut off. For example, if your App Store Title is "Free, Tasty Vegan Recipes" you could shorten your App Icon Name to 'VeganRecipes' or 'Vegan Meals'.
Description
Your App description is another important part of your App store listings page. You have roughly 255 characters to describe your App without a user having to click on the '…More' link to read anything extended beyond the "above the fold" space provided. Only users who are already excited by what they have read here will look to read more, so it's important that your first 2-3 sentences hook them in.
Place the most important information first, such as a download incentive, e.g. access to exclusive information, discounts, coupons etc.
Be creative and appeal to your reader's emotions. Write the description that your users/customers can relate to and identify with. A reader should quickly be able to image themselves using your App.
Describe a problem then offer a solution. If you're offering value make a point of describing how downloading your App will solve that problem and make your users life that much easier.
Use your business credentials to boast about your brand/company. If you've won awards or have been mentioned in the Press, tell your readers to boost your credibility and showcase your statistics.
Think of your App Description as an advert for your business/brand/company where your purpose is to get readers emotionally engaged to download and start using your App.
Keywords
Keywords are great for ASO (App Store Optimisation), and choosing the right keywords will help you generate the best results from Google and Apple's search algorithms. The purpose of Keywords is to make it easier for your App to be discovered by potential users who are looking for your App.
The Publish page lets you enter up to 100 characters of keywords. Keywords should be separated by a comma( , ).
If you were a Vegan Restaurant in East London for example, your Keywords may look something like this:
"Vegan, Restaurant, London, East London, Vegetarian, Healthy, Vegan Restaurant, Vegan Cafe, Best Restaurant London, Vegan Takeaway, Vegan Food, Food"
If you were a Gardening service in  Brooklyn, New York,  your Keywords would look something like this:
"Gardening, Gardening Service, Gardening Service Brooklyn, Gardeners, Gardeners Brooklyn, NYC Gardening, Outdoor Services Brooklyn, Landscaping, Yard Services, Brooklyn, New York, NYC"
If you're unsure of what are the right keywords for your App, find more information on ASO here: App Store Optimisation: Everything You Need To Know
It's important that you do your keyword research to discover which keywords are most relevant to your App, and choose the ones that give you the best chance at being discovered.
Main Category/Other Category
The Main Category is required so the App Store can list you in the relevant category on their store, it works similarly to the keywords in that it makes search results more accurate. From the drop down box, choose the category that best suits your App type. If necessary, choose a second category to specify your App even more.
For example, if your App is an educational guide on Sports Physiotherapy you would select 'Sports' from the first category and 'Education' from the second. In most cases, you only need to choose from the main category.
4. App Store Account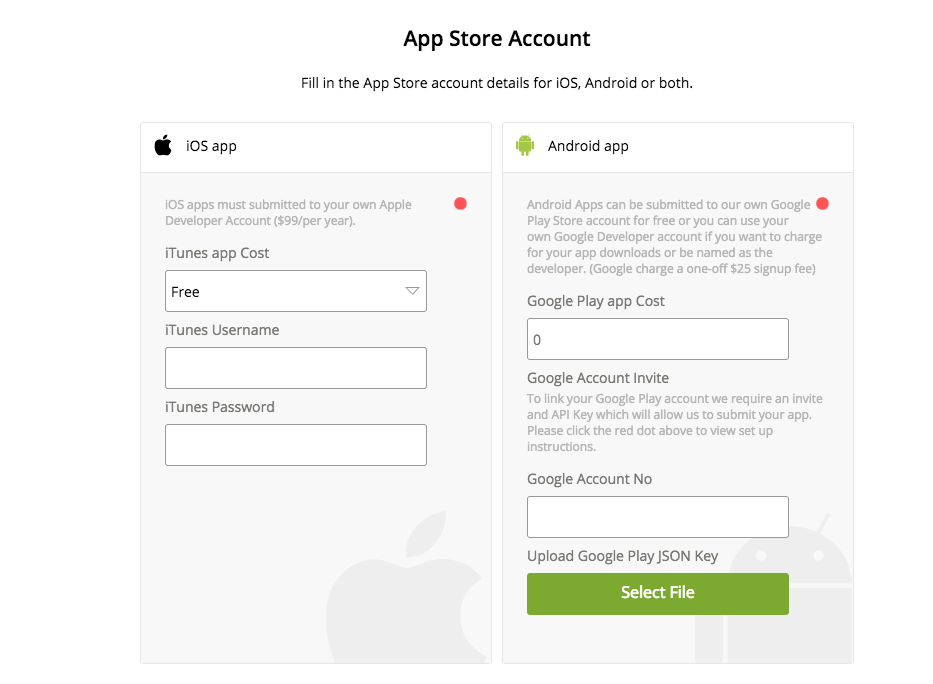 Uploading to iTunes
Charging For Your App or Using Your Own Developer Account
If you want to charge for your App, or be named as the developer, you must use your own App Store accounts to publish the App.
Read our guide on Setting Up Your Apple Developer Account for a step by step guide on creating your Account.

Apple charges $99 per year for a developer account. 

Once you have created your account please provide us with your iTunes Username and Password.
Uploading to Google Play Store
Leave this section blank to publish your app for free to our own Google Play Store account if you are not planning to charge for your app.
IMPORTANT: If you would like to charge for your app or be named the developer, you will need to create your own Google Developer Account. Google charge a one-off $25 signup fee to create a lifetime developer account.
Read our guide on Setting Up Your Google Play Developer Account for a step by step guide.
Once you have created your account, enter your Google Account No.
Upload your Google Play JSON Key
NB. Please note, you can skip Android Submission to Google Play for another time and submit to iTunes first.
For more help on creating your Developer Accounts read our post on Publishing your App to Google Play Store & Apple App Store
5. Submit your App!

Once you have completed steps 1-3 you're ready to click 'Submit App for Publication.'
---