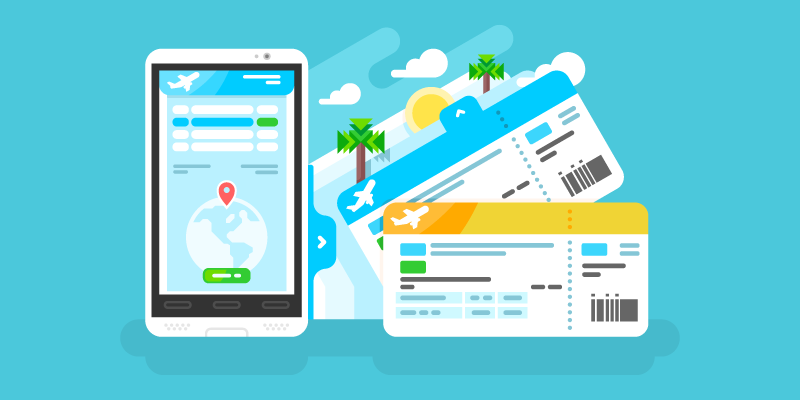 Let's face it, travel can be stressful sometimes. Yes, you get to explore far-flung corners of the world, see some stunning sights and learn about different cultures. But catching the right flights, keeping all your travel documents together and planning your trip is a lot of work. Handily, there's now a host of travel apps out there to help you make the most of your travels. Here's the ones that we recommend – they'll help you with everything from getting to your destination, to uncovering hidden local gems, and finding a bed for the night.
Travel Apps: Before you're there
Before you even get to your destination you can use Skyscanner to help plan your trip. It searches for the most affordable flights, hotels, rental vehicles and more via its network of travel partners. This means you can grab the best deal for everything from a quick city break to a beachside holiday. However, its results are limited to its partners – so some lesser known companies might not be included. But it's a good place to start planning and to get a rough idea of costs. If you're not sure where to go, then Skyscanner also has a 'Top Deals' options that shows you the most cost-effective destinations from your nearest airport.
This works similar to Skyscanner but offers some exclusive deals. It's worth checking in conjunction with Skyscanner if you're really searching for a bargain. Kayak also has a price check function, letting you know whether now is a good time to buy or if you should wait a while. Then, if you've booked through Kayak, the app turns into a travel planner – it'll remind you of key details like your hotel reservation and airport gate number, and it integrates with Apple watch so you can access this information on-the-go.
This travel app is really handy when you're packing for your trip. You can select the different activities you're planning to do, like swimming or camping, and the app will recommend items to pack. It'll also look at the weather at your destination whilst you're there. It takes into account the time you're there for, if you're going solo, if you've got a baby and if it's a business trip. If you're constantly forgetting to pack things, then PackPoint is the app for you!
Travel Apps: In transit…
Killing time in the airport? Use Flio to find what services your airport offers. It's partnered with over 300 different airports, so is likely to have some information on yours. Plus there's handy airport maps to help you get around and work out where your gate is. It'll also track flights and book airport lounges, fastlane access and parking.
Travel Apps: When you're there
This well-known app from the tech giant can come in very helpful when abroad. It'll help you plan a journey, give you directions to local landmarks (or places you suddenly need, like an ATM) and help you navigate if you get lost. In some areas it'll also tell you when an attraction or place-of-interest like a restaurant is busy, so you can plan the best time to visit.
If you've got roaming available, then use it like you usually would at home. But if mobile data isn't an option (or is an expensive one!) then there is an offline version of Google Maps. Obviously this won't help you out in a bind, but it can be used to plan your journey to different tourist attractions. Plus, the user experience stays largely the same regardless of the country you're in.
Another route-planning app but whereas Google Maps can be good for walking or driving around, Citymapper is great for public transport. Often this is the cheapest and quickest way to travel around and you get to experience life as a local. As a bonus, Citymapper will tell you the cost of each mode of transport. It'll also tell you when a combination of transport will work best, like catching a train and then a bus. Plus, you can set your 'home' option to wherever you're staying, so if you get lost you can ask Citymapper to get you home and it'll show you the best route at that time of day.
AirBnB has become much more than just a place to find a bed. Of course in some destinations this is still available and you can get some great places for not very much cash at all. But AirBnB also has exclusive deals on local experiences. Browse through the app to find a French wine tasting night or authentic flamenco class.
The ride-hailing service is currently available in approximately 84 cities and over 800 cities. You can quickly request a ride when travelling instead of searching for a taxi stand. Plus, everything is done online, meaning you don't have to worry about cash or paying on an in-taxi card machine.
Forget working out the exchange rate every time you make a purchase, with XE currency you can calculate the price of your souvenirs and meals out. It has all the world's currencies and is regularly updated to the latest exchange rates. It also syncs with the Apple Watch.
This well-known travel app can help you choose places to visit or where to eat, and also book hotels and flights. It has thousands of reviews, with pictures and videos of different places so you can double-check whether a hotel is right for you or if a restaurant really is as good as you think. It's pretty much everywhere too and it offers a 'Near Me' option to find the best things to do local to you.
Often find yourself tongue-tied? Google Translate uses a type of artificial intelligence to translate conversations and written languages in real time. You can type what you're trying to say in the app and it'll say it in the selected language out loud. That makes asking for directions rather easy! It supports some offline access too.
This messaging app will help you keep in contact with loved-ones back home. It offers messaging, audio and video calls. Plus, if you meet anyone abroad and want to keep in touch, then WhatsApp makes that easy. The catch is that you'll need a wifi connection or data to use it. But luckily, if you don't want to use mobile data abroad, WhatsApp receives any messages from loved-ones, stores them and then downloads them once you're online again.
If you want travel inspiration, head to Lonely Planet. Much like TripAdvisor, this app gives you ideas on things to do and expert insights on shops, restaurants, museums, hotels and other attractions. But what really sets it apart is the photos which can really whet your appetite for the local area. Helpfully, you can save ideas and also access a currency converter so you understand how much your trips will cost you.
The essential app if you're on a road-trip. Simply plug in your route and Roadtrippers will tell you hundreds of potential places to stop off at during the journey. These include roadside diners, national parks, local attractions and scenic points. It's currently only available for road trips in the U.S, Canada, Australia and New Zealand.
Travel Apps: Just in case
Book a hotel and suddenly can't go? Put it on Roomer. If you're stuck with a hotel room that you can't cancel, then list it and see if you can make some of your money back.
Looking for a room? This app offers prepaid rooms bought by people who have suddenly had to back out of their plans. You could potentially find a bargain!
Some services you're used to, like Netflix, aren't always available in the same format (or even at all) in some countries. If this is a problem, then invest in a VPN service for your smartphone and other devices. Usually this requires a subscription, which for VPN 360 is $11.99 for a month or $35.99 for a year.
If you're planning to do some work whilst travelling, and especially if you're logging onto to something sensitive like Internet banking whilst on hotel or public wifi, then a VPN can be a good idea to help secure your browsing.
Preparation makes for perfect travel
Travelling can be exhilarating. It can also be very stressful. Prior preparation is key. Think about everything that you want to do, plan out your budget and work out what you need to take well in advance. By doing a bit of extra work ahead of your travels, you can ensure it goes without a hitch. Using travel apps can help take some of the load off. Many of them are free or offer a free version, so it's always worth experimenting. You never know what might take your family holiday from middle of the road to up on cloud 9.
---

Have your own hotel? Build an app and boost your business today!