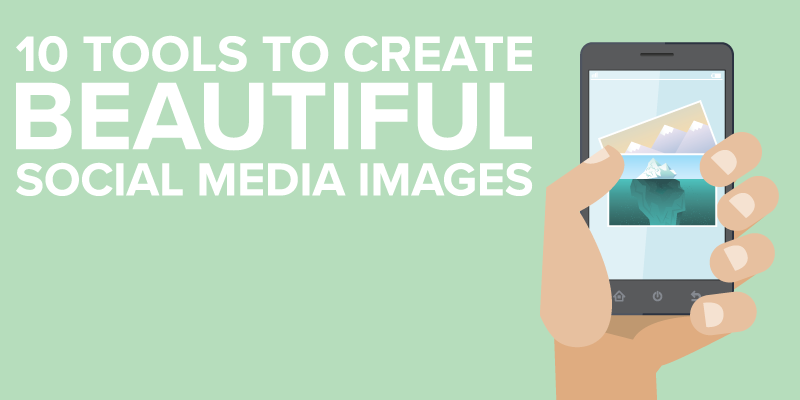 There is no denying that there has been a huge shift in the way we communicate online, particularly on social media. We are now sharing our message using visual social media. Adding an image to your social media posts helps tell your brand story and increase the engagement from your fans.
Here are some stats:
Articles with images get 94% more views. (Source: MDGadvertising)
40% of people will response better to visual information than plain text. 

(Source:

Zabisco

)

Research from Buffer

shows that using images on Twitter increases retweets by 150% and click-throughs by 18%.
Here is a list of some of the best tools for creating beautiful social media images that will ensure you always have a unique image to share with your audience!
Canva (Free & Premium)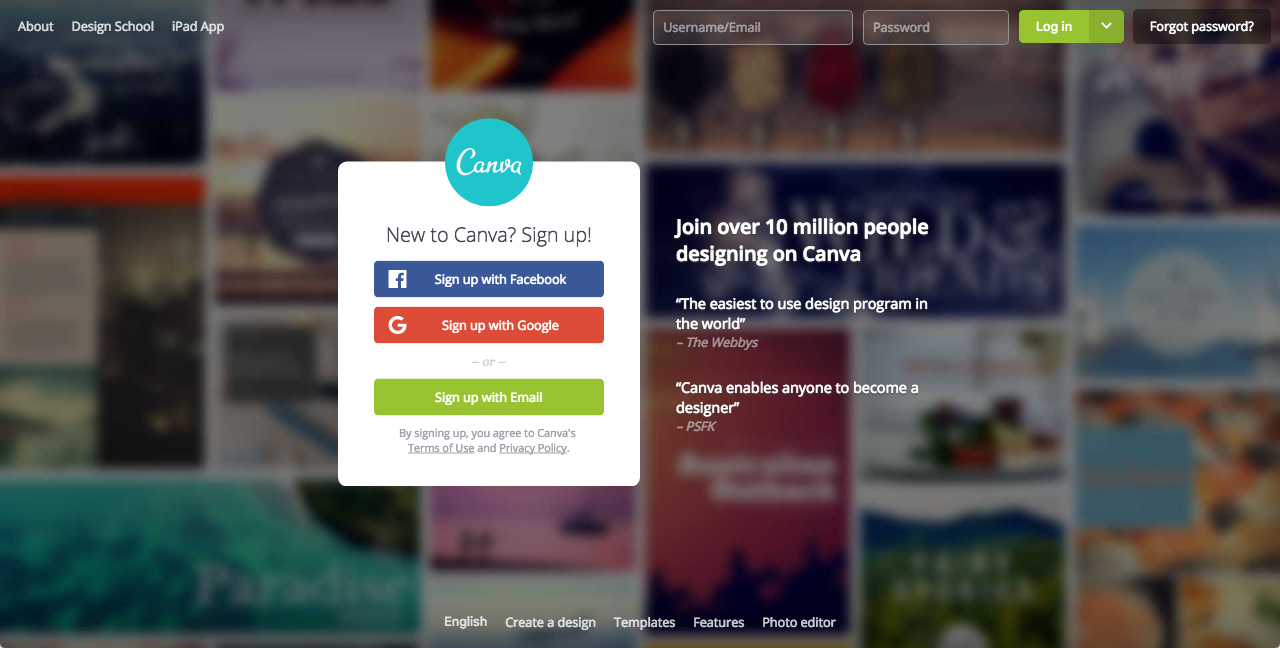 Recently releasing their mobile App version, Canva seems to be the majority's favourite when it comes to creating images for social media. It's probably the most all-inclusive tool on this list, including templates for social media posts, cover photos and advertisements, it's all there. Tons of free images, graphics and fonts to choose from and play around with. Your designs will be saved on the platform as well, so you can come back and edit them any time!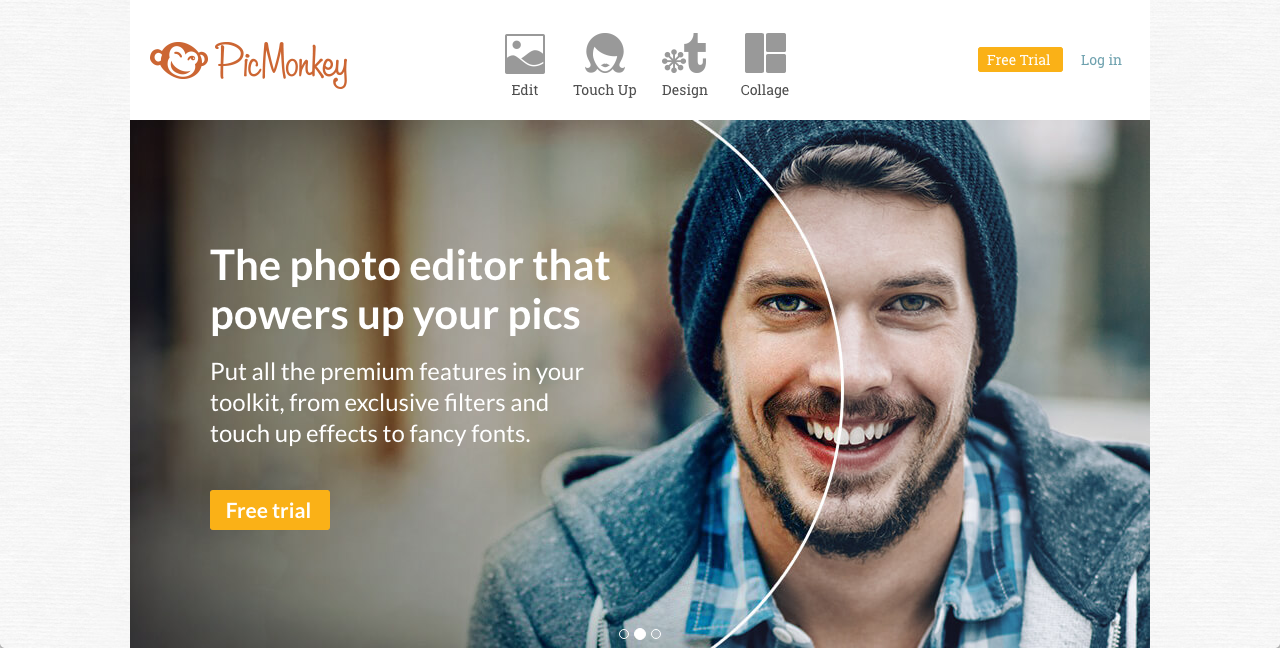 Use PicMonkey to edit photos or design brand new images for your social media posts. Edit and Touch Up photos using a range of tools, add text, effects and overlays or design your own pictures from scratch, such as invites, business cards, banners and more. PicMonkey has an awesome blog too, teaching you how to edit photos like a pro and getting the most out of the service.
BeFunky (Free & Premium)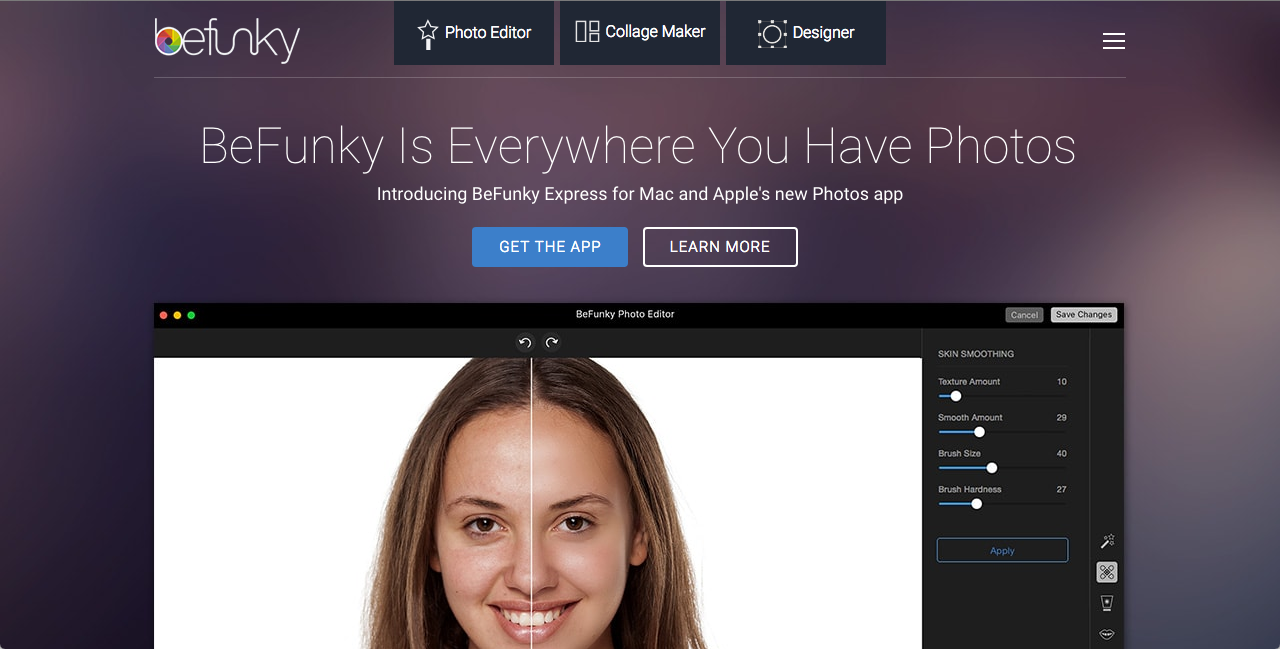 Another photo editing tool but this one doesn't require you to register, you can just get straight into it! Switch between the Photo Editor, Collage Maker and the Designer without losing your work. There are a selection of free images available in the free version, but like any of these tools, you can pay a little fee to get access to even more! Edit photos, Touch Up, add effects and get "artsy"!
---

---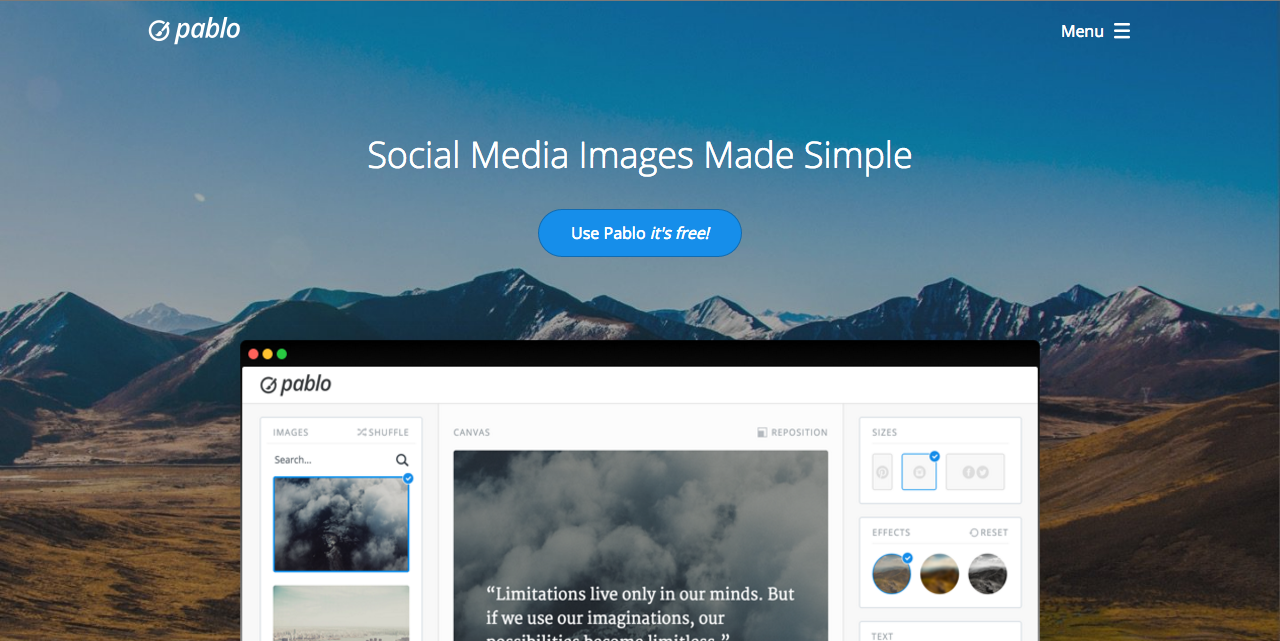 A rather new tool by Buffer! Pablo boasts "Social Media Images Made Simple", and it really is. Find the perfect image for your post by searching the library of 50,000+ royalty-free photos, there's probably everything you could think of. Choose which social media platform it is for, either Pinterest, Instagram or Facebook & Twitter and select a pre-designed template or start from scratch. The small and simplified selection of editing tools really does make it quick and easy to create images. There's no messing around, but you're always left with a gorgeous image that you can download for free and share around.
Venngage (Free & Premium)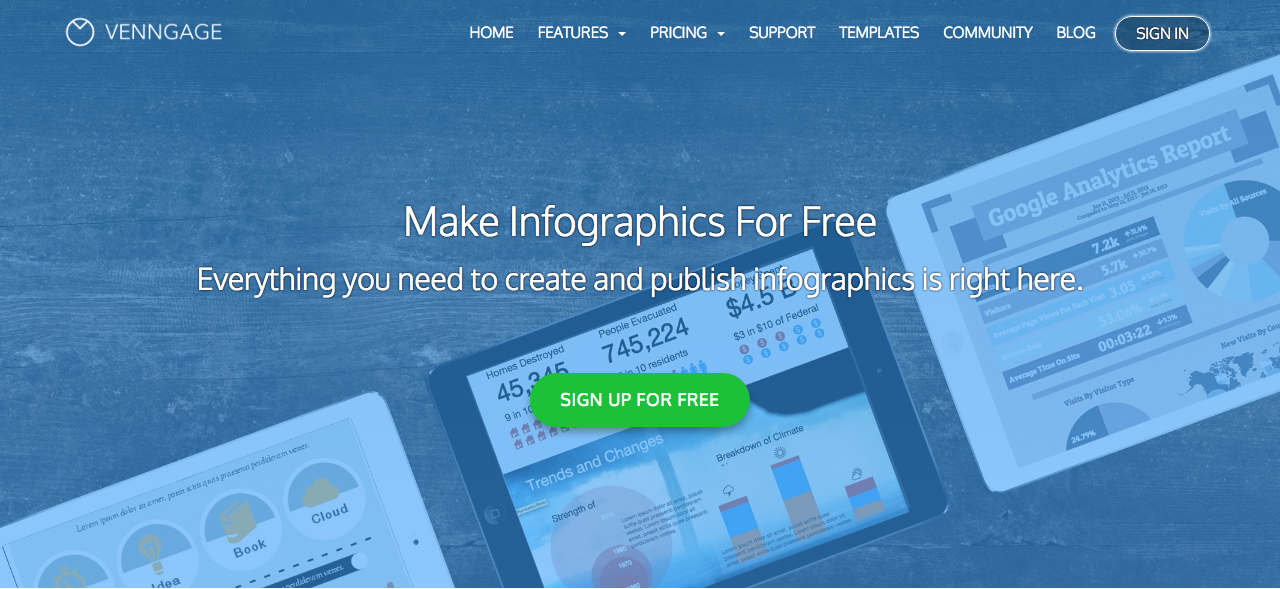 Looking for a tool to create infographics? Venngage is your go-to-tool. It's super simple and has both free and paid accounts. All you have to do is choose one of the professionally designed templates, add your data, text and visuals and customise the design. You're then free to download and share! Venngage offers a bunch of free charts, maps, icons and visuals, so even if you have nothing that is your own to start with, there are tons of free resources to help you create what you need.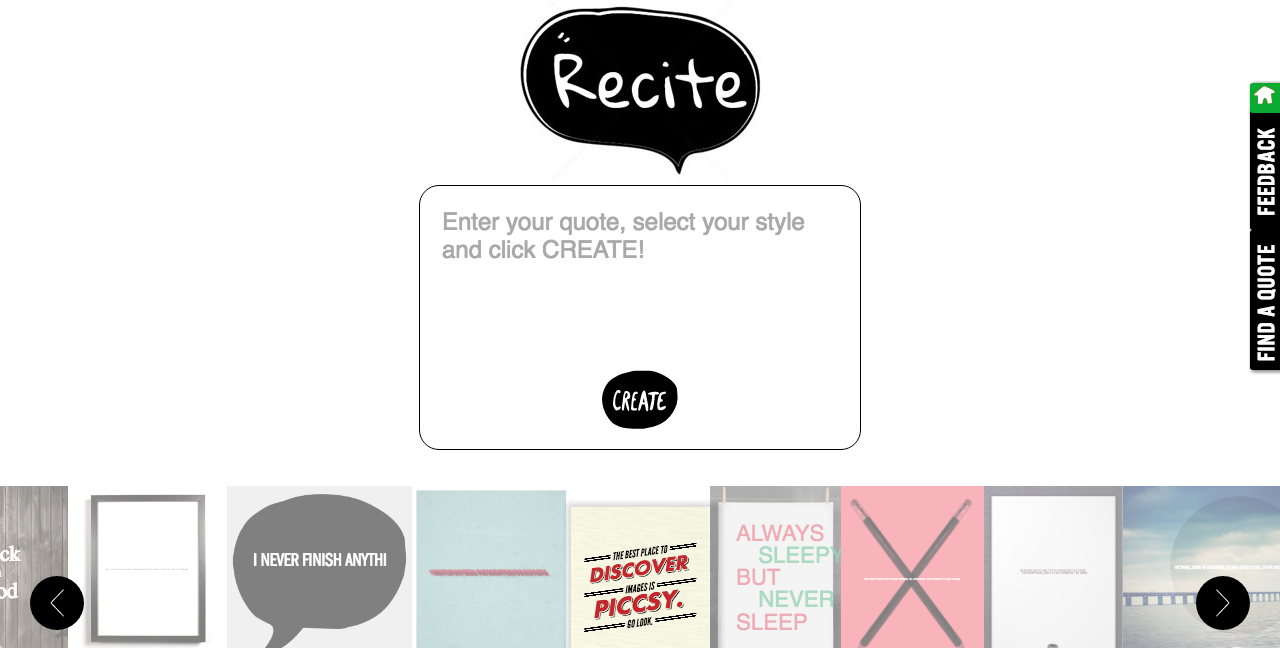 Got a quote or a statistic that you want to share? "Turn A Quote Into A Masterpiece" with Recite. With tons of different themes and designs, any quote can instantly be turned into something that is not only interesting to read, but appealing to look at too. Simply enter your quote into the box provided and choose a template you like best. You can then download it directly, or send it straight to social media.
Fotor (Free & Premium)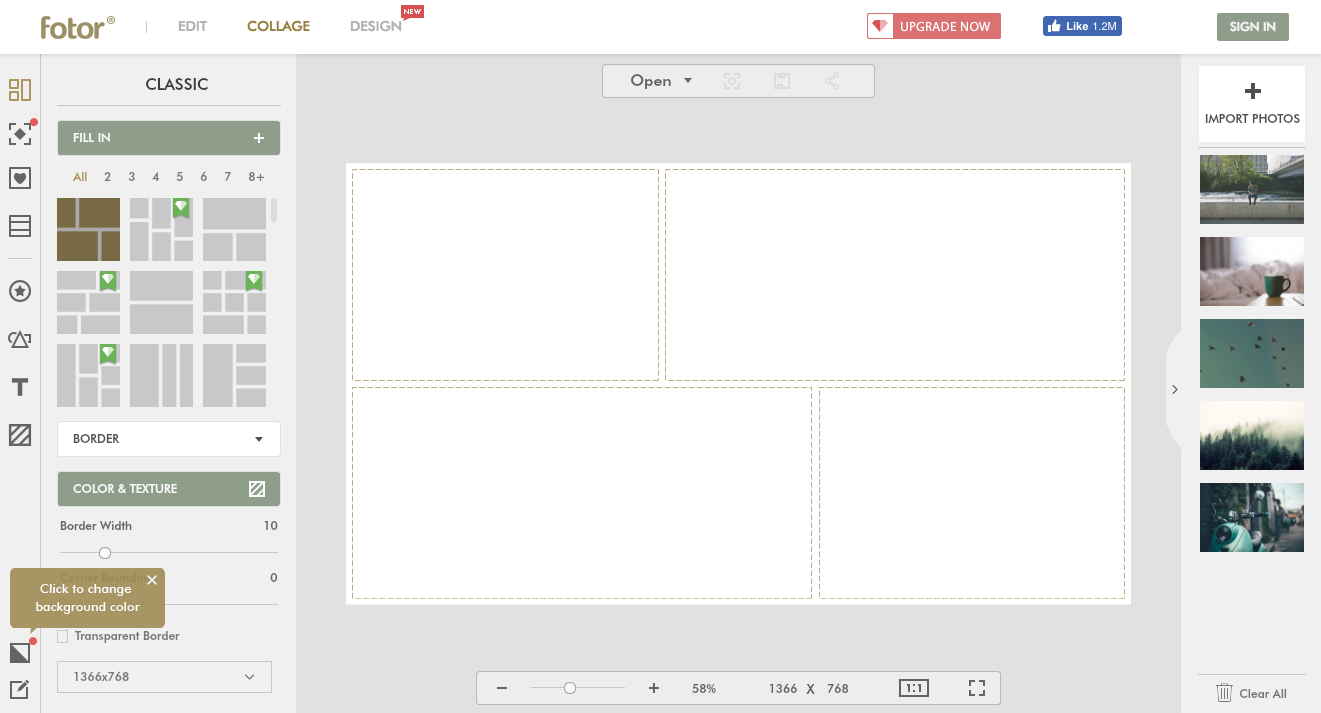 My favourite tool for making photo collages! Got a bunch of photos you want to put together quickly? Use Fotor. There are a variety of different collage templates to choose from, as well as editing tools and text options.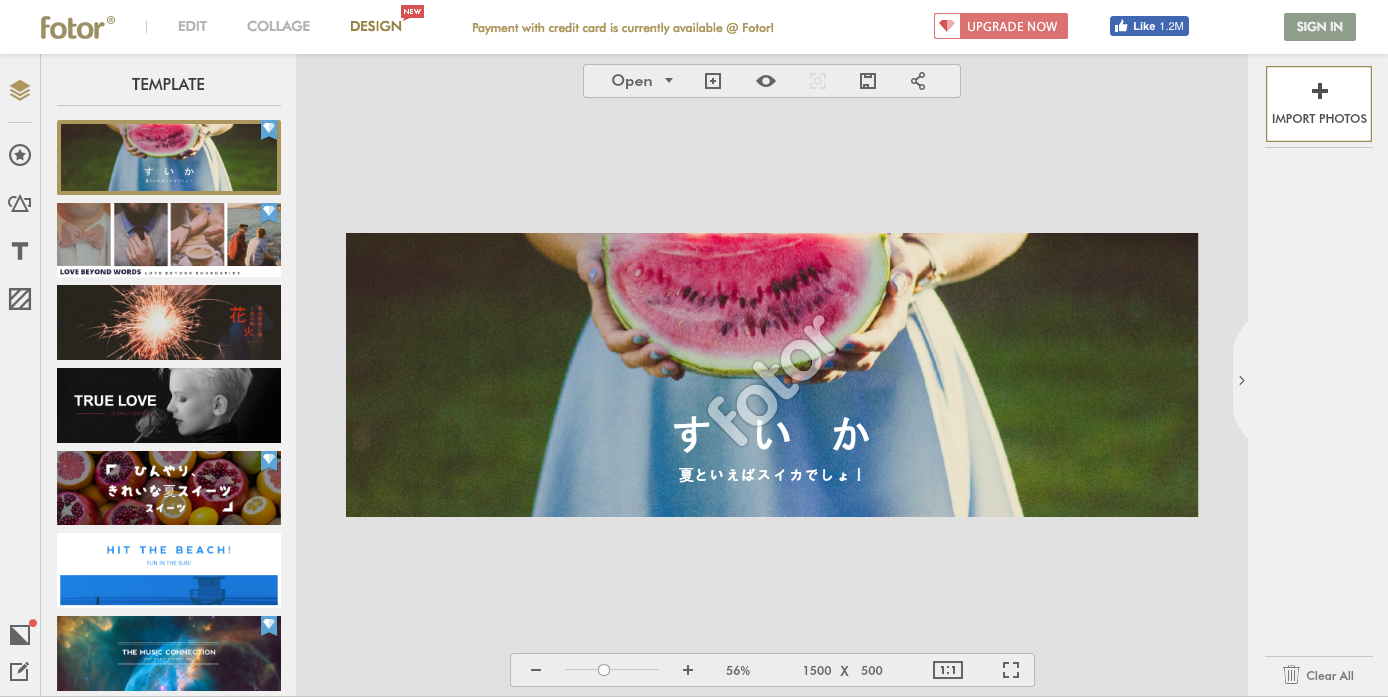 One of Fotor's daughter tools, Fotor for Twitter allows you to create that all-important Header Image for your profile! Use this tool to help bring out the best of your Twitter account by customising and improving the appearance of your profile with an awesome header image. Simply upload an image (from your desktop, Dropbox, Facebook, etc), add some graphics and text and save it!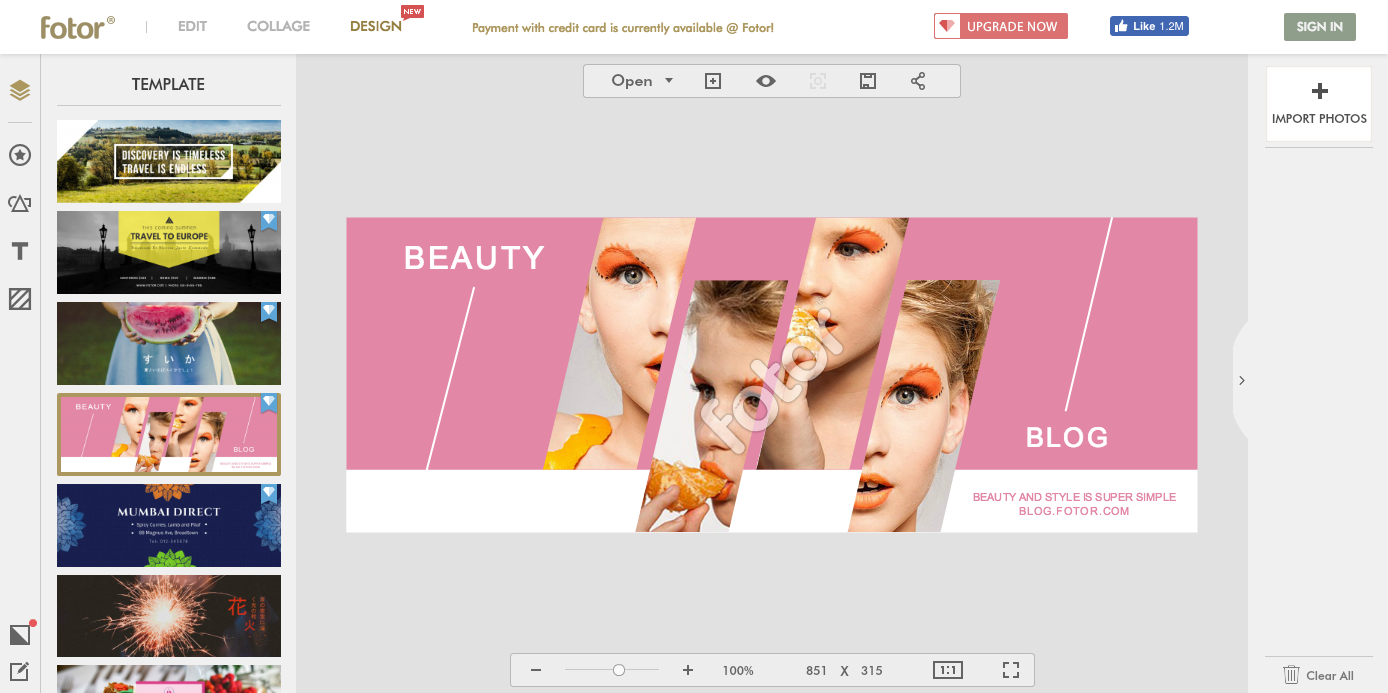 The exact same idea as above, except this tool is for creating your Facebook Cover Photo. Just like the Twitter version, you are give the same options to upload images from a variety of sources and add images, text and graphics. From popular photo editing App, VSCO, comes DSCO (pronounced, "disco"). This App is available on iOS and allows you to capture, edit and share animated GIFs. Allows you to edit with popular VSCO and "limited edition" presets and publish directly to your VSCO profile. Everyone loves GIFs.
By using these tools, or at least a selection of them, you will improve your social media instantaneously. Users are visual learners, and they prefer this kind of content from you on social media. They almost expect it and they will appreciate the effort you make!
---
Some more resources you might find useful:
7 FREE & BEAUTIFUL Phone Graphics to Make Your App Look Awesome
29 Websites to get Beautiful, Free Stock Photos