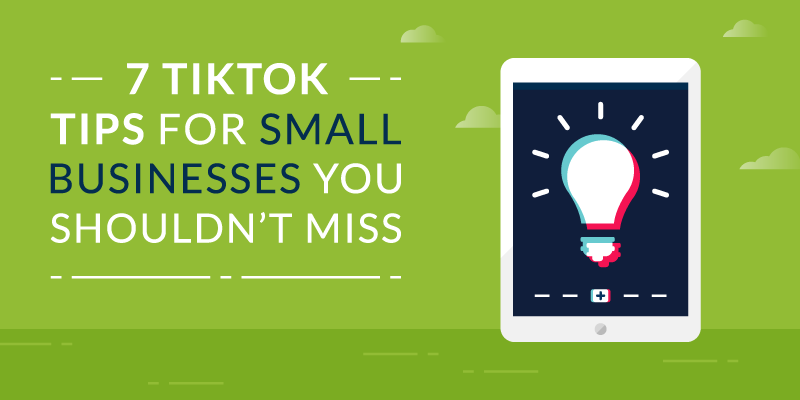 With a userbase of approximately 550 million Gen Zers, TikTok has all but consumed the hearts and minds of the 13-24 demographic. Yet, despite its recent surge in popularity, most marketing pros still aren't sure how to make the most of this exciting new platform.
A learning curve is to be expected, but now that these trends are broadcasted all over the internet, professional marketers and small business owners have no excuse for not diving in and learning how to engage this essential demographic.
If you've been hearing about TikTok and want to learn how you can get on board, you're in the right place. In this article, we're going to give you 7 TikTok tips to help you succeed on the platform.
Why Your Small Business Should Be On TikTok
Before we dive into our TikTok tips, it's important to understand what the social network can bring to your business.
Compared to Facebook and Instagram, TikTok is a very different kind of platform. While large businesses have recently started to use TikTok for marketing, the platform is still overwhelmingly personable, authentic and free of large corporate interests.
For example, even major household names like Coca Cola and General Motors don't have TikTok accounts yet. Other brands, like Apple and Toyota, have parked accounts but haven't posted anything yet.
As a result, when you market your business on TikTok, you're not directly competing against multinational corporations that can afford entire teams of people for every post they make. In fact, even the large companies that are on TikTok are opting for simple, authentic, and personable content — take a look at the Washington Post's TikTok for a great example of this.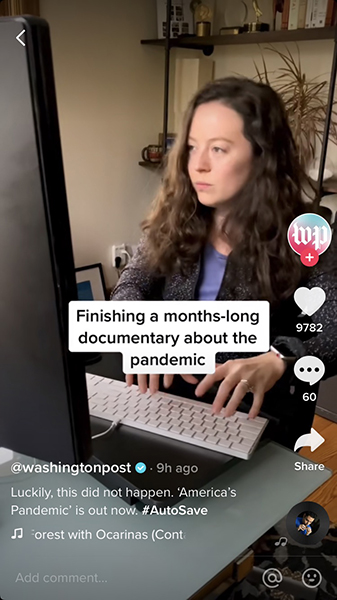 Combine this with the fact that TikTok's feed algorithm doesn't directly factor in follower counts, and you have a platform where you can go viral and gain lots of exposure after posting just one video. Since TikTok focuses so heavily on the younger demographic, it can be easier to reach Gen Z than on other platforms. This means that you may be able to reach audiences you weren't able to in the past.
TikTok is a vibrant and diverse platform, and there are influencers you can partner with in every niche and vertical. Influencer marketing has been a driving force behind Instagram marketing, and there are no signs that this won't continue to be the case on TikTok. To make the most of TikTok marketing, you can use a tool like Influence Grid to find influencers to partner with.
Get Familiar With The App
One of the first and most important TikTok tips involves simply getting to know the platform. When on TikTok, do as the TikTokers do.
No matter how much strategizing you do, you're not going to get very far if you don't understand the TikTok vibe. To really become successful on TikTok, you need to immerse yourself in the space and come to think like a TikToker does. If you don't, users will immediately recognize you're just using the platform to advertise, and you'll stick out like a sore thumb.
Luckily, figuring out what sticks on TikTok is easy and fun. Just download the app and start scrolling. Take note of what's popular, what hashtags are trending, and what content sticks out to you.
When you find content that you like, you can save it to a "swipe file." Then, when you're ready to start making content of your own, look back over those posts, and model your content after them.
You can also view TikTok on your TV, many millennials are watching TikToks on their TV screens so not exclusively for mobile on the go audiences.
Introduce Yourself
TikTok is a very personable app — that's likely why large corporations have struggled to find a voice on it. But that gives small businesses an advantage. If you can keep things personal and casual, then you're set for success.
To start things out on the right foot, make sure you introduce yourself in one of your first posts. This gives your audience a way to connect with you and makes it clear that you're a real person, not a corporate robot. But your introduction shouldn't just introduce yourself, it should introduce your business as well. Use this video to talk about your products and services, and how you personally fit into the mix.
Essentially, your goal is to humanize your business and put a face to it. Use your introduction video as a way to help your audience connect to your business on a more personal and casual level.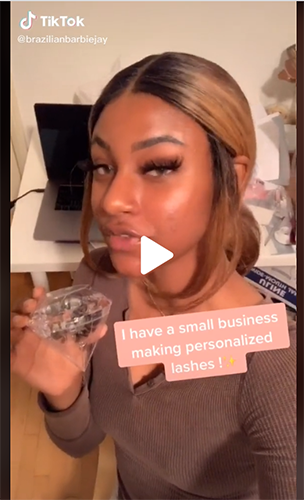 Hop On Popular Trends And Challenges
Part of the reason TikTok has become so popular is because trends and challenges encourage engagement in a big way. In short, challenges are specific tasks, dances, or activities that TikTokers encourage each other to do.
For example, the Blinding Lights challenge encouraged users to film themselves doing a choreographed dance to the Weeknd's "Blinding Lights."
These trends and challenges transform TikTok from a social network into an activity that you can do with your friends and family. As a result, they're a great way to gain exposure by showing up when someone is browsing through all the videos for a particular challenge.
Of course, if you're able to start your own challenge, and it takes off, you can get a huge amount of exposure, as well as get some great user-generated content.
Look at the example below for some ideas. Even though the poster, Danielle Edits, didn't follow the same format for the challenge, by using the song "Blinding Lights" in the hashtag, her video shows up when searching through videos of the challenge:
https://www.tiktok.com/@danielleedits/video/6814812648899742982
Make Behind The Scenes Videos
When people fall in love with a movie, they want to know what goes on behind the scenes. Learning how the movie is made gives them a way to delve deeper into something they can't get enough of. The same holds true for business. Behind the scenes videos give your customers and prospects a way to feel like VIPs and connect with your business in a different way.
For example, if you run a restaurant, consider taking videos from the kitchen. Or, if you started a new store, show your customers how your business was made. If you have an office, take your audience on a tour. If you work from home, show off your workspace. As long as you're giving your viewers an inside peek at your business, you're on the right track.
Take a look how The Vault Gaming Center does it:
https://www.tiktok.com/@thevaultgamingcenter/video/6846580993516719366
Make Tutorials And DIY Videos
Knowledge is perhaps the most valuable thing that you can give to someone. Tutorial and DIY videos offer a chance to share your knowledge with the world and provide some real value to your TikTok audience.
Of course, if you're going to post a tutorial video, make sure it relates to your business in one way or another. If you run a salon, post some hair styling tutorials. If you run a restaurant, show how to cook a dish. If you're a photographer, teach your viewers how to take better shots.
Here's an example from Younez Sarou, demonstrating how he's able to achieve some of his shots:
https://www.tiktok.com/@youneszarou/video/6886753464311975169
Share Your Mission
Every small business has a driving force behind it. Since TikTok is focused on authentic and personable content, it's a great platform to share why you do what you do, and why you're passionate about it.
The key to making this work is to ensure your video stays casual and friendly — TikTok is not the place for a cinematic mission video.
This video from Rose Renewal is a great example of how to stay down to earth while making your mission statement video:
https://www.tiktok.com/@roserenewal/video/6819349290993962246
Make Video Updates About New Products And Services
All businesses are constantly evolving, and most are changing their product and service lines as they go. TikTok, like all social media platforms, is a great way to spread the word about a new product you're releasing or a service you're offering.
However, the way that you present these releases is likely going to need to be different than how you do it on Instagram or Facebook. Ideally, you'll want to keep that same fun and silly TikTok vibe for your product release videos.
Here's a great example from Party Machines:
https://www.tiktok.com/@partymachines/video/6880346697864580358
TikTok Tips For Small Businesses
If you're trying to connect with the 13-24 demographic, TikTok is one of the best ways to do it.
But you can't just jump on TikTok and use the same strategies you'd use on Instagram. TikTok is a very different kind of social media platform, and small businesses need to learn its quirks to really make the most of it.
Luckily, learning how to use TikTok really just requires spending a bit of time with the platform. Plus, once you make an account and start flipping through videos, you may find that your "market research" has turned into an entirely new social media addiction of its own.
Out of all the TikTok tips we've given, the most important is this: stay personable, stay authentic, and you're likely to find success on TikTok.
---