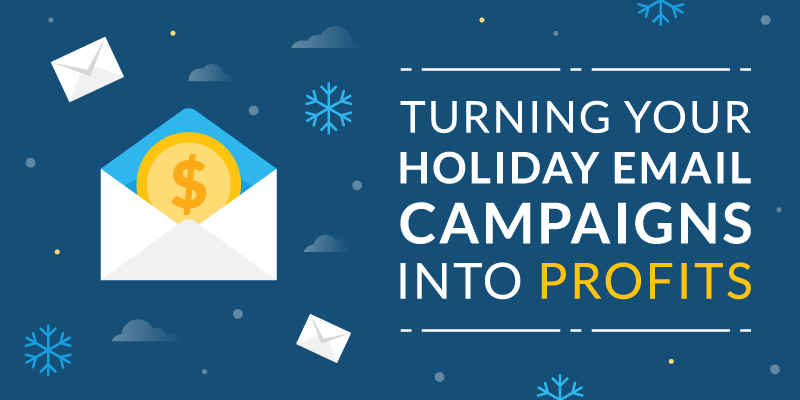 The Year's Grand Finale
The 2 months of the Holiday season contribute to over 20% of the retail spending in North America. In this important period of the year commencing from Halloween in October lasting all the way to the New Year, US consumers typically spend around 1000 USD. 50% of this spend is on gift items, 25% on decoration related items and 25% is on food and miscellaneous items.
We are talking about gargantuan spending during this holiday period: over $ 1 trillion in 2019 and over 15% of this through the e-commerce channel.
In the 2020 holidays, your customers are expected to:
Increasingly use E-commerce and online purchases through omni channels
Continue with products and brands high on usage and satisfaction. Loyalty, referrals, and word-of-mouth will be strong drivers
Make their choices early on and scout for the best deals
Have digital fatigue and low attention span
Be even more wary of counterfeits, fake links, and sites
Smart and well-planned Holiday Email Marketing Campaigns will result in a grand finale of bumper sales, bringing about cheer to your customers, partners, and you.
Turning Hexes into Hexagons of Success
Like the success and popularity of James Bond and the British Intelligence, marketers must remember and carefully plan the following M6 hexagon of email marketing and turn the hexes into success:
Measures of performance
Mapping holiday calendar and associated plan
Market & customer segmentation
Message customization aligned with customer segmentation and execution of campaign
Monitor campaign performance and KPIs
Modify strategy and tactics based on dynamic performance and improvements desired
Measure and Map
Success is 80 % planning and 20% execution and fine-tuning. Let us get started!
1. Measures of Performance
You should define some or all measures or metrics for different customer segments during the holidays:
Sales
Wallet share through cross and upsell
Referrals
Engagement
Winback
Satisfaction & Reputation
2. Mapping holiday-wise plan
You must plan early right from September- October. In fact, you should plan an email strategy according to specific holidays during this period. You primarily need to consider:
Halloween
Thanksgiving
Christmas
New Year
Besides these, you also have the weekly Black Fridays and Cyber Mondays
3. Assembling the rock-star team
You must define the following roles and get the right mix of in-house and outsourced partners:
Creative Designer
Email Developer
Production Team
Campaign Manager
Automation Specialist
Cyber Security Analyst
While choosing outsourced partners you may wish to give preference to successful partners across similar products / geographies.
Market and Customers
After the performance measures, holiday plan and team are ready, you should focus on the most important ingredient in this mix: the customers
4. One size never fits all
Segmented campaigns get around 15% more open and 63% more click rates than non-segmented campaigns. Segmentation can be easily done based on:
Demographics
Past purchases
Customer Category
Email engagement
Website behavior
Money spent by your customers
Aligning this with your CRM data will be most helpful. Most importantly, you need to pay special attention to your top customers with high wallet share, purchase frequency and referrals.
Analyzing customer segments along with holiday map plans will give you wonderful insights into the exact messaging, frequency, and timing, and thus meeting the successful performance metrics.
5. Sanitizing before blasting
You should have a verified, cleaned customer list to make your campaign efficient and effective. You could use the following smart ways:
Capturing relevant website visitors
Regular email scrubbing
Analyzing bounced rates and fixing errors
Re-engaging with inactive customers
Duplicate email check
Removing inactive customers
Message
6. The Categories of Messages
You would be creating various types of emails based on the holiday season, customers, and performance measures:
Promotional email that consist of all the marketing emails that highlight discount offers, sale, or any other giveaways
Transactional emails that comprise of welcome email, order acknowledgement email, and cart abandonment emails
Relational emails that include weekly email newsletters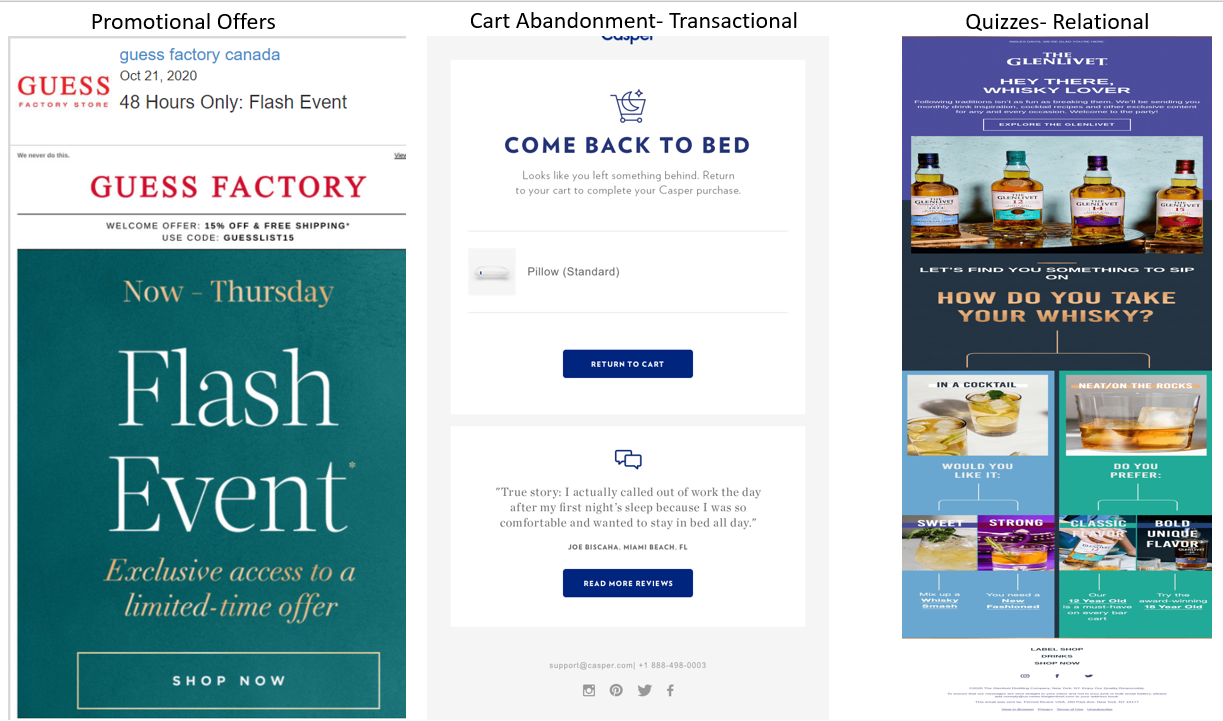 Source: http://reallygoodemails.com/
Recommendation emails – Upsell and cross-sell
Strong Referral programmes and incentives
Re-engagement Emails for former customers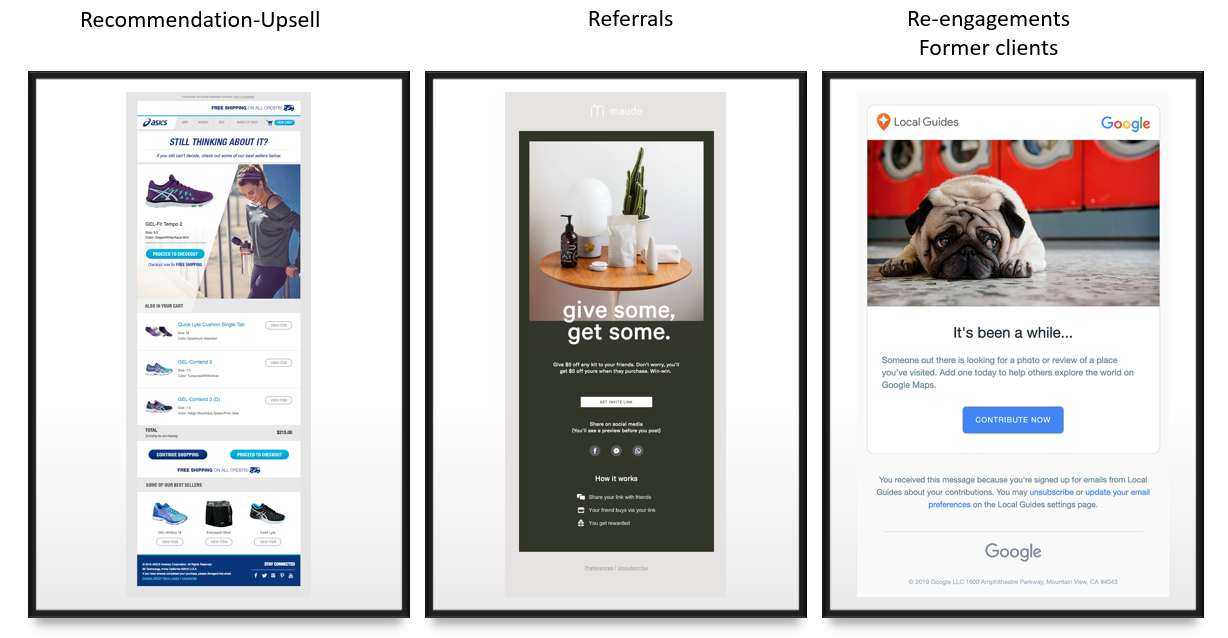 Source: http://reallygoodemails.com/
7. Message Design/ Email Copy for Holidays
Once your customer receives the email in their mailbox, the email should immediately prompt him or her to take action.
Therefore, you must use engaging subject lines with a holiday emoji and a quantifiable proposition that can get your customers to open the email. These examples are apt illustrations:


Some tips for the email content:
DOs
Corresponding to stage in customer journey
Replicate past successes
Compelling subject line
Reveal what is in it for them
Clear and Innovative CTA
Personalization
Crispness
Buttons for sharing and forwarding
Links to offers and product guides
Feedback section
DON'Ts
High frequency
Wrong Timing
Spam Trigger Words
Attachments
Excessive jargon
Lengthy copy
Wrong subject: long, misspelt, outrageous, all CAPS
Click-bait subject
Flowery headers
8. Email Design and Coding
This is all futile if your email design is not attractive enough or the subscriber sees it garbled on their handheld device. They either forget about it or mark your email as spam/ junk. Based on the holiday occasion for which you are sending out the email, consider using relevant visual elements. Some examples: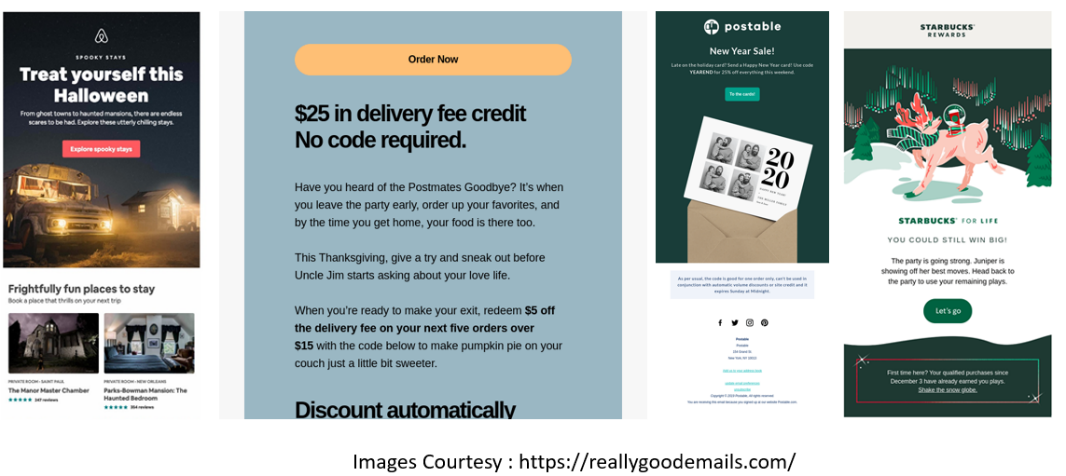 Let's take a look at some dos and don'ts that set the direction for flawless email designs that impart a pleasant subscriber experience.
DOs
Emails and landing pages should have the appropriate Holiday Theme corresponding to Halloween, Thanksgiving, Black Friday and Cyber Monday, Christmas, and New Year.
Consistent design across channels and responsive across all devices. Using rich media elements during the holidays is a great idea.
Testing interactive emails on various email clients to ensure they render correctly. Use fallbacks.
Leverage tools and stick to best practices: such as default templates & landing pages, preview test, Subject HML Variable Tags, AddThis plug-in for forwards, Personalized signatures, Scheduling.
Define the Flexible and Fixed constituents of the template. Lockdown sections which are associated with brand protection and disclaimers. Use the HTML configurable elements for the dynamic sections. These elements can be edited, duplicated, removed, and shifted around as per the strategy
You can use other HTML elements that enable the developers to have the flexibility to edit only image, or text or WYSIWYG
Incorporating AMP, animations, cinemagraphs, and embedded video
Taking template backups and keep a track of versions
Rigorous A/B Split and Rendering tests
DON'Ts
One-size-fits all: little personalization and mass mailing practice
Not incorporating a responsive template. Non-responsive emails can impact the user experience in terms of viewability and visualisation
Hurried A/B split, QA, and Testing. It is paramount to test for Spam Score internally and maybe externally. Checking for formatting and Mobile rendering is equally essential.
You should be careful with embedded Audio-Visual content: MS Outlook and other Email servers are very much in use and a lot of this could get flagged off as harmful or Spam.
9. Some great examples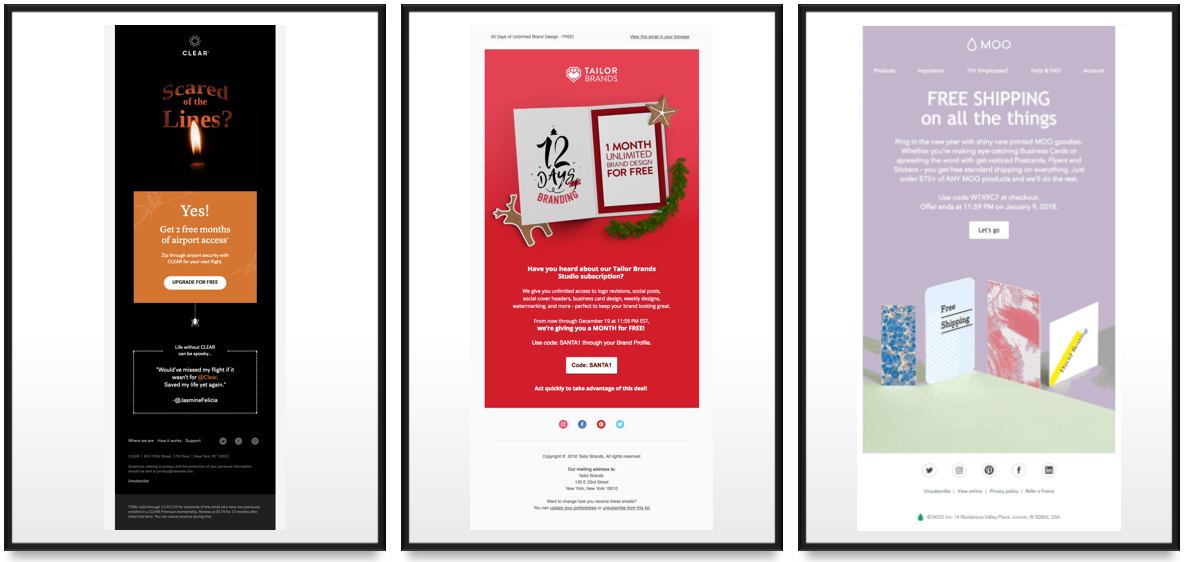 Source : http://reallygoodemails.com/
10. The final lap : deliverability
The ultimate destination of all this wonderful, compelling, and attractive messaging is your customer email box. Hence, email deliverability is a very critical aspect in this last leg. Before we examine email deliverability in more detail, it is worthwhile to revisit the fundamental aspect of email marketing- Come what may, the message must reach your customer mailbox.
You should follow the below-mentioned practices that will improve the effectiveness and efficiency of deliverability :
Email scrubbing
Avoid making sudden changes to email sending pattern
Using DMARC, DKIM, and SPF tools to analyze who is sending email on behalf of your domain—your brand—and prevent spammers from using the ESP domain to send fraudulent emails.
Increase Your Customer's SPAN not SPAM
Monitor and Modify
13. It is all about Performance and Fine-Tuning
Track the metrics like number of opens, click-through rate, bounces, unsubscribes, conversions, spam complaints, and email sharing or forwarding rate.
Considering the limited duration of this lucrative holiday period, these performance dashboards need to be measured, monitored and reviewed regularly at a very high frequency. The dynamics of this campaign should be then quickly fine-tuned depending on the customer category, performance, and expectation. Finally, you need to be:
Navigating your customers and prospects to the next favorable stages of buying
Maintaining engagement with customers and prospects
Delivering a special personalization level to VIP and top customers
Improving lead times and CTA outcomes
Minimizing churn and helping retention
Rewarding referrals
Proactively testing new campaigns
Providing insights into what works and what does not, including the send time
Balancing smart customization with consistency
Protecting your brand
Wrapping Up
14. After the Holidays
In this competitive world, there is no rest, not a moment to lose while your competitors are always looking over your shoulder. And what a better way to start the New Year with a bang and accelerated sales? So, you must be proactive and make use of this time when your customers are gradually and slowly coming back to work and their regular lives after holidays. If you are in the fitness, lifestyle, packaged foods, and similar industries, this is your time. You can apply the same M6 hexagon guidelines with modifications according to your business type and industry.
15. Key Takeaways
This holiday season finalize the performance Measures,Map your holiday calendar, segment the customer Market; customize and make a compelling Message, carefully and timely Monitor and proactively Modify the Campaign for the best results. That is the magic M6 formula of successful Holiday Email Marketing.
To understand Holiday email marketing in more detail, head to this insightful infographic created by our friends at Email Uplers.
---
Author Bio: Kevin George is Head of Marketing at Email Uplers, one of the fastest growing custom email design and coding companies, and specializes in crafting professional email templates, PSD to HTML email conversion and free responsive HTML email templates in addition to providing email automation, campaign management, and data integration & migration services. He loves gadgets, bikes, jazz and eats and breathes email marketing. He enjoys sharing his insights and thoughts on email marketing best practices on his blog.