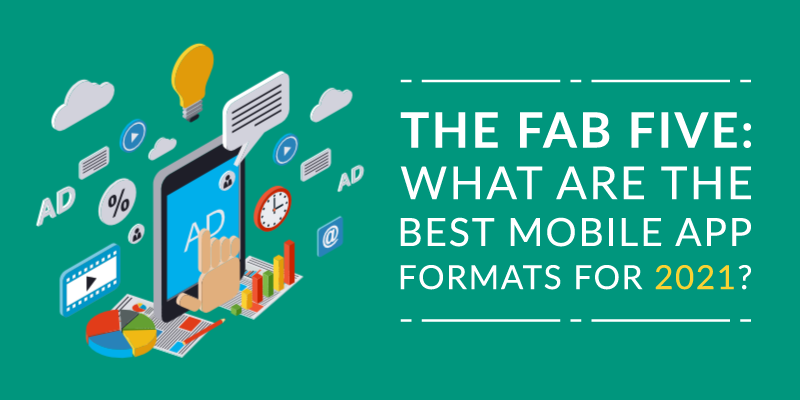 The mobile app landscape is a young but extremely vibrant space to play in. You've probably seen the stats and heard all about the numbers – but it's worth reinforcing just how big a deal this industry is.
By 2020, the industry was expected to generate around $189 billion in revenue via app stores and in-app advertising. And, as of Q3 2018, users have been spoilt for choice, with 2.1 million apps available for Android and almost 2 million for iOS.
This marketplace is moving quickly, and so is the development of the mobile ads being used to promote its products. As an app marketer, how do you know which mobile ad formats to use in 2021? What works best for your mobile advertising strategy, vertical or budget?
To help get your year off to a good start, we've made a list of our top mobile ad formats.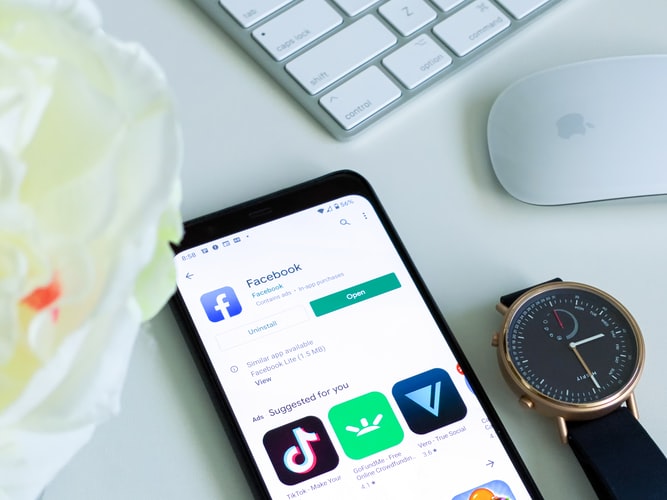 Image: Obi Onyeandor/Unsplash
Let's Take a Look at Different Mobile Ad Types
Playable and Interactive Mobile Ads
If you've been researching the latest and greatest ad formats, you will have noticed the buzz around playables and interactive ad formats – and for good reason.
These allow users to interact with promotional content through promotional games and at Glispa, we're seeing these ads increase user engagement by 60%, and in terms of preferred formats, are second only to rewarded video.
We've found that click-through rates (CTR) are better, with interactive ads driving up to 4x higher conversion rates than static interstitials.
Industry players are getting giddy about this format because it has huge potential to significantly increase the lifetime value (LTV) of consumers – developers know users who download their app are doing so because they have tried some of its features and are interested in what it has to offer.
Interactive and playable ads can also provide a lot of valuable data that can be leveraged to optimize the app itself.
In this case, A/B testing is often used to identify user preferences, which supports app and ad optimization.
The uptake of this format is yet to really boom, but as users continue to be turned off by intrusive ads and the tech challenges are overcome, we'll see that change.
Right now, the format is undoubtedly at its best for casual gaming apps and you'll see particularly strong results when running campaigns on other gaming apps.
Within the non-gaming sector, things are a little trickier so getting creative is key. For ecommerce, marketers can use things like short quizzes or puzzles to provide discount offers and for travel, simple guessing games for exotic destinations work well.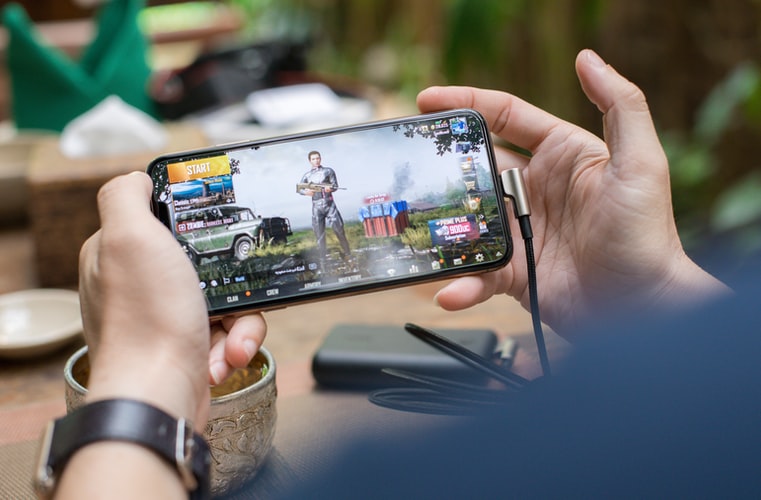 Image: Screen Post/Unsplash
Rich Media Ads
As the name suggests, rich media ads make use of engaging formats such as videos, gifs and audio content. This mobile ad format allows the user to interact with the ad within the app without having to visit other pages or websites.
Rich media ads can have many various animated effects, such as expanding or unfolding across a user's screen. Although these ad formats can be interactive, it's not the best mobile ad option if you are looking for something unobtrusive.
In your quest to design highly engaging and interactive rich media, make sure that you don't go over the top with this mobile ad design. This is because mobile users may become frustrated with the ad and abandon your app entirely.
Mobile Video Ads
In close second, we have mobile video ads. While this ad format isn't as new as our number 1 spot, this year video ads will remain fundamental to any effective mobile marketing strategy. By 2021, brand advertisers in the US are estimated to spend a whopping $10.8 billion on video ads (which is a 50% increase over 2018).
Interstitial Ads 
Interstitial ads are great at capturing users' attention at natural and crucial points of an app's flow, for instance between browsing pages or during a break between mobile game levels. Timing really is everything with interstitial ads.
The last thing you want to do is annoy users during key moments, like when they first open an app. If you properly invest in developing an amazing ad for interstitial, it can result in seriously high user engagement and conversions.
Taking over the whole smartphone screen allows for clear calls to action (CTAs) and more room for creative content and engaging material that excites users.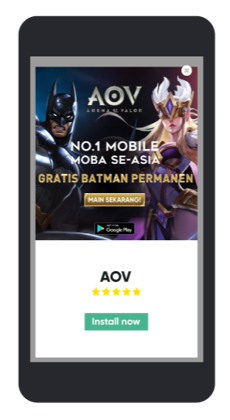 Rewarded Video Ads 
Rewarded video ads are more expensive than interstitial ads but return on investment (ROI) and CTR rates can be much higher. These types of mobile ad formats are an ideal choice when implemented with strong creative and end cards.
They deliver a positive user experience as they're not overly disruptive – users are able to opt in and receive a benefit after viewing the ad, such as in-app prizes or discounts.
They also encourage non-paying users to make purchases as consumers get a glimpse of the premium features they're missing out on.
If you're in the gaming app business, then both video types will work wonders – especially when users are stuck on a certain level. You can use videos to show them how to get past it or tease them with what happens next if they continue playing.
In a non-gaming context, the format is perfect for complex apps. Take finance, where an explanation or "how to" video for a complicated feature will help users easily understand what needs to be done.
Native Ads
How can you advertise in-app and avoid killing user experience? Easy, use native ads. This ad format mimics the look and feel of an app and its infrastructure, allowing users to browse content while viewing an ad.
Unlike traditional mobile banner ads, native ads don't take up a specific part of the screen and are placed where it's relevant for the user.
This means people are more likely to see the ad as "new information" and part of the natural flow of the app, which often results in higher CTR rates.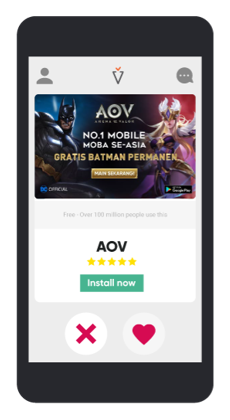 This mobile ad format is red hot and we've seen it across multiple verticals. While paying for native ads is another step in the marketing funnel, many companies have realized that when reading a blog, people are much more likely to click on articles as opposed to banner ads.
Are users on a tech app reading about computers? Advertise products they might be interested in and point them to an app where they can be bought.
What about a sports or entertainment app? Weave in an ad about where to watch an upcoming event.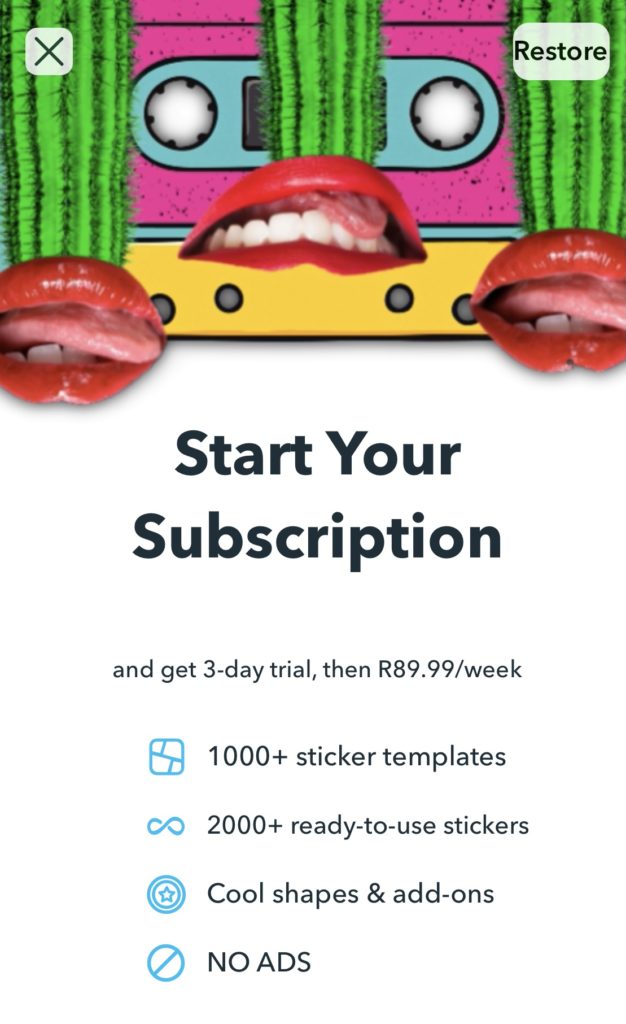 Banner Ads
Ahh, the good ol' mobile banner ad. While we've placed this near the bottom of our list, banner ads can be useful when other mobile ad formats have been completely exhausted or if you're on a tight budget (which is sometimes the case for small to medium-sized companies).
You don't need to spend much on creative elements and you're able to order them in low quantities. Also, they're supported by a lot of publishers, so they still have a pretty big reach.
These ads are also great because they give you enough space on a mobile device to display an effective call to action and deliver the necessary information without detracting from user experience.
Mobile banner ads can be used for any industry and even though they are no longer as effective for CTR – in terms of brand awareness and visibility, they have a part to play and can be a worthwhile investment.
Exploring Mobile Ad Sizes
When deciding on which ad format is best for your mobile marketing strategy, you also need to take mobile ad sizes into account. Here is an overview of popular ad sizes:
Interstitial ads: These ads are typically 320 x 480 or 300 x 250 pixels, depending on how much information you want to display on your ad.
Banner ads: Depending on how big you want the banner ad to be, this format varies between 320 x 50, 300 x 50 and 320 x 100 pixels. These ads are usually placed at the top or bottom of the screen. With this type of ad, you should be wary of "banner blindness". This is when users no longer take notice of the banner ad on their screen.
If you choose to display your ads on feature phones, the ad sizes will vary between 120 x 20 for a small banner, 168 x 28 for a medium banner and 216 x 36 for a large banner ad.

So, There You Have It 
Finding the best combination of ad formats for your apps is a challenge. The days when mobile banners ruled the world are over and now, there isn't one single model that will guarantee success every time.
Staying up-to-date with what's out there is essential, but later down the road, you'll need a partner with the right tech and expertise to implement effective cross-channel solutions.
Author Bio: Mark is the Senior Content Marketing Manager at Glispa – a leading ad tech company. With an educational background in Journalism and expertise across both internal and external communications, Mark is devoted to ensuring Glispa is a leading voice within the mobile industry.
---