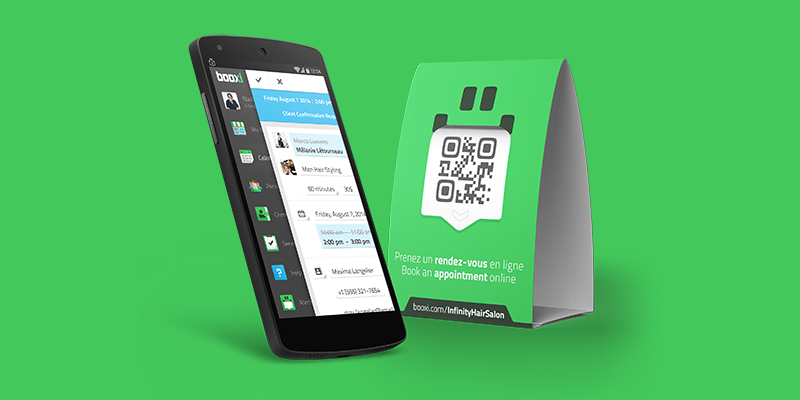 Juggling with appointments, sales, marketing, customer service while managing a business can turn into a real headache. A modern, cloud-based booking system could help you to save a lot of time.
Here are 5 advantages of using online appointment booking software.
Gain Efficiency
Tired of spending most of your time on the phone to manage your appointments and to remind your customers about their appointment the next day? With online appointment booking no more wasted time over the phone. Encourage your customers to book online, and finally spend more time with them.
Reduce No-Shows
For each appointment booked, Booxi sends an automated confirmation with all the information at hand for the customer. They are less likely to call back to ask about the date or the address. In addition, you can send an automated reminder, by email or SMS, the day before the appointment for example. As soon as you start using such a tool, no-shows will decrease from 13% to less than 2%! Automate your business!
Get More Satisfied Customers
Allow your customers to book their appointment when they want, where they want. Most customers will book online when they have a choice. The reason is simple: they can do it when they have time and as soon as they think about it, even outside your open hours. They save time, just as you do. Make sure to simplify, as much as possible, your customer's journey.
Improve Customer Retention
As they book online and you add new appointments, you automatically build up your client list with valuable details. You can also access each customer's appointment history and notes for each appointment. It's a good way to impress them by knowing when was their last visit and the service they received. In addition, from this list, it's easy to send the perfect promotion at the right time.
Be Online and Get More Business
Today, customers contact you through multiple channels to book an appointment. With online appointment booking, you can add a book now button on multiple platforms such as Facebook and your Website for example. Then every appointment request is centralized in one place. Feel free to add your online booking link wherever relevant: on specialized online directories, on your social media, and on all your communications. All roads lead to a new appointment and new customers!
Increase Your Revenues
Because you spend less time managing appointments, you can see more customers, focus on marketing strategies, or even train your team. All these actions will increase your sales. The reduction of no-shows through reminders is also a huge source of additional revenues. Lastly, by simplifying the experience of your customers, with online appointment booking, you build their loyalty and increase the frequency of their appointment.
---
Managing your business's appointments online has never been easier.