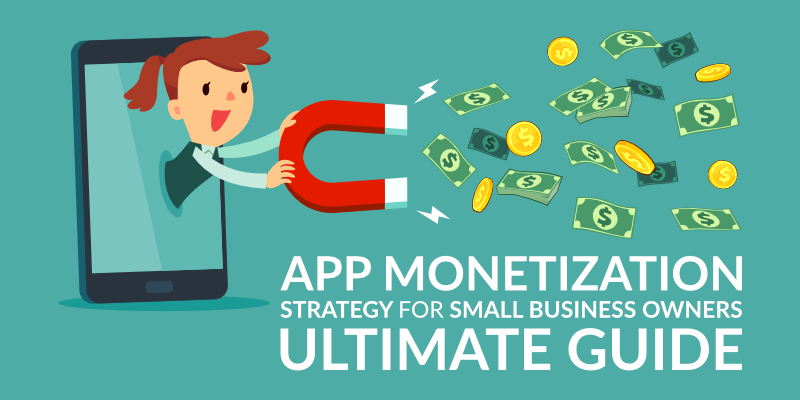 According to Statista, the first quarter of 2018 showed 10,933,500 apps available for download.
That's a lot of apps competing for attention.
The point? Small business owners need a solid app monetization strategy to succeed, starting with the app concept and following all the way through to user retention.
And so you need to start by firmly grasping this: what is it you want to achieve by building an app?
Because building any ol' app and then expecting it to make money is not realistic.
Building an app is only the first part.
Including monetization within the app is easy.
But getting and keeping users? Well, that's the hard part.
And to actually make money from an app means getting and keeping users. So…start with the end in mind.
Monetizing your app needs a strong foundation. The planning pre-monetizing is the same as if starting a new business, commanding the same attention to detail.
There are things that need to be addressed way before you even begin thinking of app monetization strategies, because if you don't get the foundation right, your app will not make money.
We'll first check out six ideas for app monetization, and then go on to planning your strategy for implementation.
Ready? Grab a coffee and donut and let's do this.
What is app monetization?
When businesses develop mobile applications, they can either charge for the download, or they can use the app as a marketing tool to increase customer engagement or they can use it to generate sales.
Not charging for the download is an excellent way of indirectly increasing profit.
App monetization is applying methods of making money from an app you develop, when you don't actually charge people to download it, and that's what we're focusing on in this article.
Why your app?
Why should people download your app, even if it's free?
Your app has to be worthwhile downloading, because there are tons of free apps; people can choose just about any app – for free – so how will you convince them they need yours?
To make your app worthwhile, it has to add value to the right people, so it's important to understand:
Precisely who your audience is
How the app will add value to their lives
How to market and promote the app
How to generate revenue, and
How to keep users coming back.
What you need to know, is that according to a TechCrunch report, people use on average, 9 apps every day and 30 every month. That's really not a lot of apps, considering that the majority are for social media.
For all the apps out there, why would someone include yours into the measly 9 they use every day?
Here's the Big Question because the answer is the heartbeat of this entire guide:
Why should people use your app?
Because for an app monetization strategy to work, people actually have to use the app. And keep using it.
Numbers = profit.
And that requires a smart strategy, starting with solving something for your customers or prospective customers.
Right. On to the meat of the article:
App monetization ideas
Here are six of the most popular ideas to increase profit via apps:
#1 Tie in to email marketing
Email marketing remains the core of online marketing, so tying in your mobile app efforts into your email lists is just smart, and over time, your app users will become customers, or you can upsell them if they've already purchased from your business.
An email marketing strategy allows for deeper connection, and when used in conjunction with a mobile app, you can really build credibility and trust.
Simply add an email subscription form to your app.
Combining email marketing with mobile apps works best when:
You want to offer other services or products to app users, be they your own or affiliate products.
You plan to collect email addresses from app users.
You don't plan to monetize directly from users.
How to do it:
Choose an email marketing software provider.
If you use an app builder, make sure you will be able to integrate it with the email marketing software provider of your choice. If the app creator does not offer integration with your email marketing software, find out if you will be able to integrate it using an API or a connector like Zapier. Alternatively, most email marketing software comes with the ability to create HTML forms. Most app building software has the ability to display HTML content, so if you can create in HTML, or get someone to do that part for you, you can pretty much use any email marketing software with any app builder.
Plan your email marketing and app strategy.
Add the HTML from the email marketing software, or an optin form in the app builder of your choice, or have your developer create it.
#2 In-app advertising
The most logical choice is to advertise in the app, to make money from the 3rd parties who advertise, but be careful that ads do not detract from user experience, because if they add frustration for the user, they will simply stop using the app.
Make the advertising an enhancement of the app instead of a frustration, because your profitability could depend on it.
Before settling on 3rd parties, plan advertising choices around these pointers:
Consider how users could have a more value-add experience when dealing with ads.
What kind of ads would your target audience consider non-disruptive?
How can ads tie back into your business?
Carefully review ads to ascertain whether users are likely to become frustrated; are they too clunky, ugly on the eye, or do they mess with the user experience? If they do, toss 'em.
Types of advertising:
Banners: the most popular method of app monetization type, this is an ad placed at the top or bottom of the screen.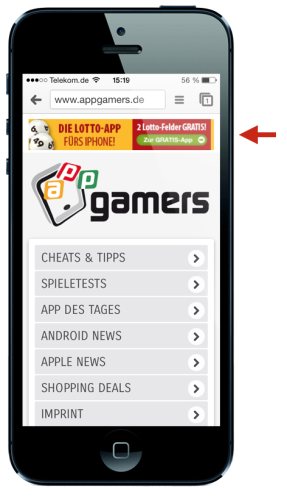 Image Credit: WPSpeedster
Be careful not to use banner advertising excessively, and make sure the ads are relevant to the user.
Interstitial ads: this ad type fills up the whole application window, hiding the app's content.
It's good at attracting attention, so it's very effective. With this type of ad, users can either skip the ad to get back to the application or click the ad to be taken to the ad content.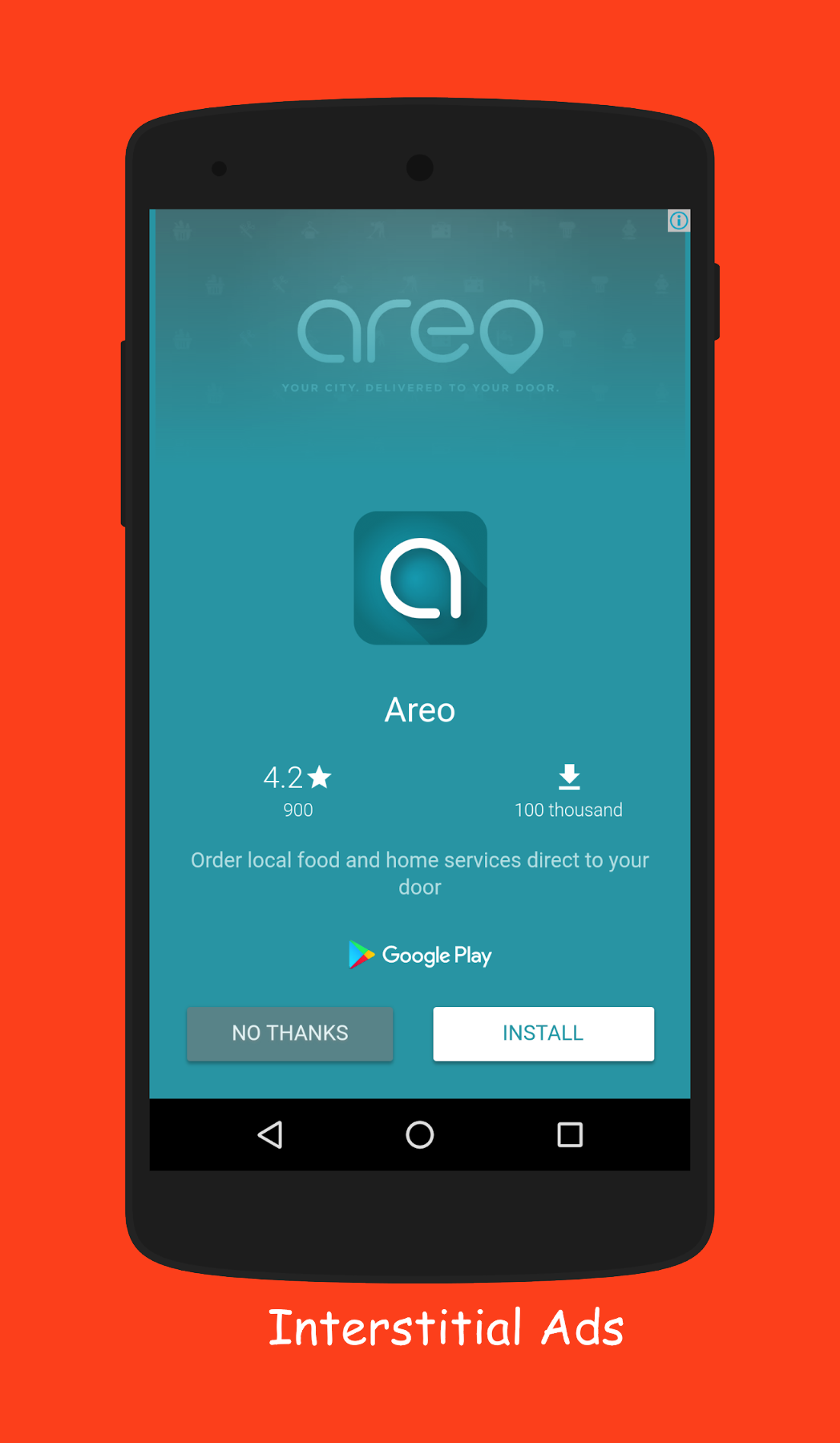 Image Credit: WPSpeedster
It's best not to inundate the user with this type of ad, and make sure they are shown at the right times. For example, between game levels.
Make sure they never disrupt the user's flow or stop them from what they need to do with the the app, or they're likely to simply stop using it.
Native ads: native ads are the least intrusive form of advertising because they blend into the app naturally, as though they are part of the app's content. They don't look like ads, instead it appears as if they are meant to be there. They could come in the form of an article, if the app works as a magazine for example. They are usually accompanied with "sponsored", "featured" or "recommended".
An example of this kind of ad is frequently provided by Facebook to user's timelines; you will recognize as you see it. These kinds of ads are placed in timelines and they are based on user behavior: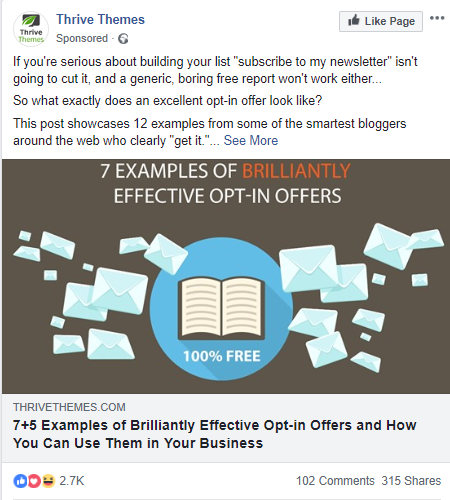 Video ads: There are various video ad formats, and the one you decide on must be based on researched user behavior:
Rewarded video ads:users decide to watch an ad in exchange for rewards. For instance, watching an ad can give them extra game life, or unlock a higher level, and so on. Because they tend to generate a more positive user experience, Chocolate Platform says they provide a 30-40% higher eCPM (Cost Per Mile).
Playable ads: these ads are interactive and non disruptive, and don't require downloading. They lead to about a 30% increase in retention and 120% higher conversion.
Venturebeat reports that full-screen video is the most effective.
Which type of advertising is most effective?
How to decide which type of ad is best?
Look at the eCPM (effective Cost Per Mile or per 1000 impressions/views); in short it's the calculation of the ad revenue of any given channel for a particular amount of impressions.
According to Appodeal, the eCPM for all countries of interstitials is $1.86, $3.08 for video ads and $0.25 for banner ads, and native ads command between 18% and 200% higher CPM's than do standard banner ads.
Best app monetization platforms
AdTapsy says that with an eCPM of almost $4.50, Google's AdMob is hands-down the best performing monetization ad service, but you can check other top services in a list provided by TheTool.
In-app advertising works best when:
You're not planning to make money directly from your users.
The type of app will result in lots of user visits, you have many users, and the amount of time spent on your app is long.
You collect demographic or behavioral data, or perhaps your aim with the app in the first place is to collect user data.
How to do it:
If you plan to use a developer to build the app, you can simply instruct them to add one of the top ad monetization networks to the app. If you are going to build the app yourself with an app builder, make sure the software offers an ad monetization network like Google's AdMob that can easily be included.
#3 Push notifications
Push notifications are messages which pop up on mobiles, on order to communicate to the app user in real time, similar to the traditional email broadcast message. The user receives the notification even if he or she is not currently in the app.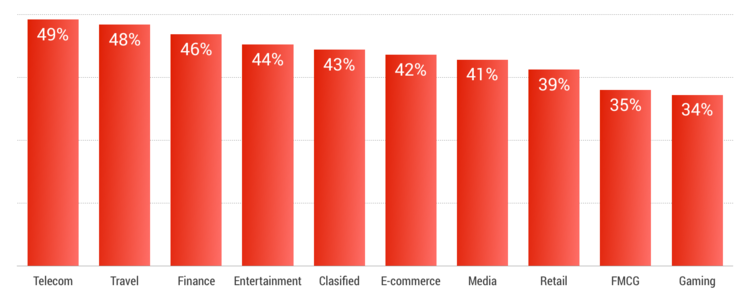 Image Credit: Tamoco
Mobile app push notifications have a good optin rate across all industries.
They are a way to engage with the user. But. They have also been abused and as such, many users will not consent to them, so it's vital to create a strong push notification strategy and be very clear upfront about the value they will provide to the user.
Push notifications in mobile apps work best when:
You wish to increase retention of users.
You plan to use push notifications sparingly, like once a week maximum.
You plan to ask users what kind of push notifications they would like to get instead of assuming they will be OK with anything that pops up.
How to do it:
It's simple to include when you have your own developer, but most good mobile app builders include push notification functionality.
#4 In-app buying
In-app purchases is a popular monetization model.
Here are some examples: if your app was a game, you could get users to pay for credits to continue to the next level.
Quickbooks Online is the cloud-based version of the desktop accounting software. Users can download the app for free for a trial period of 30 days. When the trial period ends, they can choose various subscription plans.
Tinder is another great example: users can choose to switch off ads by upgrading. If users run out of "likes" they have two options: either upgrade, or wait 24 hours to resume.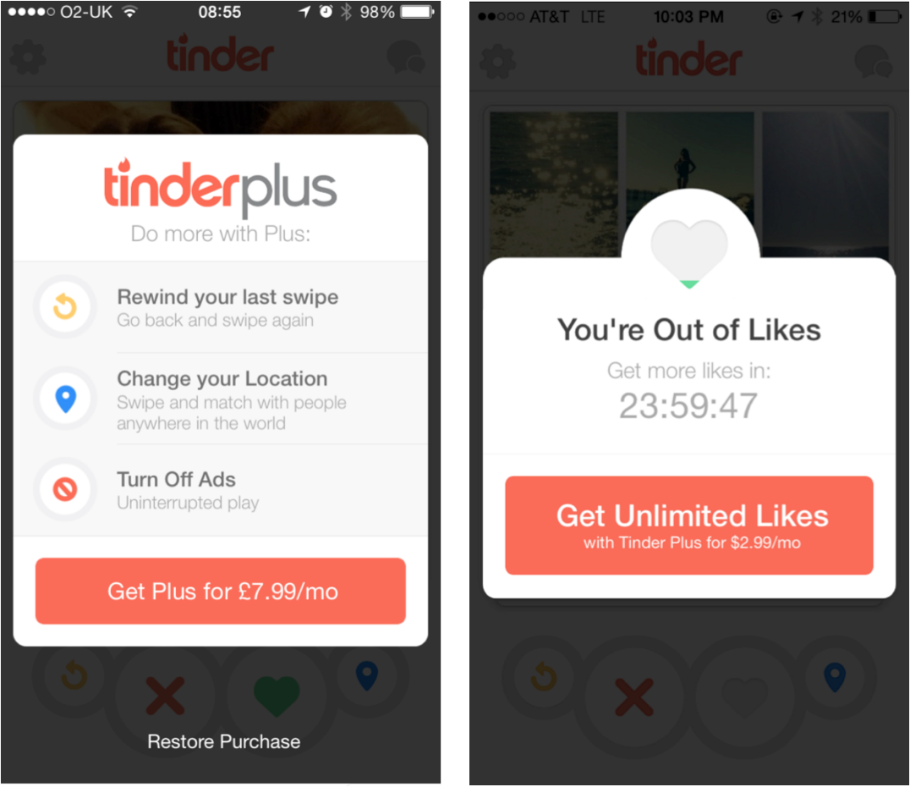 In-app purchasing works best when:
Your app is based on retail/shopping, services, subscriptions or gaming.
Users can upgrade to higher levels.
You can still make money after Apple or Google's fees.
In-app purchases provide value to app users.
The app is not based solely on in-app purchasing and there are other rich experiences to keep the user returning to the app.
How to do it:
Request your developer to include in-app purchasing, or add it yourself by using an app builder.

This idea is based on the upselling model: get users to download the app for free, provide a meaningful enough experience to entice them to either upgrade to a premium version of the app, or offer additional services at a cost.
The key to success with this option is that the free version of your app has to provide value.
Driving revenue from a freemium app is dependent on engagement.
Once users have tested out what the app offers, and have a meaningful experience, they are more likely to pay for an upgrade.
Evernote offers three versions of it's app, and all three can be started for free:

Each version offers more features than the previous, and each offers different upload limits and collaboration ability.
Free to premium mobile apps works best when:
You plan to offer a storage-based freemium with a limited amount.
Your app offers better or bigger features as users pay more to unlock them.
The free version lasts for a period of time, like 30 days.
Your goal is to have mixed revenue generated from both ads and users.
The premium features of the app offer undoubtable value.
The free version offers so much value that users are enticed to invest in the premium version.
How to do it:
Free to premium is listed as an in-app purchasing feature, and most app builders will have included the function. Alternatively, your developer can easily include it.
#6 Subscription-based
A subscription-based app monetization strategy is for content based apps like news or music.
Users pay a monthly fee for access to content.
Localytics says that the subscription-based app tends to generate more revenue per user than other app monetization strategies. The other major benefit of course, is that being a monthly billed model, your income from the app is more reliable. This model is also good as a way to engage more with users.
Many businesses who offer subscriptions reward users who commit to 6 – 12 months subscriptions.
But be aware that you have to continually add value-add content to make it worthwhile for users, and you need to create a good onboarding process.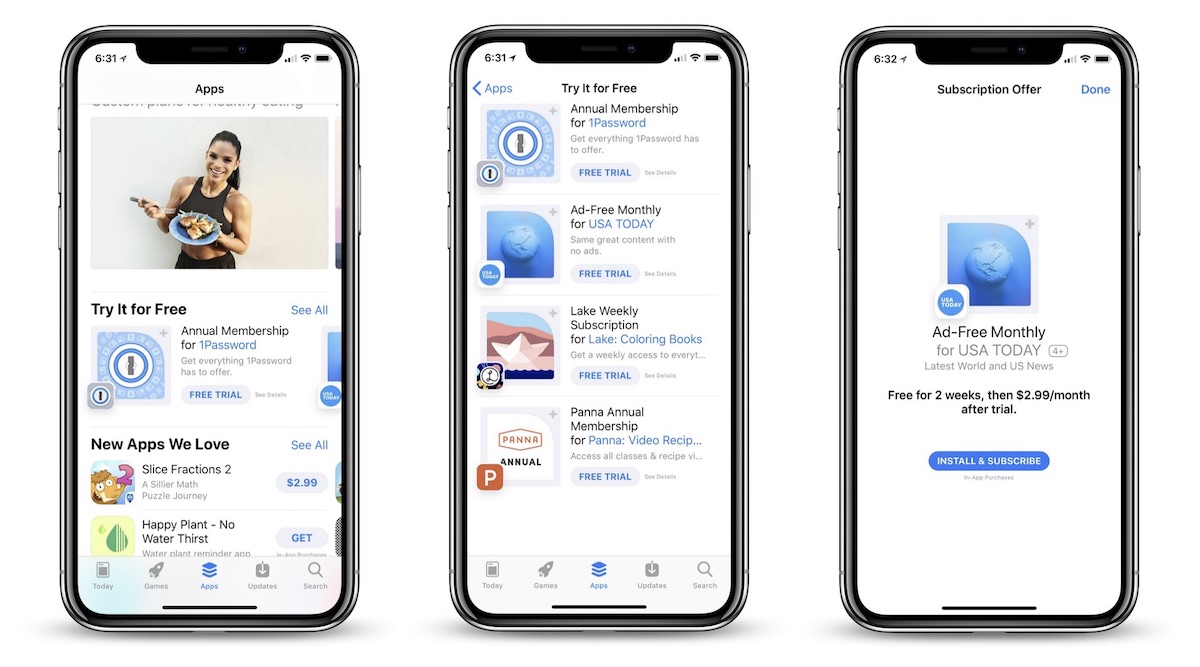 Subscription-based mobile apps work best when:
The app is content driven, for example, you offer news, music, video, and so on.
Service apps are updated regularly in order to keep delighting users.
The nature of the app encourages frequent, repeat use.
You offer a free trial period before charging, so that users can get a feel for the experience.
You have good support in place.
How to do it:
Your developer can include this feature, or if you plan to go the app builder route, make sure they offer the subscription-based function.
Now you have the app monetization strategy ideas, let's move on to the planning phase, which begins with your end goal: what do you want your app to achieve?
Why develop an app for your business?
Any business can build an app that adds value to those who download it. But you've got to get into the head of your target audience. I mean, you've got to know the tiniest details about what makes them tick.
That's the trick behind a good app that makes money.
The extent of your creativity determines the extent of the benefits of building an app for your business; there are so many ways an app can add value to its users, as long as it's users are understood intimately and catered for within the app.
Here's the rub: if you a) know your audience and b) can think creatively, you can build an app all by yourself, without a developer.
For instance, the App Institute App Builder provides app templates for just about any industry and purpose, and you don't need to be a tech wizard to have an app up and running within minutes: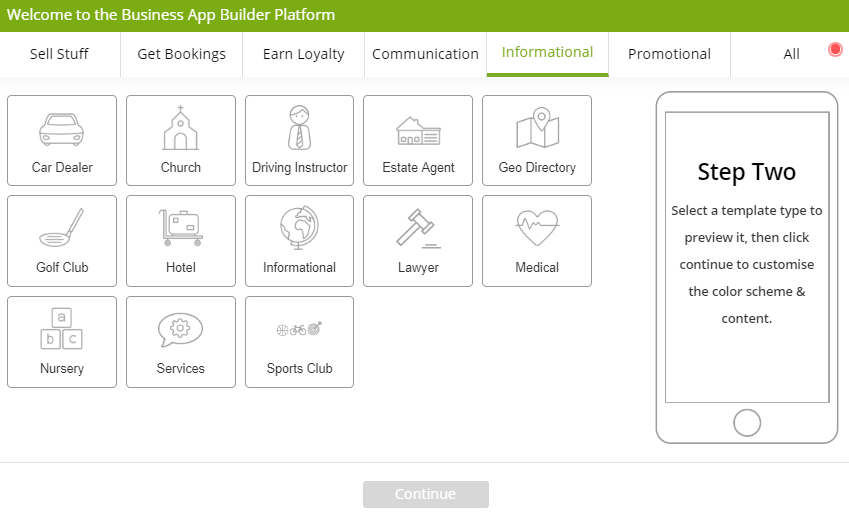 Tres Gretton-Roche, owner of Wired Cafe Bar, says that her customers have been impressed that a small business like her cafe bar, has developed an app that customers can use to order and pay with from their phones.
The app includes the menu, how to get to the cafe, contact details, and special offers.
Having an app gives this small business a way of differentiation in a crowded market, as well as increased awareness.
Gretton-Roche says that their average order size via the app increased by 22%, and the app has increased customer engagement and communication.
Here are a few of the more common reasons why a small business might want to develop an app:
#1 Collect data
Just as you would with email marketing software, so can you collect data from your app users, and analyze it.
#2 Direct channel of communication
Although email marketing is still alive and well, because most office workers for instance, receive 121 emails on average every day, every email has to fight to be opened.
People's inboxes are inundated. But with a mobile app, your business does not need to compete for attention.
If you can come up with ways for meaningful communication to your customers via an app, you'll get their attention more readily.
#3 Digitize loyalty programs
Loyalty cards are no longer a novelty, and because everyone's giving out loyalty cards which are now competing for wallet space, simplifying the loyalty program for customers by offering it in digitized format, especially if your customers are Millennials, is smart.
#4 Source of marketing
Mobile apps used as part of your online marketing strategy can boost your results:
Helps keep your brand in the mind of your target audience.
Cross marketing – promote your app to your email list, and promote lead magnets via your app.
Build trust with your customers by offering an app that adds value to their lives.
Increase customer engagement.
#5 Differentiating factor
Large businesses who build apps for their customers separate their brands from competitors, but how much more so a small business?
When a small business has developed their own app, it impresses their customers and builds credibility. The likelihood of your competitors building an app is low, and this is one area that you can really use to differentiate yourself.
#6 Adds value for customers
When a mobile app is designed with the user in mind; to help solve a particular issue they have or to enhance their lives, it adds value to them, and this increases loyalty to your brand.
#7 Improves customer experience
A carefully constructed mobile application may enhance the overall customer experience, or may even be designed with the sole purpose of improving the customer journey; for instance, when you make it easier for customers to pay, book, enquire, source, and so on.
How to build revenue-generating mobile apps
You may not think this section is relevant to monetizing an app, but if you don't get this part right, your app will never make money.
So. Plan. Plan. Plan.
Why? Well, you should know that 75% of app users stop using an app within the first 3 months.
People leave apps for different reasons: technical difficulties, irritating pop-up ads, a misleading app description, or because they lose interest.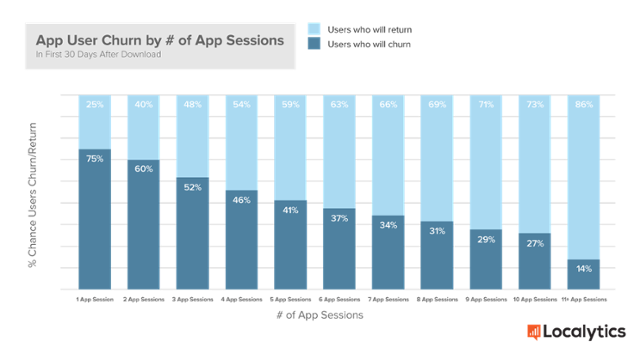 The reason people turn to apps is to fulfill specific needs and to get something that is not available on a website, or to get something that is easier to use via a mobile app.
The brutal truth though, is that users most often hit upon a mobile app which offers huge value in theory, but in actuality, is either difficult to use, has technical difficulties, or is thin in content.
In this case, you can kiss them, and their money, goodbye…
Which is why, when strategizing for revenue-generation, your aim must be threefold:
To create value for the user, PLUS
Use the app as a way to boost your marketing efforts, PLUS
So although the app must add value, don't forget that you're building it as a marketing and sales tool, even if you're not directly making money from downloads if you offer the app freely.
The key, always, is understanding your target audience intimately.
Now, based on the needs of your target audience, apps can fulfill one of these purposes:
Be useful
Act as an assistant
Plan and track something
Save time
Let's explore each one a little more…
Be useful
Useful apps are those which can be used to perform tasks while doing something else, like waiting in queues, on the way to work while sitting in traffic, and so on.
Ideas for a useful app:
Compile a list of scenarios your target audience are likely to find themselves in, and then think about how to combine solving a need they have together with providing value while they're waiting somewhere, and all they have is their mobile… perhaps they would like to be educated on a topic, learn how to speak a new language, find out how to do something, etc.
Act as an assistant
How can your app become a mobile assistant to your audience?
Ideas for an assistant app:
Brainstorm ways to create assistance: in the real estate industry, this could be an app that picks up the user's location and provides a list of properties for rent or to buy in the immediate vicinity.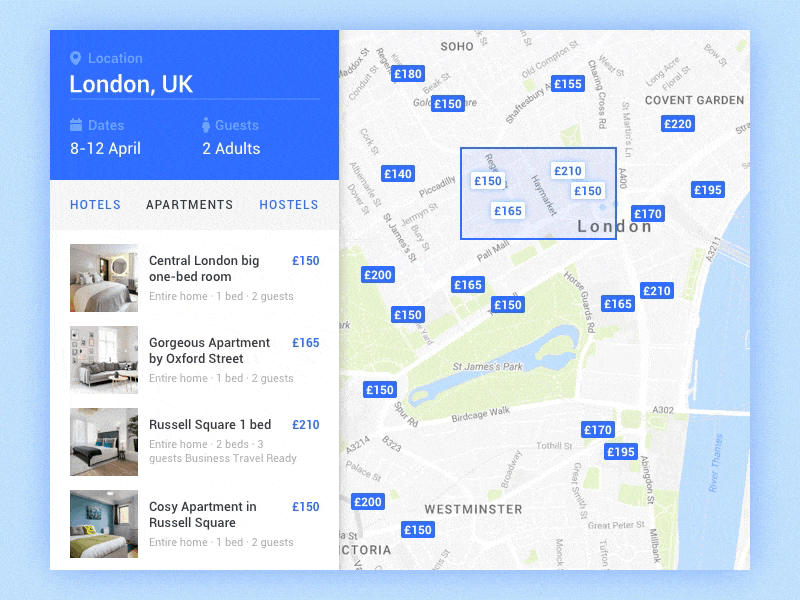 Image Credit: Anadea
An example of a real estate app that offers assistance.
For the advertising agency, it could be an encyclopedia of online marketing terms that your audience are not familiar with. The restaurant could provide assistance in the form of a virtual waiter: instead of displaying a menu, the assistant app could ask questions to recommend the best dishes according to what the user feels like eating.
Mint, a company that helps people manage their finances in one place, built an app that acts as a personal accountant, compiles balances, transactions, and all other financial stuff from accounts, and organizes it into one place. It helps people save money and provides bill-paying reminders.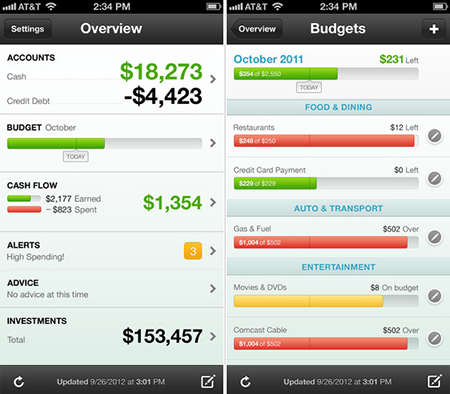 Plan and track something
A good example in this instance is the weight loss and fitness niche who can create a plethora of apps like planning the day's food and tracking calories consumed.
Ideas for a planning and tracking app:
My Fitness Pal offers a mobile app that helps dieters track what they eat and what exercise they do, with the ability of scanning the barcode of a product to find out it's nutritional details, making it easy to stay on track.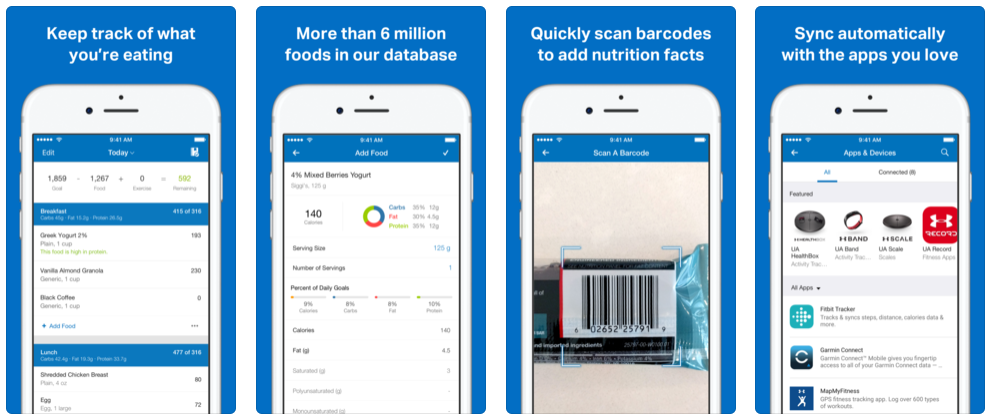 Your business could use planning and tracking apps to help customers achieve goals, track processes or take notes. A dog grooming parlour may provide an app that tracks visits and reminds customers to book the next session. A business service could offer an app to track projects and track results.
Save time
An app that helps your target audience save time is a sure winner.
Ideas for time saving apps:
Examples of time saving apps particularly for the smaller business:
Users can choose a gift and have it sent to a person without actually getting into the car, going to a store, choosing a gift and taking it to the recipient.
A way for a person to make a dish based on the ingredients they have at home instead of needing to find a recipe and drive to the shop to buy the necessary ingredients.
A productivity or project management app.
There. That should do it.
Now go build your app.
A recap: main take-away
Planning is vital for app monetization strategies to succeed.
In order to make money from the app your small business builds, it has to add value, attract users and keep them using it. A strategy to meet these objectives is essential, otherwise no matter the app monetization strategy you implement, it will not generate revenue.
Apps have to either be useful, assist the user, help the user plan and track something, or save time.
Ideas to monetize your app:
Combine your app marketing plan with your email marketing strategy.
Advertise in the app.
Use push notifications to increase engagement.
Think of ways to get users to buy from you while they use the app.
Make the app free to download, with the option to upgrade for more features.
Offer subscriptions to access monthly content.
---