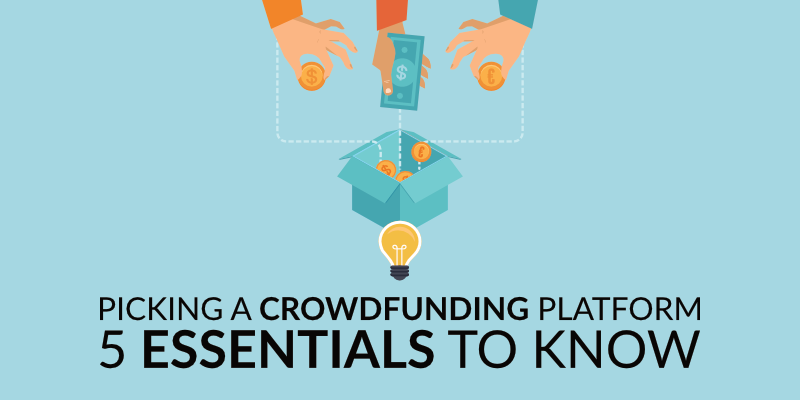 People decide to start their own crowdfunding campaigns for a variety of reasons. Nonprofits and individuals looking to fundraise for a specific project or in support of a particular issue have all found great success online.
For nonprofit organizations, crowdfunding campaigns have also become a smart way to increase their public visibility. Huge audiences can rally around the perfectly conceptualized, timed, and marketed campaign.
The major benefit of crowdfunding campaigns as opposed to other fundraising ideas is that they're extremely flexible. There are as many different strategies out there for conducting a winning crowdfunding campaign as there are campaigns themselves, but a few key methods and platforms have emerged as the most effective for all kinds of projects.
This relative flexibility means that a variety of elements might impact your crowdfunding strategies. A haphazardly thrown-together campaign rarely succeeds, so take the time to consider the specifics of your campaign before getting started.
The platform you choose to host your crowdfunding campaign will play a huge role in your strategy and success. There are 5 essential things to consider before choosing a crowdfunding platform:
Your specific crowdfunding goals
Your crowdfunding campaign's purpose
The crowdfunding platform's structure
The platform's customization options
Restrictions of the platform
As you research potential crowdfunding platforms, run through these considerations for each. How will all of the moving pieces fit together, and will the specific characteristics or abilities of each platform help or hinder your campaign overall?
Let's walk through each consideration in more depth and cover a few crowdfunding essentials.
Your specific crowdfunding goals
When you dive headfirst into a strategic project without clear and definable targets it becomes all too easy to lose track of your direction and progress. Thus, setting fundraising goals at the beginning of your crowdfunding planning process will help set you up for success.
Defining the exact financial goals of your crowdfunding campaign before choosing a platform provides a few important benefits:
Concrete goals to direct your strategies towards
A specific benchmark to measure your progress against
A well defined sense of urgency to maintain momentum and energy
Of course, your fundraising goals will vary depending on the nature of your project. If you're an individual simply looking to use a crowdfunding campaign for a personal fundraiser, your exact goal may be different than that of a nonprofit raising funds for their annual budget. Every project requires a different method of determining its financial goal.
These are some general ways that fundraisers identify their specific goals for crowdfunding:
Compiling a detailed budget for a specific project or program and using it to determine a concrete financial goal.
Adjusting sales goals based on prices and fees when offering merchandise to raise money for individual or organized projects.
Reviewing performance of your past crowdfunding campaigns to determine reasonable targets.
For any kind of nonprofit or individual crowdfunding project, it's easy to settle into a false sense of security, trusting generous donors around the internet to simply find your campaign and get involved. True, social media and mobile marketing strategies for fundraising have made it easier to reach wider audiences than ever, but without a concrete financial goal, your campaign runs the risk of losing focus.
Remember, your campaign's goals should include both financial targets and specific deadlines. Think carefully about both before researching platforms, since it might become relevant as you make your choice.
2. Your crowdfunding campaign's purpose
This essential piece of information might seem a little self-evident, particularly to individuals who are using an online fundraising platform for the first time. Of course you know why you want to raise money online — to support your creative project, raise funds for a personal need, or pool donations to contribute to a worthy cause.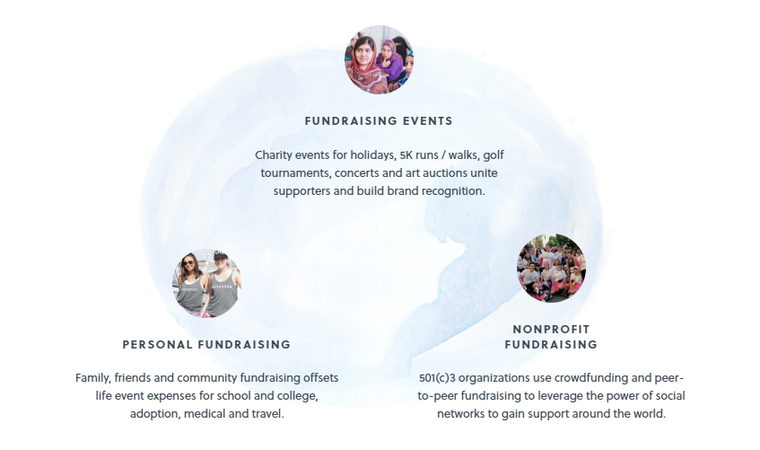 However, it's crucial that you fully understand your mission inside and out. This extends beyond simply the projected final result of your campaign. Too many smaller organizations with little experience in online fundraising make the mistake of neglecting this step in planning their crowdfunding campaign.
The exact purpose of your campaign will have a major impact on what platform you ultimately choose. That's because not all crowdfunding campaigns are designed to support the same types of campaigns or reach the same types of audiences. Crowdfunding platforms generally operate through one of these fundraising models:
Merchandising. This fundraising model lets you offer t-shirts, sweatshirts, and more while also accepting traditional donations for your project.
Rewards. Similar to merchandising, you offer a tiered assortment of different physical, digital, or non-tangible rewards in exchange for donations of particular amounts.
Donations. The traditional form of fundraising, these campaigns simply raise money to support a particular cause, charitable mission, or personal project.
Lending. Raise a crowdfunded loan for your project, and pay it back through a peer-to-peer style platform.
Taking the time to lay out the comprehensive purpose of your campaign will help as you choose which platform to use. It's also important to create an effective strategy for marketing and promoting your campaign later on.
Remember, your campaign shouldn't simply be a general fundraiser. Along with the specific goals we discussed above, a fully-conceptualized crowdfunding mission is essential for motivating donors who might be otherwise be completely unfamiliar with your work.
3. The crowdfunding platform's structure
As you begin to research all the crowdfunding options out there, it's time to consider the pricing and fee structure of each prospective platform.
This is one of the most important elements to consider during your research because it has the most direct impact on your final fundraising results. Fees and payout structures are necessary for crowdfunding platforms to maintain their operations and make profits, but slight differences can have a huge effect on your campaign, even down to the marketing strategies you pursue.
Crowdfunding platforms follow a wide variety of fee structures, so each you examine will likely be different. Keep in mind, though, that the fees themselves typically fit into these two categories:
Credit processing fees. Often split between the processing service and the campaign platform, these fees are a small percentage of the donated amount. This means each donation to your campaign is actually slightly less than what was initially donated, but many platforms offer donors the choice to cover the processing fees themselves for you.
Percentage platform fees. These fees are how platforms make most of their money. A percentage fee is calculated and deducted from the total amount of money you raise. The exact percentage varies from platform to platform, so carefully consider how the payout from your total goal might be impacted.
Even though most crowdfunding platforms offer very similar fee structures, not all platforms are created equal. Depending on the purpose of your campaign, you might receive a larger payout from your efforts on one type of platform versus another.
For instance, merchandise and product crowdfunding platforms often offer adjustable percentage fees. This means the fees you pay will depend on a number of factors, namely your specific fundraising goal. Better yet, the price of your custom products can be set to maximize your profit margin and cover all the platform fees.
There's a wide range of platforms out there to choose from, and each has its own unique variant on the standard pricing structures: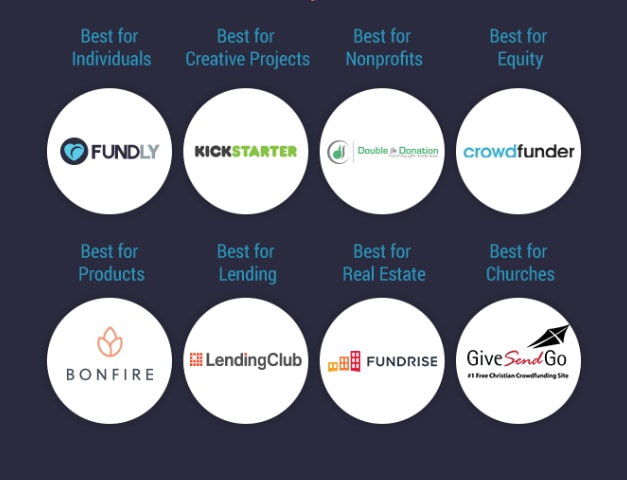 Explore Fundly's rundown of the top 40 crowdfunding platforms to get a sense of the range of pricing structures out there and how they vary by platform type.
4. The platform's customization options.
We've touched on the importance of marketing and promoting your crowdfunding campaign a few times already. The customization options of any crowdfunding platform you consider will have the the most direct impact on the effectiveness of your marketing strategies.
Your crowdfunding campaign's page doesn't simply need to look good, but it also needs to reflect the nature of your mission and the identity of your organization.
Effective crowdfunding platforms should offer a number of customization options to help you better design, brand, and promote your campaign. You should be able to do the following:
Customize your campaign description to describe your mission, goals, and any rewards you might offer for donations.
Upload your organization's logo to reassure donors of the campaign's authenticity.
Add custom media, including photos and videos, to illustrate your project and give the campaign a vision.
Easily share your campaign across popular social media platforms, and let your donors do the same.
Don't underestimate the power of customizable visual media for marketing and promoting your campaign. Visual storytelling is central to how we interact with the internet; it grabs our attention and encourages emotional connection. Just think of how many times you've seen pictures of cute kids or animals shared online! (This actually makes crowdfunding an excellent fundraising idea for kids and schools.)
Words are useful for explaining the specifics of your campaign, but strong visuals can communicate your mission in seconds and generate an emotional response. Photos and videos of your staff, constituents, project sites, and merchandise products are good choices.
Your crowdfunding platform should actively make it easy to customize your campaign page with media. It should also provide you with tools to get you started promoting it right away.
5. Restrictions of the platform
After defining the specific goals and purpose of your campaign, researching the fee structures of various platforms, then checking out the customization options on your favorite options, it's time to narrow your search further..
Create a shortlist of two or three potential crowdfunding platforms that best suit your goals and strategy, and carefully examine any additional restrictions they include. This can ensure that you won't be surprised halfway through your campaign by any new or unexpected rules or fees. A few common crowdfunding platform restrictions include:
Conditional final payouts. Some dominant platforms in the world of crowdfunding don't charge donors unless you meet your total goal, meaning you don't receive any money unless you hit your target. There are all kinds of variations on this rule, so carefully weigh your options and the feasibility of your financial goal.
The inability to adjust your campaign's duration. While almost all platforms require a concrete deadline, many don't allow you to easily relaunch your campaign if it doesn't reach its goal the first time around.
Complicated or restricted direct orders. Many crowdfunding platforms offer separate options to place direct orders of your custom merchandise to sell at events, but they then hold you to unreasonable order minimums or prices. The key is to find a platform that allows you to order custom shirts with no minimum, or offers some sort of discounted pricing on bulk orders.
No matter your campaign's exact goal or purpose, the most important characteristic to look for in any crowdfunding platform is flexibility. Fewer restrictions like the ones listed above, plus adjustable fee structures, and plenty of customization options all signify a strong choice.
Depending on your campaign's mission and the amount of money you need to raise, you might choose any type of crowdfunding platform. From selling custom t-shirts to soliciting donations for your nonprofit organization, crowdfunding can address a wide range of fundraising needs.
By carefully considering the specifics of both your needs and the features of each platform, you can ensure you make the best possible choice. Remember, a crowdfunding platform should act as a fundraising partner and make it easy to raise money, not harder!
---