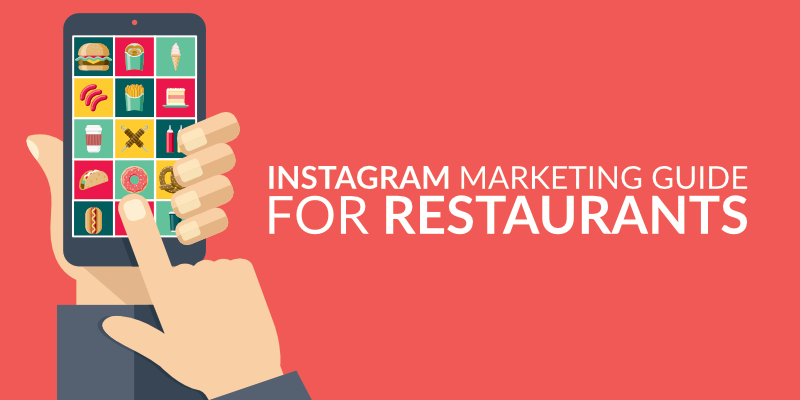 The Guardian published an interesting report a couple of years back that chronicled the changing face of food. In the article, columnist Ruby Tandoh points out that a growing number of people no longer prefer "unphotogenic" breakfasts like cereals and marmalade on toast but have instead switched to alternatives like avocado on toast that are more attractive to look at.
So what exactly is causing this? For a long time now, eating out has been more about the experience than the food itself. But with the growing popularity of Instagram, what food looks like is as much important as its taste.
With more than 200 million people visiting Instagram each day, the platform is both a challenge and an opportunity for a restaurant business. In this article, we will take a look at actionable restaurant Instagram marketing strategies to help your business grow.
Our top restaurant Instagram marketing tips
Restaurant Interiors
People love to check in and share photos of places they go out to eat. Restaurants that have mesmerizing interiors, captivating signboards and unique amenities lure patrons to capture these on photos or videos which are later shared on Instagram.
The image below is from Koi, a Japanese restaurant in France that has a unique black-and-white interior inspired by Yakuza tattoos.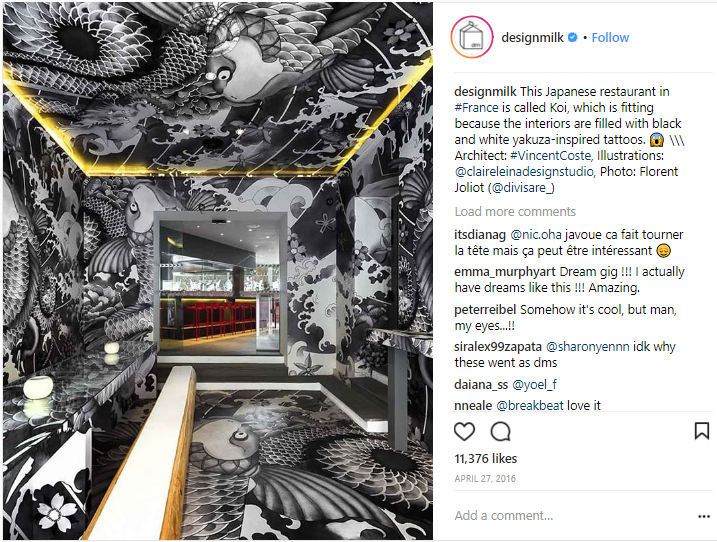 Such unique interiors are captivating and customers love to share them with their followers on Instagram.
Theater
Do you have an open kitchen for customers to watch their food being cooked? A number of new restaurants have been capitalizing on this 'theater' experience to lure customers in.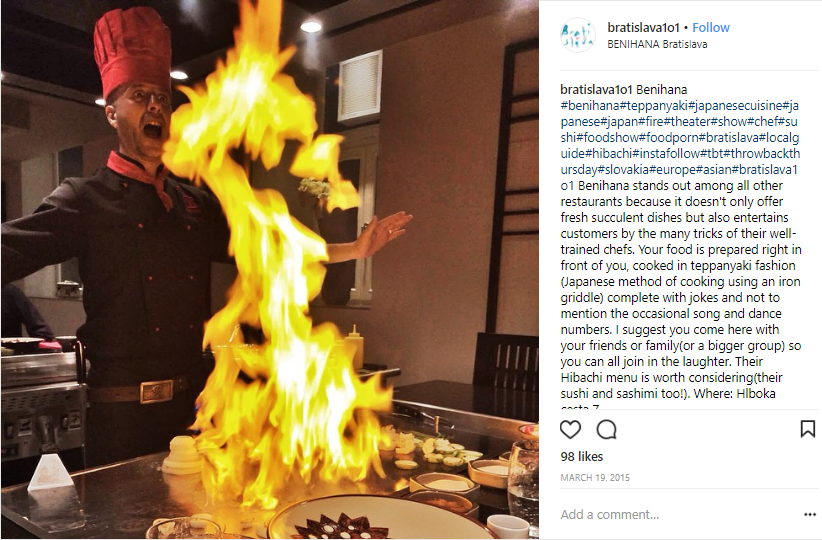 One reason the "theater" is so important to your restaurant Instagram marketing strategy is because it takes your customer's culinary experience one notch further up to also provide wholesome entertainment.
Ambience
Great ambience is something customers cherish. The lights, music and decor – they all add up to the experience and make your restaurant special and 'Instagram-worthy'.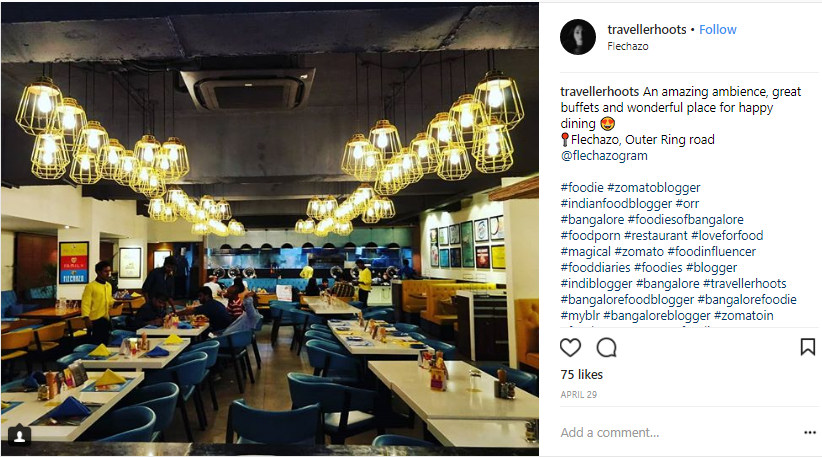 The points mentioned above address your customer's experience from an experiential perspective. The success of your strategy however hinges on the food you serve. As the Guardian article above proves, diners today expect their restaurants to serve food that is not only tasty but also attractive to look at.
Food Presentation
The objective of food plating and presentation is to enhance its aesthetic appeal. This is influenced by a number of factors including the plates you use, how you slice your meat and the way you drizzle the sauces or sprinkle the seeds.
If you run a cafe, latte art is an extremely popular method of coffee preparation that has mushroomed primarily due to Instagram.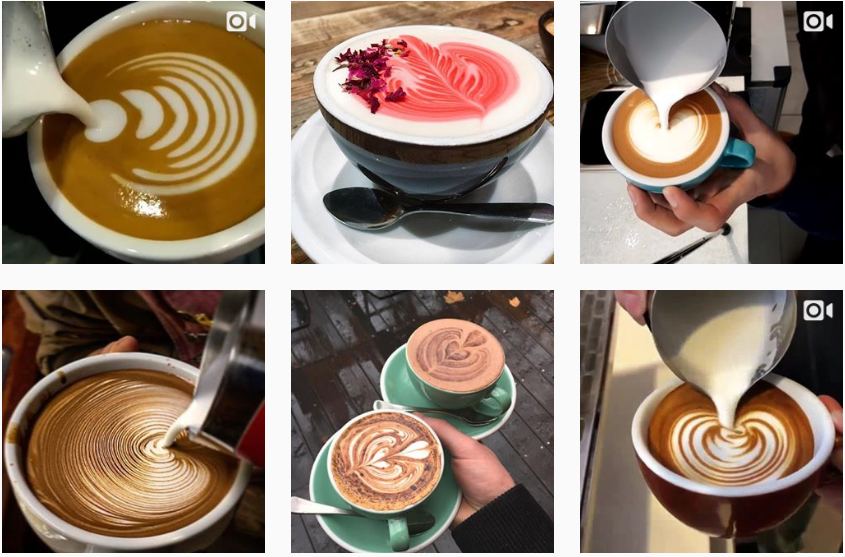 Molecular gastronomy is another emerging art form that is becoming popular among high-end restaurants. Customers love experiencing food that is not just about the taste, but also the way it is processed and prepared.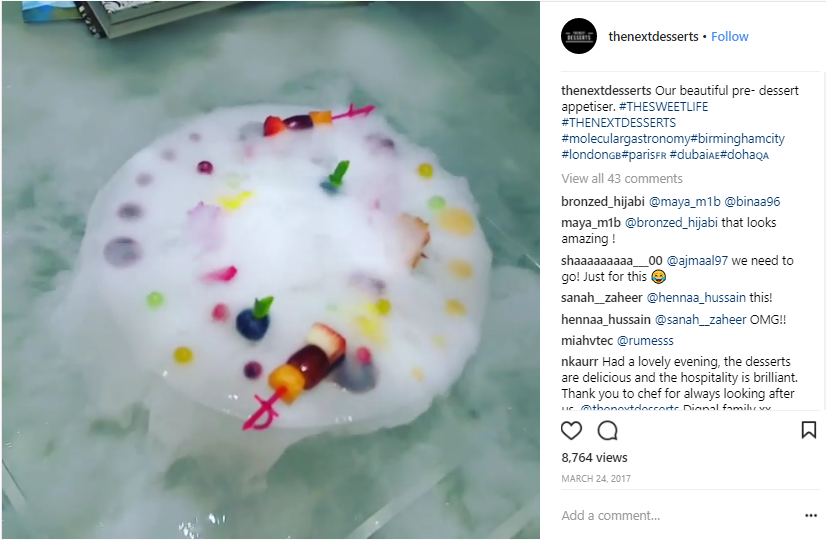 It may be a good idea to hire a restaurant consultant to advise you on ways to improve your restaurant on the factors outlined above. These pointers are essentially facilitators that enable your customers to share and spread the word about your business on Instagram.
In addition to this, it is also important for restaurant Instagram marketing to own a profile on Instagram. There are two reasons this is important. Firstly, your customers may not be professional photographers. Having a presence on Instagram allows you to share professionally captured pictures of your restaurant interiors and food on the platform. Secondly, Instagram is a valuable dissemination platform and lets you broadcast news about upcoming events at your restaurant.
Here are a few actionable strategies to help your restaurant get more visibility to your Instagram posts.
Find the right angles to your photos
Pizzas are best captured directly from above while burgers look the best when they are captured at a 45 degree angle. The angle you capture your food can play an important role in its success on Instagram.
Encourage natural lighting in your restaurant
Food photographs look the best under natural light with a neutral background. In addition to capturing photos under these conditions, you may also look at enabling similar ambience for your customers so that their amateur photographs come out well on Instagram.
Use the right hashtags
Instagram allows its users to follow updates on specific hashtags. Using the right hashtags can help your restaurant improve its visibility among your target customers. Although you may tag your posts with as many as 30 hashtags, it is a good idea to restrict yourself to five or ten hashtags on every post.
Influencer marketing
This is one of the most effective marketing strategies for restaurant businesses. Influencers are essentially social media celebrities who enjoy a large following on these platforms. Their reviews can make or break your reputation online.
In the food industry, there are a number of influencers, including regular customers, who have earned a reputation as honest food critics. Inviting these influencers to your restaurant can help your business spread the word about your service.
Co-marketing
Co-marketing is similar to influencer marketing except for the fact that this is barter-based. In this strategy, restaurants partner with other businesses catering to the same demographic to cross-promote their offering. The idea is to find a business with a similar follower-count as yours and one that caters to your demographic. As your following grows, you may reach out to bigger businesses with larger following for similar partnerships.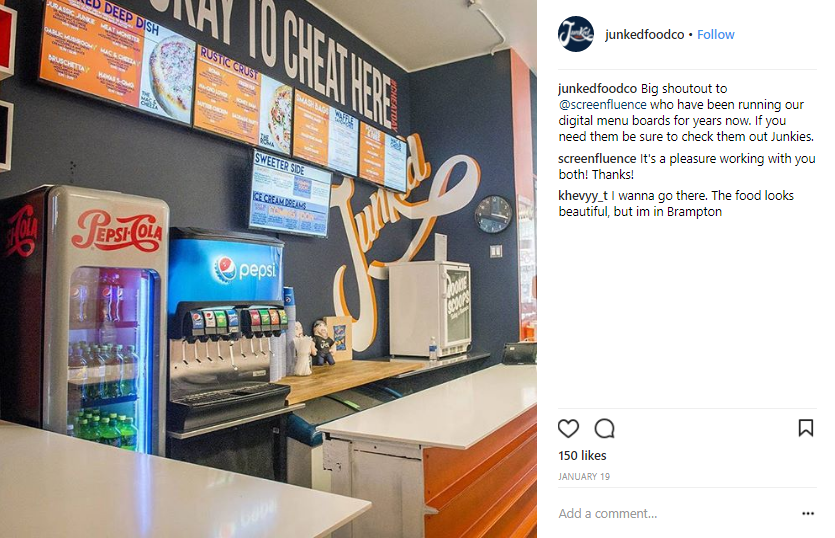 Engaging with followers
Responding to comments is not just good etiquette; it can also be a good marketing strategy. Tagging your followers while responding to them makes your comment more noticeable. This elicits better responses which in turn brings about higher levels of engagement on your posts.
With over a billion registered users, Instagram is undoubtedly one of the biggest platforms for a restaurant business to reach its customers. Have you tried the strategies mentioned here in this article? Share your experience in the comments below.
Author Bio
Anand Srinivasan is the founder of Hubbion, a suite of free business apps and resources. Their Email Finder is free to use and lets you find the email of any person.
---