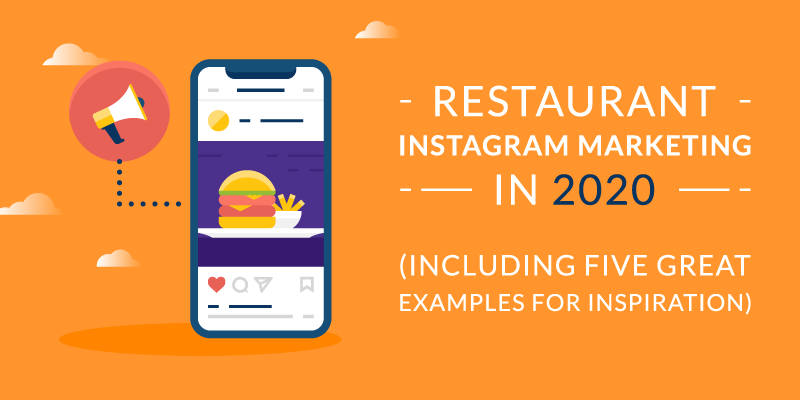 In our recent article Restaurant Marketing Ideas: The Top 31 Ideas to Grow in 2020 we covered social media, this article is a deeper dive into Instagram for restaurant marketing.
Instagram is the perfect platform for restaurants to gain exposure. It is well known for being a place where people share photos of food and is commonly used by people searching for their next place to eat.
The key to success is developing a strategy to build your audience and then encourage them to visit your restaurant.
In this article, we have gathered some of the best tips available to help you come up with a powerful restaurant Instagram marketing plan of your own, as well as highlighting some of the best restaurant Instagram accountants.
Take Great Photos, Use Stories, and Post Often
The most crucial part of your Instagram marketing strategy is to post great content frequently on both your profile and your stories. Consider posting daily on your profile and updating your story multiple times throughout the day.
While this sounds daunting, bulk preparing content allows you to get a whole weeks' worth of posts done in a short amount of time. You then don't have to worry about it until the next week.
To effectively bulk prepare content, you first need to collect a large selection of photos. Take pictures of your food, restaurant, staff, and user-generated content.
You can then use a third-party scheduling tool like Later or Autogrammer to schedule and automatically publish posts. Or you can use a simple content calendar spreadsheet to store what you will post each day and then add it to Instagram manually.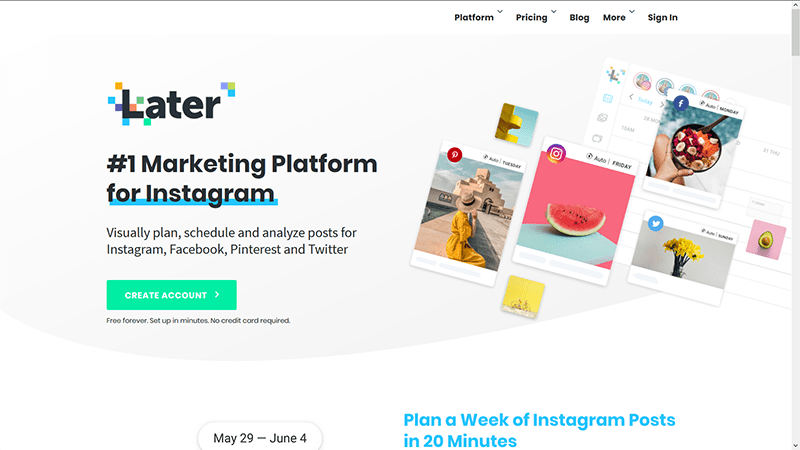 If you want to keep some spontaneity, you can still add time-sensitive posts as they occur and just push back your previously scheduled content.
Interact with Followers
Social media is all about communicating with people. Restaurants with effective strategies are often those that are actively involved with their audience. This will help you build relationships that could lead to more revenue, as well as increase your reach on the platform.
You can interact with followers by replying to comments on your pictures. Keep an eye out for questions from users and be ready to answer them. You can even respond to general comments where appropriate.
Another way to increase interaction is to share user stories. Whenever a user tags you in an Instagram story, you will see the option to reshare it. Doing so has several benefits, including building a relationship with the person who created the post and giving your audience more content.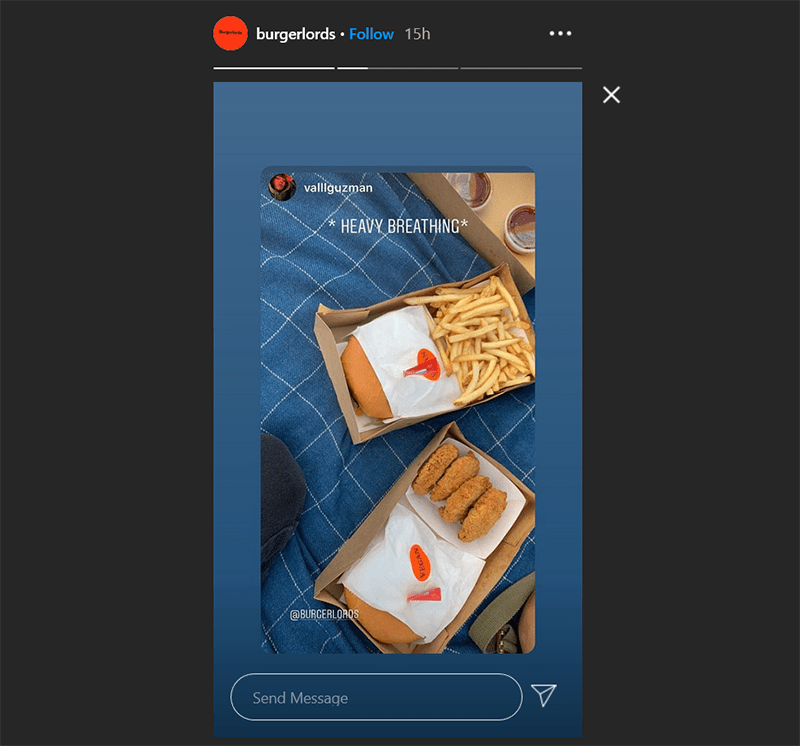 You can also use user-generated content on your main profile.
We all know that people love to take photos while eating out. If you can gain permission to use these images, you'll get access to a ton of free content to share.
Finding user-generated content is easy. Your Instagram profile has a section that shows you all the posts you have been tagged in. Also, consider searching for #[yourrestaurantname] to see if people have posted without tagging you.
Once you have identified great user-generated content, just send each user a DM saying you appreciate the post and that you'd love if you could share the content. Make it known that you are happy to provide credit via a tag. You'll likely find that most people are more than happy for you to share their posts.
One of the easiest ways to expand your Instagram audience is with hashtags. These help your restaurant show up when people search for keywords related to your restaurant.
Instagram allows you to use up to 30 hashtags on a single post. Consider making a list of the ones most relevant to your restaurant and reusing them when appropriate.
The most effective hashtags for your restaurant will likely be ones related to your local area. Using these tags means that people searching for restaurants are more likely to see your posts. You can also use ones associated with the type of food you serve, those related to publications or bloggers hashtags, or relevant trending hashtags.
There are two ways to find hashtags. The easiest is to look at the accounts of restaurants and food bloggers in your area and see which ones they are using.
Alternatively, when you search for a hashtag on Instagram, it highlights a list of related hashtags.

Use the Right Influencers
Instagram influencers can help you build your reach on the platform. If you can convince someone with a large following to post about your restaurant, you will inevitably increase your audience.
There are a lot of influencers. The key is to find the ones that are the best fit for your business.
Don't just look at follower count. While you should consider audience size, the right audience is the most crucial factor.
For example, instead of prioritizing a nationwide account with hundreds of thousands of followers, you may be better off partnering with local bloggers even if the total number of followers they have is far fewer.
The Brooklyn Foodie account in the screenshot below, for example, is probably a better choice for restaurants in Brooklyn than a larger account that targets the whole of New York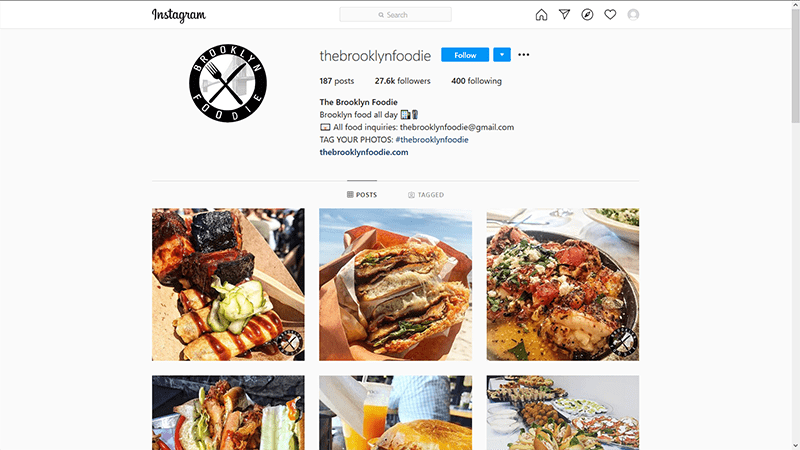 Going for small accounts has another benefit—the exposure costs far less. If you can find hobbyist bloggers with medium-sized followings, you may find that a free meal at your restaurant and a tag on one of your posts is enough to get them on board.
Try reaching out to several bloggers in your area to see what you can find. Beyond follower size, here are other things to look for:
Quality of posts. Is the blogger going to able to show off your restaurant in the best possible way?
What is the audience interaction like? If they have a large following but almost no interaction, it could point to an uninterested audience or fake followers.
Previous content. Consider whether the other posts they share are ones you would be happy having your restaurant associated with.
Pin Stories with Useful Information
On Instagram, it is possible to pin stories to your profile. You can use this feature to provide information about important updates relating to your restaurant. For example, you could give information on your menu or how people can order delivery.
Remember that people can swipe up on stories and be sent to a link of your choosing. Use this feature to direct people to a relevant webpage. You can see how Five Guys uses this feature in the story below. They have pinned stories about their Spotify playlist, information about ordering food, and images of their burgers.

Partner with Relevant Businesses
Partnering with non-competing businesses is another way to grow your audience. You could join up with other restaurants to create joint dishes. Or, you could partner with a related company, such as breweries, coffee shops, bakeries, or local festivals.
Once you have created these posts, you share them on your respective Instagram accounts in the hope that existing followers of one brand will go on to follow the account of the collaborator.

Run Enticing Contests
Many restaurants use contests to grow their audience. While they can be effective, the downside is that audiences have probably seen hundreds of Instagram contests in their life. Making yours stand out can be difficult.
Consider offering as generous a reward as you can. It should be at least enough to cover a full meal for two people. Anything less and you will put some of the financial burden on the winners, which makes your prize significantly less attractive.
Running the contest is easy. Create a post with an image of your food and then include the instructions in your description. This should make it clear what your prize is, how people can enter, and the deadline.
The most common way for people to enter is to follow your account, like the photo, and then mention a friend in the comments. By including all three steps, you ensure that you are increasing the exposure of your restaurant, not just advertising to existing followers.
Think Like a Marketer
It is one thing to have an Instagram account with plenty of great content and lots of followers, but how do you do convert this into people coming through your doors?
Typically, the way you drive conversion through social media is via links. For example, a link to your menu can help people find out more about your restaurant and make a decision to eat there. Or a link to your reservation platform will make it easy for people to book a table.
Instagram makes it difficult for you to add links to your content. You can only add one to your profile, and it's impossible to add links to posts. Even if you add the URL in text form, Instagram doesn't have a copy and paste feature, so visitors are left having to type out your address into their browser—something that most people are unlikely to do.
The good news is there is a workaround. Products like Link Tree or Link In allow you to add a single link to your profile that takes people to a webpage that connects to all the content mentioned in your posts.
Below is the Link In profile for Shake Shack. The image shows the page visitors are sent to when they click on the profile link. Users can then click on the image that corresponds to the post with the content they want to see.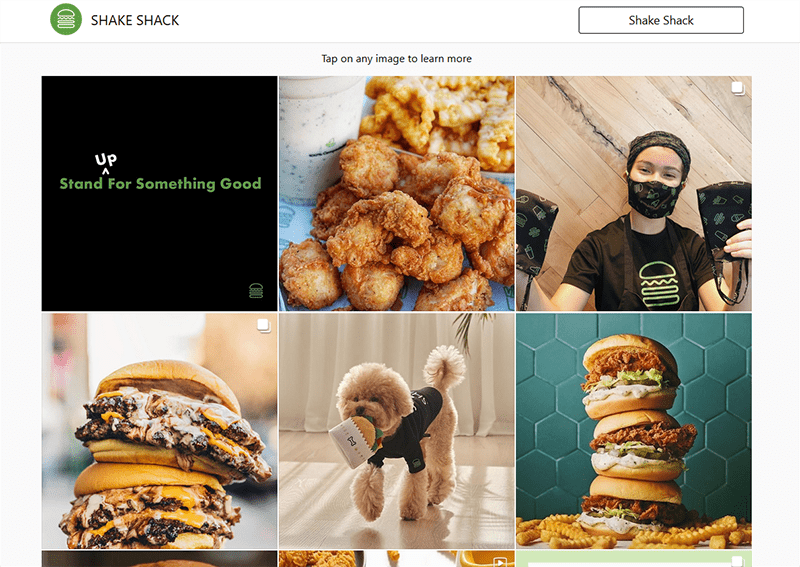 Borrow Inspiration from Restaurants You Love
Our final tip is to follow restaurants with social media strategies you love. Look at the types of photos and stories they share, the tone of their description, their hashtags, and the type of links they include.
You don't want to copy other businesses, but keeping an eye on successful restaurants can help you spot new Instagram marketing trends and techniques early. All you have to do is add some of these restaurants to your Instagram feed where you will have a constant source of inspiration.
Here are five restaurants we think are doing a great job on Instagram that you can start following for ideas.
Shake Shack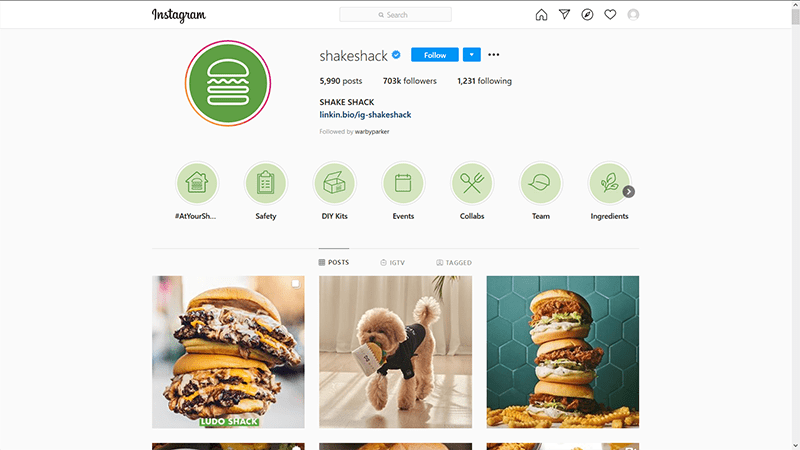 Shake Shack does plenty of the things mentioned on this list, and that makes it an excellent choice for restaurant inspiration. It has:
Daily images of a wide variety of content, including food, user-generated content, and restaurant updates.
It uses Link In to add a list of links to relevant content. It directs users to these links in the image description.
It partners with organizations such as Coachella and the charity No Kid Hungry.
Ruya London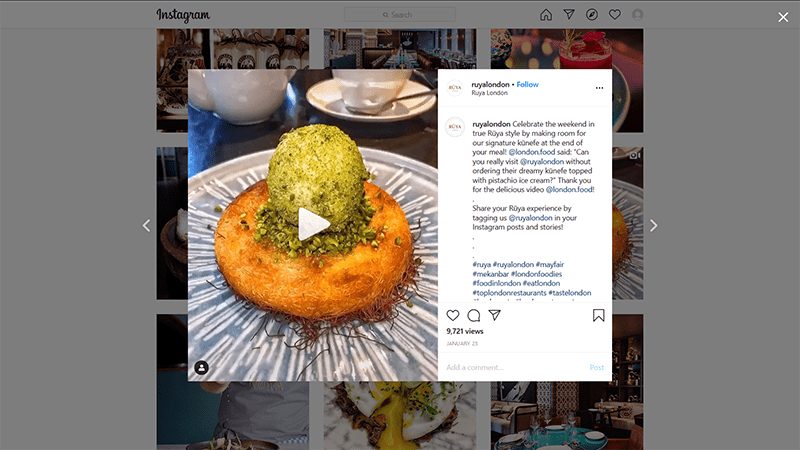 Ruya London proves that even high-end restaurants can benefit from a well-planned Instagram strategy. Here is what they do well.
The account mixes up images of food with staff profiles to help tell the story of the restaurant.
It uses lots of relevant hashtags targeting location-specific keywords, cuisine specific keywords, trending keywords, and influencer keywords. The hashtags are related to each post.
There is plenty of reshared content from local influencers and food-bloggers.
Ribalta Pizza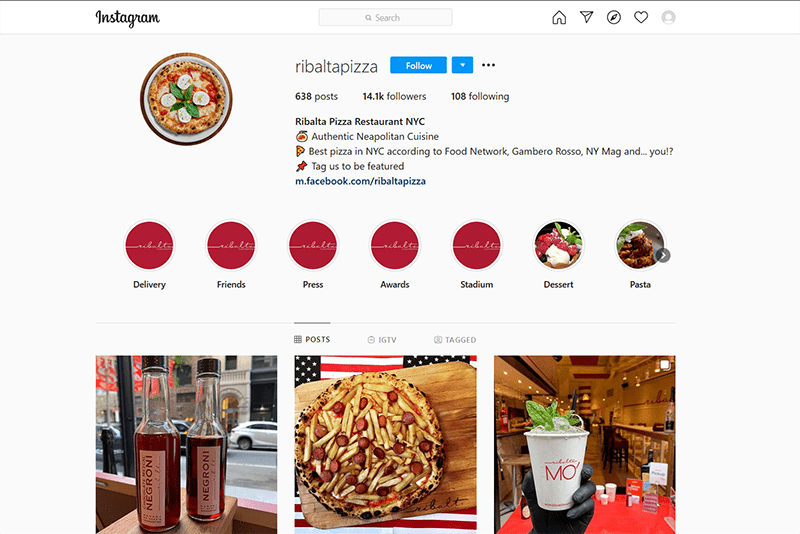 Ribalta Pizza is a New York-based Pizza Restaurant. Here are some effective tactics they use:
The description asks people to "Tag us to be featured." This is an excellent way to generate content they can share. It may also encourage people to share posts about the restaurant.
The account has a ton of information about the restaurant in the pinned stories section.
Many of the posts include a phone number people can use to order takeaway pizza.
Borough Market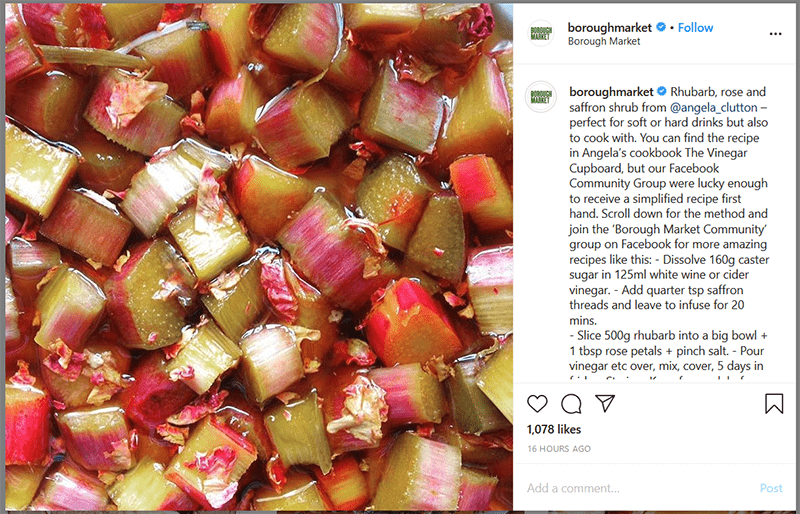 Borough Market is a food and drinks market in London. While not technically a restaurant, its Instagram account has a ton of great food-related content.
The descriptions on the Borough Market account are often long and contain useful information for followers to interact with. For example, the post in the image above includes a recipe.
Many of the posts have calls-to-action, whether to follow other Instagram accounts, click on links, watch stories, or join Facebook groups.
The account interacts with its community a lot by sharing and reposting stories and images.
Nusr-et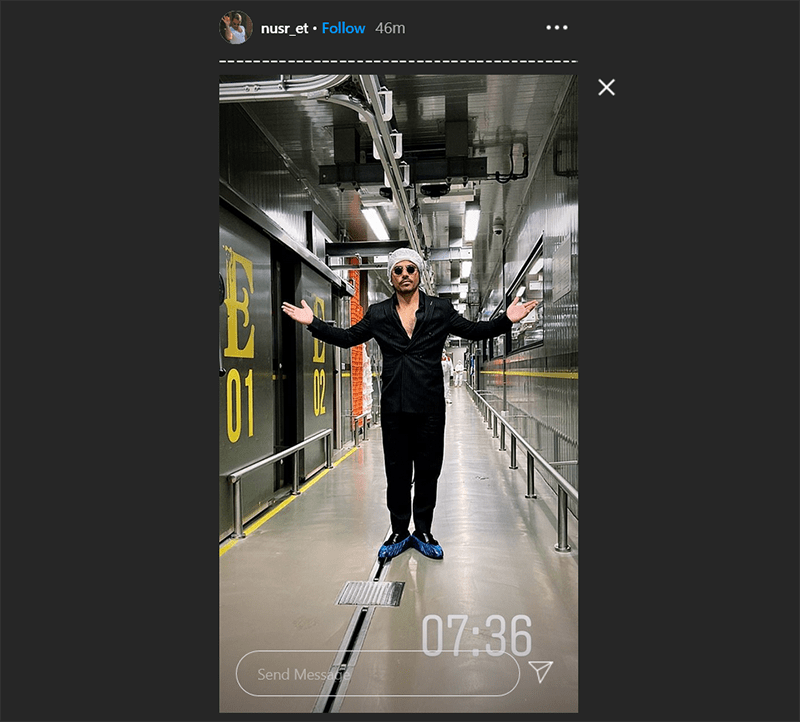 Nusr-et is the restaurant owned and run by internet sensation Salt Bae. As you'd expect, it has an excellent Instagram account, and there is plenty you learn from it even if you don't have quite as many followers.
The restaurant is continuously updating its stories. In the screenshot above you can see that it has posted more than once an hour in the 24 hours prior. Most of the content is simple videos that appear to be recorded and uploaded directly without much editing.
The owner frequently interacts with high-profile guests, and he is excellent at encouraging them to post about the restaurant. This shows the benefits of going the extra mile for guests.
The Instagram account produces a lot of different types of content, such as images of the restaurant preparing food, the owner going about his day-to-day life, and pictures of guests at the restaurant.
Instagram is a great way to promote your restaurant, but it's not the only tactic you should use. Having a great website optimised for search engines, using a mobile app, and creating an effective offline strategy can also help you increase sales.
If you need some marketing inspiration, then check out this list of 31 restaurant marketing ideas you can use to grow your business.
---