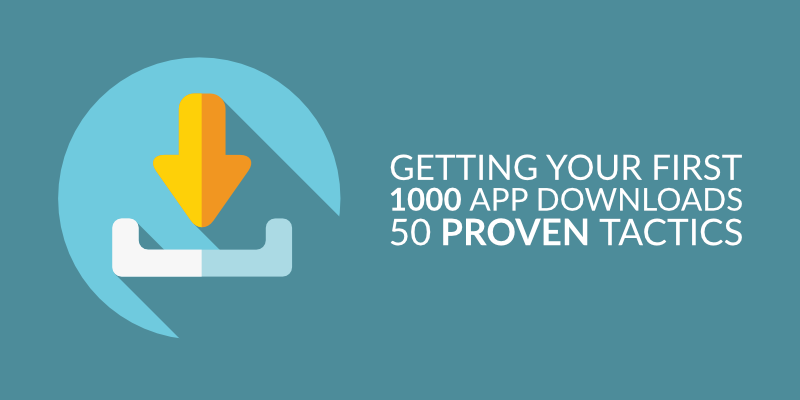 Statista reports that Google Play Store alone, currently lists more than 2100 000 apps, so although you may think creating the app is the hard part, it's actually the marketing which is the hardest and most time-consuming aspect of getting app downloads.
This guide provides 50 proven tactics to get more app downloads from your marketing efforts:
Get the foundations right
Let's start by saying that before you do any marketing, you have to take the time to do the planning. Get the foundations wrong and you'll end up spending more and wasting time.
Be warned that going through the foundational checkpoints may demand a tweaking or even a reworking of your app because if the app does not add value, it will impact the number of app downloads.
#1 Competitor analysis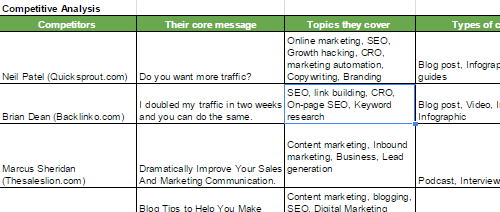 Image Credit: Yalantis
There are so many apps vying for attention that you're bound to have heavy competition.
Your aim is to know who your competition is, what they're doing and how you can do better.
List your top 5 competing apps, their prices, monetization models, ranking, pros and cons, and reviews.
Take note of their mistakes or where they could improve and amend your own app to make it better. Then think about what makes your app stand out amongst your competitors.
#2 Be clear about what your app does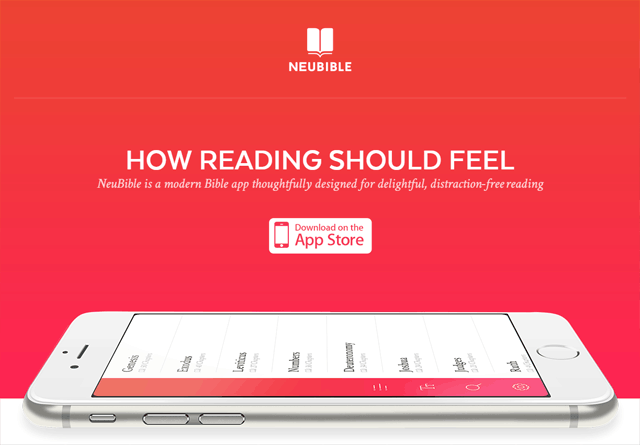 You know what your app does, but your visitors don't. Make sure you speak their language and not yours, and write out with minimal words, what your app does, and then write it out in detail.
Use the two variations where applicable.
#3 Unique value proposition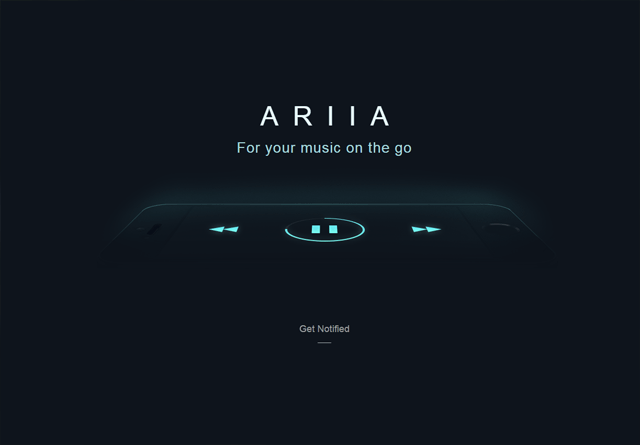 Because your app is undoubtedly one of many on the market and vying to get more app downloads just like all the rest, do what most don't and focus on what makes your app unique.
Competitor research will help provide this information if you don't yet know what it is.
Armed with this knowledge, capitalize on your app's unique value throughout any marketing messaging.
#4 Understand your audience

Image Credit: UnLtd
Most app creators fail to understand the audience they are trying to sell to because they don't first conduct market research. If there's anything that will make your app fail, it is this point.
If your app is not useful and doesn't address a pain-point of a certain group of people, it's going to land flat. If you already have app downloads, analytics is a starting point.
Tip! If you don't know where your target audience hangs out, or who they follow, you'll struggle to reach them.
Don't make the mistake of thinking your app is for all people because then your marketing will appeal to none.
#5 Build an app persona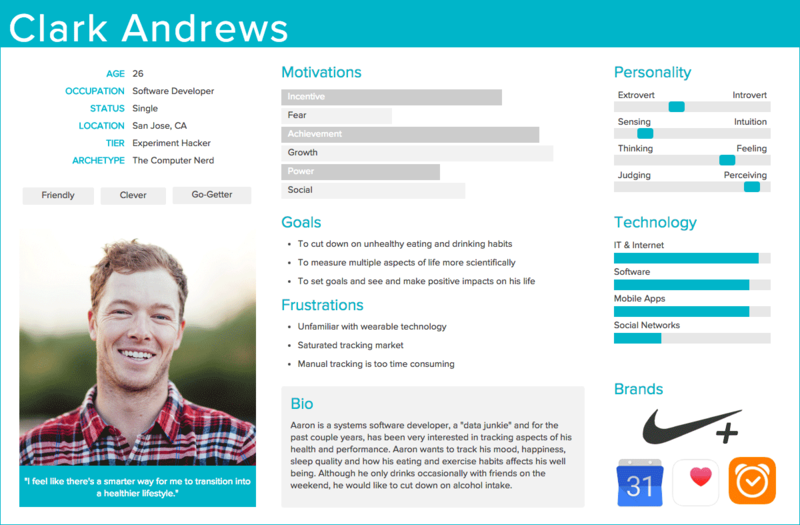 App persona example by Keepitusable
To get more app downloads, it is essential to build an app persona based on your target audience.
This is important because an app aimed at the 30-50 year old demographic for instance, requires a far different approach to an app that is targeted exclusively at millennials.
#6 Speak the language of your audience, not your expertise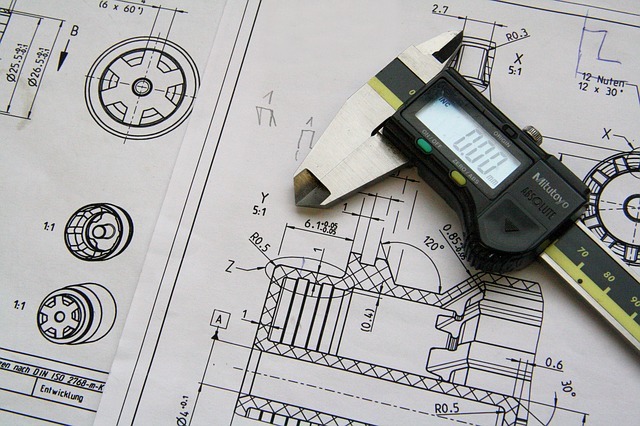 Many creators assume their target audience understands the lingo used in that particular industry, but this is not the case.
Be sure to use the words your audience uses, and not the words you use.
Tip! Do a search on Amazon of your niche and observe carefully the reviews around the products in your niche. In this way, you will see the kind of words your audience is using to describe their needs and what's important to them.
#7 Define your monetization strategy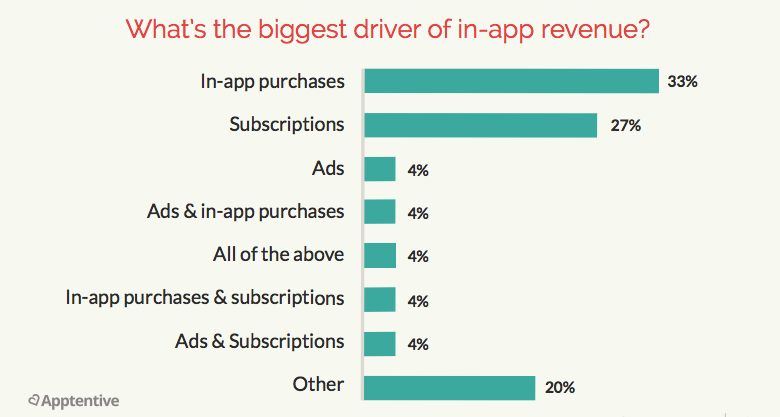 Will you charge for app downloads, or will you offer free downloads in order to monetize your app?
Be sure to define your monetization strategy before you start marketing your app because your efforts will overlap and you don't want to waste time and effort by planning your monetization strategy too late.
#8 App store optimization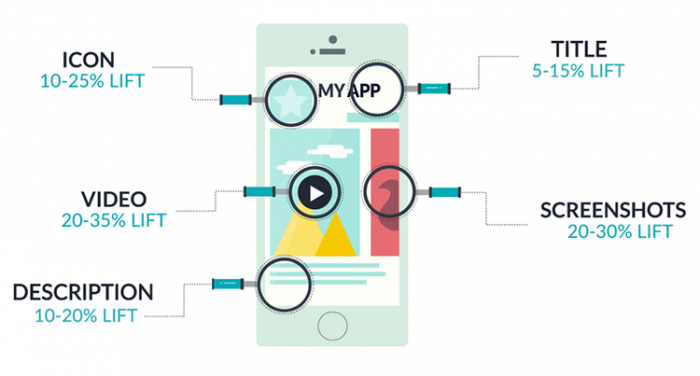 Leanplum demonstrates the most important elements for ASO.
According to Apple, 65% of apps are found by users from a direct search on the App Store, so to get more app downloads, it makes sense to focus first on optimizing the page where your app is housed.
In fact, App Store Optimization (ASO) has an even greater impact than SEO on Google search results.
ASO is what increases the visibility of your app in the marketplace where all your competitors also sit. The higher your page is ranked, the more your app will be found by users who are looking for the solutions it provides. It's the best way to get more app downloads.
Here is a detailed guide on App Store Optimization.
#9 Select the right app category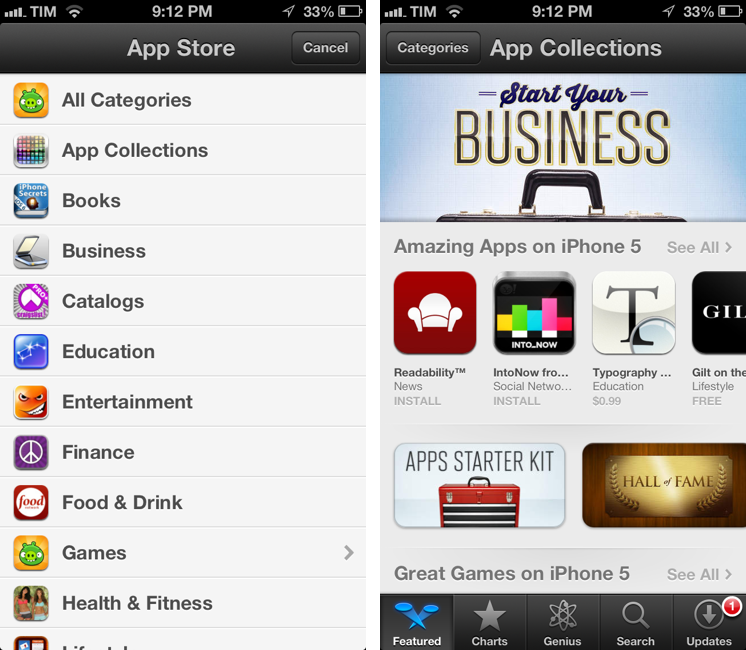 Your app must be situated in the right category, but if it's possible, try allocating it to a less competitive category in order to rank higher, but do be sure to keep the category relevant to your app.
#10 Enticing app icon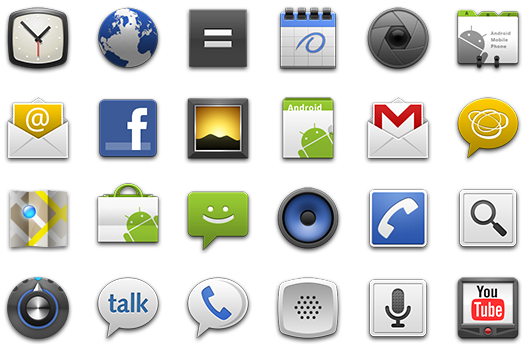 Users spend on average, seven seconds on the app store listing page, so it makes sense that if your app icon is the first thing someone sees in the app store, it's a critical success factor.
Make it eye-catching and relevant to what your app does.
#11 Pay attention to above the fold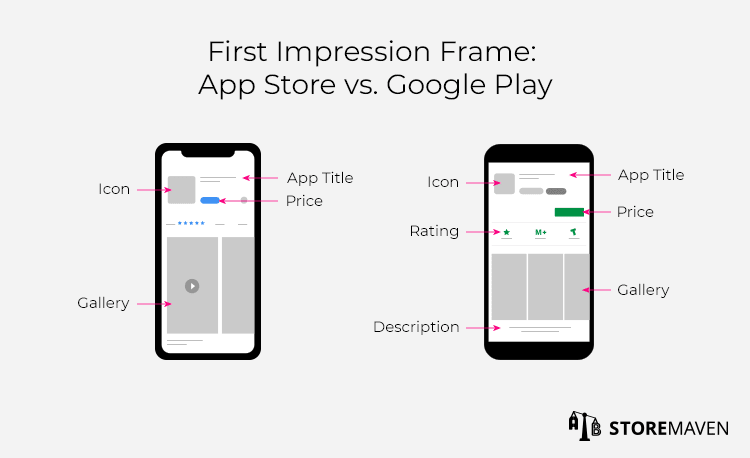 Since people spend only about seven seconds on any web-page, they want to see what your app can offer them within those few seconds. Once they land on your app page, if it's not immediately visible how your app can benefit them, they are likely to click away.
The very top part of your page is the most important. Make it count.
Storemaven has resources to help.
#12 Compelling app name

Screenshot of the most important area for an app offered in Google Play Store.
Your title is the most important aspect in ASO because it's the very first thing a user sees, together with the app icon. If it doesn't immediately grab attention, your app stands less chance of being downloaded.
The title is the opportunity to hook users in and get them to click to discover more. For best results, include a researched keyword, which is very important for your app to be found in search results in the app store.
Tip! Conduct proper keyword research and brainstorm long and short tail keywords.
#13 Offer your app in different languages
Statista reports that the number of mobile phone users in 2017 in the US was approximately 237.72 million, while the number of mobile phone users worldwide was 4.93 billion.
And so it stands to reason that if you localize your app to offer it in different languages instead of the default language, it goes without saying that you'll make more sales because your app will be available to more people.
App creator Appinstitute makes it easy for small business owners to incorporate multiple languages to extend their reach.
#14 Invest in detailed, professional features screenshots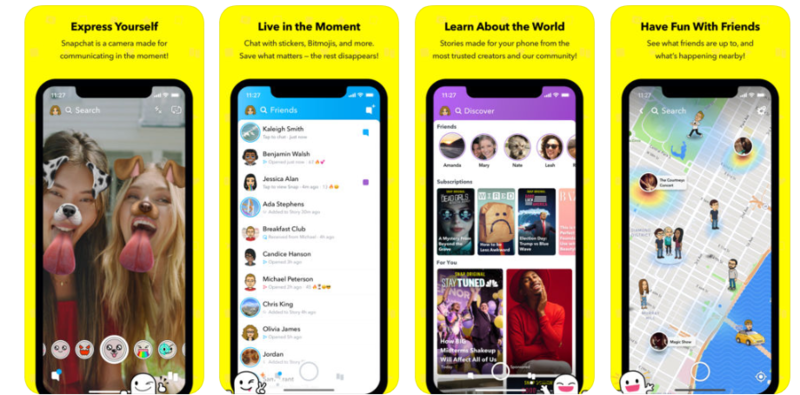 Snapchat's screenshots on Apple's app store.
Screenshots are vital because they show users what they can expect. When you've hooked the user sufficiently, they will almost always look at the screenshots to get a better idea of how the app can benefit them and whether it makes sense to them.
Add 2 – 3 screenshots that demonstrate the app's best features in action.
#15 Make a stunning preview video
Example of a preview video.
Any video is better than no video, but the better the video, the more app downloads you'll have, especially if your app is more difficult to understand than something more simplistic.
Now, it's been found that only about 15% of users who land on your app page will actually watch the video, but that doesn't matter so much, because it's only the ones with the high intent to download it who matter, and they are more likely to watch it because they are serious about finding a solution to their need.
Get help with preview video design and optimized screenshots.
#16 Localize the video on Google Play Store
Great explainer video about how to use YouTube for video transcriptions.
Increase the chances of getting app downloads by people who don't speak the default language, by making preview videos in different languages.
Alternatively, use YouTube's transcript feature, and Google Play will use the transcript based on the user's language setting.
#17 Be smart about pricing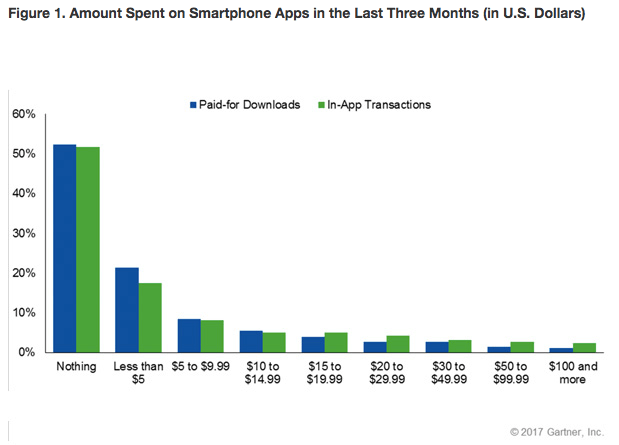 The first challenge is getting users to try the app.
In a world of free app downloads, if you charge for yours, you're not likely to get as many app downloads.
When you first launch it, your goal should be to get as many people as possible to use your app.
In this way, you can feel your way around better because you can check out app analytics and make improvements based on feedback and stats.
It makes sense to focus on first getting traction and then figuring out a business model. Offer the core of your app free and once its proved useful, users may want to upgrade to premium. In other words, hook 'em first.
Once users see the value the app brings, monetize it with premium features.
Having said that, the free version may not work well with certain apps, for example, those who are way above competitors, or have a clear and strong value proposition.
Charge a little extra so that you can run specials at a reduced price and not feel the pinch.
Learn more about app pricing models and strategies.
Social media marketing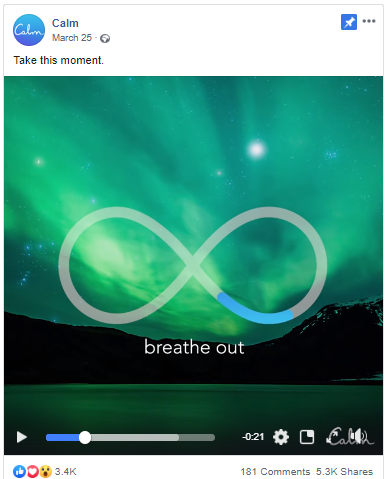 The Calm app provides value through their Facebook posts to more than 1 million followers. This is a calming video.
Treat your app as a business and build a following on social media.
Of course, choose which social media channels because your target users are not likely to be on all of them.
Make your posts relevant and meaningful, always adding value, never just promoting.
Keep your brand tone consistent.
Social media platforms where apps tend to get the most attention are:
Facebook
Twitter
Youtube
Pinterest
LinkedIn
FourSquare
Engage and respond. Get help to build a social media following for getting app downloads.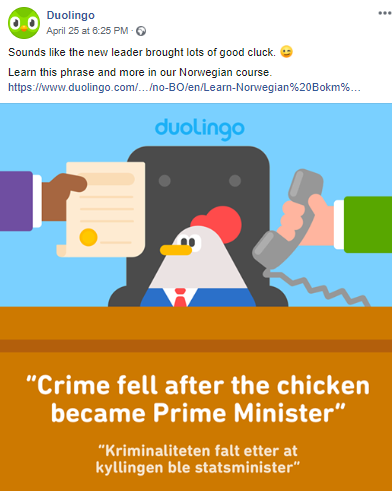 You can see from this Facebook post that Duolingo has a distinct personality on the platform, which comes from careful strategizing.
Now, before you go riding off into the sunset, be sure to set specific goals for each social media platform you decide to use.
Limit yourself to one or two to start, and make sure you understand each platform's purpose. For example, use Twitter to notify or announce, and Instagram for videos and images. Facebook is all about friends, family, and entertainment.
As a result, your strategies must match each platform to get the best results.
Tip! Although you should limit yourself to 1 – 2 platforms at first, it's a good idea to claim a username for your app on all platforms for when you grow.
This blog post by Hootsuite provides more detail.
#20 Create brilliant Pinterest boards in your app's category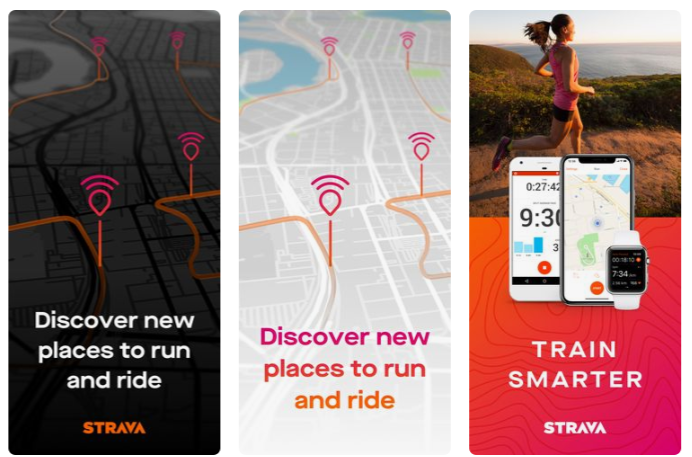 Strava for athlete's, use Pinterest boards to raise awareness of the app.
Create brilliant boards in your app's category.
Start with a minimum of 8 – 10 boards with 5 pins each. Be sure to make use of keywords and descriptions related to your app's category.
E.g. for a time management application, you would create boards about the organization.
As your app gets more attention, add a board to pin links to any mentions online, like reviews, blog posts, images and so on. This builds credibility.
Read Pinterest's guide to creating pins that get results.
#21 Create a YouTube channel

Photogrid, a mobile photo editor app, offers helpful guides on their YouTube channel.
If you plan on using videos in your marketing strategies, create a YouTube channel and optimize the titles and the descriptions of the videos with the keywords related to your app's category. Add links in the description to get more app downloads.
Don't limit yourself to just making videos about your app, but rather offer help and solutions to issues related to your app.
#22 Add the preview video to your YouTube channel
YouTube provides guidance on how to optimize your preview video to attract more people.
Once you've had your preview video designed, include it on your YouTube channel.
Be sure to optimize it as follows:
Give it an eye-catching title that includes a keyword phrase.
Use tags smartly.
Create a detailed description peppered with keywords.
Consider including a transcript.
#23 Run a contest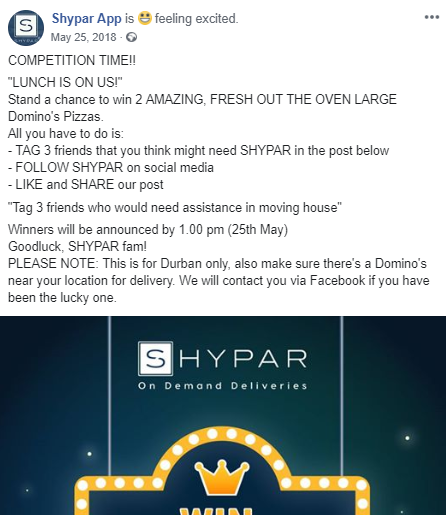 Shypar app's contest on Facebook.
Social media contests are a great way to not only increase your followers but to also promote your app.
When done correctly, they can lead to a significant increase to get more app downloads.
Some ideas are "Pin to Win" or "Tweet to Win", or give promo codes to unlock certain premium features in apps for free. Always remember that contests must offer value.
Instant Encore arms you with tips on how to run a contest to get more app downloads.
#24 Set up a Facebook group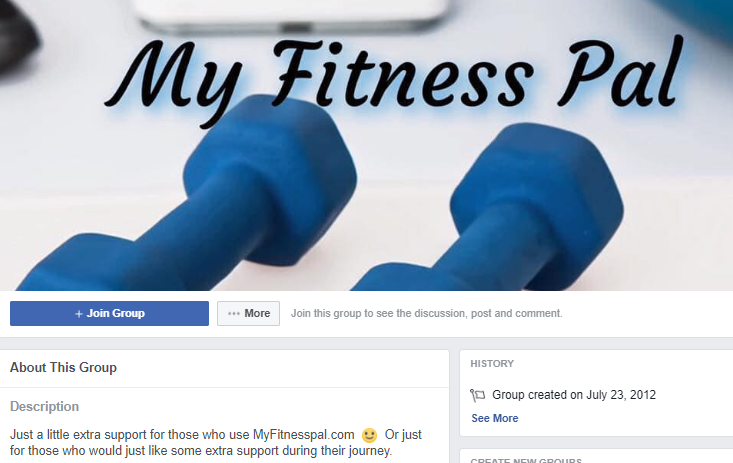 Myfitnesspal Facebook group offers extra support and boasts almost 18 500 members.
Depending on the category of your app, and what it offers, you may want to think about starting social network groups, like a Facebook or LinkedIn group. There are a few reasons for doing this, like a) sharing valuable resources and information that lead to getting more app downloads, and b) learning more about your target audience.
Running your own group around the app's core function builds credibility.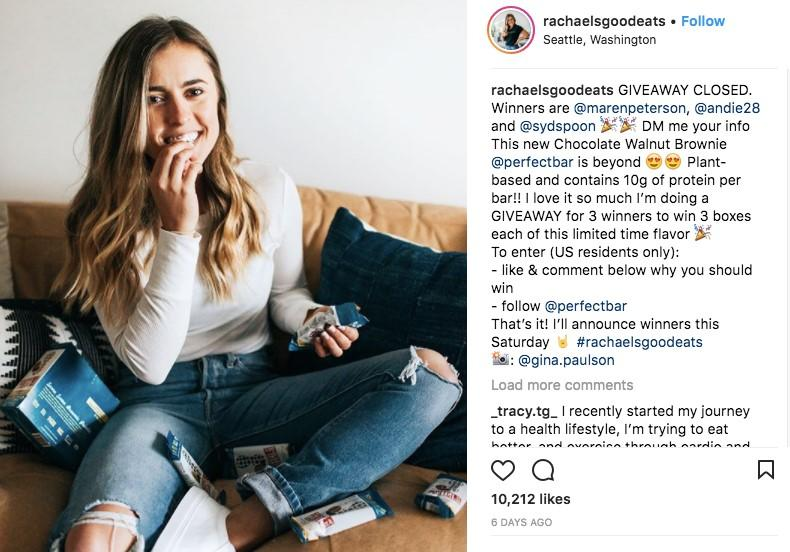 Example of a social media influencer partnership for a giveaway.
This one's easier said than done, especially if you're a newbie, but if you get the technique right, it will pay off massively, resulting in getting app downloads like you wouldn't be able to with your own efforts.
The key is finding a win-win scenario to offer a partnership with someone who has already built credibility and trust with an audience.
#26 Social media listening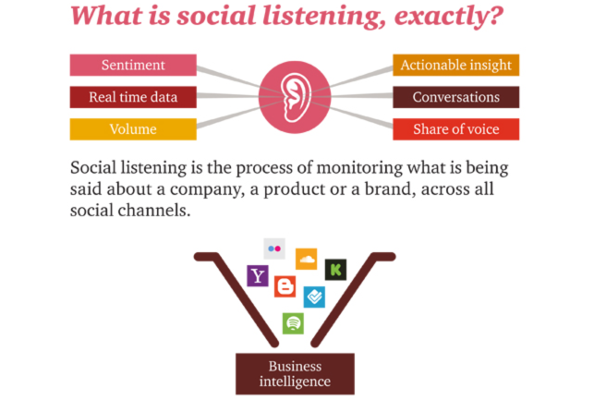 Image Credit: PRDaily
This idea is all about listening for social media or even online mentions, either about your app or about conversations that slot into what your app offers.
Set up Google Alerts using keywords to alert you to mentions. Once you know of them, you can respond. For example, if someone wrote a review about a competitor's app which was not favourable, you could get in touch with the person and offer them your app instead.
Takes a little creativity because each response has to be personalized and based on the mention.
Sproutsocial shares advice on social media listening.
Ratings and reviews
#27 Get more ratings and reviews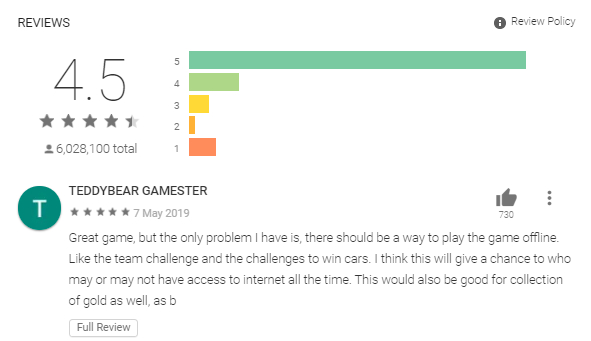 Reviews are the rave nowadays because they add credibility and honesty; a genuine look at a product or service by people who are most trusted: those who don't stand to gain anything and therefore, reviews are considered honest.
In addition, your app's ranking in search results is also significantly influenced by ratings.
And so the aim is to get as many ratings and reviews as possible and to do this, you have to proactively ask for them. Don't be a nag, but give a pop-up after the user has had a few positive interactions with your app.
Make it easy for them to rate your app.
#28 Respond to negative reviews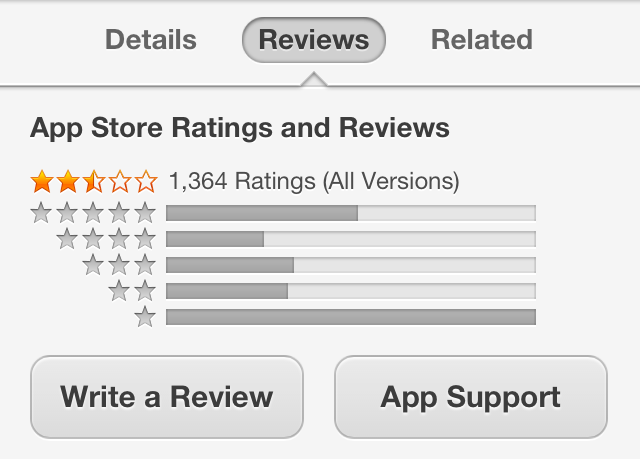 Your app is not going to please everyone, so be prepared to receive negative reviews amongst the good ones.
Use these negative reviews as learning opportunities to find out how to improve your app.
Added to that, always respond to them, and consider how to turn a bad situation into a good one.
Learn the art of responding to poor reviews.
#29 Request reviews from app bloggers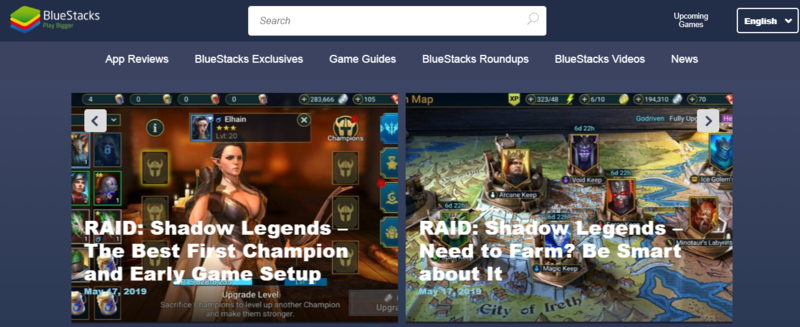 Example of a website that reviews game apps.
Request reviews from well-established app bloggers, and include the preview video to help them understand how it works.
Now, how do you get an app blogger to want to review your app?
First go through their blog to make sure your app fits the spec of the kind of apps they usually review, then make sure they haven't yet reviewed your app.
Check that they don't have a relationship with a competitor, and then check on their site for contact details.
Make it easy for them to say yes when you approach them. Find ways of offering them some kind of benefit to review your app, perhaps a free premium version of your app.
Website as a central hub
#30 Build a website

Memrise offers a language app. This is their website.
If you're serious about making your app into a business, you will need a website to act as your business' "central hub".
Your website is where you will offer guides like blog posts, and your website is also where search engines will send traffic to when you update it with regular content – be sure to take note of #32 of this article.
Maintained correctly, your website will attract traffic that you can use to market to.
#31 Set up a landing page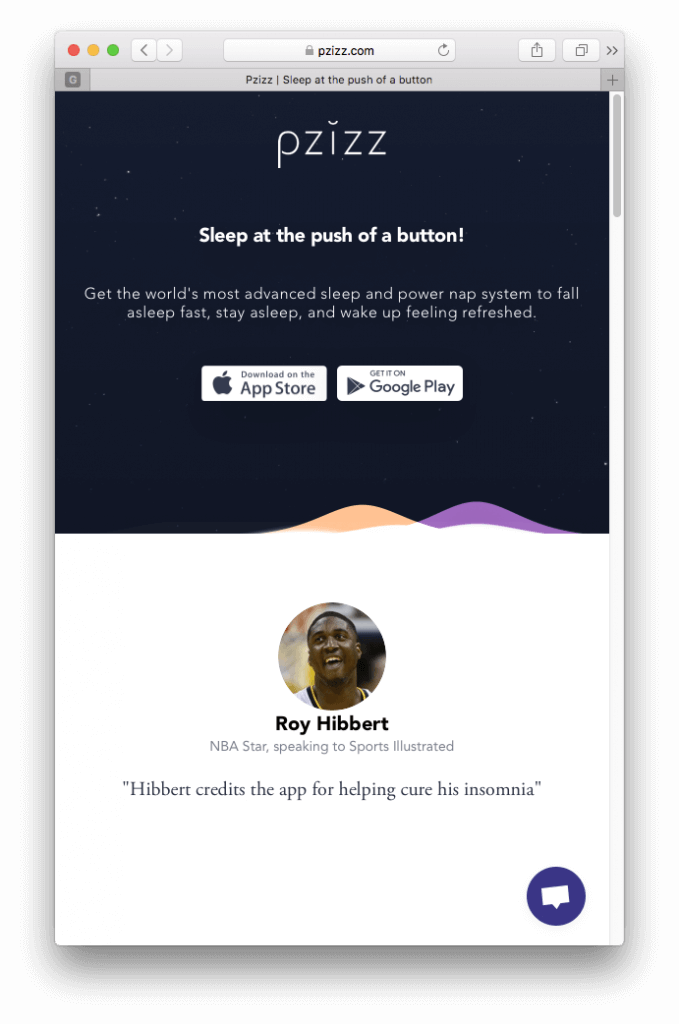 This is a landing page. You can see it looks different to a website.
A landing page is different to a website in that while a website is for informational purposes, a landing page is a targeted page with an aim to achieve one specific goal. In the case of the above example, for instance, the aim is to get the user to click on the download buttons.
Since mobile websites are the number one source of app installs, make sure the landing page is geared for mobile.
Add your preview video to the page.
A landing page is usually used to direct traffic to it from ads or for pre-launches, or email marketing promotions.
#32 Use content to get more traffic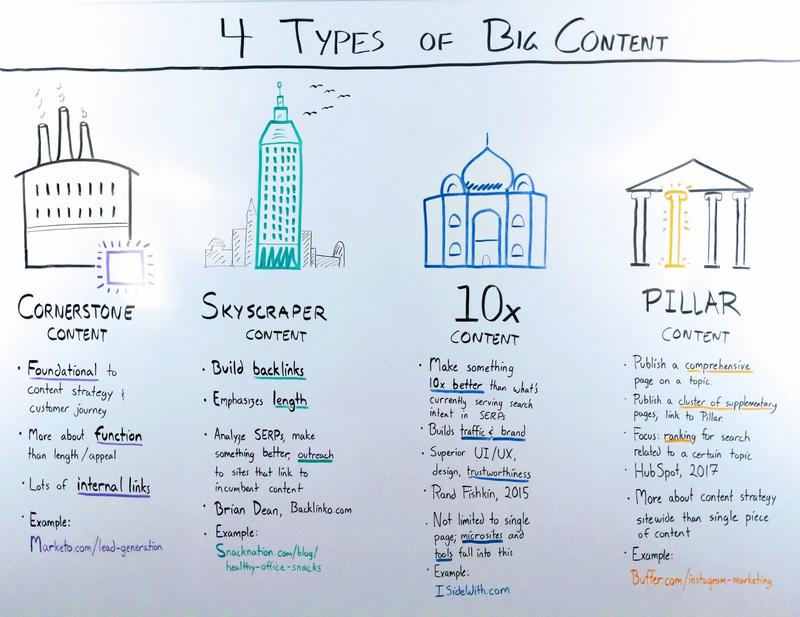 Image Credit: OverthinkGroup
Use your website to draw traffic from search engines to get more app downloads. The only catch is that you have to regularly add content, and quality content, so that search engine algorithms pick up your site and consider it valuable enough to display in search results.
Create a content strategy around pillars of topics – these topics must be your core solutions and make sure content is written well and provides value to those you are trying to attract.
Upload content at least three times a month, but if you are in a highly competitive niche, you may need to up that amount, so find out what your competitors are doing before you design your content strategy.
Bear in mind that it may take up to 3 months to start seeing results, but this (SEO) is the best way to get traffic to your site without paying for advertising.
#33 Add call to actions on every page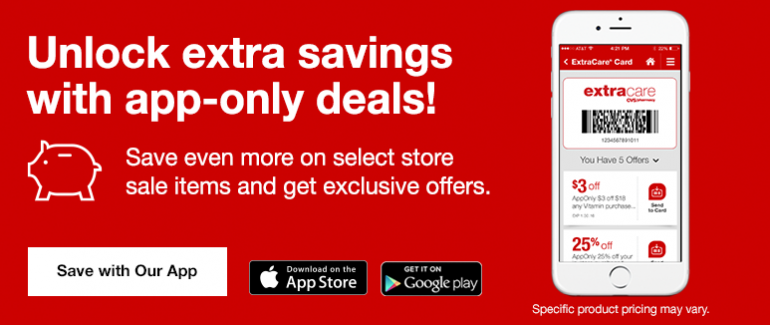 A typical call to action. This one will lead to the app download page when the buttons are clicked.
Every website page should aim to get the reader to take one specific action, and if you want to get more app downloads, include a call to action that leads to your app download page.
This is specifically effective when you publish regular blog posts with topics that are relevant to the solutions your app offers.
#34 Make sure your website is geared for mobile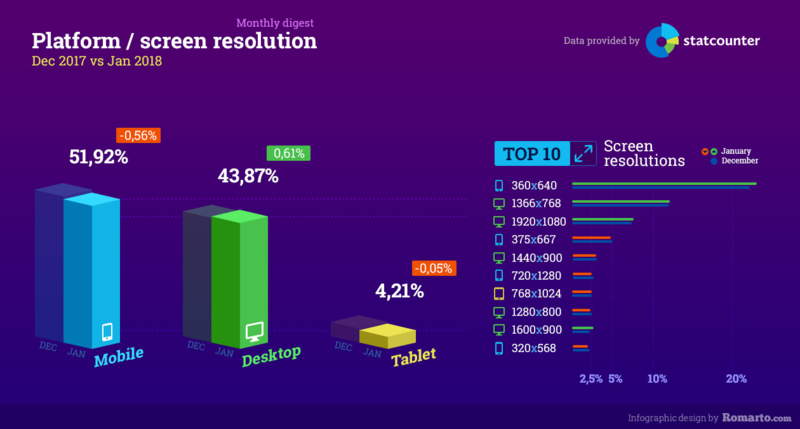 According to Techjury, almost 80% of people accessing the internet do so from a mobile device.
Be sure your website is optimized for mobile because most of your visitors are going to check out your website via a mobile device, and if your site is not mobile friendly, it will result in a lower search ranking which means less traffic and finally, decreased app downloads.
#35 Add the preview video to your website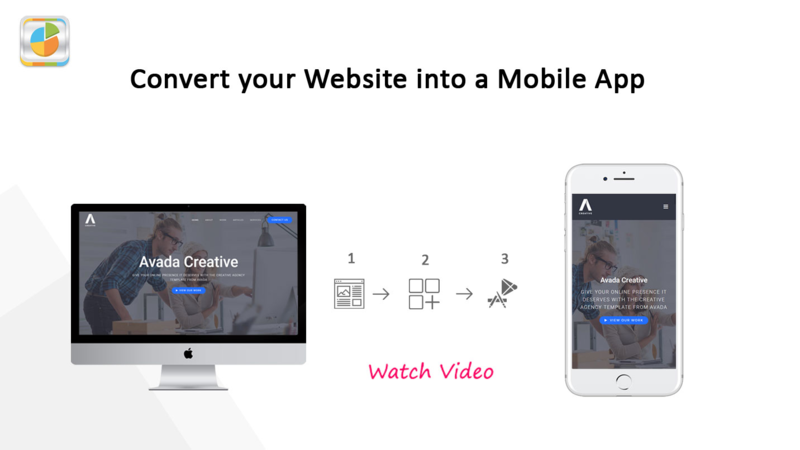 Once you've had your preview video designed, include it on your website. You can see from the above example that this website encourages readers to watch the video.
It's the very best way to explain how your app works and to get more app downloads.
Email for marketing
#36 Add a pro email signature to all outbound emails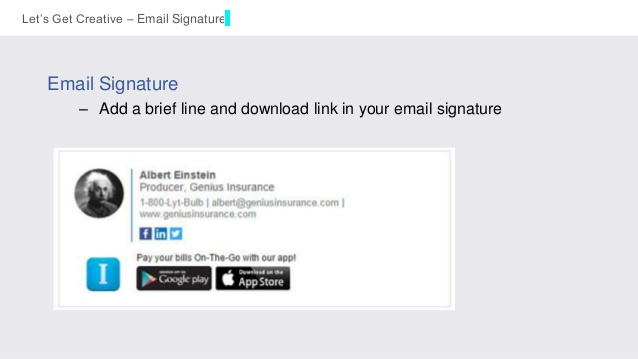 Image Credit: Kuran Lugani
Never let a marketing opportunity slip by! Add app download buttons to your email signature, so every time you send an email, there's an opportunity to get your app downloaded by the recipient.
Either add buttons to your app download page or include a link to your app's video.
Create pro email signatures with Wisestamp.
#37 Set up an email strategy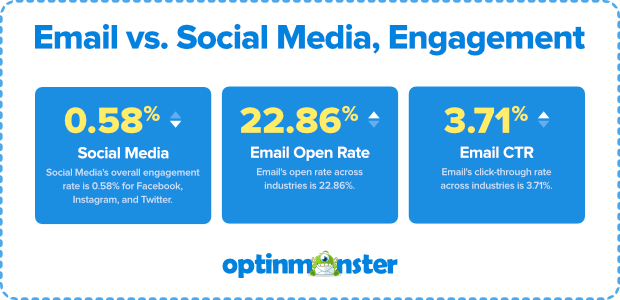 Email marketing is still one of the best ways to promote your app and get more app downloads over time.
You can see from the image that email is still more effective than social media marketing.
But email marketing does require technique, because as with all effective online marketing, emails also, for the most part, need to add value and not only be all about app promotion.
So for instance, if your app tracks daily exercise, your email strategy needs to focus on things like exercise tips, a diet with exercise, how to start running, and so on, all depending on your target audience and their needs.
#38 Cold emailing

Some industries have amazing results with cold emailing, and if your app fits into one of them, using software like Leadfuze to find email addresses, you can get more app downloads.
As with most marketing ideas, the technique is essential to making it work and your focus has to be on subject headers and email copy.
Find out more about cold email formulas that work.
Pay for advertising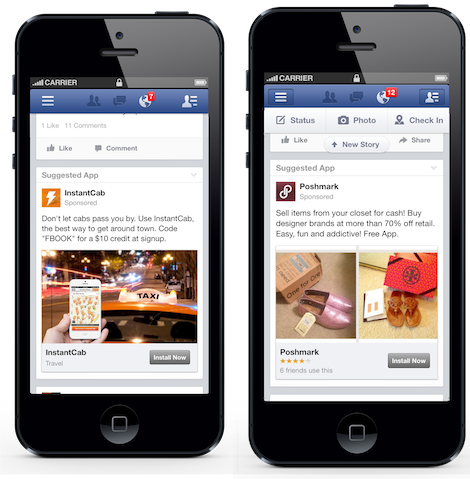 Video ads generally convert better than any other type of ad, but they have to be done right. For example, videos must not be long-winded, but instead, kept to under 30 seconds in length.
Use videos in ads effectively on Facebook and other mobile ad networks like TapJoy and Vungle.
Falcon provides in-depth guidance on how to create video ads for Facebook.
#40 Google Ads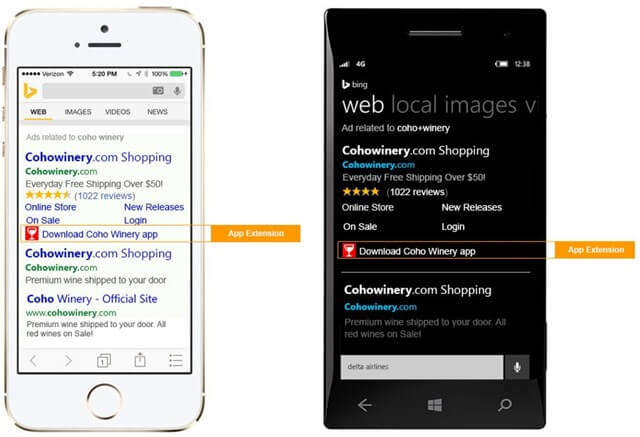 Spending money on Google Ads is faster than waiting for traffic organically (traffic to your website that comes from SEO).
Neil Patel provides a step-by-step guide to devising effective Google Ads to get more app downloads.
Create awareness
#41 List your app on app directories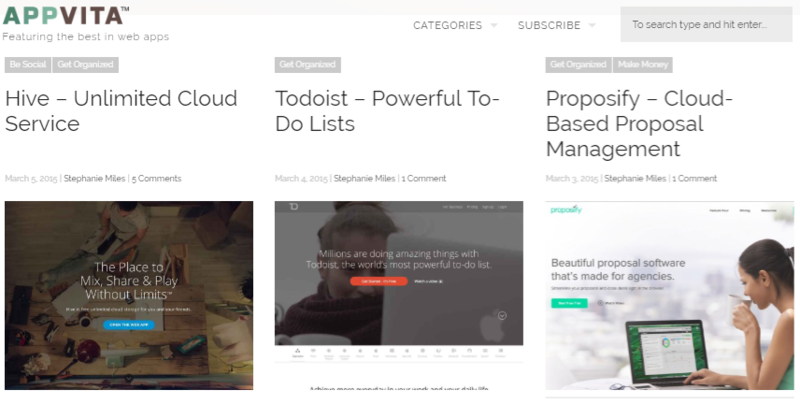 Listing your app on directories can lead to getting more app downloads, raising your brand awareness, valuable links for SEO and opportunities for feedback.
Best of all, it doesn't take long or much effort.
Here are 100 sites to get you started, courtesy of AppSamurai.
#42 Reach out to influencer bloggers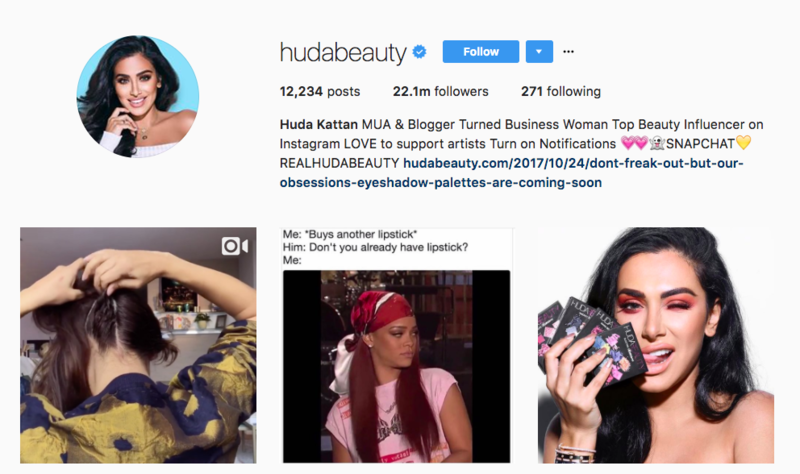 Make a list of the top 500 influencer bloggers in your industry and reach out to them.
You can use Twitter and blog search to find them.
The goal is to ask them to write about the app. But don't let rejection get you down, because you will probably be rejected, or ignored by most of them.
However, there are some ways to increase your chances of engagement. This guide on how to do influencer marketing will explain them.
Build credibility
#43 Speak at events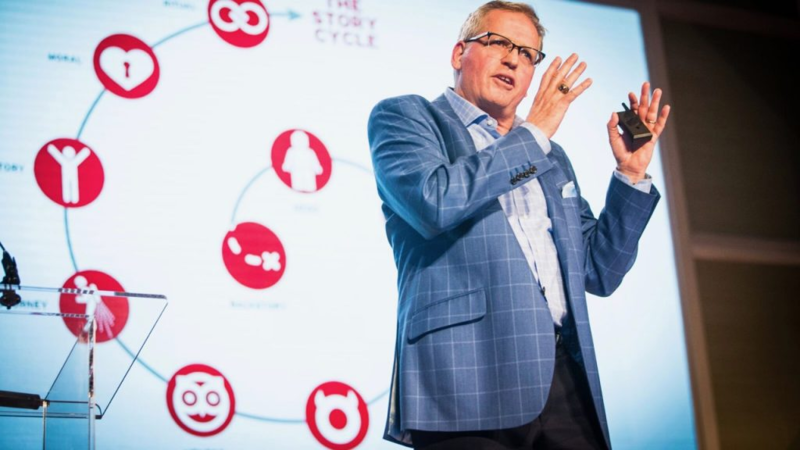 Image Credit: BusinessofStory
You've built the app, and if you have experience in the topics that are relevant to it, you could use your knowledge to speak at events. Not only does it build credibility, but is also likely to lead to more app downloads.
Become the brand ambassador for your app; after all, you're the perfect person for the job…
Start small first and slowly build up from there. SpeakerLab gives the low-down on how to find events and what to do from there.
#44 Host a webinar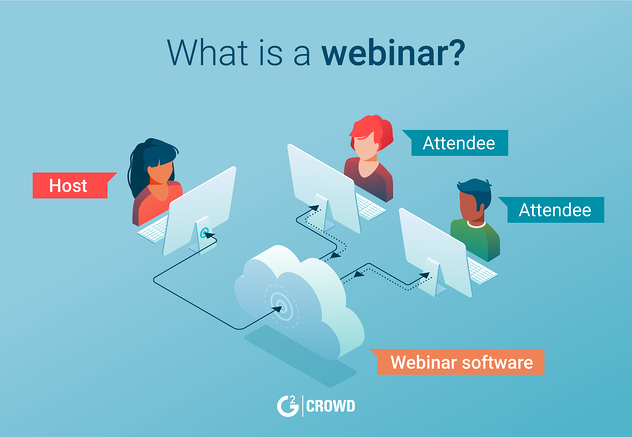 There is a no better way to reach a huge amount of people all over the world, and gain credibility, plus promote your app, than with a webinar.
Webinars are one of the most effective marketing methods and reap tremendous rewards when done properly, so as with most of these marketing tactics, make sure you have a marketing plan and use best webinar practices. Check out Growth Marketing Pro's list of top webinar software options to get started.
#45 Present a local workshop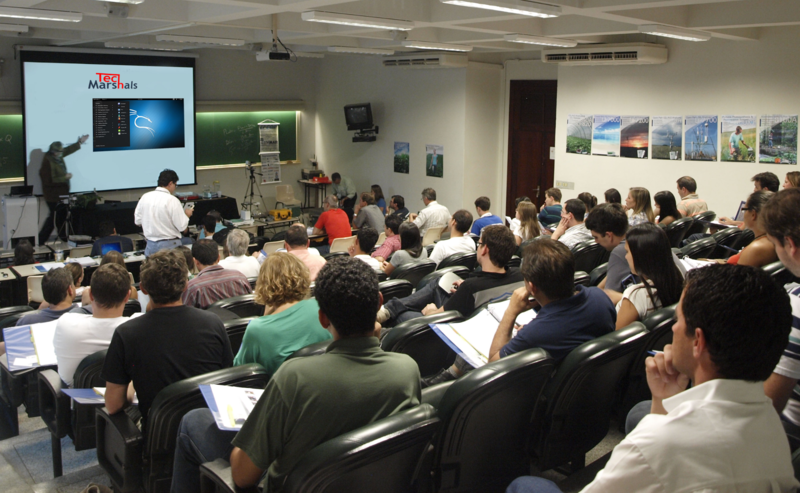 Image Credit: TechMarshals
Workshops are another highly effective way of getting more app downloads, as long as the workshop provides value and is relevant to the audience attending the workshop.
Just as with a webinar, workshops work well when they've been marketed sufficiently.
#46 Build a media list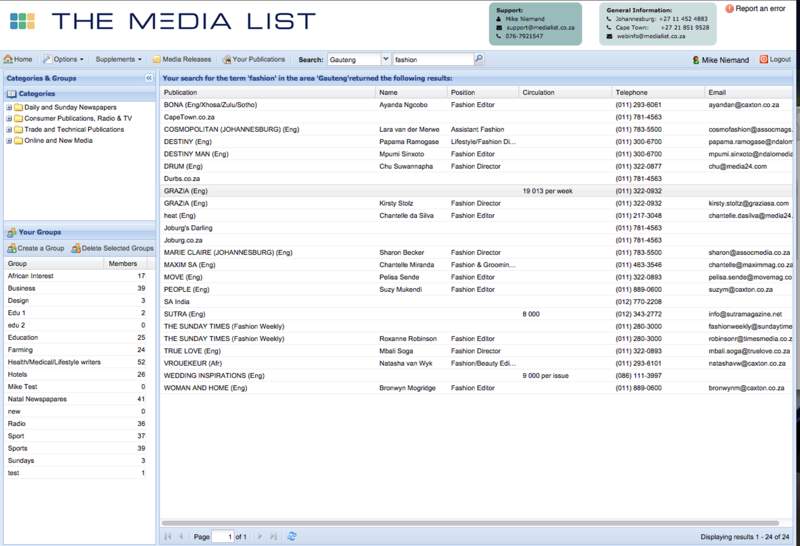 One could say that the most effective marketing methods are also the most overlooked when marketing a new app.
PR initiatives and reaching out to influencers, publications, tech bloggers, etc. to secure backlinks are on that list.
Depending on your audience, contact the local or international press, publications, influential YouTubers, podcasters and so on, and ask them to review your app and send honest feedback. Scroll up to #42 for more detail on the how.
Increase loyalty
#47 Connect with the app users you already have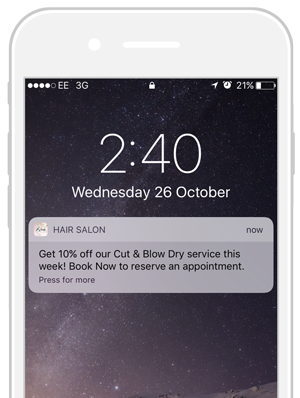 Reach out to your power users via email to ask for advice for improvements. You could also create some kind of a loyalty program to keep them coming back to your app.
Send news or useful information that is based on their needs and make use of push notifications.
#48 Allow "Try before buying"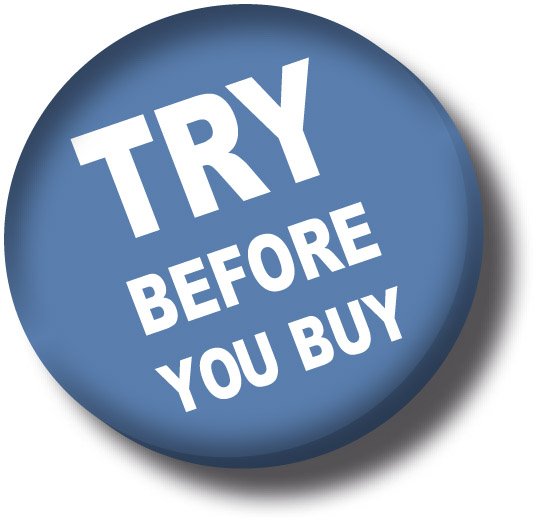 Image Credit: Businessownersurvivalkit
If you plan to charge for your app, hook users by offering a "try before buying" option. You're more likely to get more app downloads done this way instead of charging upfront.
It also gives users the opportunity to decide if your app is what they are looking for.
In addition, to increase usage and loyalty, keep adding functionality based on audience needs.
#49 Fix app issues fast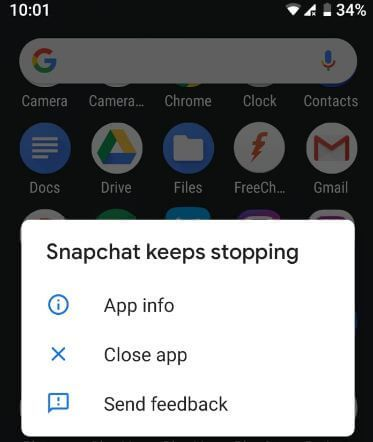 It is of utmost importance to fix any technical issues with your app as soon as you find out about them, and analytics helps you to keep a tab of them.
You may also want to offer a few users incentives to let you know when something happens so that you can work on it immediately. This will retain your users and ensure they speak well of your app, which is the number one method of advertising any business.
#50 Use an app building platform that makes it all easier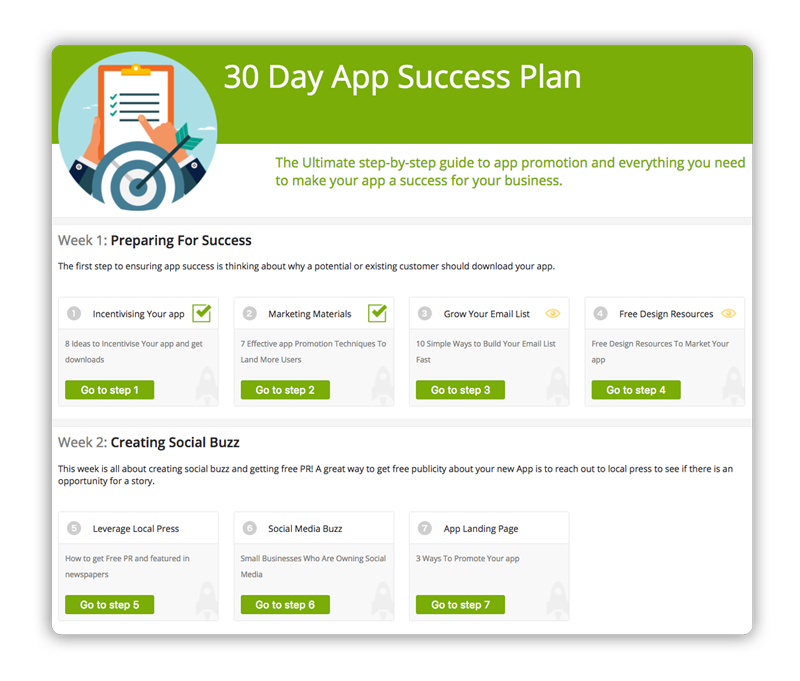 Finally. And perhaps this one should have been right at the top of this article…
Make your life easier by using the right app builder that includes all the functionality you need.
AppInstitute caters specifically to the small business owner of just about any industry, and offers all you need to get more app downloads; it even includes a 30-day app success plan to get you started to your first 1000 app downloads.
---