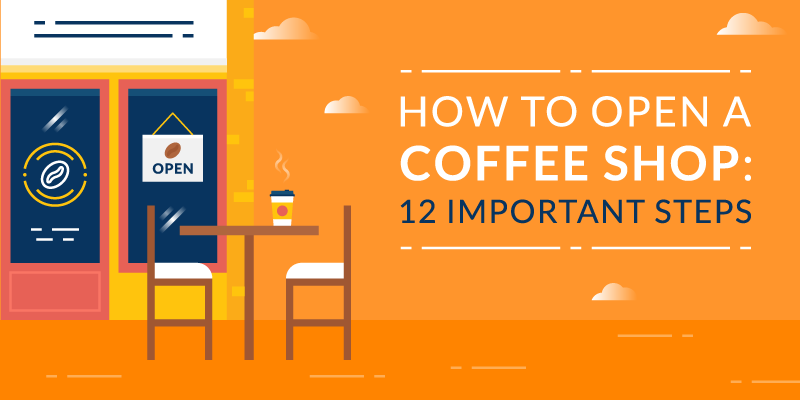 Starting a coffee shop business is never easy. But, it is manageable if you have a good idea and a clear plan.
In this article, we'll look at how to open a coffee shop and the steps you need to take to be successful in your new business venture.
From choosing the right location to writing your business plan, finding the right supplier, deciding on a menu and launching your business—we've got you covered.
We've split our list into 12 ideas. While you can tackle each step in order, it's more likely you'll work on multiple parts at the same time.
However you choose to use it, we hope this list will give you some great ideas for how to start a coffee shop.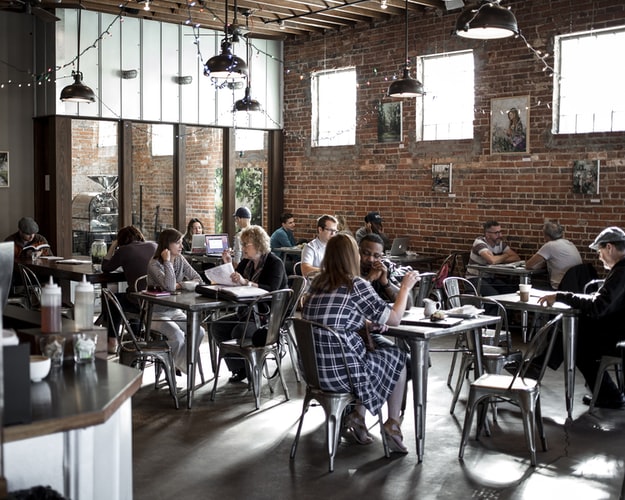 Image: Wade Austin Ellis/Unsplash
Find Your Coffee Shop Sweet Spot
For your coffee shop to be successful, you need to fill a hole in the market. Consider what your strengths are and how you can use these abilities to create a coffee shop location people will love.
Here are a few things to think about before starting your own coffee shop business:
What is the demand for coffee shops in your area? A college town will have different needs to a business hub, which will have different needs to a small town. Look at successful coffee shops near where you plan to open to get inspired.
What are your skills? Are you a talented barista with in-depth knowledge of the latest trends, or does your strength lie in baking? Perhaps you're a great interior designer, or you know how to create beautiful gardens. Be sure to find a way to utilize your unique skill set in your coffee shop.
What are the current coffee industry trends and how can you take advantage of them? Could you be the first shop in your area to sell cold brew or nitro coffee? Maybe your customers would like coffee ice pops or takeout cans? To stay ahead of the trend curve, search for popular coffee businesses around the world and find out what new products they are offering. Instagram is a great source of information.
What are coffee shop startup costs? As a prospective coffee shop owner, you need to have a clear idea of the costs involved with coffee shop startups in order to run a successful business. In addition to thinking about coffee shop startup costs, you need to research the industry, the product and how to stay ahead of the competition.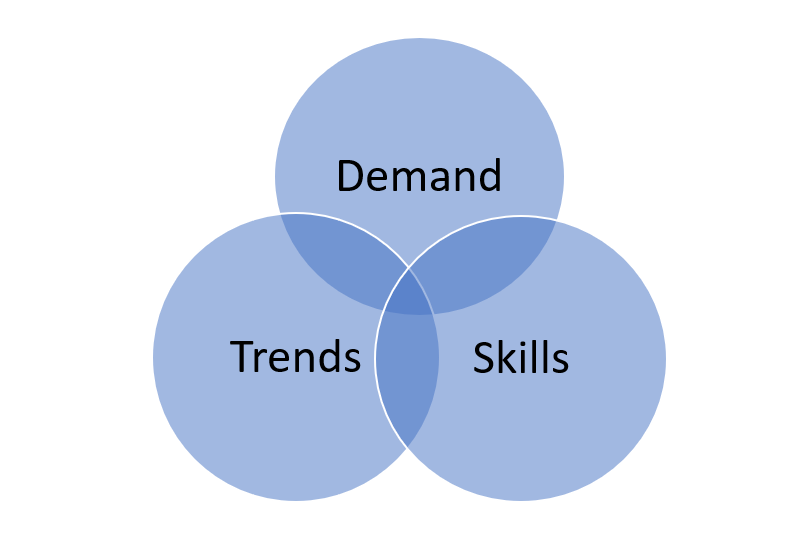 For your coffee shop business to have the best chance of success, it should fit into the centre of the Venn diagram above.
A Few Things to Consider Before You Start a Coffee Shop
Next, you need to make difficult decisions about how to get your coffee business up and running.
There are a few different options to consider when it comes to deciding on your coffee shop concept:
Purchase a coffee shop franchise: This is the right option for you if you'd prefer to buy an existing business with an established model. As opposed to your own coffee shop, many of the business decisions will be made for you.
Buy an existing coffee shop: In this instance, you would be investing in an existing coffee shop that is for sale. This can be a great opportunity to revamp the premises and put the coffee shop on the map. However, finding an established coffee shop with a solid business plan and in the right location can be challenging.
Start your own coffee business: Arguably, this option will require the most effort and startup costs. On the other hand, this option provides the most flexibility and you would have complete control over your coffee shop business plan.
If you decide that being a business owner is for you, there are also a few different types of coffee businesses you can open.
Here are a couple of coffee business ideas:
Coffee kiosk at local events
Coffee roaster
Drive-thru coffee stand
Mobile coffee cart in business districts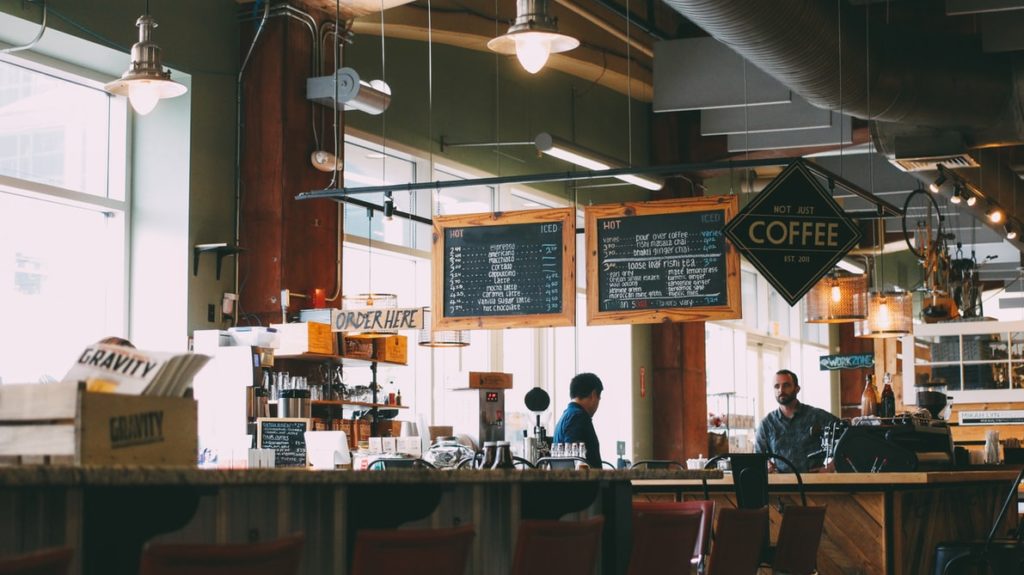 Image: Jazmin Quaynor/Unsplash
Now you need to take steps to decide where your new coffee business will be located, what you will offer on the menu, whether you will run the business or hire someone else, and how you will attract regular customers and foot traffic.
Financial matters are also critical. Consider how much money you have and whether you need to access external capital. Think about the exact cost of renting a unit, promoting your coffee shop, dealing with renovations, buying reliable equipment, and making hires.
Starting a coffee shop is more than just commissioning an espresso machine. By the time you seriously get around to starting your coffee shop business, these are things you need to know.
Create a Mission and a Vision Statement
A mission statement and a vision statement are important documents that help you define the culture of your coffee shop.
Mission Statement
Your mission statement is typically a short affirmation that defines your purpose. The statement should be specific, even if you have big goals. When writing yours, be sure it genuinely aligns with what you want to achieve.
Let's look at the mission statements of some famous coffee shops:
Starbucks: To inspire and nurture the human spirit—one person, one cup, and one neighborhood at a time.

Pret: To serve freshly made food and good organic coffee, while also trying to do the right thing.
Despite coming from global brands, both these statements are local and they keep the company's attention on what is most important—the product and the customer.
Vision Statement
A vision statement describes your coffee shop's objectives at the highest level. It's what your coffee shop will end up like if everything goes to plan.
The statement is your company's guiding light and it helps ensure every business decision you make pushes you toward your overarching goal: seeing your business thrive.
It also ensures everyone, from staff to management, is on the same page with what they are trying to achieve.
Let's look at the mission statements of a few successful coffee shops:
Coffee Bean and Tea Leaf: To be "Simply the Best" roaster and global retailer of speciality coffee and tea.
Dunkin' Donuts: To be always the desired place for great coffee beverages and delicious complimentary donuts & bakery products to enjoy with family and friends.

Your vision statement should be aspirational while being directly applicable to your coffee shop business.
If you have no intention of expanding globally, there's no point talking about being the best global retailer of coffee. Instead, think about how you can make the statement relevant to your actual goals.
Write a Coffee Shop Business Plan
Before you open a coffee shop, it's important to write a business plan. This will help define your journey to success and highlight any potential pitfalls before you start.
The sections in your coffee shop business plan will depend on your exact needs, but most will contain the following information.
Executive summary: A summary of your business, including why it will be a successful coffee shop.
Company overview: Practical details about your business, including owners, coffee shop location, and startup costs.
Market and customer analysis: Details about the local and national market. Include information on competitive coffee shop businesses.
Sales and marketing plan: Practical details about your products and how you will handle inventory management and sales volume. Also, include what you will do to promote your business.
Operating plan: In your coffee shop business plan, you need to include information about how you will run your business, e.g. opening hours, staff, suppliers, opening and closing procedures.
Management team and business structure: Who will run the coffee shop and why are they well-placed to ensure consistent quality standards are met to make the coffee shop a success.
Financial plan: Include operating costs, startup costs, expected sales, revenue, cash flow, etc.
A business plan is often a formal document used for funding and loans. However, even if you don't plan to access external capital it's still a good idea to create a coffee shop business plan to help you create a clearly defined strategy.
If you want to learn more, our coffee shop business plan article includes everything you need to know, including an example coffee shop business plan you can use as a template.
Choose the Right Location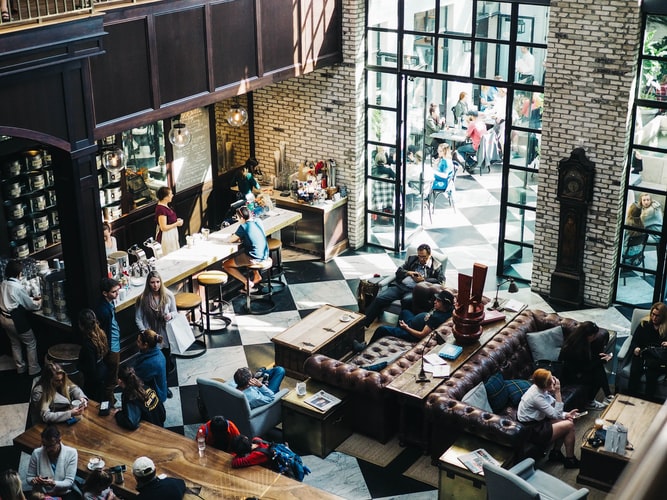 Image: The Creative Exchange/Unsplash
Assuming you already have a good idea of the area you want to open your coffee shop in, you now need to finalize a location. There are several things to consider:
Is the size of the coffee shop suitable for your expected demand? If your coffee shop is too small, you will limit the revenue you can generate, if it's too big, it risks looking empty, and rent may cost more than is necessary.
How much foot traffic does the location receive? If you are situated in a busy location with lots of people walking past, you won't have to do much marketing to get customers. On the other hand, even a great coffee shop in a quiet location will struggle to attract potential customers.
Can you afford it? Rent is typically the third biggest expense for hospitality businesses after employees and supplies and should amount to around 10% of revenues. Look at your business plan and financial projections to see what you can afford.
How much work will you need to do? If you're moving into a space previously owned by another business owner, restaurant, or bar, you may not need to do much to get the coffee shop updated. Other venues will need significantly more work done before they are ready. This can be expensive, so be sure to take these start-up costs into consideration.
What's the competition like? Before you make a final decision, pay attention to the local businesses in the area. Having other coffee shops nearby can be a good sign as it suggests the area can sustain them. The downside is that there may not be enough interest to keep your shop in business.
Another thing to consider before starting a coffee shop is street parking and accessibility.
If your coffee shop is difficult to find and customers have trouble finding street parking, it is unlikely that they will return to your coffee business.
In an ideal world, you want your coffee shop to be conveniently located on a busy street with plenty of street parking so customers can access your coffee business easily.
Decide on Your Menu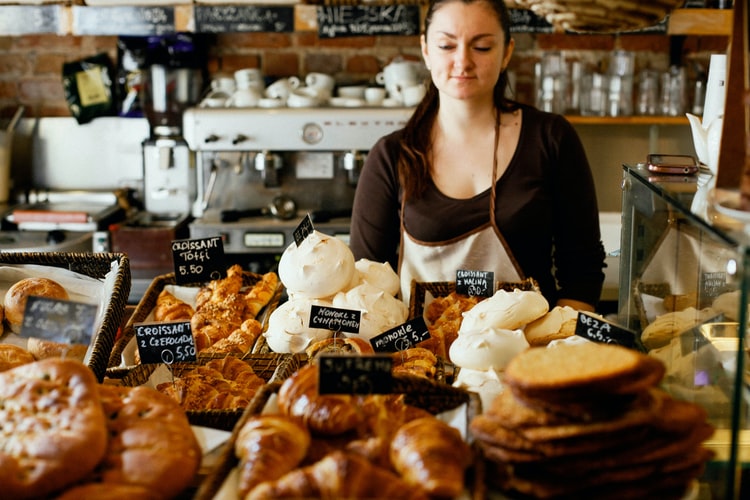 Image: Ekaterina Tyapkina/Unsplash
The next step in opening a coffee shop is deciding on your menu. You should already have a good idea about the type of food and drink you will serve from the work you did in earlier sections.
When creating your coffee shop menu, be aware that a small offering is easier to manage than a large one. If you plan to run the coffee shop on your own or with minimal help, keeping your menu options to a minimum will simplify operations.
That doesn't mean you can't experiment or do things to stand out. Consider having a base menu full of coffee shop essentials, plus a small selection of signature extras that you know will bring attention.
Also, pay attention to the ingredients and the time it takes to prepare each item. It's easy to offer a full suite of espresso-based drinks as these are little more than slight variations on coffee shots and steamed milk.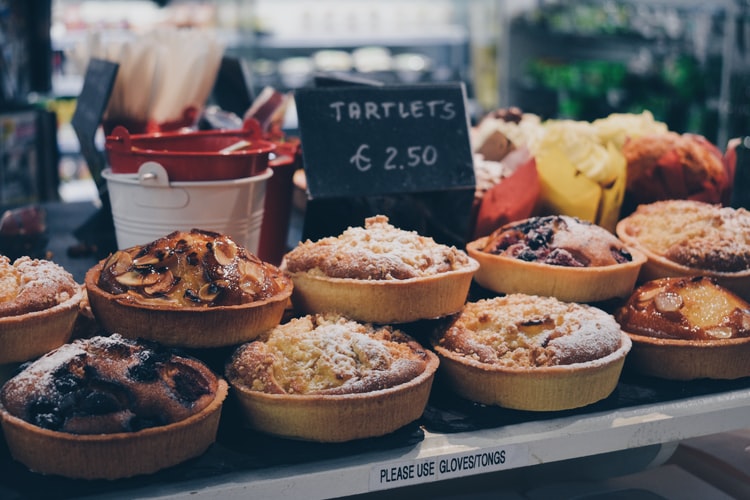 Image: Seetha Krishnan/Unsplash
However, things get more complicated when you add drinks with other ingredients and flavors, or drinks that take time to make—like hand-drip coffee.
The same factors apply to food. It's far easier to offer a selection of baked goods or even sandwiches that you can prepare in advance than it is to offer a menu full of freshly prepared meals.
Idle Hands in Manchester is a good example of the many independent coffee shops with a simple yet varied menu.
The coffee shop offers espresso-based drinks from a rotating choice of coffee roasters, as well as filter coffees. The food menu is made up of an ever-changing selection of pies and a manageable lunch and brunch selection.
The menu consists of sandwiches during the week when customers are likely to be rushed and light meals at the weekend when they have the time to sit down.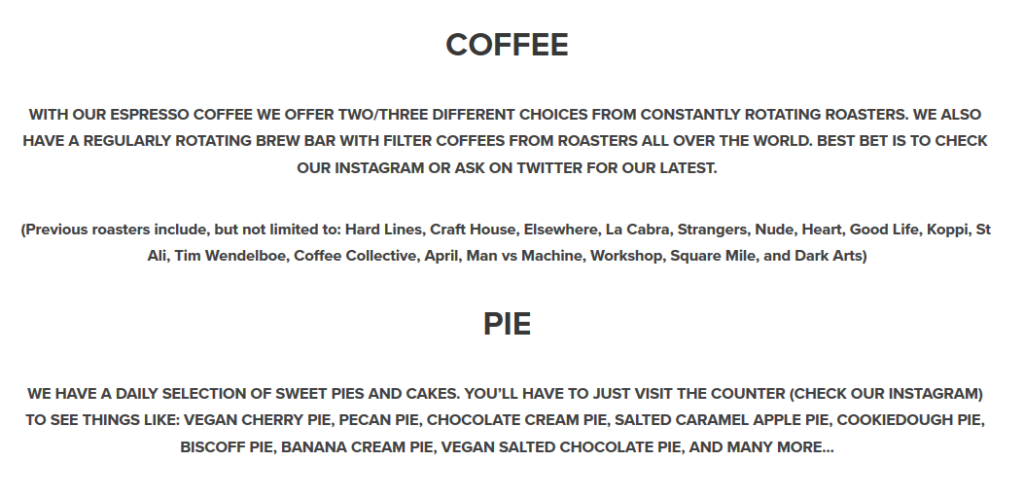 To Serve Good Coffee, Look for the Right Suppliers
Now that you have a good idea of the type of food and drinks you will offer, make a note of the ingredients you need so you can start to look for suppliers.
Your supplier is perhaps the most important decision to get right when you open a coffee shop.
When choosing a coffee roaster, you need to find one that is suitable for what you plan to sell, can provide the amount of coffee you need, and is within your budget.
While you want to find a good coffee supplier, it's also important that they consistently deliver your coffee on time. While a local speciality roaster may produce excellent coffee, they may not be able to keep up with demands for a larger coffee shop.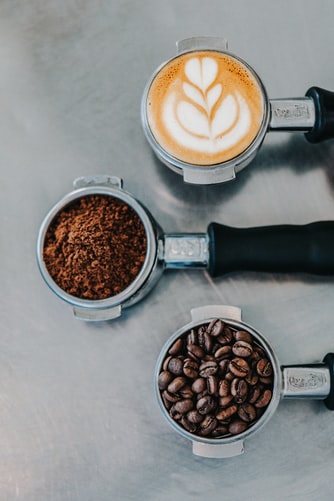 When choosing a coffee supplier, always start with a few different options. You can then ask for samples. This will allow you to test the quality of the product, as well as give you a taste of how their delivery systems work.
Casa Espresso has an excellent guide that details all the steps you need to go through when choosing a supplier, which also recommends asking for testimonials from existing customers.
Some coffee suppliers allow you to create individual blends of coffee beans and white label the coffee as your own. This is a good idea if you want to offer a product that is unique to your coffee business.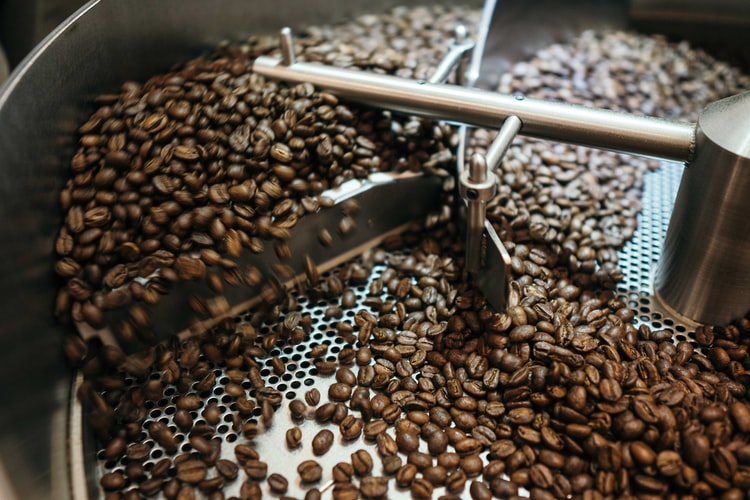 Image: Battlecreek Coffee Roasters/Unsplash
Finally, consider what other items you'll need to open your cafe business. Things like paper cups, straws, napkins, and milk are essential to your business but can easily slip under the radar.
Buy (or Lease) Coffee Equipment
Coffee shop equipment can be costly, with commercial espresso machines often running into the thousands of dollars. This is before you take into account the cost of fridges, cooking or baking equipment, grinders, and more.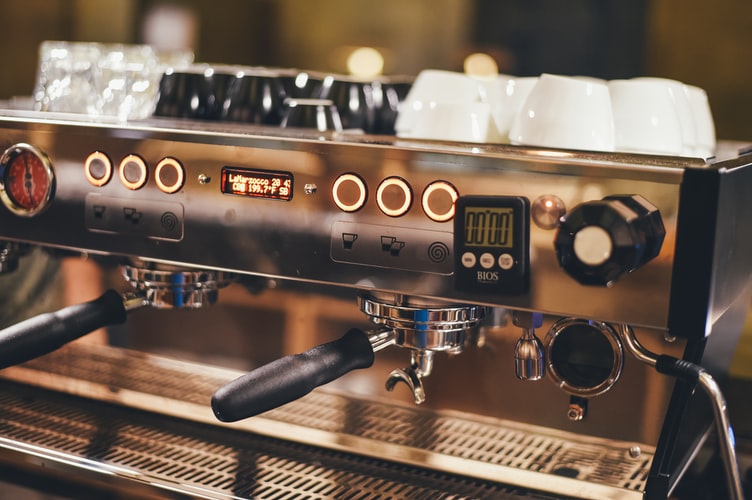 There are several ways you can get coffee equipment.
If you have access to cash, you can buy your own. Consider looking at second-hand marketplaces for used equipment if you want to save money.
Another option is to lease the equipment. This is a good way to get everything you need with relatively little up-front cost.
When you lease a coffee machine, the company that provides the equipment will typically service it for you. This can be a huge benefit as espresso machines are costly and time-consuming to look after.
Sometimes your coffee supplier will offer to lease equipment to you. This can simplify the process of finding equipment and may come with other benefits, such as free delivery on your coffee.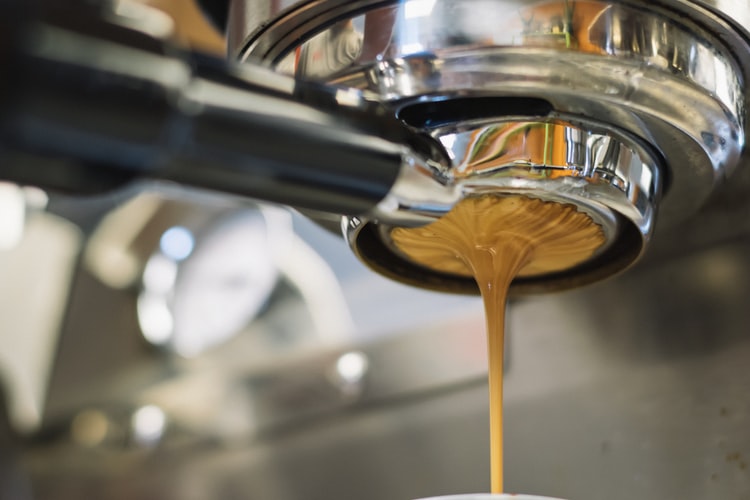 Image: Blake Richard Verdoorn/Unsplash
Don't forget your Point of Sale System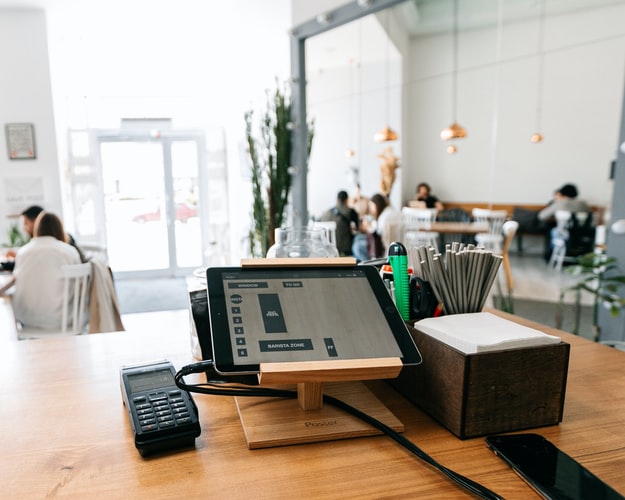 You will also need to find the right Point of Sale (POS) system for your coffee business. A POS system will record every customer sale and interaction, making it crucial for your coffee shop's daily operations.
When choosing your POS system, you need to consider:
Efficiency and strong usability: The last thing you want is for your POS system to slow your baristas down and be the reason your customer is left waiting. Choose a POS system that is user friendly and facilitates easy payment.
Affordability: Many POS systems will require a monthly fee. That's why it's important to choose a system that will match your budget and offer scalability as your coffee business grows.
Software features: Gone are the days where you could get away with just using a cash drawer in your coffee shop. POS systems now facilitate customer profiles, inventory management and digital receipt options.
Consider Your Interior
It's not enough to serve the best coffee in town; your coffee shop's interior is a critical part of the overall experience. Consider the practical aspects of the interior, as well as how the space creates an atmosphere that will attract customers.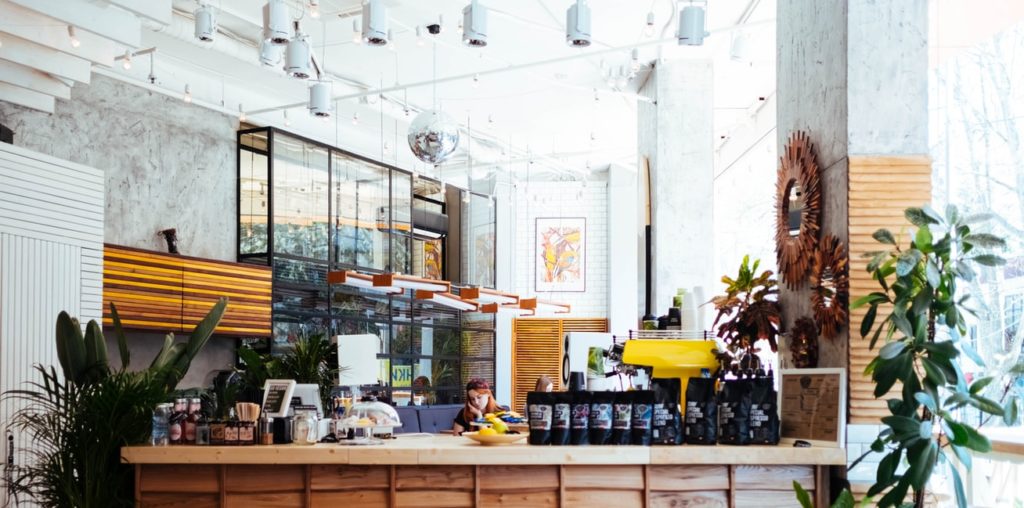 Practicalities include:
How many tables can you fit in? Is there enough room to reach your sales targets?
How much space do you need behind the bar, or in the kitchens?
Do you need a dedicated pickup spot for orders, or will you bring drinks to customers?
Once you've worked out these basics, you can think more about the ambience and atmosphere. Consider your ideal customer base and what they will want from the space.
If you are trying to attract office workers, you'll need plug sockets, natural light and tables where people can pull out a laptop. Or if you want a welcoming place to relax, consider comfy chairs and sofas. If you plan to sell food, make sure the tables are suitable for dining.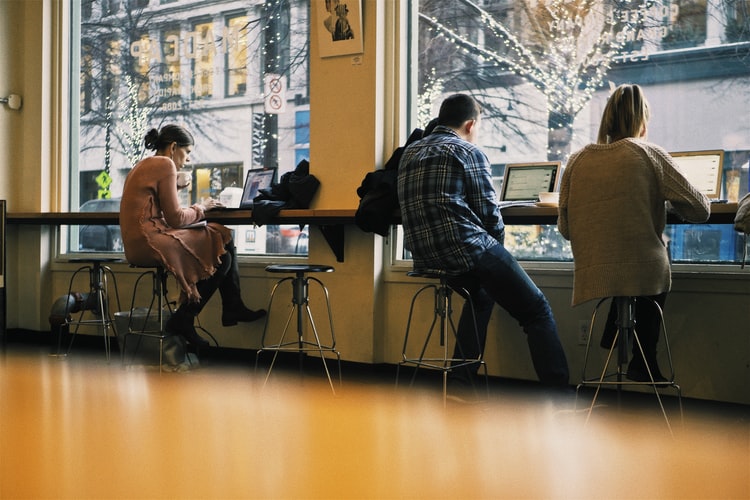 Interior design is a huge topic and we can't go over every aspect of it in this article. Perhaps the best option is to consult a professional interior designer to help you create a space you and your customers will enjoy.
This guide from Comelite Architecture, Structure, and Interior Design has lots of great design ideas for coffee shops.
Hire the Right People
A large part of the success of your coffee shop depends on hiring the right people. On a basic level, you'll need a manager who will run the coffee shop and a barista to make the drinks.
Small coffee shops may get away with having one person—often the owner— to fulfil both roles.
However, most coffee shops will benefit from making some hires. Depending on the size of your location and your planned offerings, you may also need chefs, pastry chefs, servers, dishwashers, cleaners, shift supervisors, and more.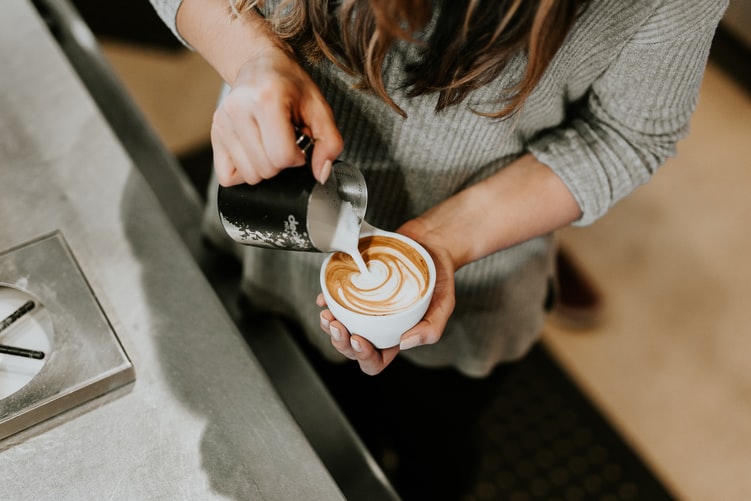 When hiring, it's important to take your time with the process. Make a list of all the roles you need to fill and think about the ideal requirements. As well as technical skills, consider both culture fit and personality; the latter is especially important in the hospitality industry.
Always hold interviews to make sure you're hiring the right people. While it can be tempting to rush through the process (especially if the person has a good CV and plenty of experience) taking a bit more time during the hiring process to really get to know the candidate can stop you from making costly mistakes.
For more information about coffee shop hiring, HowtoStartanLLC has an in-depth guide.
Start Marketing Your Coffee Business Early
The next step in how to open a coffee shop is to begin marketing.
You should begin marketing your coffee business as soon as you've finalized the important details in your business plan. A good pre-launch strategy can be the difference between your business taking off instantly and a slow, uncertain beginning.
Ideally, you will start marketing months before your coffee shop opens. There are plenty of things you can do to prepare for success.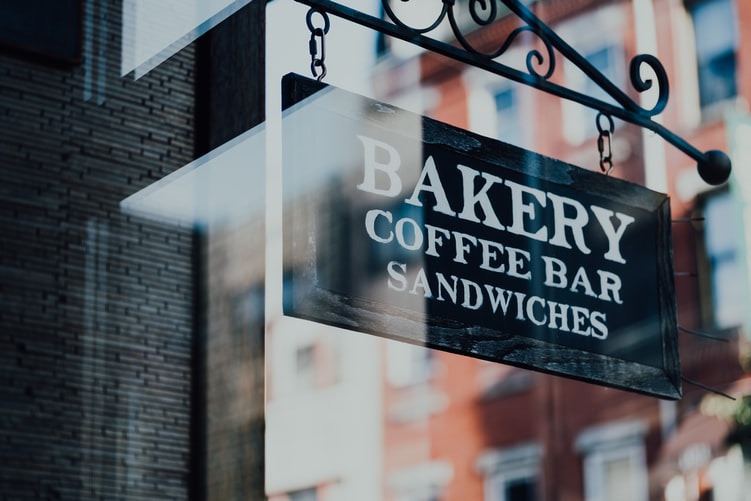 As soon as you begin working on your venue you will have eyes on your new business. Consider putting up posters with your coffee shop name in the window. Use these signs to direct people toward your social media profiles.
On your profiles, share teaser photos and information about your brand. Add anyone in your network who may want to visit your coffee shop and encourage them to invite friends to follow your page.
Another great marketing tool to attract customers to your new coffee shop is to offer a client loyalty program.
This will encourage clients to visit your coffee business more often, incentivize them to spend more money in-store, and potentially recommend it to their friends.
You can either give your customers cards that earn stamps after each purchase or set up a digital program that remembers their sale details.
You can also work on your digital assets. Build a website with information such as your menu, directions, and an About page. Website builders like Wix or Squarespace make building your own site easy and affordable.
You should also consider building an app for your coffee business. AppInstitute makes it easy for coffee shops to create branded mobile apps with features such as mobile order-ahead, coupons, and rewards schemes. These options are similar to the ones offered by larger independent coffee shops like Starbucks.
Click here for more information about creating an app for your coffee shop.
Another easy win when you're getting closer to opening time is to fill out your Google My Business profile.
This will help you show up in Google Search and Google Maps results when people look for coffee shop businesses in your area. The profile will include information like opening hours, images, reviews, and directions.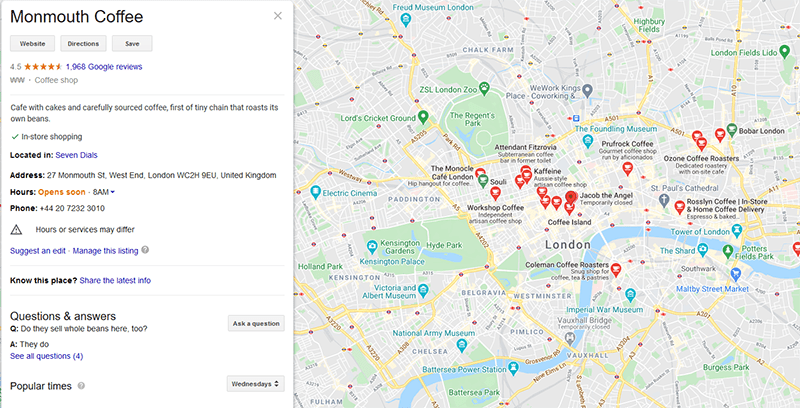 If you need more information about marketing your coffee shop business, check out our article on the top ten coffee shop marketing ideas.
Launch Your Business
Now it's time to launch your business! Before the big day ensure you have everything in place and spend some time training your staff on what is expected. First impressions count, so give yourself plenty of time to get ready.
Consider having a soft opening where you invite friends and family to make sure everything works as expected. Gain feedback from them so you can make adjustments if there are things people really do or don't like.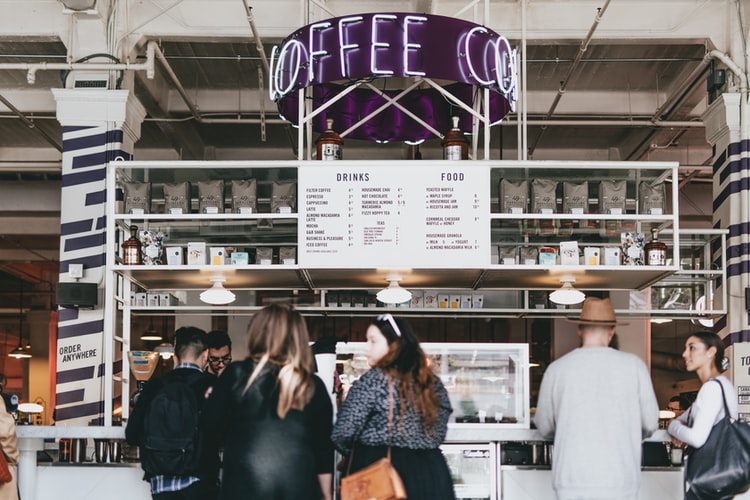 Coffee shops benefit greatly from repeat customers, so from day one, you should ensure you are building relationships with customers. Focus on offering the best possible experience so that people will return again and again.
Opening a coffee shop is an exciting time, although one that can be stressful as you juggle multiple roles. Hopefully, the tips in this article will help you define some of the most important aspects of how to open a coffee shop, as well as inspiring you on your journey to launching a successful coffee shop.
---