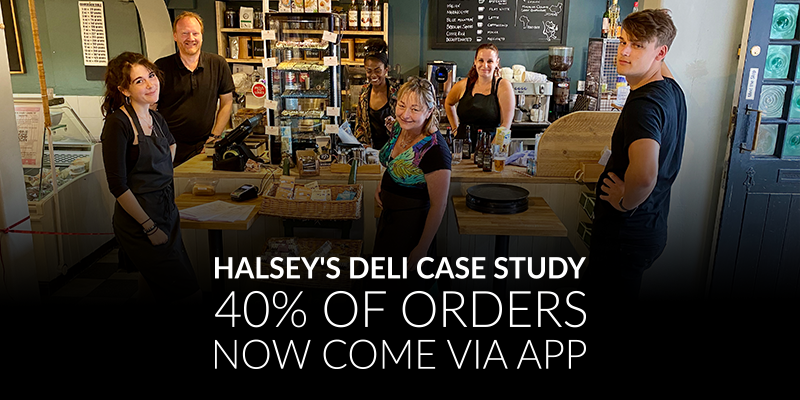 Halsey's Deli and Eatery has a history that goes back to 1854. With a track record of adapting to new times, the company recently decided it was time to invest in an app. This resulted in 400 downloads in just six weeks, and now 40% of all orders come through the app.
Historic Business Looking for New Revenue Stream
Halsey's wanted to introduce a takeaway service to increase reach and bring in more orders. Initially the business relied on passers-by, but it wanted more sales and the owners knew a more innovative solution was needed. This was when they started looking at mobile options.
The company soon realized an aggregator app was not for them. Halsey's has strong branding and is proud of its reputation for quality in the local area, so it needed a product that would give control over its service and how the brand is portrayed.
The owners have a website built with Squarespace, so they know the power of white-label platforms to enable businesses like theirs to create digital assets cost effectively. They decided that a similar platform for mobile apps would fit their needs.
This led them to AppInstitute.
App Published in Under a Week, Followed by an Unexpected Opportunity
Halsey's decided to go with AppInstitute after seeing its powerful takeaway functionality. Using an app, customers can order food from their phone and then pick it up when it's ready. When an order is made, the kitchen is notified via a connected printer to ensure nothing is missed.
The owner was also happy to see how easy it was to build the app and add their own branding. Despite having no app development experience, they were able to create and publish the app using AppInstitute in just a few days.
Soon after Halsey's launched the app, the local council opened an outdoor eating space close to the restaurant that let local businesses provide table service to customers.
As Halsey's app was already up and running, the deli was able to quickly add table service functionality via the AppInstitute app builder. This let the business take full advantage of the unexpected opportunity.
Consistent Customer Base Growth and More Repeat Business
Since its release, the app has become critical to the business. It has helped increase the deli's customer base and is now responsible for processing 40% of all orders.
The app was downloaded 400 times in just six weeks.
Halsey's now receives around 40% of orders through the app.
It saw a steady increase in repeat business through the app.
The business is now less reliant on footfall.
Halsey's keep 100% of profits, which would not be the case if they used a third-party aggregator.
Local pubs and hairdressers use the app to order for customers, meaning it has a significantly increased customer base.
Halsey's Deli Is Happy to Have Full Control 
"It took less than two days to scope, design and create the initial web app and then a couple of days to go live. We were supported throughout by the AppInstitute team, although we needed little assistance because the build process was pleasingly straightforward. We now receive about 40% of food and drink orders via the app, and we are seeing excellent levels of footfall and a steady increase in repeat business."
– Owner, Halsey's Deli 
---