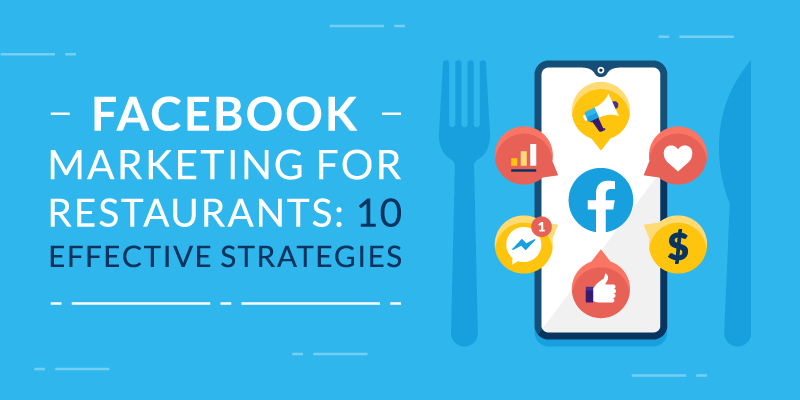 Facebook marketing for restaurants is continually evolving.
While it was once a great way to reach a new audience by sharing posts, images and updates, changes to the site's algorithm mean that organic reach — the number of people businesses can reach without paying — has dropped significantly.
The good news is there are still plenty of ways that you can benefit from your restaurant's Facebook account.
People frequently use Facebook when searching for business information, which means having a restaurant profile on the site is a must.
Additionally, the sheer number of people that use the platform every month — 2.6 million as of the latest investor report — means that ads and Messenger are potent ways to connect with people across the country.
This guide to Facebook for restaurants will look at ten up-to-date Facebook marketing strategies you can use to increase sales.
Contents:
Facebook Marketing for Restaurants: 10 Effective Strategies
Optimize Your Profile
Creating a business profile and keeping it up-to-date is essential to Facebook marketing for restaurants.
Your profile is your restaurant's home on the site. It's the page people looking for your business will discover first.
This is important because people consistently use the platform to search for restaurants.
A survey by payments company Square found that 52% of consumers had discovered a new business on the platform. This was more than Google Reviews, Yelp, Newspapers, and Magazines. For millennials, the number went up to 70%.
You just need to make your page easy for people to find and ensure that it has all the information they need to visit your restaurant.
London restaurant Smoke and Salt has a well-optimized Facebook profile. It has everything a restaurant's Facebook profile needs, including:
Description with keywords.
Relevant category tags.
Link to its website.
Contact details.
Opening hours.
Menu.
Check out the image below to see this in action.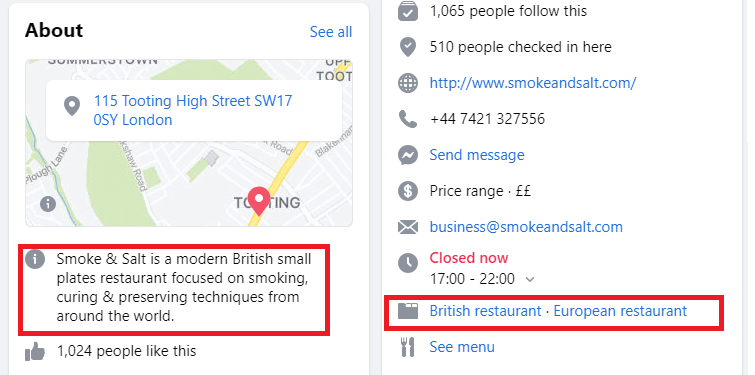 This ensures that when Facebook users search for the restaurant, its profile is the first result.
For more inspiration, check out our list of great restaurant Facebook page examples.
Get Customer Reviews
Customer reviews are a brilliant way to encourage people to visit your restaurant.
That's because 90% of customers research a restaurant before making a dining decision, and more than 55% of consumers consider online reviews when choosing where to eat.
The question is, how do you get reviews?
The easiest strategy is simply to ask. Start with friends, family, or regular customers who you know enjoy your restaurant.
Another option is to keep an eye on comments on your Facebook page. If someone leaves a comment saying they enjoyed your restaurant, ask them to leave an official review.
Facebook displays reviews on a separate, easily accessible tab on your profile. This tab makes it easy for customers to get an overview of what people think about your restaurant.
Check out Smoke and Salt's review section below.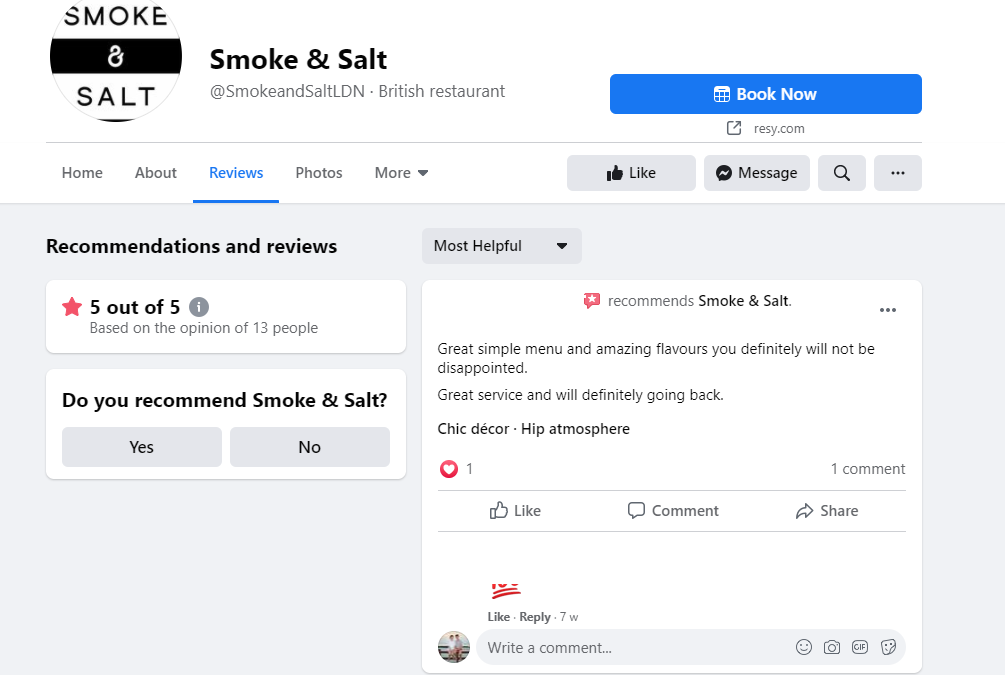 But, what happens if you get a negative review?
While this isn't an ideal situation, it can be an opportunity to portray your restaurant in a positive light.
A survey by online magazine PYMNTS found that 45% of customers would actually be more inclined to visit a restaurant that responded to negative reviews.
The magazine recommends:
Responding to comments promptly.
Encouraging dissatisfied patrons to reach out to a specific person for help.
Doing this may reduce any damage caused by a negative review.
Use Facebook Ads
Facebook ads are a great way to reach a high number of new potential customers. They are also super easy to use, all you need is a Facebook business profile and a credit card.
There are several reasons why a Facebook ad strategy can be effective.
Granular Targeting
Audience targeting lets you create very specific profiles based around people who might like your food.
Here are some groups your restaurant could show ads to:
People who like your page: Existing customers already know about your restaurant and, if they follow it on Facebook, are probably fans. Showing these people ads with special offers or new menu items can be an effective way to drive custom.
Audience retargeting: This is when you show ads to people who have visited your website. These people know about your restaurant and may just need a final push to actually visit.
People in your area: It is possible to advertise to people who live nearby. This is perfect for restaurants as these are the people most likely to visit. Just choose a location based on a zip code or a specific radius around your location. You can make this even more effective by combining it with other biographical details such as age or interests.
Variety of Offers
When creating ads, use compelling offers.
You could provide customers with a discount via email, direct them to download your app, promote an event, or book a table.
Just choose the offer that best suits your restaurant and the customer segment you are targeting.
Be sure to track the effectiveness of each offer and each segment. If one strategy isn't working, you can easily stop the ads before losing too much money. On the other hand, it's easy to keep going once you've found a strategy that works.
Click here to read our article all about how to advertise on Facebook.
Sell Products
One of the ways Facebook marketing for restaurants has changed over the years is the new features the company is always adding to profiles.
The shop is one of the most interesting as it lets businesses sell products via their profiles.
Many restaurants started using this feature during the COVID-19 pandemic as a way to bring in business while their restaurants were shut.
It is a good way to increase your revenue streams even if your business isn't currently being affected by the shutdown.
Restaurants can sell a variety of products on their profile. Here are some ideas:
Make-it-yourself meal kits.
Snacks or candy.
Ready-made food.
Drinks kits.
Bottles of alcohol.
Merchandise.
Gift cards.
Specialty ingredients that are hard to find in regular shops.
The way it works is that restaurants add a section to their Facebook profile called "Shop." They then add listings for all the items they want to sell.
The listing should include a high-quality image, a price, and a description of the product. Your profile will show a select few items, or users can click through to the shop page to see all your offerings.
You can then either send visitors to your website to complete their purchase or use Facebook's commerce manager to process the payment on the platform.
Look at the shop for London-based Sri Lankan restaurant Hoppers in the image below. The restaurant sells a variety of products such as meal kits, curry powder, banana chips, soda, gift cards, and more.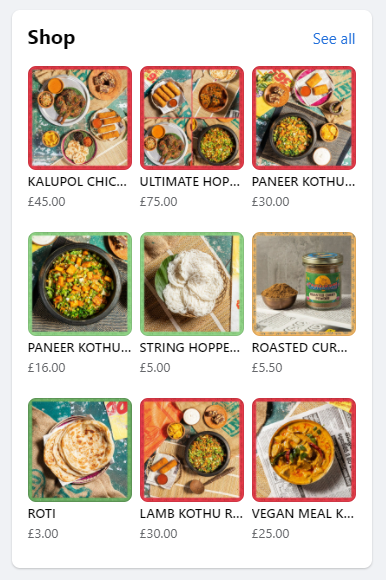 The product description then contains detailed information about the item, the restaurant's contact details, and a link to the website.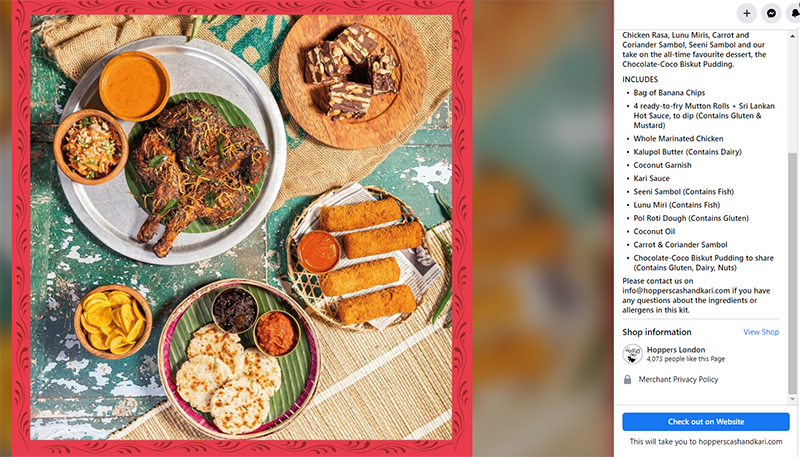 Use Facebook Messenger
At its heart, Facebook is a communications platform. Messenger is a powerful Facebook marketing tool that makes it as easy as possible for people to communicate with you once they find your profile.
You can set your page up so that a pop-up appears with a welcome message as soon as someone lands on your page.
Adding frequently asked questions to the pop-up is an easy way to point customers towards helpful information. Create questions that people may have about your restaurant and set up an automated reply that answers the question.
For example, a question could be "What time do you open?" and the answer could be "We are open from 11 a.m. until 10 p.m."
Below is Smoke and Salt's message box with four questions.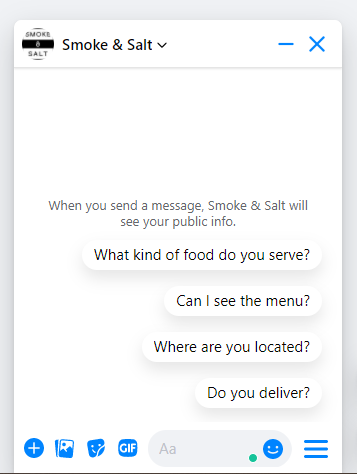 Sometimes customers may have a question that requires an actual response from someone in your team. Customers can use the pop-up to ask for help.
Set up an automated response so that when someone messages you, Facebook replies saying you've received the message and that you'll reply as soon as possible.
You can then respond via your Facebook page when you see the message.
Include a Call-to-Action
Facebook profiles make it easy to include a call-to-action button at the top of the profile. Use this to ask customers to either:
Download your app.
Make a reservation.
Visit your shop.
Contact your restaurant.
Buy food to take out or deliver.
Just choose the one that's most important to you.
Let's say you want to use the button to get customers to download your app, just like AppInstitute customer Raglan Road.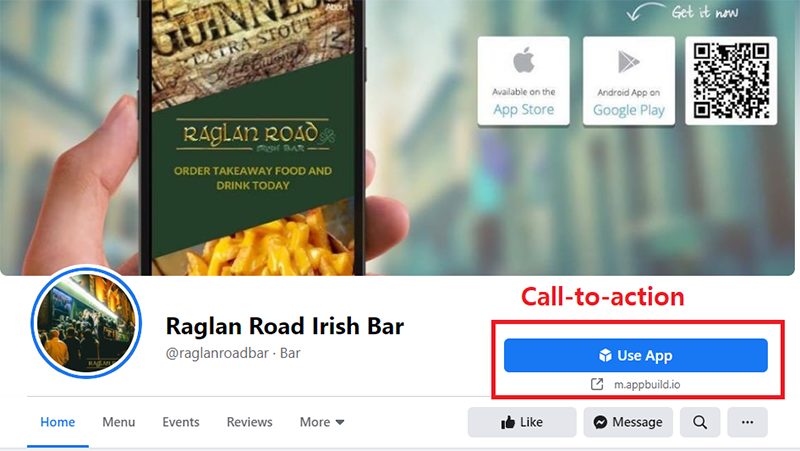 The button encourages people to use the app. It directs them to a landing page with links to either Google Play or the App Store so people can download it no matter their operating system.
If customers visit the page on mobile, it skips this landing page and instead takes them directly to the relevant app store.
Experiment with Different Types of Post
We've mostly ignored the posting feature of Facebook pages so far. But, while it's less useful than it used to be, you should still use it to promote your restaurant because:
People will still see your posts in their timelines.
People will see the posts when they visit your pages.
You can promote posts using ads.
The key is to know what type of posts work best for your restaurant. Restaurants commonly use Facebook posts to:
Introduce new menu items.
Promote events.
Provide offers or discounts.
Share user-generated content.
Share stories about the restaurant.
Introduce competitions or contests.
Promote their app.
Share general content their customers may find interesting.
Advertise services like takeout, delivery, or shops.
The key to a good post is to use high-quality images and well-written text.
You can also increase the potential reach of your post by adding relevant hashtags or tagging other people or businesses.
New York pizza shop Paulie Gee's Slice Shop does this well. Check out the post below where it has reposted a review from a local food blogger.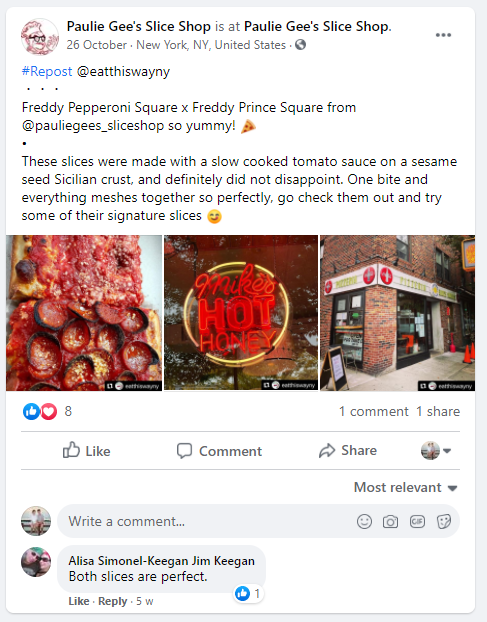 Remember that you can also post images that you share on Instagram with your Facebook audience. By doing this, you get twice the exposure for little extra effort.
Interact With Your Community
Building relationships with customers is a great Facebook marketing strategy. Ensure your Facebook communication goes both ways to build loyalty on the platform.
There are several ways you can do this:
Post a reply when someone comments. This shows your customers that someone is listening. Even when a reply isn't necessary, consider leaving a reaction.
Share user-generated content. If someone uploads an image of your food to their profile or story, consider reaching out and asking if you can share the post with your audience.
Tag people in your posts. One of the best ways to increase the reach of your posts is to tag relevant people to be sure they see it. Consider creating posts promoting other local businesses you like. If they see it, they may share your post with their audience.
Be active in groups. Many areas have Facebook groups dedicated to local issues. By building relationships in these groups, people may mention you when others are asking for restaurant recommendations.
Experiment With Stories
Facebook Stories are an easy way to connect with your audience.
While Instagram Stories are slightly more popular, Facebook's version of the feature still has around 300 million daily users. This makes it a powerful Facebook marketing tool.
The great thing about Stories is that they require less refinement than typical posts, meaning it's quick and easy to make posts. It's a great way to give customers some insight into your restaurant.
Consider:
Posting images of your food or restaurant.
Posting short videos.
Sharing content from customers.
Asking questions or create polls.
Sharing events.
The key is knowing what your audience responds to. The Facebook Stories Insights section shows you story-related metrics from all your posts made in the last 28 days. You can see information such as:
The number of people that opened the story.
The number of engagements.
The demographic of your audience.
Their location.
Number of shares.
Page visits.
And more.
Use this data to discover the type of posts your audience responds to. Consider creating similar content.
Drive Traffic to Your Own Online Properties
Facebook is a good way to connect with your audience. But, the company's habit of continually tweaking its algorithm means you never quite know when a change will have a negative effect on your business.
Because of this, it's important that you grow your own online properties alongside your Facebook presence. You can then use Facebook to drive people to these assets — such as your website and app.
A website is your main online presence. You have complete control over how you present your brand, and you can introduce various features such as:
Your menu.
Online reservations.
Online store.
Restaurant information.
Your blog.
Keep in mind that visuals play a big role in your branding, and customers will get to know you based on the fonts, colors, and graphics you use.
While SEO and other forms of marketing drive traffic to your website, your brand keeps them interested. Consider using copy and paste font tools, AI image generation software, and color wheels to determine what fits your brand image.
The more you use these visuals, the more recognizable your brand will be.
You can use website building software like WordPress, Squarespace, or Wix to cheaply and quickly create a website.
Your app lets customers connect to you from their mobile devices wherever they are.
You can offer features such as:
Loyalty programs.
Coupons or special offers.
Mobile ordering.
Takeout.
Contactless payments.
And more.
At AppInstitute, we make it easy for restaurant owners to create their own branded mobile app. We'll even show you how to use Facebook marketing to promote it.
Click here to find out more about how an app can benefit your restaurant.
Facebook is a Powerful Part of a Restaurant Marketing Strategy
Facebook is a powerful tool restaurant owners can use to promote their business. You just have to know the most up-to-date Facebook marketing strategies. The business profile is super useful, as are automated messaging and e-commerce features.
You can still use Facebook to connect with fans and customers via posts. Although it's perhaps not as effective a strategy as it was a few years ago.
Many restaurants use Instagram for this type of content instead. Our guide to restaurant Instagram marketing can help if you want to get started with this kind of marketing.
Always make sure you are building your own online presence while marketing on Facebook. Having a restaurant app and website ensures you'll always have control over your brand online.
---