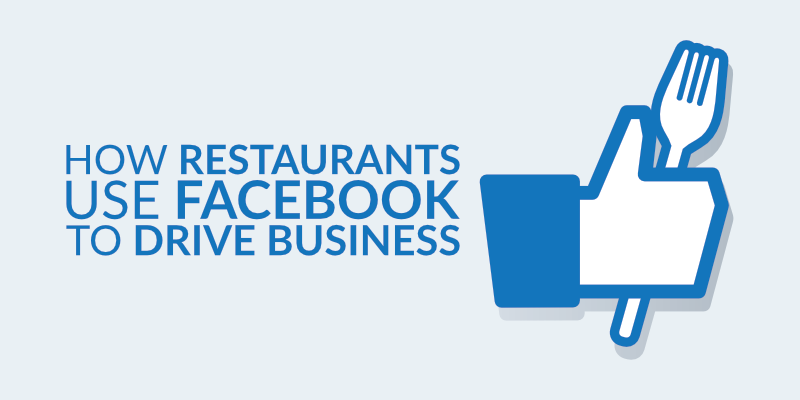 As a restaurant owner, one of your priorities will be to get people through the door, before they then enjoy the great food that you put in front of them. However, the question then comes as to the best way to achieve this, and with the rise of social media, channelling some of your marketing efforts towards Facebook marketing for restaurants could see you enjoy great returns.
But how can you use this platform effectively to drive business through your door. Well, it's a good job we're on hand to assist with a few tips that you can put into practice:
Make the most of Facebook Live
A relatively new addition to the Facebook family, the option to create live streams to present to those who follow your page can give you the opportunity to give a little insight of what goes on behind the scenes.
There's a fantastic choice of options available when it comes to Facebook Live for your restaurant, for instance you could give behind the scenes look at your team of chefs prepping for the day's service, a one-on-one with your head chef as they run through the daily specials or you could even do some cookery demonstrations, showcasing the high quality range of products that go into the food you put on the table for guests.
For any special occasions, such as New Year's Eve or St Patrick's Day, show off the celebrations going off in your establishment to show people who aren't there what they are missing out on, and in turn increasing the chances of them booking in for next year.
Encourage visitors to post pics
Facebook users love to share a photo or two, so make the most of this by encouraging them to share photos of their time spent in your restaurant. It could be a selfie at their table, photos of the food that they've ordered or the cocktails that are helping them enjoy their evening even more!
You could also incentivise this by selecting your favourite each month and awarding the winner with a free meal for two. Seeing other people win will give them the incentive to take a photo when they visit too, knowing that it could be them next.
Try and get Facebook reviews
Whilst many visitors to a restaurant might look on a review site such as Trip Advisor, if they have visited your Facebook page in the past and noticed that you have already got a number of reviews, there's a good chance they'll have a read through before deciding whether or not to make a booking.
It can always be difficult getting reviews, as even when someone says they will write a review when they get home, it's often the case that they'll forget to do it as soon as they walk out the door.
However, by continuing to deliver great food and service plus simply letting guests know how grateful you'd be if they were willing to leave a review, the likelihood is that you'll start to see your numbers begin to rise.
A great tactic to get more reviews is through a survey at the end of the consumption:
Ask the customers to fill in a short restaurant satisfaction survey on a tablet that you present to them. Make sure to collect their e-mail address, potentially in combination with a small incentive.
E-mail the customers who left a positive score, asking them for a Facebook review.
Good reviews are obviously great, however be prepared that not everyone is nice and you may end up getting some negative feedback, even if you don't agree with what they are saying.
If someone leaves a negative review, don't simply ignore it but instead reply and try to find an amicable solution for all parties. Even if the end result doesn't turn out like you want, you'll look good to others looking at reviews as you've taken the effort to try and resolve the person's problem with their experience at your restaurant.
Drive traffic to your website
If you want make people more aware of your restaurant and all that you have to offer, use Facebook to drive traffic to your website. Whilst there's a lot of competition and noise on social media, your own website enables someone to explore all that there is about you.
By posting links directly to your website from your Facebook page, potential guests can view your menus, calendar of events, photos from inside your restaurant and even book a table too.
Facebook for restaurants: Quick fire tips
Here are a few more quick wins that can help drive business through to doors using Facebook marketing for restaurants.
Tempting cover photo
Make sure your cover photo is one that will leave visitors to your Facebook drooling and wanting to book a table at your restaurant to try out the dish for themselves.

Promote your events

If you run regular events, use the Events tab on your restaurant's Facebook page to let people know what is going on, encourage them to express their interest and easily share with friends.
Offer coupons for money off
Everyone loves something for nothing, so why not publish a voucher or coupon on your Facebook page that offers £5 off their food bill the next time they visit? You'll also be rewarding those who have liked your page and will more than likely see an increase in page likes as your followers share the post with their own friends and family.
Boost posts to your target audience
If you have some budget available and have a fantastic offer running, why not boost a post on Facebook to reach a wider audience? You can target specific areas as well as an individual's demographics and interests, ensuring you are reaching the exact type of clientele you want through the door.
Run a poll for engagement
If you want to engage your followers, consider running a poll to get their views on the best way in which a dish is presented, which starter to add to the daily specials or which dessert they'd like to see added to the menu.
Promote your restaurant as a meeting space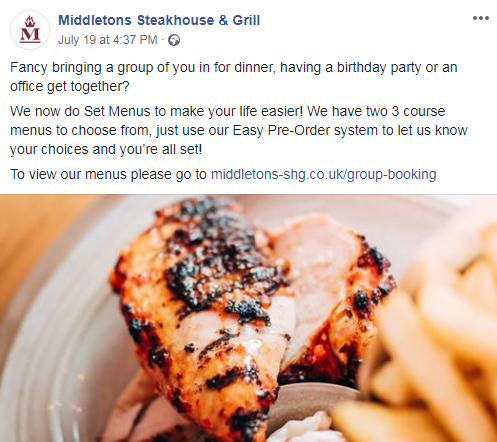 To get as many people through the door as possible, why not promote how you space can be used for a fantastic working lunch or Christmas party. If you do outside catering, make sure you're letting your Facebook followers know about this too and how you could be the perfect solution for a party or wedding.
Remember, making the most of Facebook marketing for restaurants will take time and effort, so don't be afraid to call on other members of your staff to help out too, and they'll probably have some great ideas to move your page forward as well!
Automate customer service with chatbots
Facebook Messenger is the #1 app on the app store, so making the most of it for your business should be a priority! Setting up a facebook chatbot for your restaurant hasn't always been something accessible for restaurants with smaller budgets.
In recent years, a number of tools have emerged that allow people to take advantage of this new technology without spending big on development and implementation.
Your chatbot could answer common questions about your restaurant, give directions or even allow customers to book their table – taking time off the hands of your staff to focus on other things.
Do you have experience with Facebook marketing for restaurants? What are some of your top strategies? Let us know in the comments below.
---