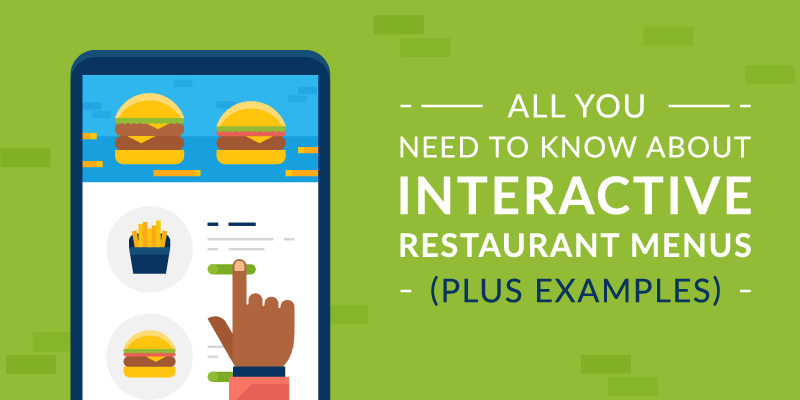 Restaurateurs are increasingly moving away from traditional menus and towards interactive ones. This is no surprise, since interactive menus have many advantages.
With interactive restaurant menus, owners can:
Easily edit and change menus without the cost of having to reprint paper menus.
Maximize revenue by highlighting season specials or upsell opportunities.
Edit menus based on inventory to reduce waste.
Cut labor costs by enabling customers to order without contacting a server.
And they don't just benefit those running the business. Customers get an immersive, digital experience that stands out against traditional restaurants.
This article will explore interactive restaurant menus and provide examples of the different kinds you can use.
What Is an Interactive Menu?
An interactive menu is a digital menu with elements the diner can interact with. They typically make it easy for customers to browse your offerings and learn more about each dish. You can include enticing food images and descriptions that encourage purchases, nutritional and allergy information that makes choosing food easier, and highlight your most profitable promotions and specials.
Many interactive menus also have features that let customers order directly from the tool, without contacting a server. This enables contactless service or lets customers order for takeaway or delivery without actually visiting your venue. Restaurants can offer these menus via tablets, kiosks, mobile apps, or their website. You just need to choose the most appropriate form for your business.
Digital Menu vs. Interactive Menu
Both these terms are similar, and they sometimes get used interchangeably. But they're not the same thing.
The main difference is that a digital menu may refer to any kind of digitally produced menu. This could be an interactive menu, but it could also be a static page that is little more than a reproduction of a paper menu.
On the other hand, an interactive menu includes features that elevate the diner's experience.
Features of an Interactive Restaurant Menu
Interactive menus come in many shapes and sizes and make use of various types of technology.
Interactive menus may offer:
The ability for owners to quickly and easily edit the restaurant menu.
Simple navigation that lets the customer browse the entire menu.
Images and detailed descriptions of the food.
Contactless ordering.
Extra features such as loyalty schemes, games, and more.
Types of Interactive Restaurant Menu (Plus Examples)
There are four main types of interactive restaurant menu:
App menus.
Kiosk menus.
Tablet-based menus.
Online menus.
Each one works best in different situations.
For example, a kiosk menu will work well in a fast-food joint but not a fine-dining venue. Likewise, you can use online and app menus to let people order at home, whereas you'll only use a tablet menu in a restaurant.
The next section provides details about each type of menu, as well as real-life examples.
App-Based Menu
App-based menus are those that the customer accesses via apps. Diners download the app when they enter the restaurant and then browse on their smartphone. Guests use the menu every time they eat at the restaurant.
For this to work, the restaurant must make it easy for customers to download the app. Using a QR code that guests scan at the table which takes them directly to the app store listing is one way to do this.
A restaurant app can also be a powerful marketing channel. Features such as loyalty schemes, coupons, and notifications can encourage repeat buys.
Businesses can develop their apps from scratch. But an easier and more cost-effective solution is to use an app builder to create a branded restaurant app.
Example: Raglan Road Bar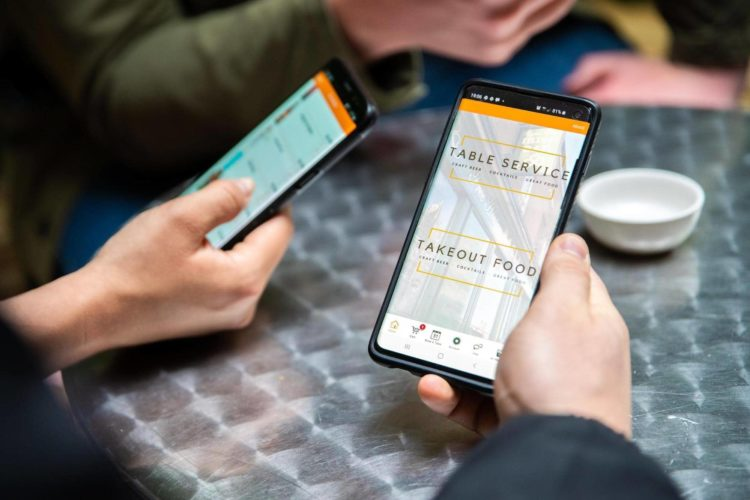 Raglan Road Bar implemented an app-based interactive menu to provide a contactless ordering experience for customers.
When customers visit the restaurant, they download the app to their smartphone and then browse the menu on their phone. It's easy to navigate and then find out more information about each item.
Guests can then order food from within the app itself and either pay online or by cash.
The app has other features that provide a fully interactive experience. It offers a loyalty scheme, the ability to order takeaway food in advance, and restaurant information.
Pros of App Menus

Cons of App Menus

✔️ Order from the app for a contactless experience.

✔️ Easy to add extra features to the app, such as rewards programs.

✔️ Once the app is on the customer's phone, it can be a powerful marketing channel. 

✔️ No need to buy costly equipment.

❌ People need to download the app before using it.
Tablet-Based Menu
These are menus that restaurants install on tablets. Customers can browse when they dine in at the restaurant.
These solutions may be fixed at tables, or they may be installed on tablets that servers bring to the customer when they sit down.
The latter option means they can provide a traditional dining-like experience, so they are suitable for dine-in restaurants that want to provide a modern experience.
Example: Chili's

Fast-casual restaurant Chili's installed over 45,000 table-top tablets in its restaurants.
Customers can browse the restaurant menu and order food in real-time on the tablet. They can also play a selection of games while waiting for meals to arrive.
The great news for restaurants thinking about introducing this kind of system is that when testing the tablets, the company found they could "reliably" increase order size.
Pros of Tablet Menus

Cons of Tablet Menus

✔️ Similar to traditional menu experience.

✔️ Add extra features to the menu.

✔️ Easy to edit and change your offering.

❌Buying and installing tablets can be costly.
Kiosk-Based Restaurant Menu
Kiosk-based menus allow customers to navigate a menu and then order from the screen without interacting with servers. This helps restaurants to serve a large number of people quickly. But the experience can be impersonal.
The above factors mean this type of system is commonly found in fast-food venues or takeaways.
Example: McDonald's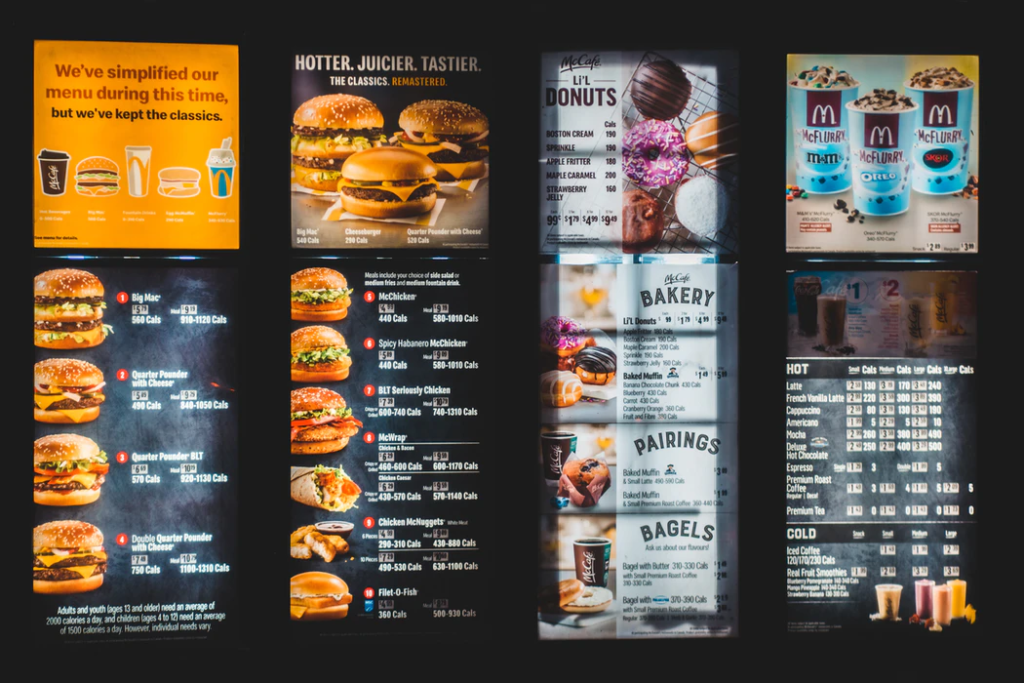 McDonald's has long offered kiosk-based menus at its venues worldwide. Guests can easily browse the fast-food chain's menu and then choose and pay for the menu items they want.
The kiosks also let customers decide whether to eat in or takeaway. They sometimes have language options.
Recently, the business began to add AI to its menus. This automatically promotes certain items based on real-time conditions. McFlurrys may get more prominence on hot, sunny days, while a restaurant near a high school or college may promote cheaper menu items.
Pros of Kiosk Menus

Cons of Kiosk Menus

✔️ Potential for cost savings as you don't need to pay for staff to take orders.

✔️ Makes ordering fast.

✔️ User-friendly system.

❌ Can be costly to install.

❌ Only suitable for fast-food businesses.
Online Menu
Restaurants can easily add an online menu to their website. Diners can browse your restaurant menu before visiting your business. Or you can connect it to an online ordering platform to offer food to takeaway or deliver.
Example: Nando's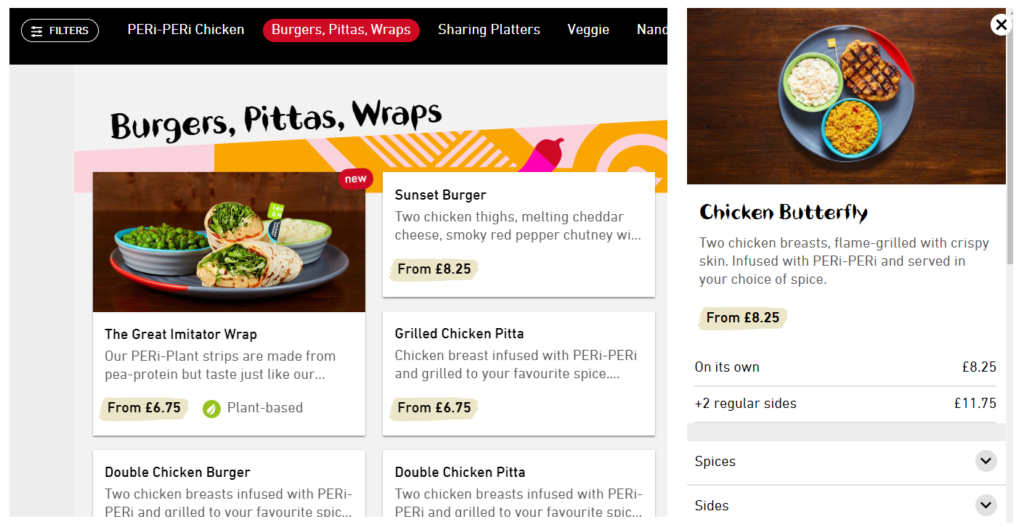 Nando's has an excellent online menu. It features every item on the restaurant menu. Customers can view it based on categories or by filtering based on ingredients.
Clicking on each menu item brings up a ton of information. There is a high-quality image, plus further details on spice levels, nutrition, and allergens.
Nandos also makes it easy for the user to order food from the menu page.
Pros of Online Menus

Cons of Online Menus

✔️ Easy to add your restaurant menu to your website.

✔️ People can view it at any time. 

✔️ Offer online orders and payments.

✔️ No need for costly equipment.

❌ You'll still need another solution for dine-in. 
Create an App-Based Interactive Menu with AppInstitute
At AppInstitute, we believe that using an app is the best way to provide customers with an interactive experience. With our user-friendly app builder software, you can quickly create an app to offer contactless dining and food to takeaway.
The app includes features such as:
Browse your full restaurant menu.
Include images and descriptions of each item.
Offer in-app payments or payment on pickup.
Create loyalty and rewards schemes to increase customer loyalty.
Use coupons and offers to encourage repeat purchases.
Start building an app for your business with our app builder today. Click here to try it out.
---