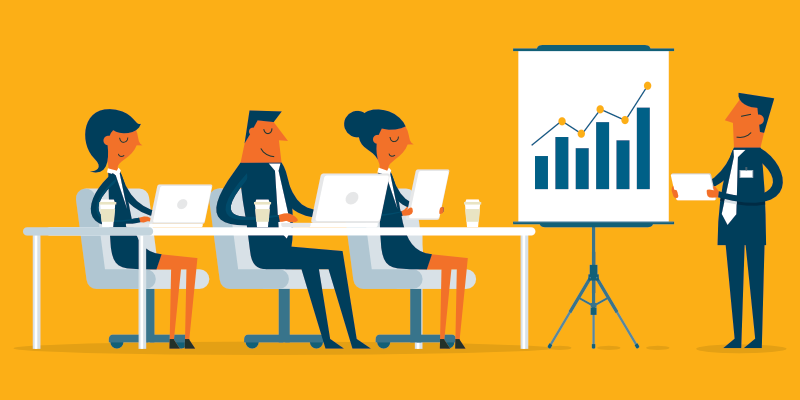 As much as we might like to think we are the decision makers when it comes to our jobs, sometimes we have no choice but to go to the boss upstairs for the final yes or no!
The chances are always better that you'll get the decision you're looking for if you put together a good pitch, highlighting why your idea will be beneficial, how it can improve the business as a whole and ultimately how it can make a return on investment.
If you provide them with the right pitch, you never know, they might just say "Yes"; they're not all bad you know!
It's for this reason why we thought we'd provide you with a bit of template for when it comes to pitching the features and benefits of a Progressive Web App for your business to your big boss. We recommend you go with a structure that's a little like this:
Introduction
Provide your boss with an initial overview of exactly what a Progressive Web App is and some of the features that could work beneficially for your business in today's ever-evolving digital world.
We've previously put together a great beginner's guide to Progressive Web Apps which will allow you to pull out some credible facts and stats, whilst a quick-fire overview to start with can add an effective edge to your presentation.
Highlight some of the key features of the PWA, such as:
The ability to enjoy all the features you'd associate with a native app but access it via a browser rather than downloading
Instant loading even in poor connectivity areas
Provide an incredible mobile experience to your customers and clients
Avoid the user needing to discover and download your app from a congested app store
Enable Google to crawl your PWA like any other responsive website in order to appear in search results
Cross-platform accessibility
Avoid the high costs associated with the design and development of native apps
Less friction and a far more enjoyable overall experience for the user
Highlight how mobile usage is changing
The next stage of your pitch should highlight how the use of mobiles has changed in recent years, and how more people than ever before are using their mobiles to search for business services and shop online.
As with any pitch, if you can back up your statements with any industry relevant facts, it will always add credibility to what you are saying at the same time as highlighting that you've clearly done your research around the subject.
One of the clearest facts that proves the evolving nature of mobile use is that 2016 saw mobile internet use surpass desktop use for the very first time. With the combined internet traffic from mobiles and tablets tipping the balance at 51.2% against 48.7% from desktop, it clearly showcases how users are no longer just using phones to make calls and send text messages.
With this in mind, it's important to stress to your boss that if your mobile marketing strategy isn't up to scratch or even in existence, there's a very strong chance that your business could be left behind.
Whilst a responsive website used to be the cutting edge of mobile development for the business world, a Progressive Web App enables you to go one step further and put your business ahead of the competition.
With their incredible features, customers visiting your PWA, directly through their chosen browser as they would any other website, they are sure to be blown away by the design and functionality presented to them.
Whether they purchase or make an enquiry with you from that visit or not, you can rest assured that they will easily remember your PWA for future reference and will return again further down the line.
Highlight how consumers are changing too
Alongside how consumers are changing the way they use their mobile phones, it is also key to highlight how the overall shopping methodology of the consumer is changing too.
We all live in a fast-paced world where we hate to be left waiting for anything, whether that's whilst standing in a shop or waiting for a website page to load as we sit with a cup of tea in the evening.
A standard responsive website comes with its issues in that, with a poor internet connection, web pages can load incredibly slowly and the whole experience is ultimately clunky and by no means user-friendly.
A PWA, on the other hand, is frictionless, with their lightening load speed ensuring no potential customer is ever left waiting to read more about your available services or purchase a product from your online catalogue.
On landing on your Progressive Web App, the page will load instantly, no matter how poor the internet connection may be in the area the consumer finds themselves in.
This pleasant, easy to use mobile experience will dramatically increase engagement with your site, improving the amount of time the user spends browsing and the number of pages they visit during their time on your app.
This improved all round experience will, in turn, lead to an increase in conversions, whether that's a consumer purchasing a product through your site, sending you an enquiry via a contact form or signing up to a newsletter.
Identify how a PWA can slip seamlessly into your marketing strategy
The most effective way to close your pitch is to identify how seamlessly a Progressive Web App can slip into your existing marketing strategy. If you already have a website, perhaps you even have a mobile-friendly design too, you will simply be enhancing what you already have and taking your digital offering up a notch.
There really is nothing to lose when investing in a Progressive Web App as you are assured of an improved mobile experience for your consumers that can still be crawled like any other website by Google and can be promoted and linked to via your social media platforms, digital PR activities and directory listings.
Pitching an idea to your boss can be a scary prospect, yet when it comes to pitching a PWA for your business, you can feel confident that you will get the end results and return on investment that any business leader will be looking for from a project.
To learn more about the PWA features supported by AppInstitute, click here.
---