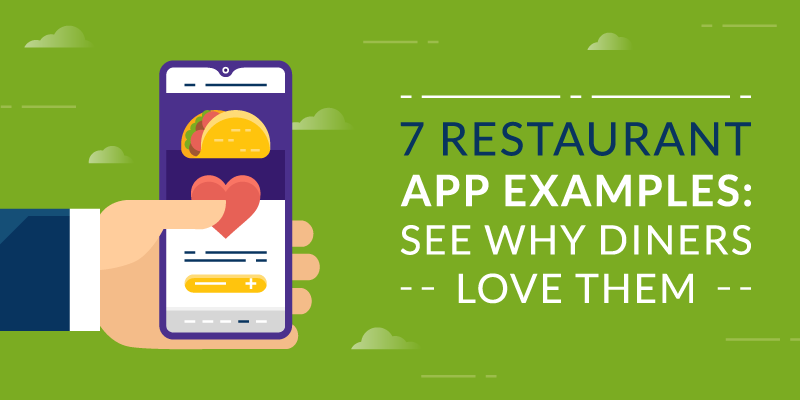 Over the past few years, restaurants have grown wise to the power of apps. This is unsurprising considering the features they provide.
With an app, restaurants can offer takeaway, delivery, dine-in, rewards schemes, and more.
In 2020, dine-in mobile ordering has been especially important due to the need for contactless service in order to stay compliant with COVID-19 regulations.
Unfortunately, many independent restaurants and takeaways rely on third-party aggregator apps to provide some of the above features. While undoubtedly convenient, these products have major downsides.
Most obvious is the cost. Some platforms take up to 30% on every order, which can result in significant losses over time.
Also, restaurants that use these services have zero control over branding or the delivery experience. The customer's allegiance is with the aggregator app, not the restaurant—making it hard to build long-term (and profitable) relationships with customers.
The good news is that it's easy and affordable for independent restaurants or small chains to create a restaurant app.
In this article, well look at seven restaurant app examples from both global chains and independent restaurants that you can use as inspiration when building your own app.
7 Restaurant App Examples
Nando's: Easy Takeaway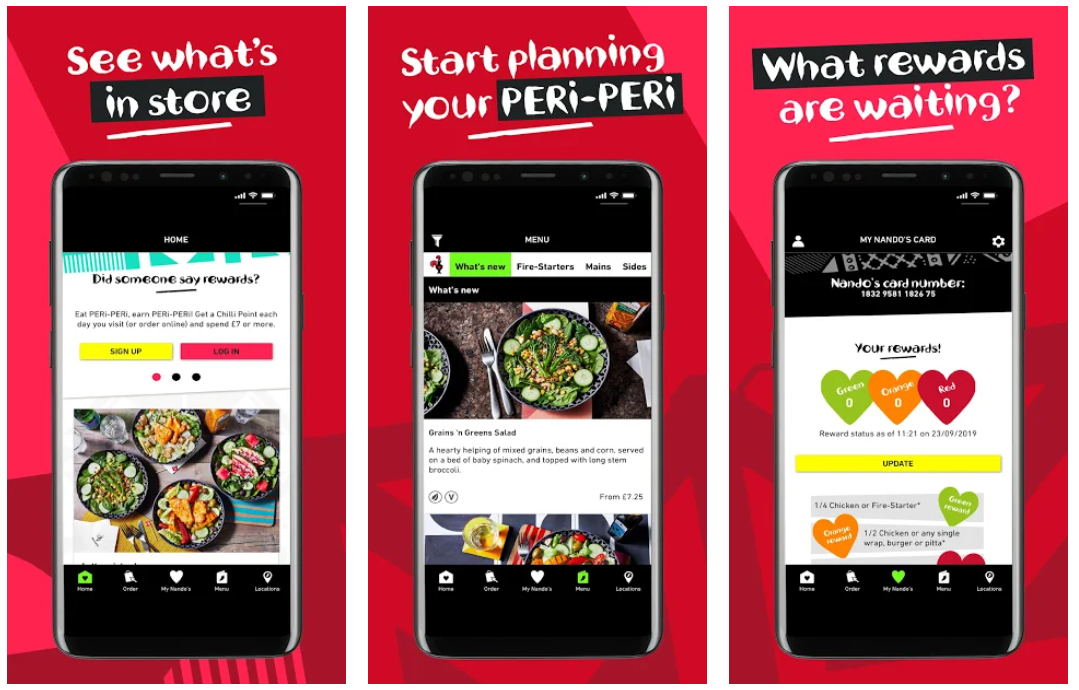 Peri-peri chicken restaurant Nando's has an app with a ton of features customers love.
The takeaway ordering function is a key feature.
Customers can use the app to find the nearest Nando's restaurant and place an order directly from their phone. There's no need to call the restaurant.
This is great for customers, who can order at a convenient time using their phone and pick it up when they arrive at the restaurant.
Nandos gets the benefit of being able to increase sales, which are no longer dependent on restaurant capacity as people can buy food to take away.
Another thing we like about the Nando's app is the download incentive.
The restaurant offers a free appetizer to everyone who downloads the app. This generous offer leads to more downloads, and once the app is on the customer's phone they're far more likely to use it in the future.
Shake Shack: Mobile-Order-Ahead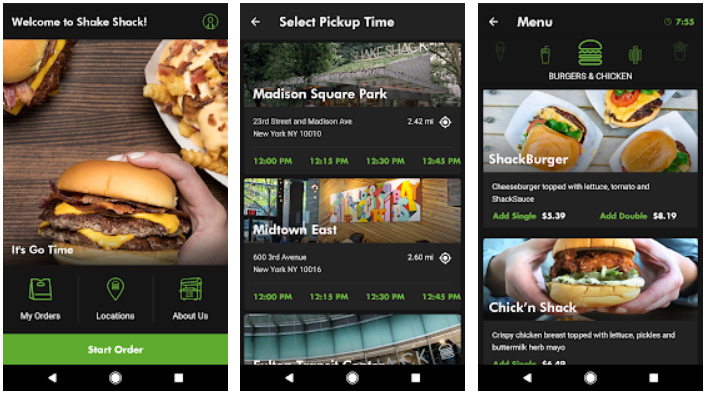 The Shake Shack app provides users with a great mobile restaurant experience.
The highlight is mobile-order-ahead.
This lets customers order food before they arrive at the restaurant— reducing their wait time.
It's the perfect feature for people with a limited lunch break or those who want to grab food before heading somewhere else.
Customers can browse the entire menu from within the app, select what they'd like to eat, choose when they want to pick up the order, and then pay from their phone.
Other features make repeat ordering easy. For example, users create accounts and save information such as favorite meals and payment details.
Pizza Express: Table Booking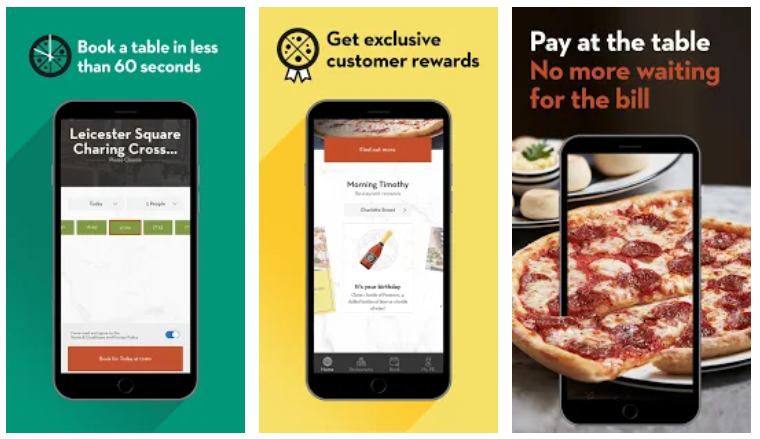 The Pizza Express app is a great example of how a dine-in restaurant can benefit from an app, even if it doesn't want to offer takeaway services.
The most important feature is the ability to book a table at the restaurant. Customers can do this directly in the Pizza Express app in under 60 seconds.
This reduces the pressure on staff to be continually answering customer booking calls.
The app also provides full access to the restaurant's menu, allowing customers to decide what they want to eat ahead of time.
Domino's: Independent Delivery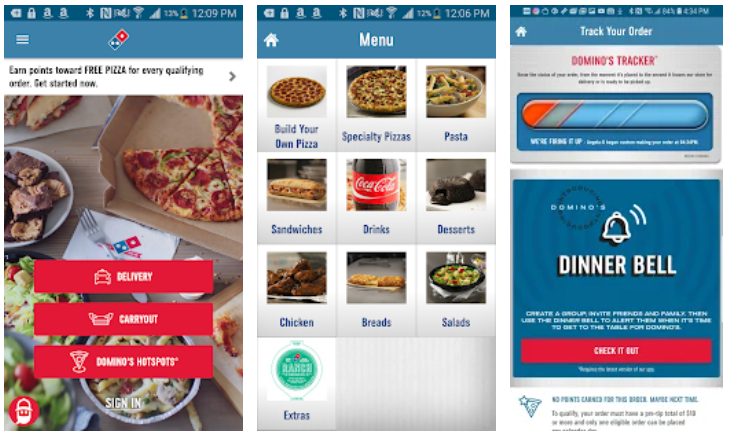 The Domino's app is one of the most popular apps on both Google Play and the App Store.
A key feature is pizza delivery.
Users browse the restaurant's full menu and then order and pay for meals directly from their smartphone. The nearest restaurant then delivers the pizza to the customer.
This is a feature that means Domino's is not reliant on costly third-party delivery apps. While the restaurant has to pay for drivers, the high volume of deliveries means it is a cost-effective option.
Having an app also gives the company full control over branding and the delivery experience, ensuring pizza always arrives according to their quality guidelines.
Like with the Shake Shack app, customers can create a profile and save their delivery and payment information, thus removing a barrier to repeat orders. Customers can order with credit and debit cards or pay with cash on delivery.
Outback Steakhouse: Enticing Rewards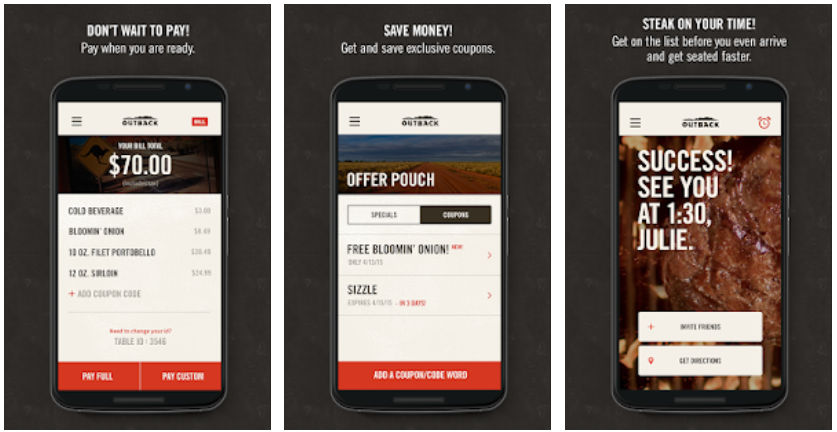 The Outback Steakhouse app provides users with easy access to rewards and offers.
The highlight of this app is its generous loyalty program. Users have to visit the steakhouse three times to get 50% off their fourth visit to the restaurant.
There are several reasons why we love this offer:
It's achievable. Once diners have visited the restaurant, they only have to go two more times to earn their reward.
It's generous. A 50% discount is a significant saving.
It doesn't cost the restaurant too much. The $20 maximum saving stops diners from abusing the scheme by eating with a large group to get a more significant discount.
It's easy to understand. There are no points to collect or complex conditions—just visit the restaurant three times to collect a reward.
The rewards scheme isn't the only method of saving in the Outback app. Customers also have access to a rotating selection of special offers and coupons that help them save money while encouraging them to eat out.
While the above examples are all from famous chains, our next two restaurant app examples showcase how independent businesses can benefit from an app. Both apps were created using the AppInstitute app builder. Find out more about how we help you build a restaurant app here.
Raglan Road: Contactless Table Service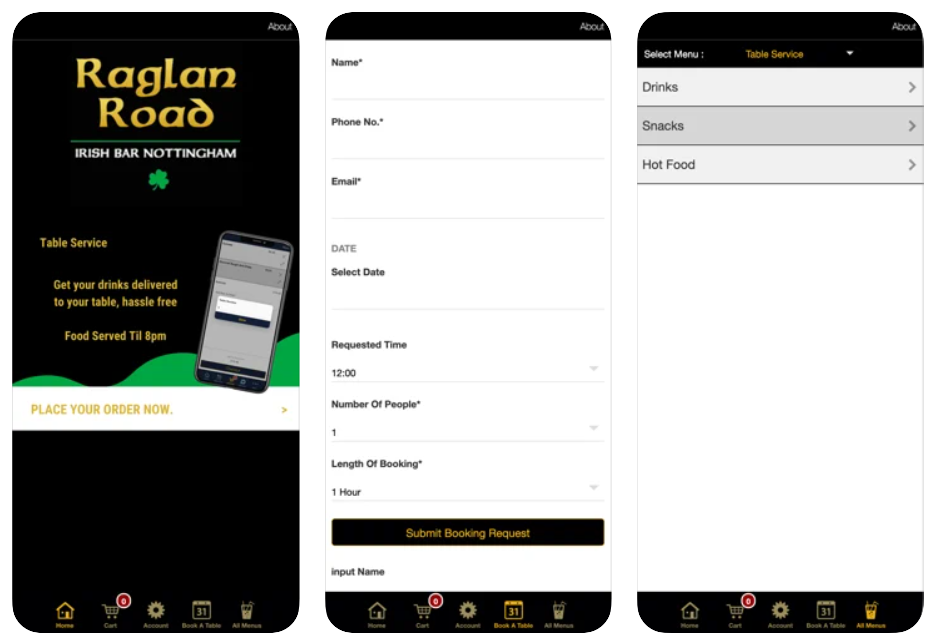 Raglan Road is an Irish bar that sells a selection of pub food.
The app has three primary uses. The first is to provide table service to customers. They order food and drinks from their phone, and servers bring it to the table.
This is a useful feature to have at any time, but especially during the pandemic. The app enables the bar to provide a safe eating environment.
It also allows customers to order takeaway. They can browse the entire menu and put in an order directly from their phone. Customers select when they want to pick up the food and choose to either pay by card or via cash on delivery.
Finally, the pub lets customers book tables in advance. This is another feature that—while useful at any time—is essential during the COVID lockdown when pubs are operating at reduced capacity.
Raglan Road's app was an instant success. In the ten days after releasing it, the company brought in over £10k (~$12,975) in sales through the app. It was also downloaded 540 times and processed an impressive 798 transactions.
Owner Ged Dowling loved how customers took to the app's features:
"While table service and takeaway were the main reasons we signed up, customers are reacting well to the other features. We took advantage of the ability to run a loyalty program and, while it's still early days, customers seem to have taken to it. The coupon section is also popular, and we have noticed people taking advantage of our offers while in the bar."
Read more about how the app generated such impressive results here.
The Chippy Antrim: Takeaway and Delivery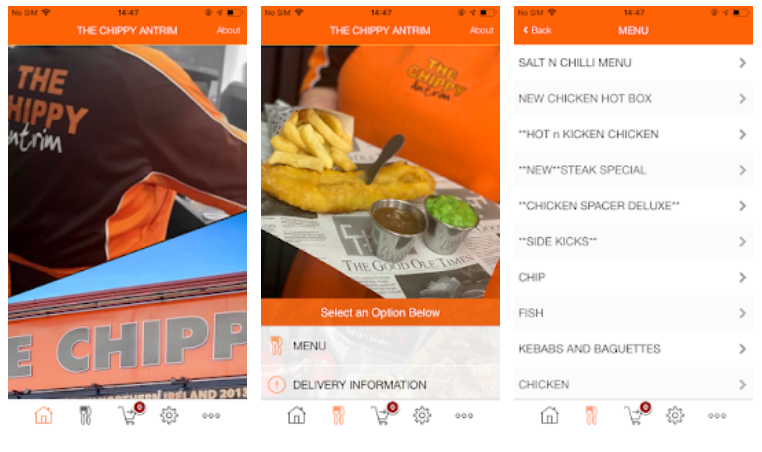 The Chippy Antrim is a highly rated fish and chips restaurant. The primary use of the app is to provide a takeaway service to its loyal customers.
Customers can browse the entire menu on their phones and then make an order. They choose what time they want to pick it up. To ensure that the restaurant never gets overbooked, buyers must select a time slot from a drop-down menu. When a particular time slot has too many orders, customers choose a different one.
The Chippy also provides home delivery via the app. By using its own platform, the restaurant doesn't have to pay expensive aggregator app fees.
The rewards scheme is another powerful feature. This is an effective way to encourage existing customers to keep ordering from the business.
The Chippy Antrim app has brought impressive results—processing over £100k in sales in just 12 months. Much of this comes from a dedicated base of regular customers, with 72% of app users ordering at least twice a month.
Build Your Own Restaurant App with AppInstitute
AppInstitute makes it easy and affordable for independent restaurants to build an app with many of the features above.
Our specially designed restaurant app template provides the following features:
In-app ordering: Customers can browse your entire menu, select a time for their order, and pay in-app. Use this to power takeaway, delivery, mobile-order-ahead or dine-in services.
Rewards scheme: Restaurants can implement a rewards scheme to give loyal customers even more reason to keep coming back.
Account creation: Users can easily create an account, making repeat payments a breeze.
Coupons: Provide customers with coupons to encourage them to eat out. Use our audience segmentation feature to send different offers to each customer group.
Booking: Sync your app with your OpenTable account to enable in-app table booking.
Getting started with AppInstitute is easy and you don't need any coding knowledge. We have a simple four-step process that ensures you can get up and running quickly, sometimes within days. We'll even make your app for you if you prefer.
---