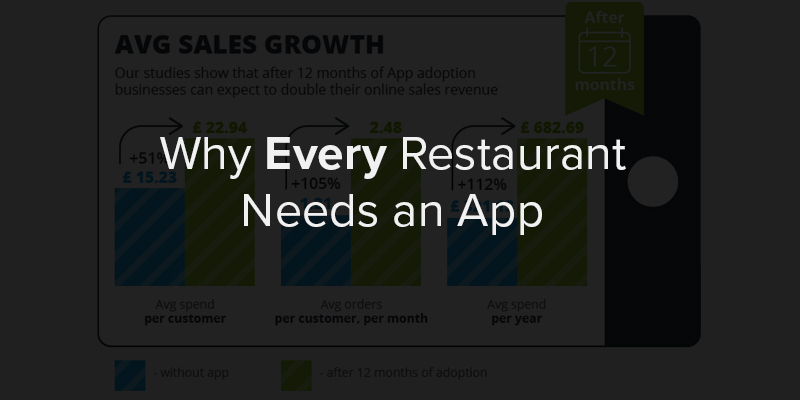 If you didn't already know, people are using their phones a lot. Smartphone technology has permeated almost every aspect of people's day-to-day lives, from socialising to shopping.
The way we eat hasn't been left untouched, either. Whether you're browsing through Pinterest for recipes or sharing your culinary creations on Instagram – your smartphone has had a hand in how you're eating.
So it makes sense for a restaurant to have their own app, right?
We dug deep into statistics from over 2,000 of our takeaway restaurant customers – and found some evidence that proves unequivocally that you need a mobile app for your restaurant.
Some the key stats we found were:
112% increase in overall spend from online orders after 12 months of app adoption
51% increase in average spend per customer after 12 months of app adoption
52% of local searches on mobile converted into buying customers within the hour
According to our research, 61% of restaurant customers would be willing to download a restaurant's app if you promised them exclusive offers and deals from time to time
69% of consumers order food online using a mobile device
75% of smartphone users access restaurant info on the go
Interested in learning more? It's all in the infographic below:

Share this image on your site

You might also like: How Much Does Just Eat Charge? Just Eat Commission Calculator