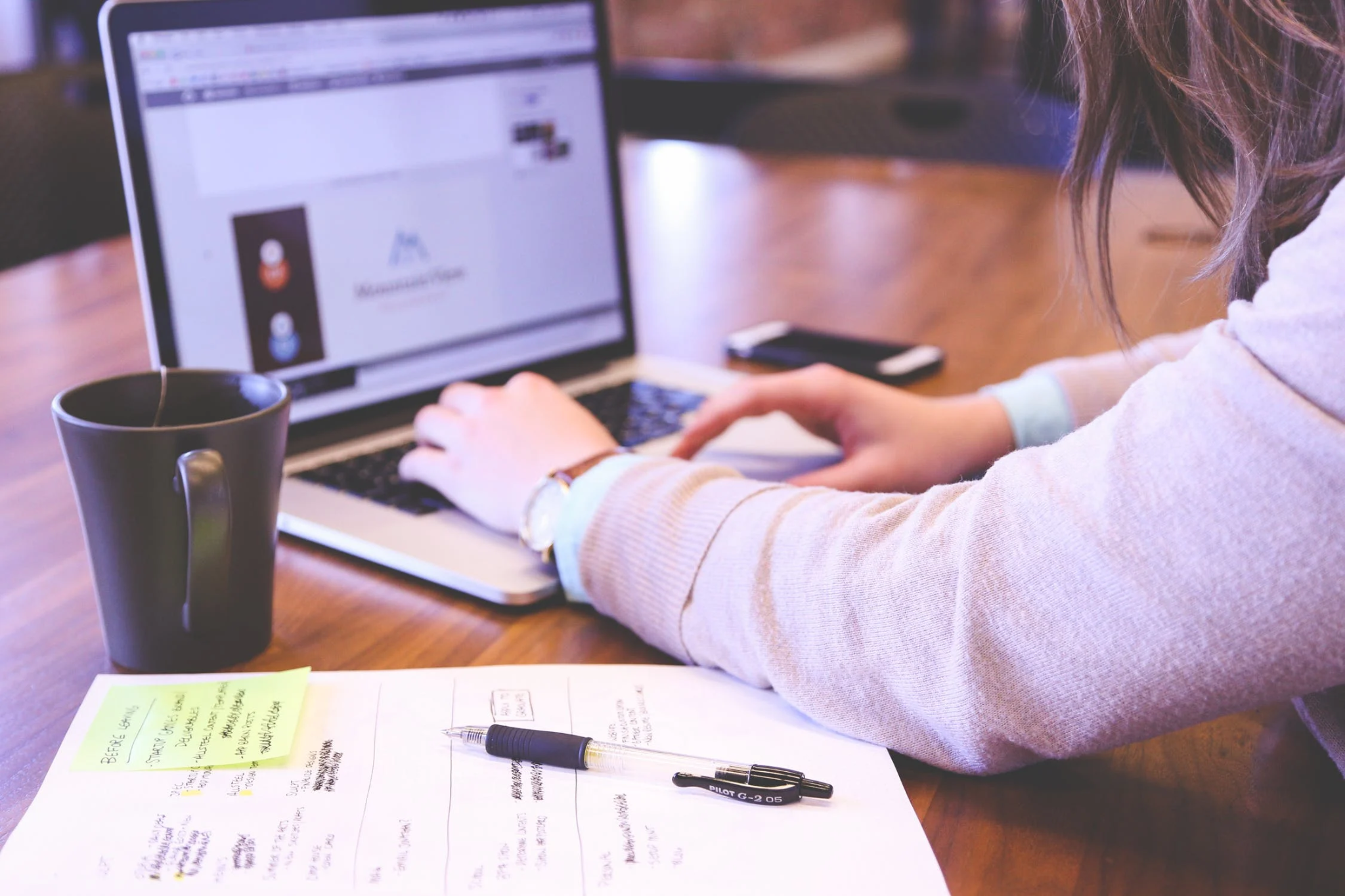 Having a strong content strategy is a very important part of digital marketing and running an online business. But, to succeed as a content strategist, you need a certain set of skills and a bit of expert knowledge. In this article, we're going to outline some tips for becoming a content strategist, which will allow you to help companies to get the best results from their content marketing.
Let's get started.
Understand the different roles that content can play in marketing
Content marketing can help businesses reach a wide range of different goals. To start, you need to ensure that you know what these different goals are and how you can achieve them with the right strategy.
One common goal of content marketing is to boost a company's search engine optimization or SEO. You can create content inspired by popular keywords related to a business, for instance. Keywords are the typical phrases a company's ideal customers are typing into search engines to find more information about certain products or services. Targeting these properly can help a website to rank highly on relevant search engine results pages (SERPs), ultimately drawing in more high-quality traffic.
You can also use content to answer common questions related to a business — this can help website visitors to trust the company you're working for, increasing the chances of them making a purchase. To identify the queries you should be answering, check in with the customer service team of the company you're helping! See if they frequently get asked similar questions and base your content on them. This can help to show customers that the company understands them and cares about solving their problems, which will help build customer loyalty.
You should also use your content to position your employer or clients as thought leaders in their industries. Create blog posts about different industry trends, provide information about newsworthy events, or even just to give advice. This will demonstrate a company's expertise and give customers another reason to trust them.
Learn how to conduct thorough keyword research
Keyword research is a very important part of content marketing and SEO. It can help you to identify the topics you should be covering and also inform the way you write your articles.
To conduct some keyword research, head to a tool like Google Keyword Planner with a list of words and phrases related to your business. Plug them into the tool and Google will provide you with a list of keywords that people are searching for on these topics. Basing your content on their suggestions can help your employer or clients rank higher for queries related to their businesses!
Choose keywords that are relevant to the niche you're working in. And look out for "how" or "why" keywords, as they often make for good content. Then, once you've chosen your keywords, weave them into the titles and headers, as well as into the first 100-150 words of a page. This will give Google a clear idea of what your content is about, so the search engine can promote it to the most relevant audience.
Let's take a look at a few examples of content that are properly optimized with keywords for inspiration.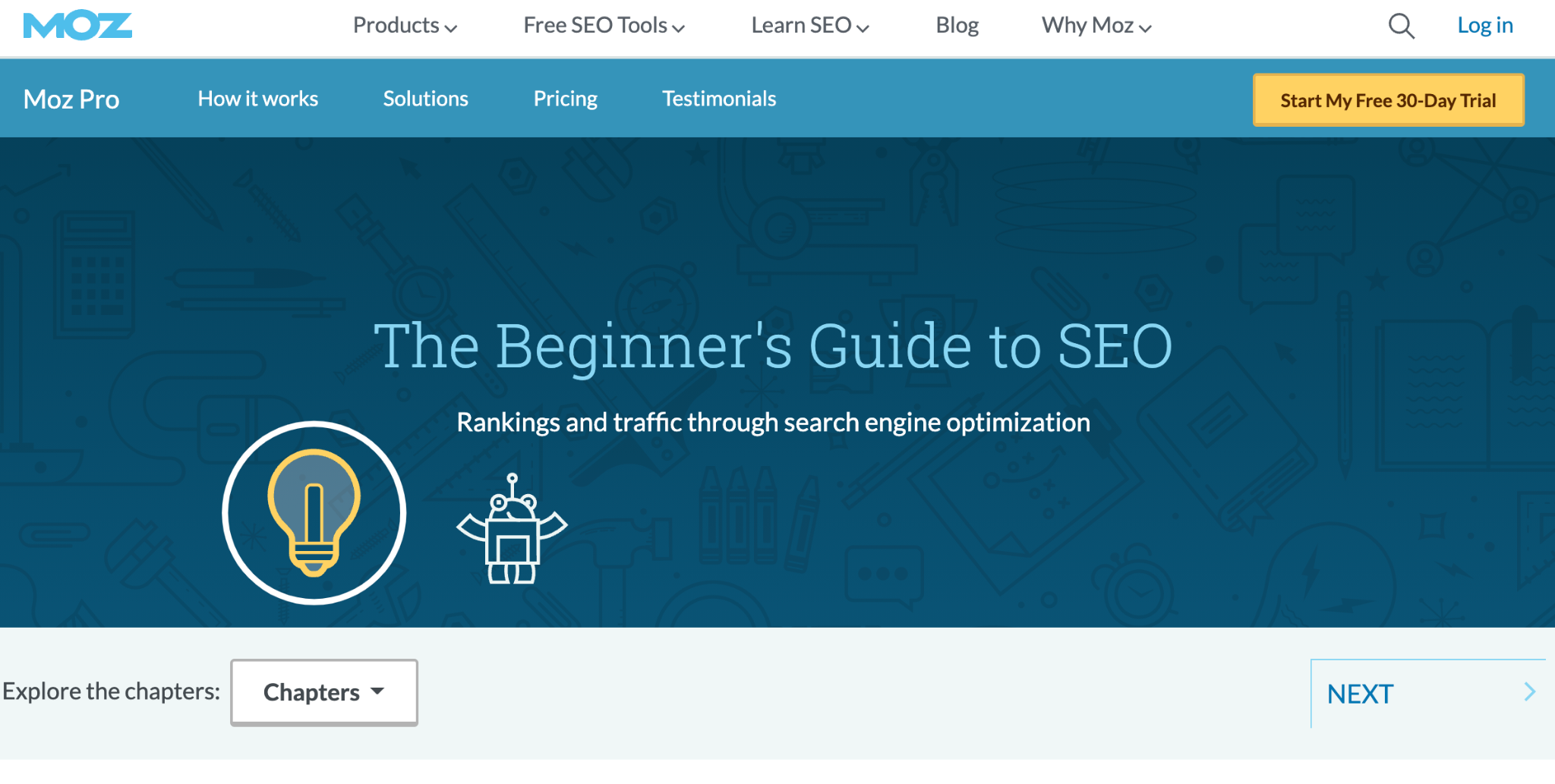 Moz, an expert SEO and digital marketing company, has a lot of well-optimized content on their blog. Their Beginner's Guide to SEO is a great example!
Throughout the article, they weave keywords like "SEO marketing", "basic SEO", and "search engine optimization tutorial" in the title, headers, and body copy. It's a very thorough guide, allowing them to target more keywords throughout. Overall, they rank first on Google for keywords with over 12,000 average searches per month. Additionally, they rank second for the keyword "SEO," which receives 180,112 average searches per month! This is very impressive and shows that their keyword strategy works.
So, when you're working on a new content strategy, make sure it's informed by keyword research. Thorough guides related to a business's area of expertise can provide plenty of opportunities to target the phrases their ideal customers are searching, which will help them rank highly on relevant SERPs and reach their target audience.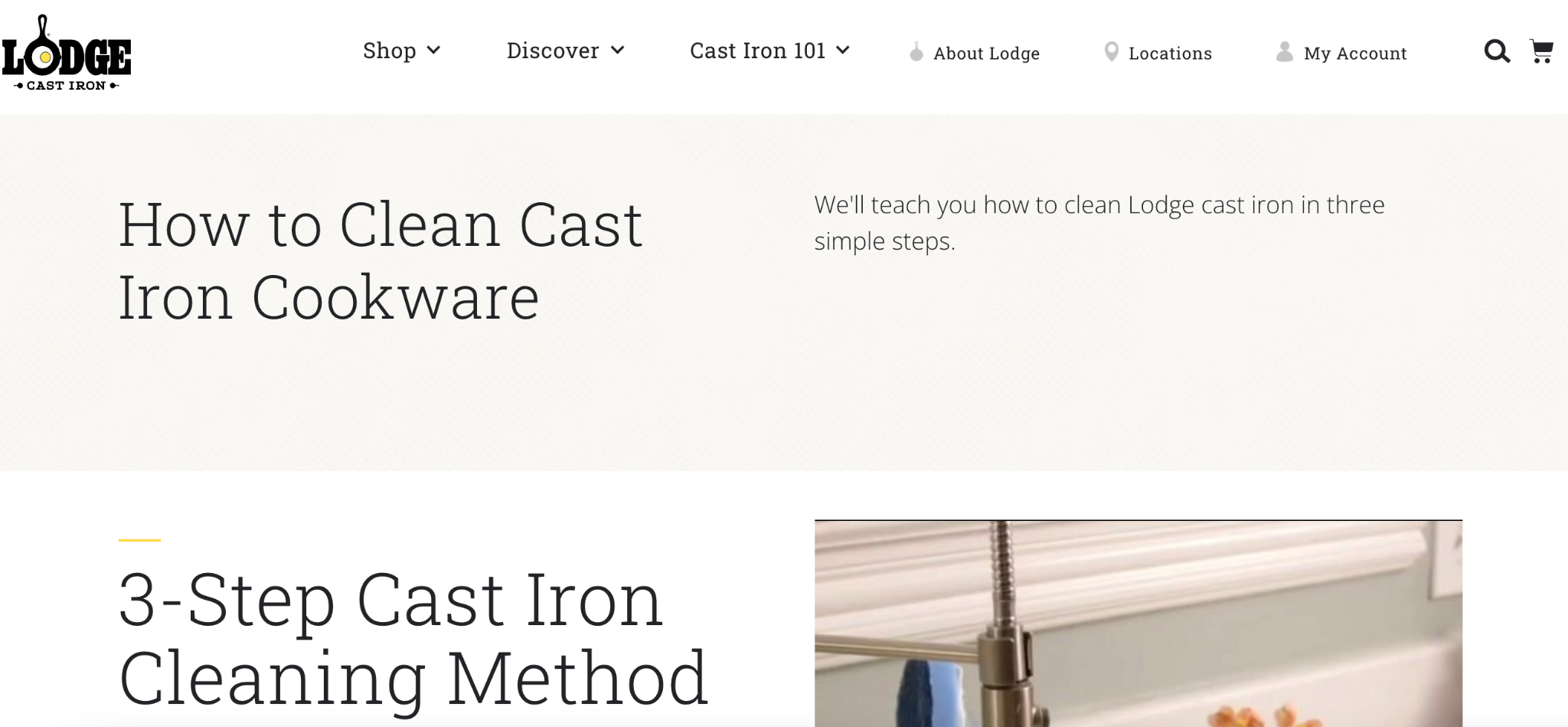 Lodge Cast Iron, a cast iron cookware retailer, incorporates keywords into their how-to piece on cleaning cast iron cookware well, too. They highlight their three-step method for cleaning their cookware and provide additional tips for restoring rusty pans. Because they cover a lot of information, they are able to optimize their page well for different keywords. In fact, they rank first on Google for a variety of different keywords, including "cleaning cast iron", "how to care for cast iron skillet", and more. All in all, the keywords they rank first on Google for have an average monthly search volume of over 61,000. This means that this guide can get them a lot of traffic!
When you're thinking of content marketing pieces you can put together for a business, consider what kinds of processes you could outline for customers, as Lodge Cast Iron has. How-to pieces like this can give you a lot of opportunities to weave in keywords, helping your employer or clients rank higher on the SERPs as a result.
Get used to analyzing the performance of your content
As a content strategist, you can't just create content, publish it, and move on. You have to constantly monitor a website and analyze the performance of each piece of content that you create. Then you can update it and change your strategy going forward if necessary!
Start by setting your goals so you can assess whether you're on track. There are a ton of different metrics you can consider when monitoring and looking to improve your content. Here are a few suggestions:
How much revenue your content is generating
How much web traffic you are attracting
Your content's conversion rate
The click-through rate (CTR) of your content
Your bounce rate, or the percentage of people who visit the website and then quickly leave
Once you know what metrics you want to measure, you can gather your data. Look through the results of your content and adjust your strategy accordingly. For example, if you want to increase your web traffic, you might look at whether there are any new keywords you could target to draw in new visitors. Or, if you're struggling with a high bounce rate, you might want to add some engaging elements to your content, like videos or quizzes, to keep people's attention for longer.
Keep your goals in mind in order to figure out what is working and what is not, then adjust your strategy from there.
Learn how to demonstrate a business's expertise through content
One of the main goals of publishing content is to show website visitors that your employer or clients are experts in their fields. This can help to boost their SEO, build trust with their ideal audience, and ultimately lead to more sales!
Showing off a company's expertise is also important for boosting their website's E-A-T, which stands for expertise, authority, and trustworthiness. This is a term that comes from Google's Search Quality Rater guidelines, and it's something the search engine has been paying much more attention to since 2018. If you can show off a business's expertise in your blog writing, you'll help them to rank higher on the SERPs!
Let's take a look at a few examples of companies that demonstrate their expertise through their content for inspiration.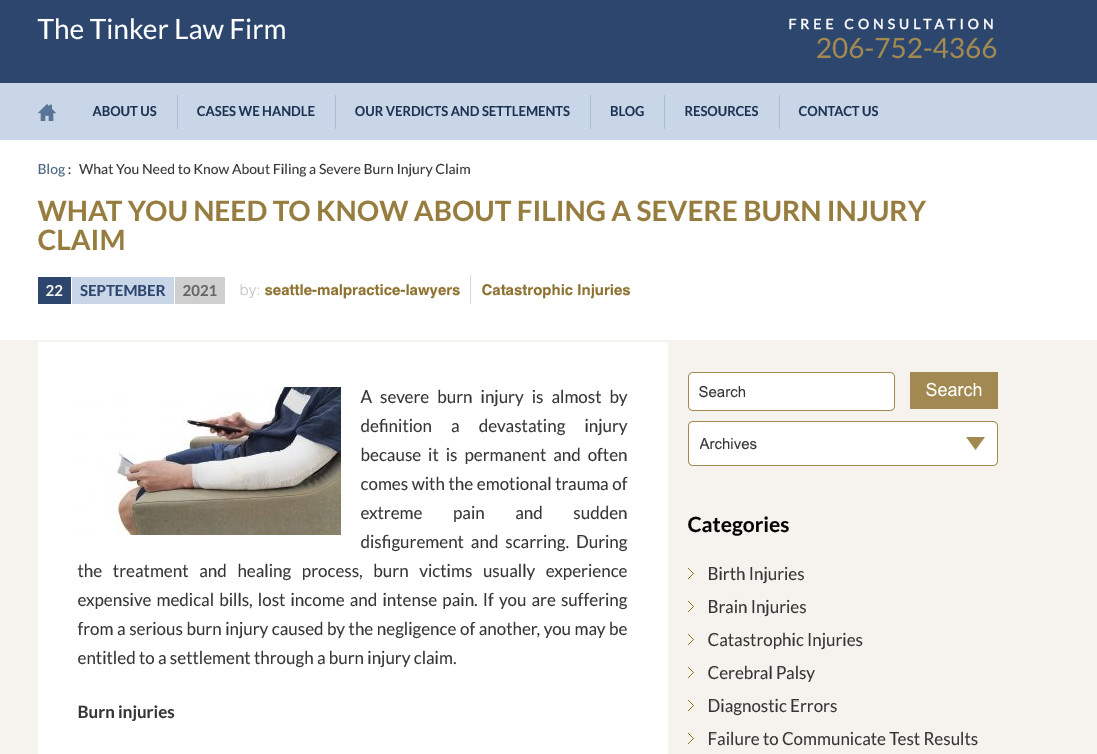 The Tinker Law Firm PLLC, a medical malpractice law firm in Seattle, shows their expertise throughout their blog content. For instance, they have an article that outlines everything a reader would want to know about filing a burn injury claim. They outline how burn injuries occur, how lawyers prove negligence in these cases, and more. The article is thorough and addresses how The Tinker Law Firm is able to help in these types of cases. By outlining the topic and discussing how they can help solve the reader's problem, The Tinker Law Firm shows off their expertise and builds trust.
When creating content, you need to know how to prove to website visitors that your employer or client is an expert by thoroughly explaining topics related to their business or niche. Touch on customer problems and explain how their products or services can help. This will show them that the company in question knows what they're doing, making it more likely that website visitors will invest in their products or services.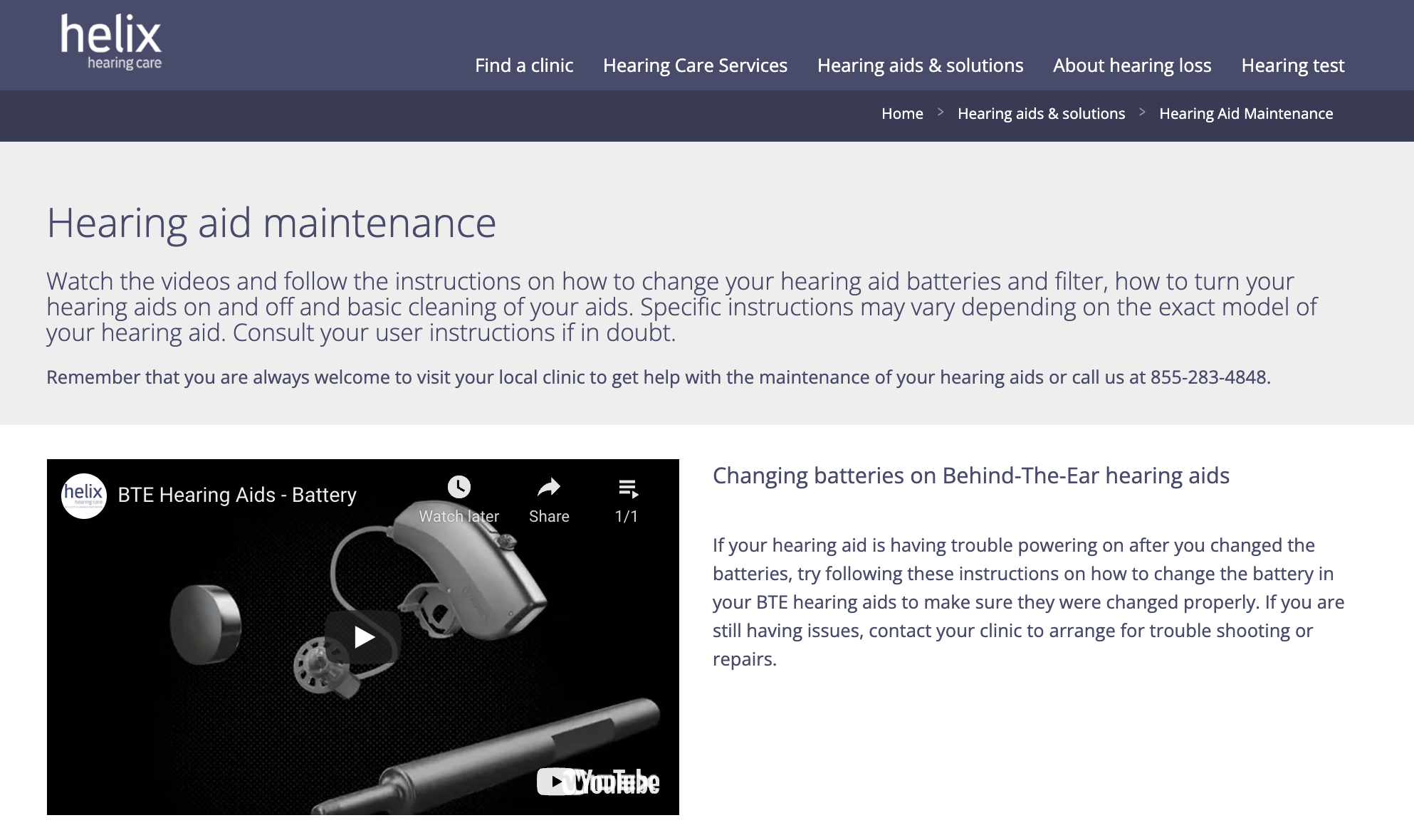 Helix Hearing Care, a provider of hearing aids, also has a hearing aid maintenance page that does an excellent job of showcasing the company's expertise. Throughout this piece of content, they outline how to change hearing aid batteries, how to operate the devices, how to clean them, and more. They have supporting videos, as well. This article shows that Helix Hearing Care knows what they're talking about when it comes to hearing aids, and can be trusted when it comes to selling these devices! This piece does an excellent job of showing their expertise and can help them build loyalty with customers and website visitors as a result.
On your website, be sure to show how to solve common customer problems or maintain your products. This will show your website visitors that you care about their needs and are willing to share your knowledge to help. Demonstrate your expertise, as Helix Hearing Care has. You'll build trust with your customers as a result!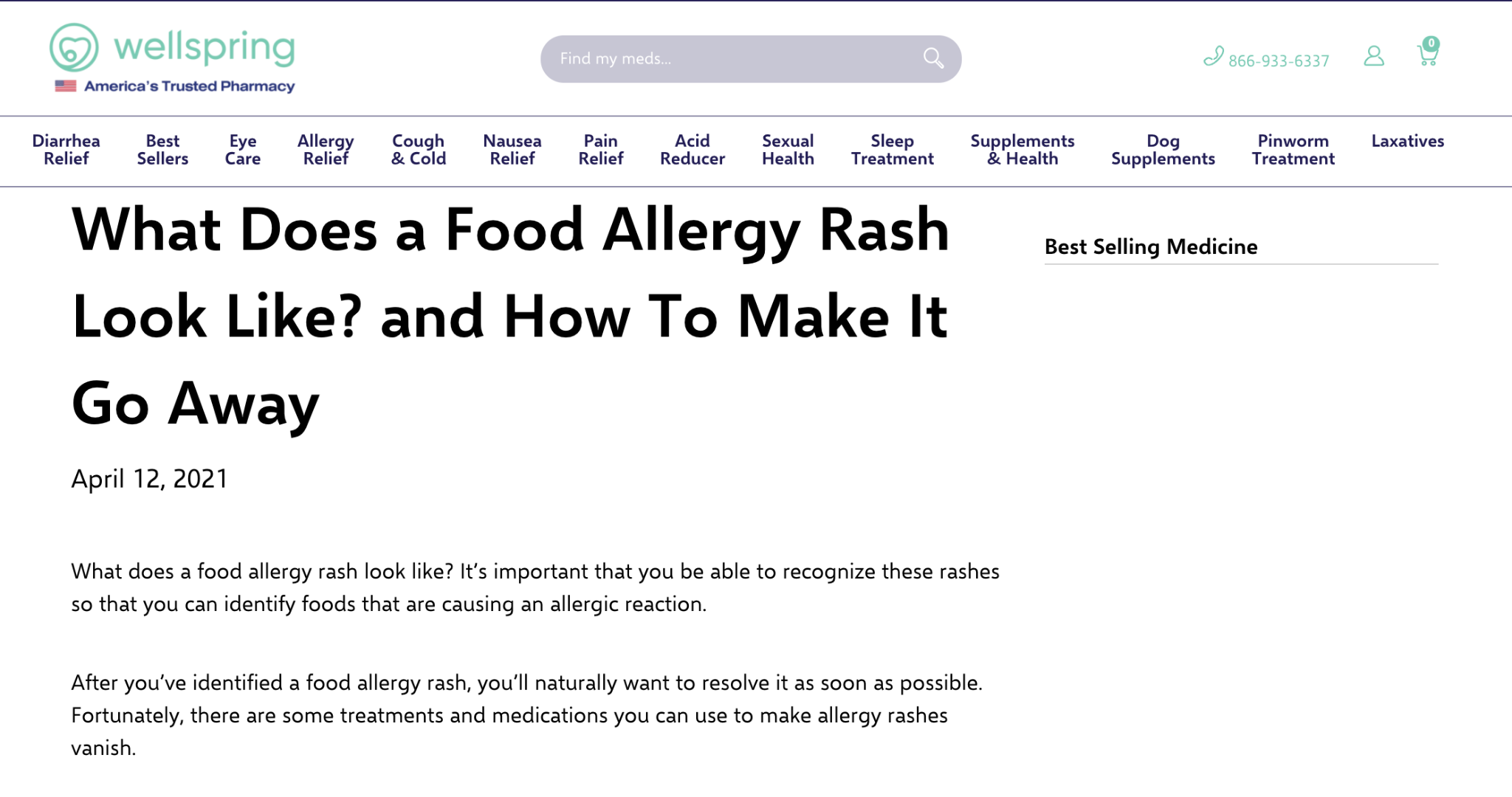 Finally, Wellspring Meds, an online retailer of over-the-counter medications, has lots of informational articles that demonstrate their expertise well. Their article on food allergy rashes, for example, outlines how to identify one, the signs and symptoms of these rashes, how to resolve them, and more. This article shows that Wellspring Meds doesn't just sell medication — they know what they're talking about when it comes to medicine and health in general. It does an excellent job of showing off their expertise, helping give them a boost on the SERPs, and building trust with website visitors.
Consider writing informational pieces in order to show off a company's expertise and build trust with customers. If you can show visitors that a website is a reliable source of helpful information, you can build trust with them and make it more likely that they'll make a purchase.
Understand how to get eyes on your content
Once you publish your content, you need to help the right people find it. This means putting a lot of time and energy into getting eyes on your work.
One common way to get more eyes on your content is by promoting it on social media. Don't feel like you have to post on every social media platform — focus on the ones that are most appropriate for the business you're working with. For instance, if a company has a lot of visual content, promoting your work on TikTok or Instagram is a good idea. Or, if you're trying to reach a lot of professionals, LinkedIn is your best bet. If you want to market to the largest potential audience base, Facebook is the perfect option. Most of these platforms have analytics tools that can help you determine what content performs the best, when to post, and more.
You should also promote your content through email marketing. If your employer or client has a newsletter that people subscribe to, promote your new articles in it! You can also send emails to past clients or customers letting them know that you've posted recently. This can help you get more traffic to your web content and keep the business at the top of their mind when they need products or services like the ones you're trying to promote.
Summary
In this article, we outlined some of the different skills you need to be a successful content strategist, including the ability to get eyes on your content and keyword research skills.
Need more help? Check out the AppInstitute blog. They have articles on building great apps, holiday marketing ideas, and so much more.
—
Author bio & headshot:
Aaron Haynes is CEO and co-founder of Loganix. The company is an SEO fulfillment partner for digital marketing agencies and professionals, which provides the services businesses need to improve their online visibility and grow. If you liked this article, check out the Loganix blog, where you'll find more SEO guides full of expert advice.