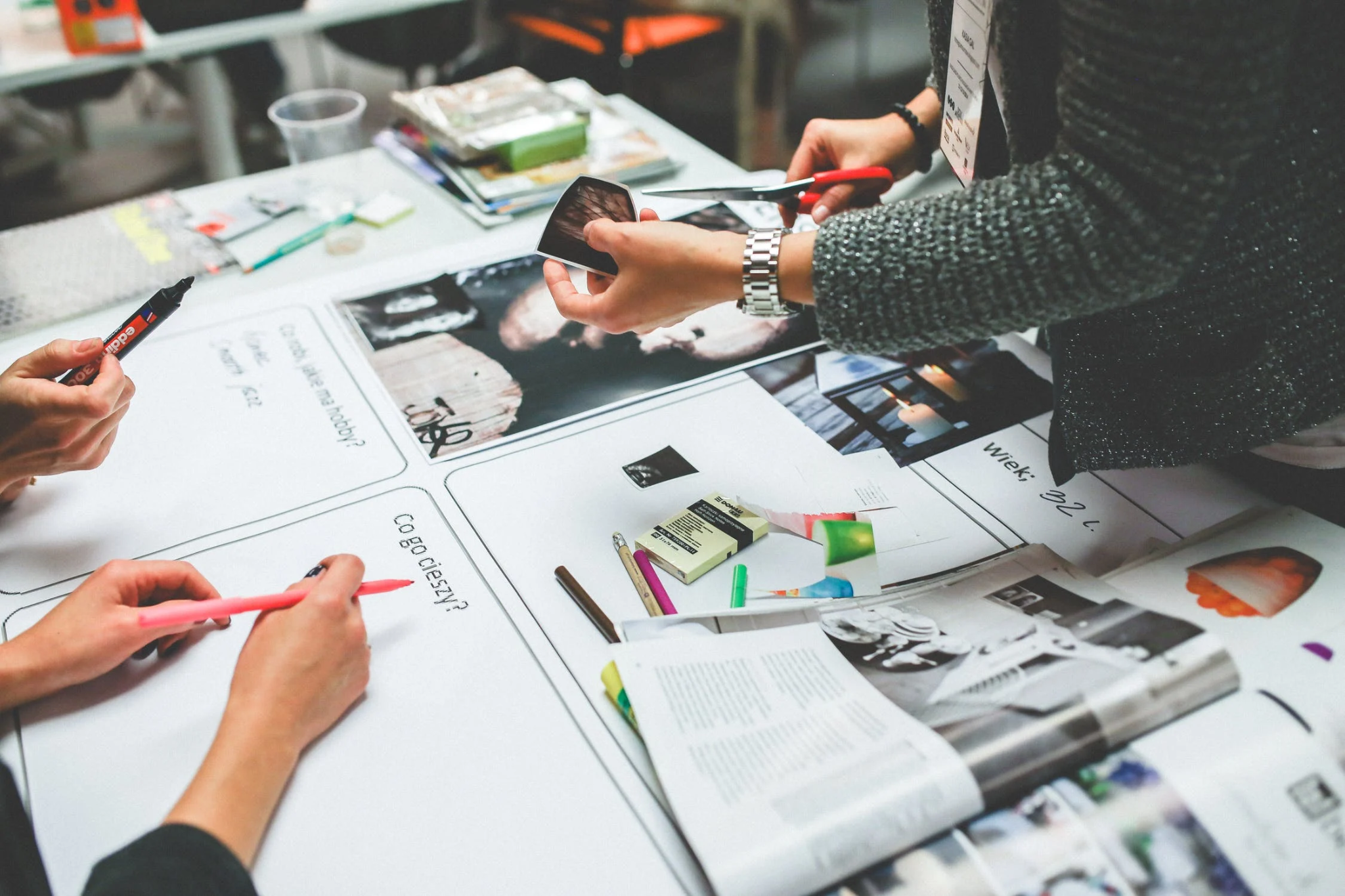 Marketing is one of the most important aspects of running a business. If you want to thrive and beat the competition, you need to ensure that you're marketing your business in a way that stands out and attracts new customers!
But marketing can be harder than it looks — it takes a lot of time, energy, and strategizing to get it right. In this article, we're going to outline five different skills that you need to work in marketing.
Let's get started!
The ability to spot an opportunity
More often than not, marketing involves noticing opportunities and taking advantage of them. As a business owner, you should always be looking for new ways to promote your business, products, or services. This means that you need to look out for relevant news stories, plan around annual holidays, and jump on social media trends. Your customers will notice if you have your finger on the pulse of the latest news or industry trends and be more likely to engage with your business as a result!
Consider setting up news alerts for topics relevant to your business and following different hashtags on social media so you always hear about the latest marketing trends. Capitalizing on industry developments or content crazes can be great for helping you to attract new customers and boost your brand awareness.
Let's take a look at a few examples of businesses that have done a good job of creating content based on industry news or marketing trends for inspiration.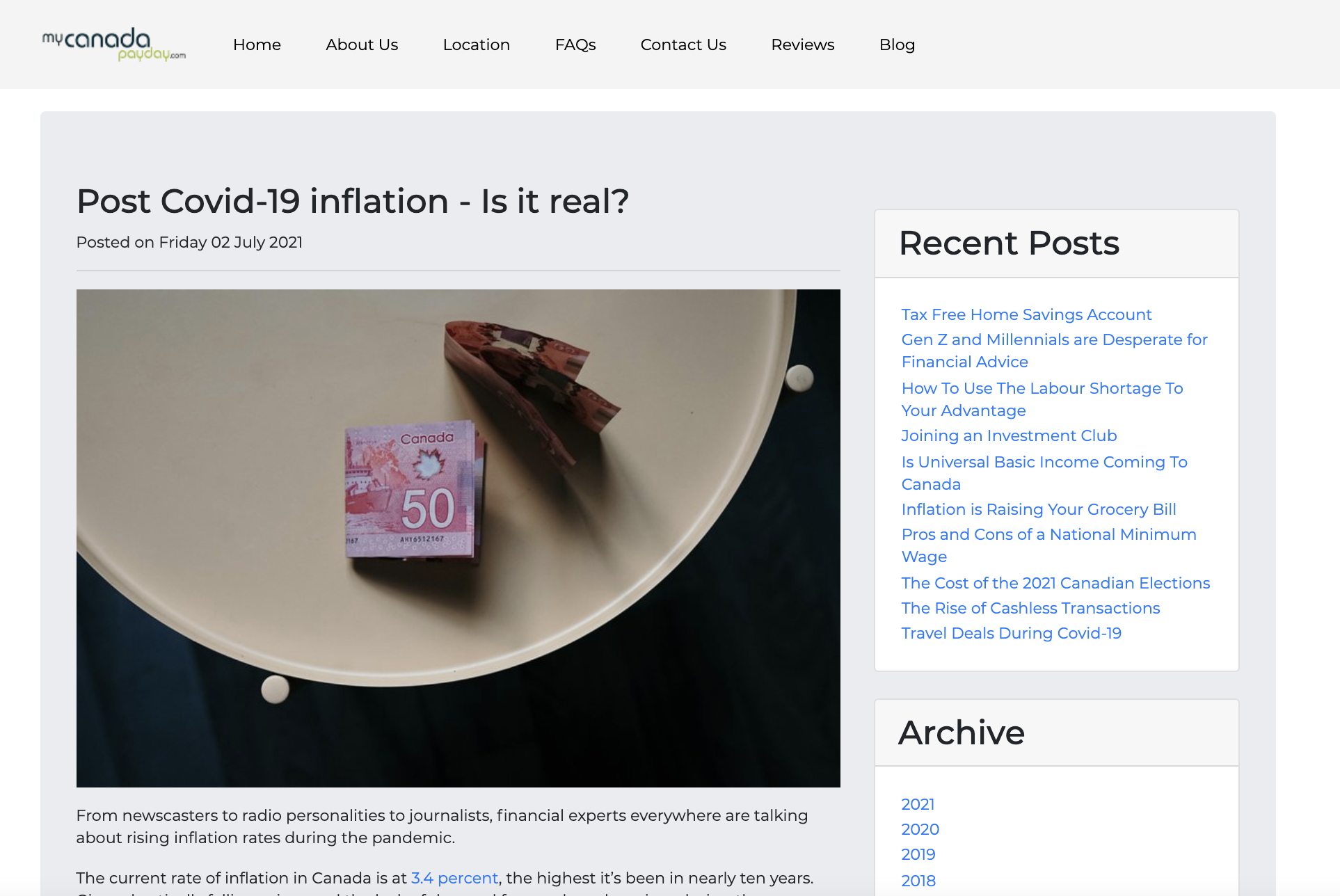 For instance, My Canada Payday, a financial services company, showcases their knowledge of industry trends and current events throughout their blog. One particular article discusses post Covid-19 inflation and how it is affecting the country. The article notes that the current rate of inflation in Canada is the highest it's been in nearly ten years. They then go on to discuss what inflation is, how it happens, and why it's impacting people in Canada.
This article provides a fantastic opportunity for My Canada Payday to show off their industry knowledge. The article is thorough and explains inflation — a relatively complex financial concept — in an easy-to-understand way. The piece also proves that My Canada Payday is an expert in their field and is willing to help people understand financial concepts. Additionally, people interested in this article might be interested in the financial services that My Canada Payday provides, meaning that it's a great form of marketing, as well.
By staying on top of world news that affects the financial sector and publishing articles on these events, My Canada Payday proves their expertise and can draw in new customers as a result. On your website, think about what types of newsworthy events you can write about to draw in new customers. Doing so will help you bring more eyes to your website and ultimately increase your sales.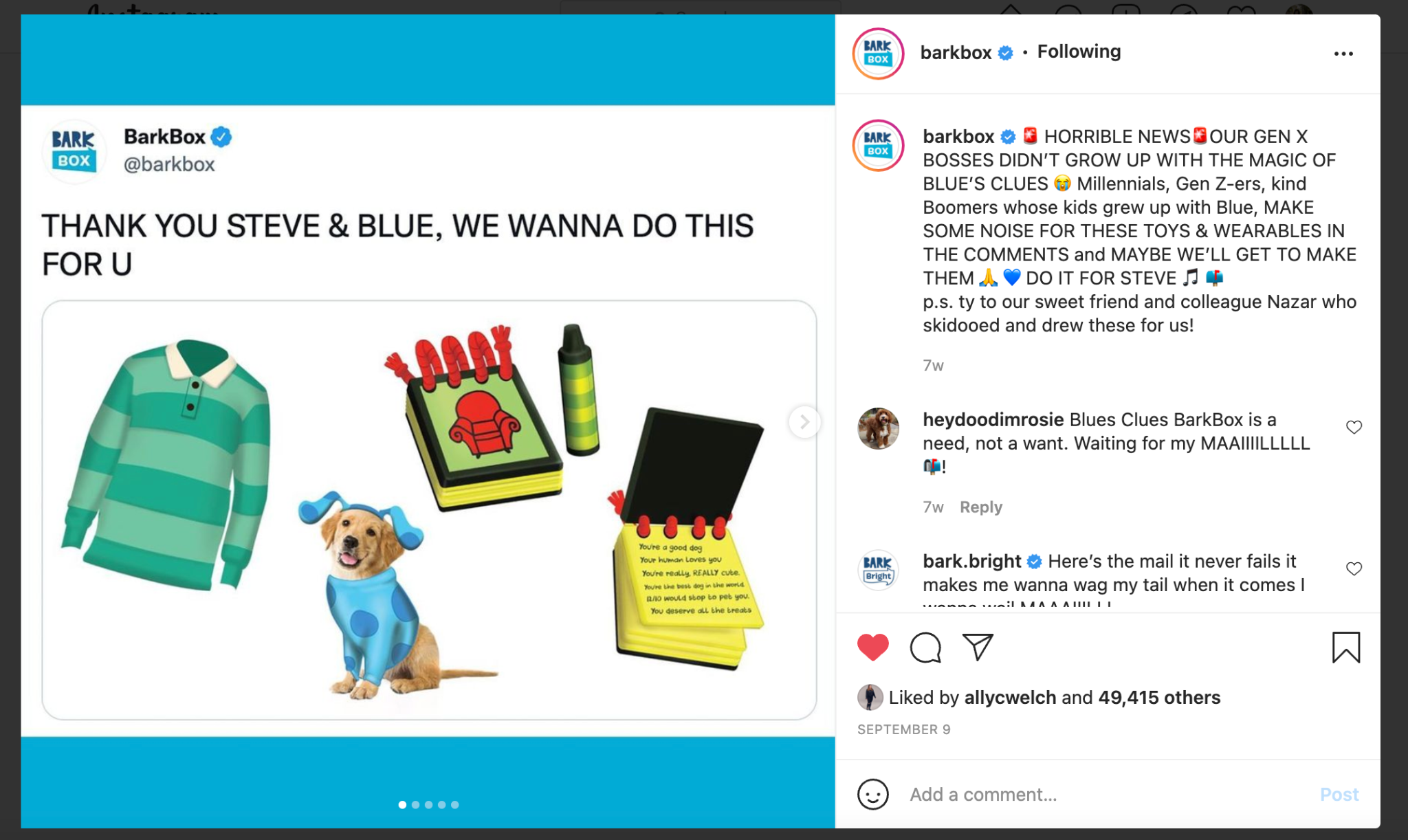 BarkBox, a dog toy subscription service, does something a bit different when spotting opportunities for marketing. In early September, the children's show Blue's Clues made national news for its 25th anniversary. Many young adults were touched by the nostalgia and heavily discussed the show online as a result. Because Blue's Clues features a dog, BarkBox took the time to mock up a few potential toys and costumes related to the show to get people interested. This strategy got people excited and talking about a potential BarkBox and Blue's Clues collab!
By keeping up with what their audience of dog-lovers was talking about, BarkBox was able to seize a new marketing opportunity, drawing in new potential customers as a result. For your marketing efforts, don't hesitate to stay on top of memes or social media trends. Your customers may well be talking about them, too. If you can market your business based on these trends, you can draw more eyes to your content and get people excited about your products or services as a result!
Video production skills
Video content cannot be overlooked as a part of any marketing strategy. Studies show that, by 2022, viewership of online video content will make up more than 82% of all consumer internet traffic — 15 times higher than it was in 2017 (InVideo).
Because more and more people are consuming video content online, many businesses are increasingly looking for professionals who can work on multimedia content and support their video marketing efforts. Having teams dedicated to video content and production can help businesses to boost their brand awareness on social media platforms like Instagram, YouTube, and TikTok, for instance.
You don't even have to worry about having specialist equipment or fancy cameras — shooting and editing can often be done on a standard smartphone. Apps like TikTok, for example, have built-in video editing capabilities that can help you create the perfect video for a business.
It could also be worth taking a film production class. This will help you get plenty of practice with professional grade cameras and teach you how to use popular video creation tools. Practice makes perfect — the more familiar you become with the necessary tools and programs, the better your video content will become.
Strong organization skills
As a professional marketer, you'll typically have multiple projects coming down the pipeline all at once — in some cases, multiple projects might even come from different clients. This means that you need to be extremely organized in order to stay on top of everything. If you aren't organized, you'll risk missing deadlines, losing track of client projects, and providing less than optimal work.
Here are a few different ways you can stay organized as a marketing professional:
Use a project management tool for your business, like Asana or Trello, to help you set tasks, schedule deadlines, and keep yourself and your team on track
Use a bulk scheduling tool to help you plan your social media content in advance
Set realistic deadlines with input from your team to ensure everyone is on the same page
Create or download reusable templates for tasks you conduct over and over again to ensure consistency and save you time while planning
Following these tips will help you stay on top of your projects and provide the best possible work for your customers.
The ability to analyze results and adapt
As a marketer, you need to be constantly analyzing the performance of your campaigns. This will help you optimize your website and determine what is working, what isn't, and help you figure out whether you need to adjust your tactics going forward.
Start by keeping your goals in mind. You don't want to just measure every possible metric you can and have no clue where to go from there. Here are a few of the metrics you can consider when determining the results of your marketing efforts:
Your number of sales or level of revenue
How much web traffic you are getting
The conversion rate of your website
The click-through rate (CTR) of any given ad or email
Your bounce rate, or the percentage of people who visit your website and then quickly leave
Your client retention rate
How much social media engagement you get
Once you've determined which metrics you should analyze, you can start gathering data. Look through the results of your campaigns and adjust your strategy accordingly. For instance, if you're trying to increase your web traffic, you might find that the ads you are placing don't draw in enough new visitors. This could mean that you need to re-evaluate your ad placement. Or, if you're trying to increase your social media engagement, you might use a social media analytics tool and discover that your video content performs the best, meaning you need to invest your efforts there.
There's a ton of different metrics you can look at — you need to know how to keep your goals in mind and figure out what is working and what isn't, then adjust your strategy from there.
Basic graphic design skills
Marketing is becoming increasingly visual! This means that it's a good idea to develop basic graphic design skills before jumping into the world of marketing. This can help you create website content, social media content, and materials for more traditional forms of marketing. People like visuals, and it's important that everything you create looks professional.
If you're not much of an artist, don't worry. There are a lot of different free design tools that can help you make easy work of graphic design. For example, if you need to create an infographic to help you illustrate data, Venngage, an online infographic maker, can help you with their templates. Or, if you need to create a logo or a brochure, Canva is another excellent design tool. These programs are designed to be user-friendly, so don't be afraid to play around with them a little bit.
Summary
Working in marketing means being proficient in a lot of different skills. In this article, we outlined just a few of the skills marketers need to succeed, including basic video and graphic design skills, the ability to analyze results and adapt, and the ability to stay organized.
Need more help growing your business and leveling up your marketing efforts? Check out the AppInstitute blog. They have articles on holiday advertising ideas, content marketing, and more.
—
Author bio & headshot:
Adam Steele is COO and co-founder of Loganix, which is an SEO fulfillment partner for digital marketing agencies and professionals. The company provides the SEO services that businesses need to grow and achieve their goals. If you enjoyed this article, you can find more SEO guides and templates on the Loganix blog.