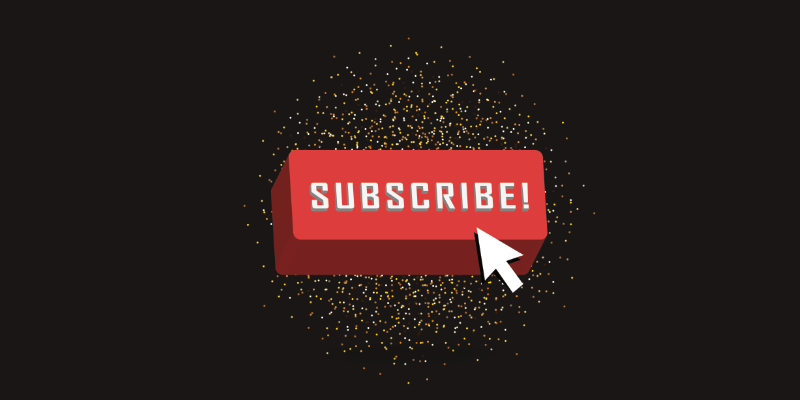 As a business, having an email list of your customers and potential customers is incredibly valuable when it comes to promotion and outreach. Relying on social media means that you can't always guarantee you'll reach your customers without having to pay for a little boost, so it's important to start collecting leads if you're not already. I want to share 5 really simple tips on how you can start growing your list with a few simple tools and strategies.
1. Use Your Website
There are hundreds of tools and plugins you could use to collect email addresses from your website but I'm only going to recommend one because it's free and easy to use. SumoMe's List Builder is great little plugin you can install onto any WordPress site or website to start building your email list. Of course you can also use MailChimp to integrate with existing sign up forms but I like SumoMe because it's really easy to set up, looks great on any website and is customisable.
2. Just Ask People
If  it's a sales call, support call or a face to face transaction, ask people to sign up to your newsletter for exclusive offers, discounts and announcements.
It's as easy as saying this while you're packaging up someone's purchas:
"Hey, by the way have you signed up to our newsletter? You get access to a load of offers and discounts that we email you no more than once a week. Just write your email on this sheet and I'll get you added"
And just like that, instead of making small talk or letting the uncomfortable silence grow, you can provide your customers with a reward for being a loyal customer by getting their email address. It may sound like old school pen and paper, but may big retailers like Urban Outfitters still use it, and they're supposed to be pretty cool.
3. Run Competitions
Give a little, get a lot back. Running competitions aimed at your targeted audience is a great way to capture emails. If you're just about to launch your App why not run a offer to win something in exchange for an email address? If you're a Hair Salon you could create an offer saying:
WIN One of Four VIP Haircuts worth £100

To celebrate the launch of our App next week we're giving away a free VIP haircut to 4 lucky customers!

For a chance to win simply visit our website and subscribe to our newsletter.
Encourage your customers to share the competitions with their best friends or with something who needs a drastic make over. Just make sure the prize is relevant to people you want to target. There is no point giving away a store card voucher for example if you're trying to attract people to your salon as you'll get people with no interest in your business signing up just for a chance to get something for free.
4. Use Your Email Signature
If you're regularly emailing your customers then why not include a signature that asks people to subscribe to your newsletter to get access to offers or discounts. Just link to your website and every time you send your email you're gently telling people about how to get a free reward just by handing over their email.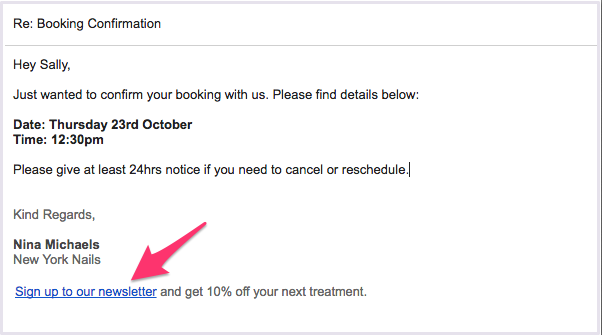 5.  Create an Incentive
Competitions are great but you can't keep them running forever. Instead create a small incentive for people to sign up such as being the first to know about new offers or sales, exclusive access to new content, tips, advice or a small discount on their next purchase. Be creative and experiment with which offer works the best. Make sure people know that by subscribing to your newsletter they're not going to be spammed relentlessly with emails and what they can expect to receive in return.
---