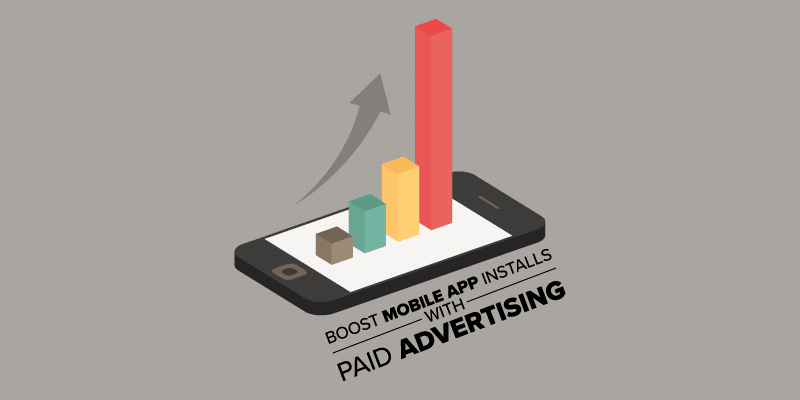 In a world of organic marketing strategies such as content marketing and social media engagement, it can be very tempting to focus solely on non-paid marketing techniques to boost app installs. Whilst there are various effective ways to do this, the reality is that you are most likely delaying the ROI kickback that paid advertising can bring.
In fact, even small businesses can benefit greatly from paid exposure. Paid advertising puts your ad in front of a massive audience and can quickly drum up word of mouth interest; paid app installs actually lead to a boost in organic app installs by 150%.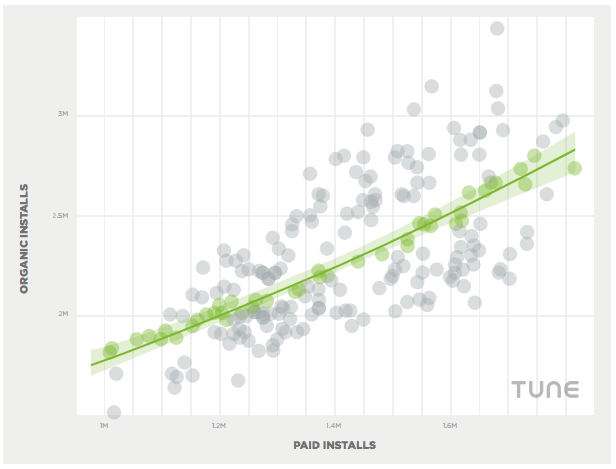 Source: Tune
Let's take a look at some of the most effective forms of paid advertising.
Pre-roll advertising
Pre-roll ads are short video advertisements that run before video content selected by the user. There are several types, but the most important distinction is probably skippable vs unskippable.
Skippable
Let's face it, no one goes to YouTube to watch ads. Most people skip ads if given the option, or install a dreaded ad-blocker. However, it's different with personalised ads; which resonate with 80% of millennials. That said, evidence shows that only 14% of people skip ads because they deem them irrelevant. Most people skip ads out of habit or in eagerness to consume content.
Unskippable
At first this might seem invasive and annoying, but in fact unskippable pre-roll videos actually resonate the most with audiences. They are 350% less likely to be considered interruptive and users consider them to offer the best exchange value for free content.
Benefits
Despite their invasive nature (or perhaps because of it) 80% of people remember online video ads and are a whopping 27 times more likely to click through than with standard banner ads.
How to do it
The first 5 or 6 seconds are the most influential. Even if the ad is skipped it can still have an impact… try and open your ad with a condensed 6 second pitch.
To do this you'll want to create a TrueView campaign via your AdWords account. Create a new campaign, select "in-stream", then select the "mobile app installs" in the campaign sub-type menu. You then have various options to customise the delivery in a highly targeted way. With TrueView campaigns you only pay when your ad is viewed for longer than 30 seconds.
Native advertising
Native advertising is external advertising that conforms to the format and style of the site on which it is displayed. Consumers look at native advertising 53% more frequently than they look at display ads like banner ads, and native boosts purchase intent by nearly 18%.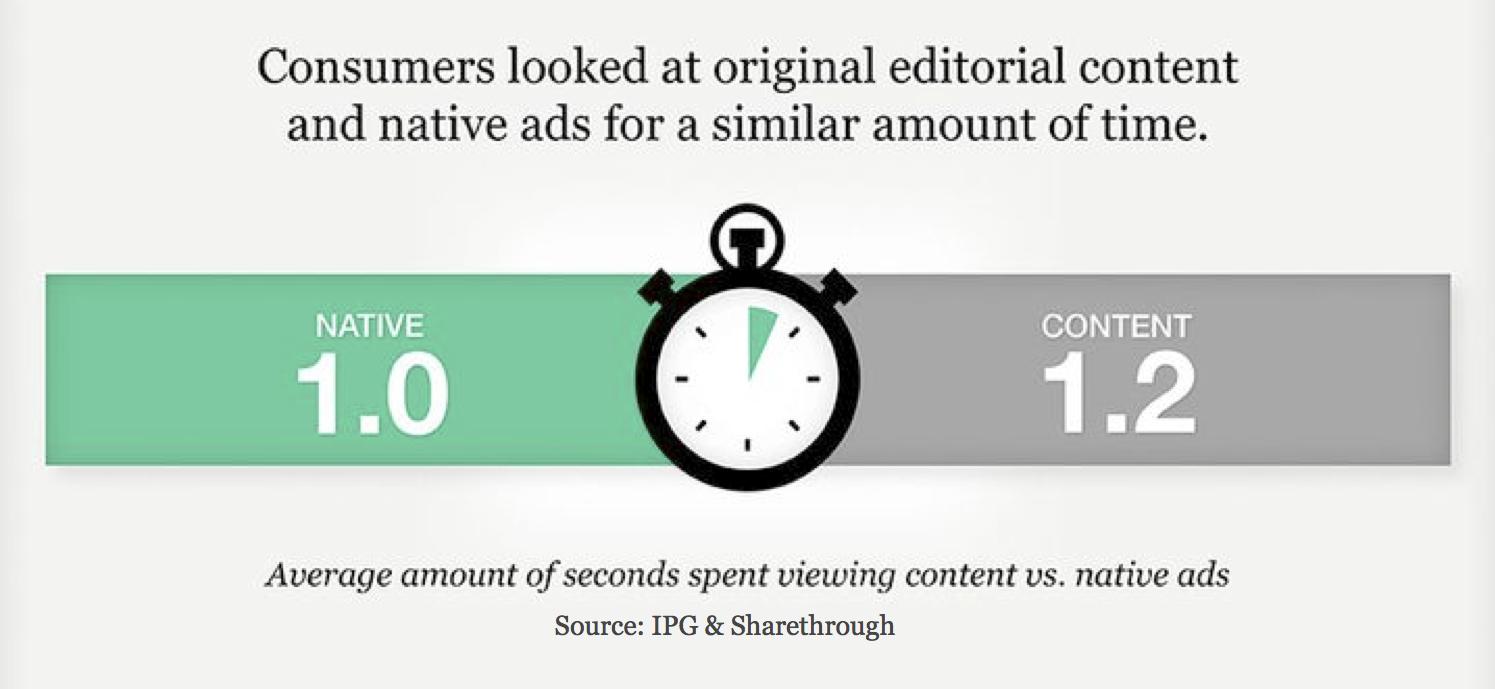 Source: Sharethrough
What's more, a third of correspondents in a Sharethrough study reported that they would share a native ad with friends and family members, compared to under 20% for display ads.
Native ads are perceived by audiences in much the same way as editorial content; both are looked at for a similar amount of time. The drawback to this is that audiences can feel tricked into reading an ad when they were expecting editorial content. It's also thought that search engines can downrank pages with lots of native, seeing them as spammy.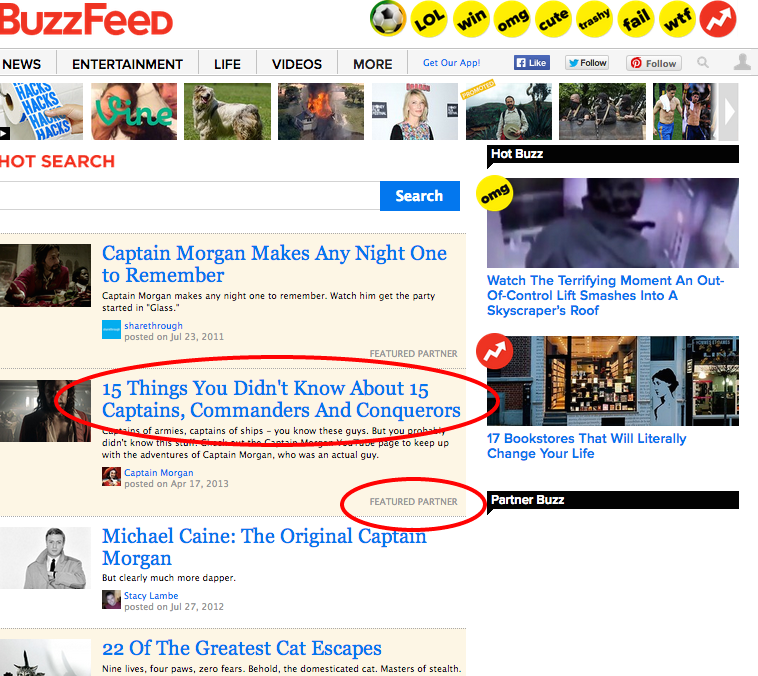 Source: Seriously Simple Marketing
You can take out native ads programmatically via the DoubleClick Ad Exchange in AdWords which automatically rolls out your creative across relevant sites.
Social media ads
Paid social media ads give you massive audience exposure for minimal outlay. Organic posts are only going to be seen by a minority of your followers, and on Facebook organic posts are being devalued by the algorithm as newsfeed visibility becomes more competitive and content delivery becomes more personalised.
Oversaturation of newsfeeds is only going to increase on social media as a whole, as is the drive towards personalised content. Paid social media ads bypass this problem, guaranteeing eyeballs on your content. Like with pre-roll ads, however, promoted posts can be seen as invasive.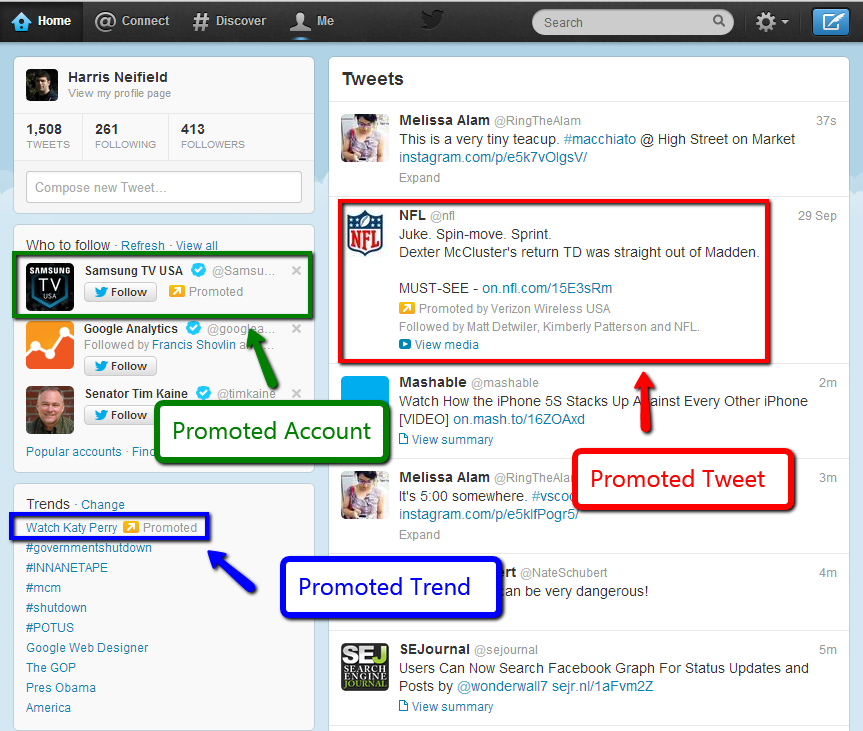 Source: Seer Interactive
You can easily take out paid ads on Twitter, and configure your ads so you only pay when your app is downloaded. Taking out paid ads on Facebook is similarly streamlined; you simply set up a business page, plug your content into their ad template, then select your target audience and budget. To get the best results, run your ad on a schedule so it only displays at times of day your target audience are likely to be online.
Pay Per Click (PPC) advertising
Adwords
Google AdWords is an essential way of getting exposure and conversions (installs) for your mobile install campaigns and features a handy conversion optimiser to gets you more conversion bang for your buck.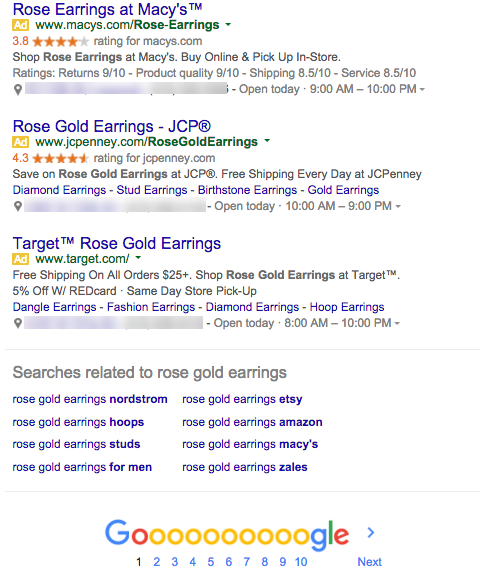 There are two important distinctions to be made here; between "search" and "display" ads. Search advertising is paid advertising that targets user search terms. Display advertising promotes your app inside other apps.
Both are effective in their own ways. This is not an either-or option, it's about creating the best fitting strategy that suits your needs. That said, the display network gets more volume than the search network where you are competing with millions of other apps. For low budget campaigns, it may be worth focusing on the display network, at least at the beginning.
AdWords is an easy way to create a bespoke campaign that fits your objectives, letting you target demographics by metrics like age, gender, and location. You can even customise device targeting by operating system, device model, mobile carrier, and Wi-Fi connectivity (if your app has a large file size you may want to opt for Wi-Fi connected devices only). There's even a "focus on installs" option to further target your campaign to generating app downloads.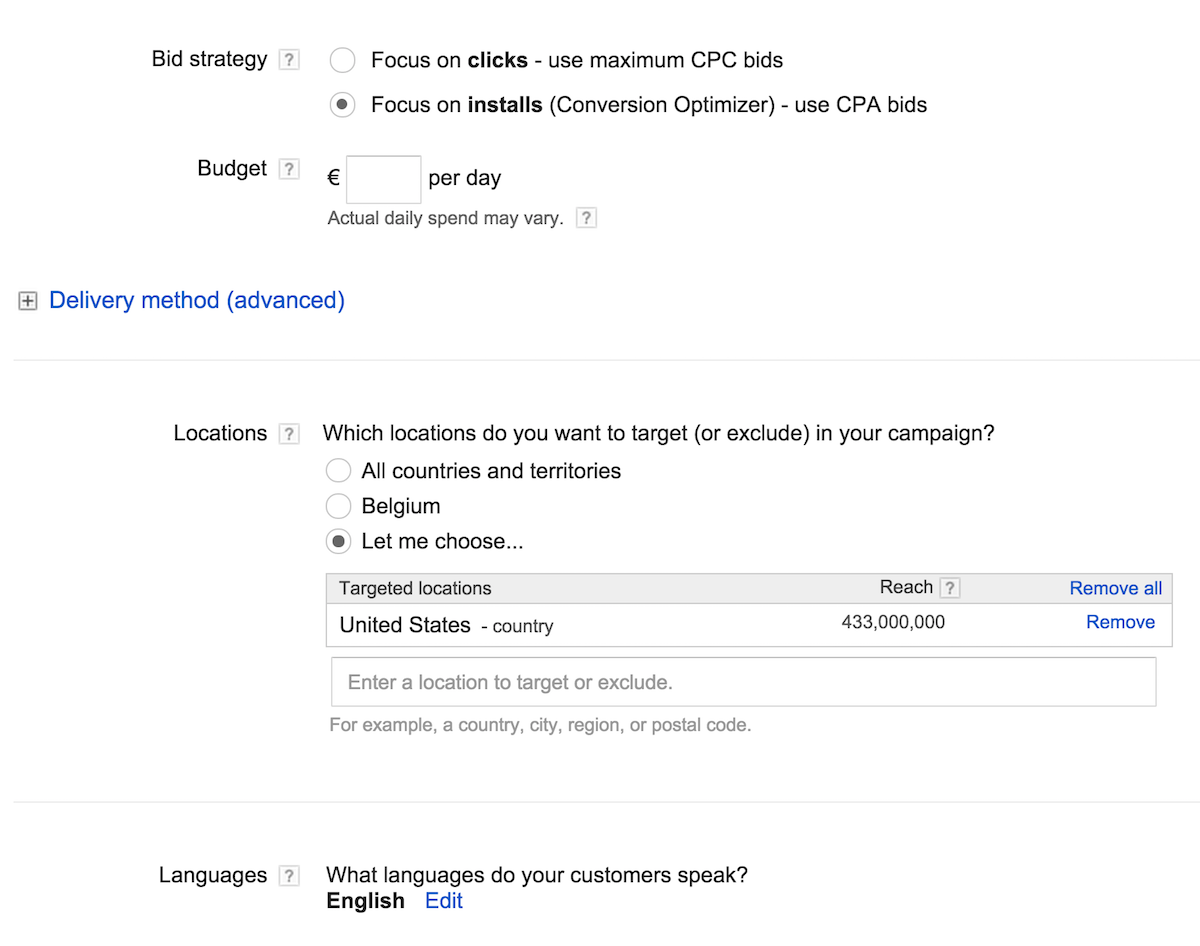 Source: Stefan Maescher
Bing
Google is often the go-to site for marketers, but don't overlook Bing. It has around 20% of the search engine market and displays ads across Yahoo.com, Aol.com, third party sites, and Bing-owned apps. You only pay per click and can set a maximum budget. You can track ad views, click counts, and CPI via the Bing dashboard.
App extensions
App extensions are links to your app that appear beneath your paid ads and are offered by both Google and Bing. They are usually free and you only pay when the link is clicked, after which the user is sent to the appropriate app store for their device.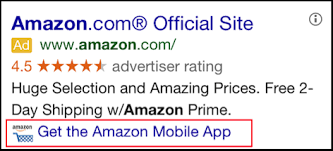 Source: War Room
Budget
It's a good idea to start small in terms of budgeting and limit your reach criteria. If you're on a low budget it's best to fish in a smaller pond. Local targeting can be key here. The majority of small businesses in the UK have under 50 employees and SME's spend an average of £24,000 per year on marketing, but only you have the necessary understanding of your company's needs.
The cost per install (CPI) can vary greatly. One marketer claims to have spent as little as $0.3 per install (after lots of optimisation went on), whereas others have recommended you spend at least $5 per install to ensure that Google delivers your ads. It's an economy of scale, so the more you spend the cheaper the CPI should be.
Some degree of experimentation is going to be needed to work out how to break through. Start small and gradually scale up your operation when your campaign starts to deliver.
For small businesses, it may be best to focus on Google Search ads. It's the biggest search platform, the most likely place people will begin researching for the products your brand offers, and it has to be said that AdWords is a highly integrated system. Its ability to focus specifically on driving app installs gives you an easy basis for judging the success of your campaigns.
For medium budgets, it's worth adding social media ads into the mix. Be targeted. Work out where your demographic are likely to be residing (see the next section) and target the platforms on which they're likely to be found.
For larger budgets, you'll want to move into pre-roll ads, though you'll want to invest enough of your budget in creating a sophisticated creative that won't irritate the audience you're trying to win over.
Know your audience
A successful app install campaign requires you to roll up your sleeves and drill down into your brand's demographic. For example, what age are they? This will influence the kinds of sites they use and even the time of day they are online. It will also affect their attitude to certain types of ads.
What is their gender? This can influence their social media network preference. For example, the top 3 networks favoured by men are LinkedIn, Google+, and YouTube; for women it's Pinterest, Twitter and Facebook.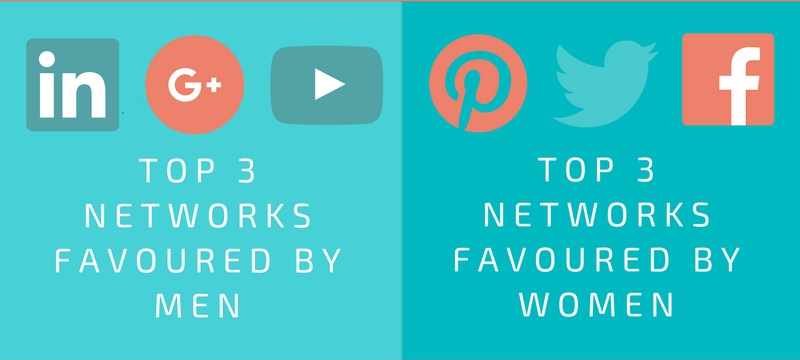 Source: Cosmic
Where are they in the sales funnel?
Understanding where your audience is in the sales funnel is important. Identify the typical user journey from brand awareness to intent to buy (in this case, intent to download your app) and create a specific CTA for each stage of the journey.
Use site retargeting; this uses discrete cookie placement to target the 98% of site users who bounce out. It tracks their journey around the web and delivers content to them based on their stage in the sales funnel.
You may also want to use a mobile retargeting service like AdRoll who collect anonymous user data, segment your audience, and then display your ads to them to drive them to your mobile site and convert.
We hope you have found this guide to boosting app installs through paid advertising useful. At the end of the day, there's no one-size-fits-all solution. The main thing is to understand the paid advertising landscape, have a deep understanding of your target audience, and spend some quality time drawing up a plan of action tailored to your needs.